'Reveal' Investigation Finds Exploitation of Residential Caregivers
Many workers report low wages, little off-time and no recourse
(This edited, abridged transcript appeared previously on PBS NewsHour.)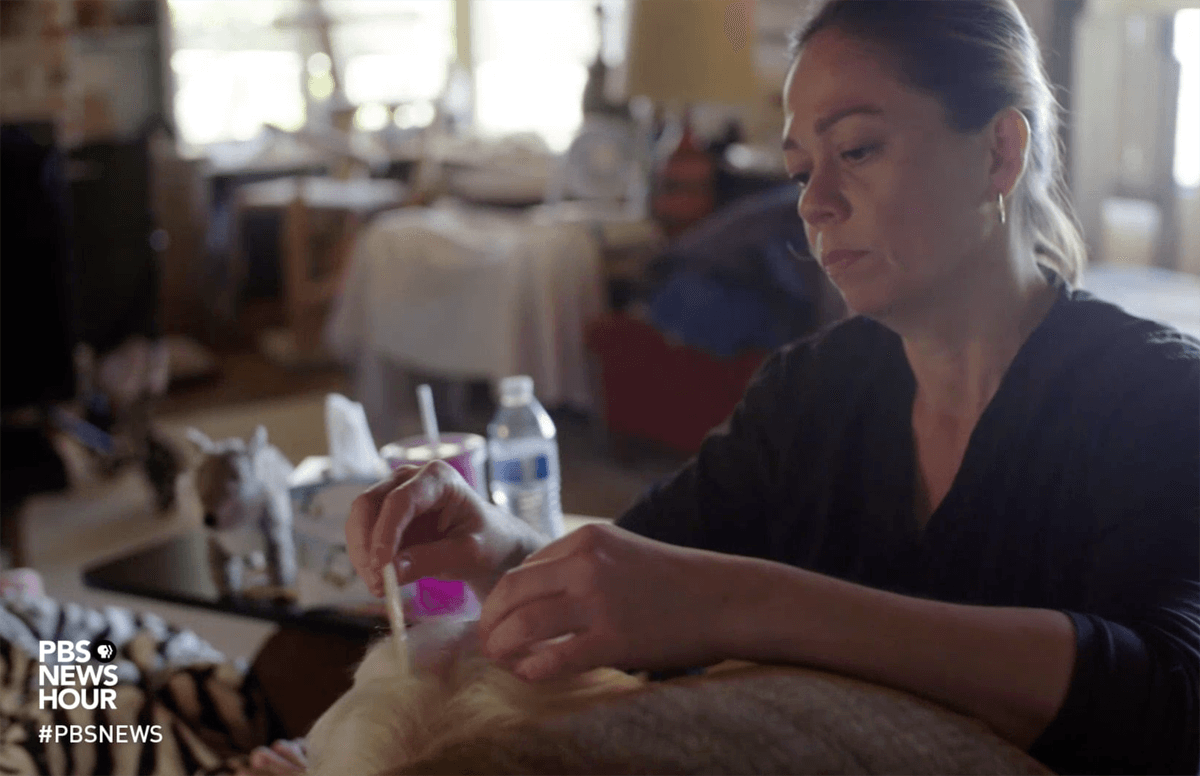 Providing for the elderly has become a multibillion-dollar industry, with about 29,000 residential care facilities (run by entrepreneurs who've turned single-family homes into assisted living facilities) operating across the country.
But a new investigation by Reveal from the Center for Investigative Reporting has found that some of these facilities are profiting by exploiting caregivers, effectively paying them as little as $2 an hour to work around the clock.
"My experience is like twenty-four hours a day, seven days a week, $800 a month."
Jennifer Gollan of Reveal from the Center: Julie Riduta knows firsthand the true costs of the long hours required for elder care.
Julie Riduta: We get up at, like, five o'clock to prepare their breakfast — seven o'clock, we start helping them bathing and hygiene.
Jennifer Gollan: She was a live-in caregiver who expected to work around twelve hours a day, but says, in reality, the hours were much longer.
Julie Riduta: My experience is like twenty-four hours, seven days a week, $800 a month.
Jennifer Gollan: That comes out to about $2 an hour. Riduta, who now has a job with a different employer, says her former boss refused to pay her more than that monthly sum, even when she worked extra hours.
Julie Riduta: She explained that we have to be grateful of that $800, because she's giving free food and free accommodation. But we're sleeping in the living room, with no blanket, nothing.
Jennifer Gollan: Nationwide, there are about 29,000 residential care communities, not including nursing homes. They're touted as a lucrative business opportunity.
Man in video advertisement: I'm going to share with you how you can turn a single-family home into a cash-flow machine.
Woman in video ad: I found there was such demand for this business, that I filled the facility in thirty days.
Man in ad: We call it America's untapped business opportunity.
Jennifer Gollan: These board and care homes vary in size, but in California, most are small, with six beds or less. They're often cheaper than nursing homes, but can be quite profitable for operators.
But, in some cases, it's at the expense of caregivers, who have little leverage when they complain about being underpaid.
Julie Riduta: Asking, like, we heard that there's minimum wage, something like that. Then she get mad. If you guys are not happy here, you're welcome to get out of my house.
Winifred Kao: Some of our immigrant clients are unfamiliar with what the law requires, and even if they know what their rights are, are scared to come forward.
Jennifer Gollan: Winifred Kao is a civil rights lawyer who's combating what some legal scholars are calling indentured servitude.
Winifred Kao: A lot of what we see in this industry is workers being paid a flat monthly salary for all the work.
Jennifer Gollan: Some who worked for the owner of these care homes in California were paid as little as $3.50 an hour, while amassing a fortune for the young owner, Stephanie Costa.
Stephanie Costa: I have had this thing of taking care of older people, like sick people that are dying. I have always really felt for them.
Jennifer Gollan: In 2013, Costa described her success on the reality TV show The Millionaire Matchmaker.
Stephanie Costa: My name is Stephanie, and I'm thirty years old, and I own a chain of elderly care facilities. My net worth is $3 million to $4 million, probably.
Winifred Kao: I think it was frustrating and startling for us to see that, on the one hand, she wasn't even paying her workers the minimum wage, and yet to find out she's on a TV show bragging about being a millionaire.
Jennifer Gollan: Soon after appearing on TV, California's labor regulator ordered Stephanie Costa and her company to pay about $1.6 million for unpaid wages and penalties. But that didn't disrupt Costa's lifestyle in Beverly Hills. She kept this home after filing for bankruptcy, and settled with workers for a fraction of what she owed.
Her six care homes are now owned by a property investment company registered by her father. Stephanie Costa is the company's CEO.
When I paid a visit to her, she stonewalled.
Jennifer Gollan: Reveal found 1,400 cases nationwide where care home operators broke minimum wage or other labor laws, and, in many cases, the federal Department of Labor ordered that workers be compensated for stolen wages.
Aida Genove was among those cases. Her boss stole from her twice. She took us to the Bank of America where her employer forced her to cash checks worth $5,600 for back wages, and then give it all right back to him.
Aida Genove: I'm really mad at him. That's my check. That's my money. So it should be mine.
Jennifer Gollan: Her employers, Rommel and Glenda Publico, pleaded not guilty to multiple felonies, including grand theft and tax fraud. Rommel Publico defended the treatment of his caregivers, telling us they were like a family, but he refused to go on camera.
The Department of Labor also declined an interview, but, in a written statement, a spokesperson said: "The agency has conducted extensive outreach to ensure operators pay their workers the wages they have legally earned."
Gollan speaking to Ronald Simpson: Were you aware that, over the last decade, there have been 1,400 cases of wage theft across the U.S.?
Ronald Simpson: I certainly wouldn't doubt that there may that situation, but I think it's pretty isolated.
Jennifer Gollan: Ron Simpson, a founding director of 6Beds, a group representing small care facilities in California, thinks most do a good job.
Ronald Simpson: The caregivers were really happy with their situation in most cases.
Jennifer Gollan: Why were they happy?
Ronald Simpson: Because they had a place where they could live, and they loved what they were doing. They were fulfilled by enriching somebody else's life.
Jennifer Gollan: But that is not what I found in dozens of interviews with workers who were afraid to speak up. Their bosses have threatened to fire them or report them to immigration. Some feared for their safety.
Woman: Because of the millions involved on the part of the employer, I'm scared of my life.
Jennifer Gollan: This worker is a witness in one of the largest cases involving residential care wage theft.
Woman: I wanted to quit, but I needed the job. I needed to survive.
Jennifer Gollan: While working for the operator of this care home, she says she rarely had time to stop and eat.
Woman: I wasn't happy. I was crying all the time. I wanted to go home. I questioned, why am I in this profession?
Jennifer Gollan: Her former employer, Adat Shalom Board & Care, has been cited by state regulators for more than $7 million for unpaid wages and penalties involving almost 150 workers.
The care home company has appealed, denied any wrongdoing, and refused further comment.
Simpson says these sorts of pay disputes arise from caregivers just not keeping track of when they're off the clock.
Ronald Simpson: Caregivers will spend lots of time just doing their own personal stuff while they're in the home, on their phones, texting, maybe even texting back home to their families. But they're not logging in and logging out when they do that.
Jennifer Gollan: He says the solution is educating care home owners on labor laws. To see this in action, we attended a conference his group 6Beds organized.
George Kutnerian: So to me, the live-in model, if done right, is a win-win.
Jennifer Gollan: George Kutnerian, senior vice president at 6Beds, tells care home operators that having a single live-in caregiver is a good way to save money on payroll.
George Kutnerian: You want your workers who stay overnight on the premises to be classified as live-in, so then you can take advantage of that, because, otherwise, you're going to find yourself in the 24-hour worker boat. And that's going to involve more payment.
Jennifer Gollan: Operators must pay a live-in caregiver when on duty, but not always for sleep time and breaks.
George Kutnerian: But, basically, we need to make sure they have an opportunity to get five hours of sleep. The five hours don't need to be continuous.
Jennifer Gollan: Pat McGinnis, from California Advocates for Nursing Home Reform, says that when caregivers are worked to the point of exhaustion, it affects patients.
(The full transcript of this abridged version can be found on PBS NewsHour.)