Visiting My Father's Forgotten Grave
What it's like to go to great lengths to find a deceased dad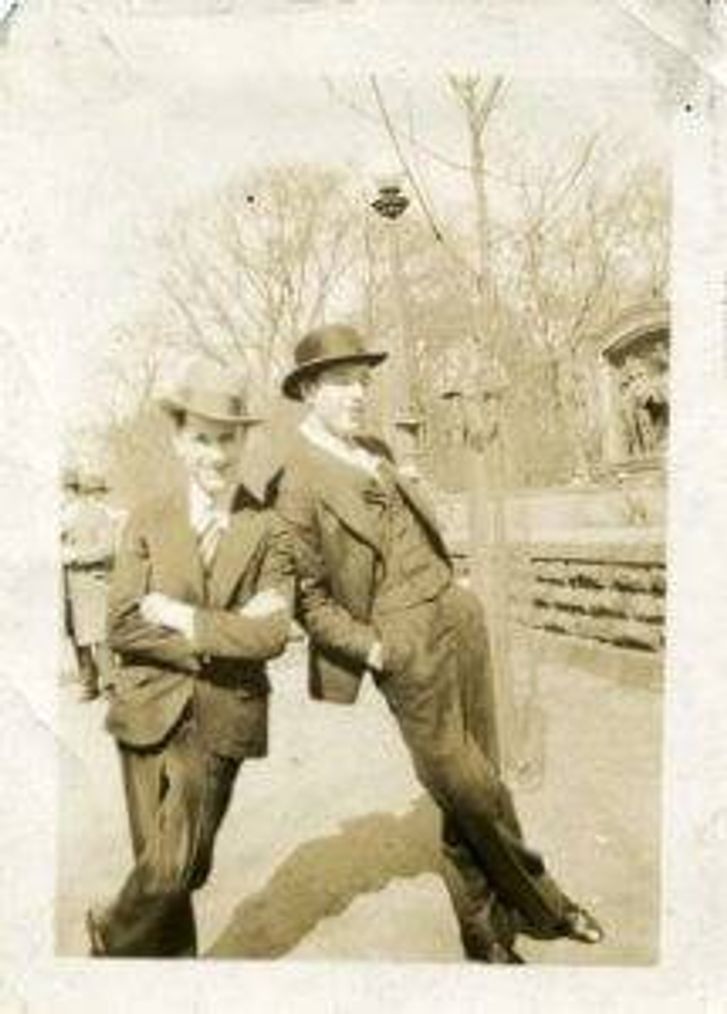 (Editor's note: This article previously appeared in The Providence Journal and is reposted here with the author's permission.)
I hardly knew him but he shaped my life. A thank-you was owed. But where was he?
My errand that day was to purchase a kitchen countertop, not search for my father's grave. But as I drove past St. Francis Cemetery in Pawtucket, R.I., I suddenly wondered if he was buried there.
Although my memory of him had faded, I turned into the cemetery feeling an urge to honor my dad. After all, I was his only child. But after my mother left him due to his heavy drinking, we had little contact. She had to work full-time. I was 6 and alone too often, instability and poverty ruining my childhood.
The hum of traffic turned still in the hallowed ground as I entered a chapel I assumed kept burial records. A man was seated at a desk.
"I'd like to know if my father is buried here. His name is Albert Glynn," I said nonchalantly.
"We don't go by name. We need the date of death," he said.
My Deathbed Visit With My Father
I was ashamed to not know it. Staring at the clerk, I had a flashback to an obligatory deathbed visit at the dismal Howard state facility in Cranston where he was a welfare patient. I was a young married adult with two children. His sister, Dorothy, made me kiss my father goodbye. I was appalled. I owed him nothing. When I returned to my husband and family in their waiting car, I sobbed. Why had she done that to me?
I told the cemetery clerk I'd get the date at the department of vital records. Instead, I went to the countertop store. A month later, when I asked the vital statistics clerk about my father, she said I'd need his date of death, not just his name.
Let it go, I told myself driving to my Fox Point home. But as a divorced mother of four and grandmother to six, my family facts mattered. I had resumed my maiden name when I ended my 14-year marriage. That made me the last Glynn in an Irish Catholic family who'd emigrated from Ireland in the late 1800s to work in Vermont's quarries.
'Mom' on His Bicep
I did have a faded newspaper clip from 1907 announcing my father's premature birth in Montpelier, one that defied death. Adult photos captured his dashing looks and lively brown eyes. He lived in Rhode Island when he and Mother met as hospital employees. She said he had the gift of gab, held odd jobs, smoked Camels and "Mom" was tattooed on his bicep. He was a chronic boozer. She married him despite her father's refusal to walk her down the aisle.
When my mother went into labor for my birth, she put an Aunt Jemima pancake box in her apartment window on South Providence's Sassafras Street. That alerted her neighbor to drive Mom to the hospital. When my father awoke from a stupor, the neighbor slapped his face with a rolled-up newspaper and said he had a daughter.
Camouflaging the Family Rupture
Until I married at 23, my mother and I led a nomadic existence in third-floor Providence tenements, most on the East Side. She was a proud, feisty woman who worked as a medical secretary. From Dad I received not even a card. His well-off spinster sister, Dorothy, would invite us to her home for Christmas, where my father's loving eyes devoured me. Irish blood connected us with stories and laughter that camouflaged the family rupture. I felt awkward there, knowing my father slept alone in the basement on a urine-stained mattress.
At 39, my marriage dissolved, leaving me dead broke. But I'd acquired ironclad spunk and independence from childhood, enough to embark on a risk-taking lifestyle. After five years as a single mother, and to improve my four children's and my future, I asked my ex-husband to return to the family home in Providence's Elmhurst neighborhood. I moved to Spain with four suitcases and then settled in New York City. My career began as a temp secretary. Eventually, I owned a profitable Manhattan bed-and-breakfast agency, my apartment and rental property.
My Father and My Choices of Men
As for men, I adored them. If unavailable, it was familiar territory. One lover compared me to a courtesan (minus the money exchange). I noticed with most men not business related, I'd primp, become subservient and look for their approval. My father's snub made me prone to dead-end choices.
Now recently retired, I'm reflective and forgiving of my father. I feel deep compassion for his life ravaged by alcohol. Today, I recognize his absence had empowered me to lead a fulfilled life, one I love, minus his harmful, hands-on presence. And it's a life he made possible.
The Clue That Led Me to My Father's Grave
But finding his grave to show respect and absolve him seemed unattainable until I found a musty envelope in my basement, saved after his sister's death. Inside was my father's birth certificate, resplendent with the elaborate penmanship of yesteryear, and his three-inch, yellowed Providence Journal obituary clip. He died at 61, younger than I was now, yet no date of death was listed.
He was survived by his sister and a daughter, Mrs. Benedict Albanese Jr. (my married name at the time), and two grandchildren. There had been no Irish wake, only a service at the Monahan Funeral Home, followed by a solemn requiem Mass in St. Sebastian Church, both on the East Side.
"I found your father," said the funeral home director after I inquired about old burial records. "He and his brother George are in a two-person grave at St. Ann's Cemetery in Cranston."
"I'll look for the tombstone when I visit," I said.
"I doubt there's a tombstone. That section isn't well marked," he said, as his voice softened.
"There will be one," I said.
I'd purchase it fashioned out of Vermont granite with a "Glynn" inscription, a name that despite my father's desertion I realized I was proud of.
Next Avenue Editors Also Recommend: