Gymtimidation: How I Got Past My Fear of Working Out
The right gym, the right trainer and other tips can help you succeed
Glute raises. Boat pose. In the safety of an empty corner, away from the gym's dumbbell racks and big silver machines, I focused on the warm-ups I'd learned the week before. Proud of mastering that much — a month earlier, I'd didn't know my bicep from my tricep, much less how to "activate my glute" — I decided to next try the stationary bike. I hadn't been on one in decades. What could be so hard?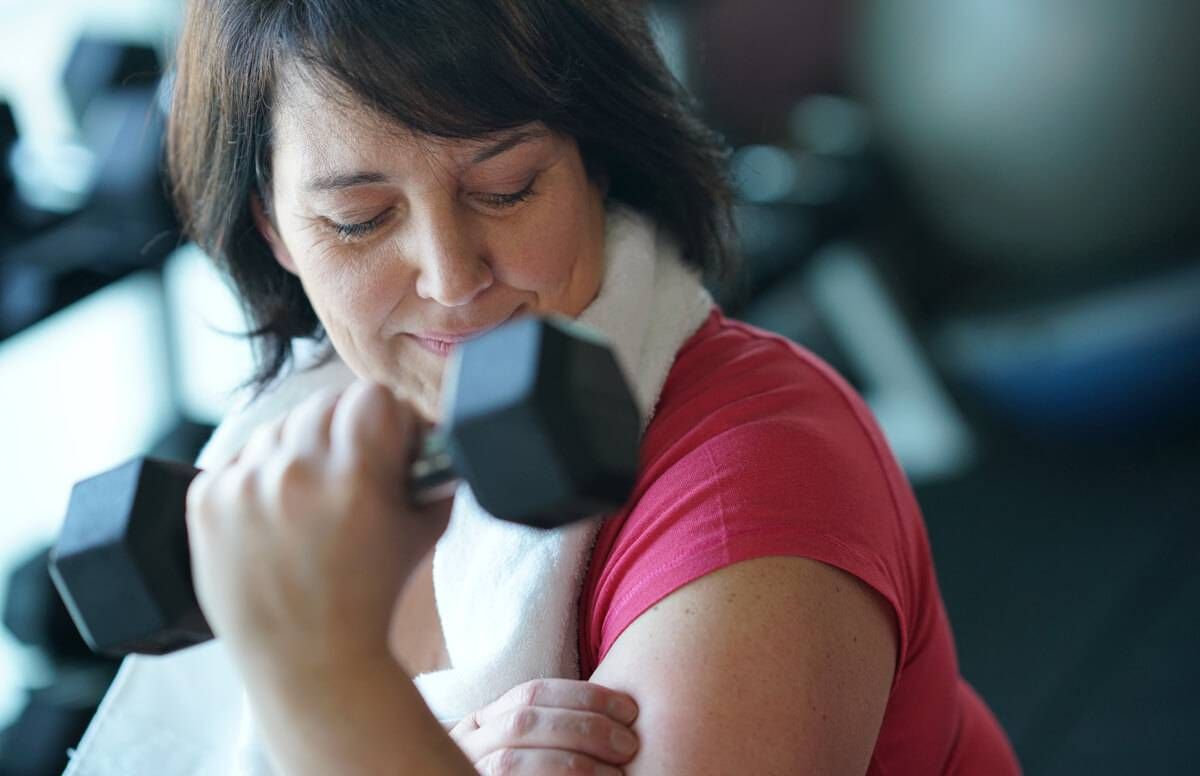 That's when I froze.
The gym's central area buzzed with the alien whir of treadmills. The reverb thud of heavy objects landing on industrial carpet. The banter of fit people in workout gear. Everyone moved like they knew what they were doing.
Suddenly every stream of self-consciousness I'd ever felt — standing alone unpicked for dodgeball at school, entering a party knowing no one, revealing my bathing suit on the beach — blended into a foamy river of doubt roaring in my ears.
I was a fish out of water in old Gap stretch pants. Instead of hopping on a bike, I beelined back to the locker room. Safe inside a bathroom stall, I burst into silent tears.
Calling In Reinforcement: a Trainer
A month earlier, I'd joined this fitness center in a bid to overcome my lifelong gymtimidation — fear and intimidation about gyms. Unless you count YMCA aerobics in my 20s (hair scrunchie, "feel the burn" and all), I'd slid through adulthood sadly fitness-free. So, I hired trainer Tracy Van Thuyne of Old Town Athletic Club in Fort Collins, Colo., to handhold me past my awkwardness.
It was unnerving enough to try new things in the shelter of her patience and encouragement. But working out without her, between our appointments? A bust.
After confessing my cop-out to her at our next session, she looked me square in the eyes. "First off, you already did the most important part of any workout: Walking in that front door."
She added, "And you're not the only one who feels that way!" Another client, she said, once seized up and fled when a man started using the chest press next to her. "He wasn't even her age or paying any attention to her," Tracy said. Also, my walking buddy confided that she'd abandoned the free perk of her company gym when the super-fit young trainers grew impatient that she couldn't remember how to set the machines.
Three-quarters of women want to exercise more but are held back by fear of being judged or not being good at it, according to research by Sport England. In a smaller study by Fitrated, women avoided the gym twice as often as men, mainly due to anxiety or fear. These included fears of being judged about their weight, form, improper equipment use, not looking fit enough, even their clothing choice.
Becoming 'Almost a Gym Rat'
So how, within three months, did I transform from gymtimidated newbie to "almost a gym rat" (my amazed daughter's words)?
I learned these confidence-boosters:
Find a place that feels comfortable. For a small word, "gym" packs big variety, from low-cost community centers to large enterprises like the Planet Fitness chain (helpfully promoting itself as a "judgement-free zone"). Most gyms offer free or low-risk trial periods. If you don't like one vibe, sample another. I chose my small, privately owned gym for its free classes, trainers, handy hours and 1-mile walk from my house.
Invest in a helper. Working with a trainer had three key benefits.
First, my appointments just got me there — huge at the start.
Second, Tracy and I worked for weeks on form, so I learned how to do basic moves properly, lowering my odds of injury and providing a solid foundation.
Third, Tracy crafted a series of workouts, shooting video of me with my phone as she talked me through them. This way, I have the video handy if I forget what to do when I'm working out on my own.
Yes, it costs money to hire a trainer. When I first started, I signed up for an introductory package of eight one-hour sessions for $350. But as investments go, this one will pay off for years, since it's my health. (And compared to what I spend on my hair…) Some gyms offer trainer consults when you join; I bought a discounted package of Tracy's services to start. Now we check in monthly so I can keep learning.
Find the right support for you. Tracy understood that my confidence needed strengthening as much as my muscles. You might prefer a trainer used to working with women, or older adults. If your first choice doesn't seem tuned into your needs (mind and body), another will.
Promise to give it time. It takes an average of 66 days to form a new habit, slightly longer for exercise. That makes it easy for gymtimidation to creep in! Even if you don't look different on the outside, remind yourself that your muscles, heart and brain improve each time you show up. I started out going once or twice a week. Now, I'm there six times a week for different types of exercise -- resistance training, yoga and high-intensity interval training.
Practice when it's not crowded. On Saturdays and Sundays before 8 a.m., my gym is virtually empty. I can watch my videos and practice anything new with less inhibition.
Look for models of inspiration rather than intimidation. Instead of focusing on the massive men deadlifting 200 pounds while I grunted over 20, I began admiring the stout sparkplug who showed up daily and the white-haired treadmill jogger. Now that I (somewhat) know what I'm doing, I mainly focus on, well, doing it. Truth is, nobody's thinking much about me, or you.
Splurge on the right clothes. Not essential. But when my 20-something daughters dragged me into stores selling made-for-movement "athleisure" wear, I discovered pants and tops that made me feel like the fit person I hoped to be. Shallow, maybe, but it helped.
The other day, after an interval workout on the bike — yes, I mustered the courage to try it, and the elliptical, too — I saw Tracy training another client. "I think you'd better write your gymtimidation article before you don't have it any more," she said with a grin.
She doesn't even know I once actually left the gym when I saw her there, overcome with discomfort at being watched by someone who knew me. Now, I just show up. I plow through. And after, I feel great — which keeps me walking through that door again and again.