The Benefits of Finding a New Passion for An Old Hobby
Are you ready to pick up a paint brush again? Old hobbies can bring a lightheartedness back to life.
One Saturday afternoon, my childhood friend, Lori, texted an old picture of the two of us at nine years old. In it, our matching blonde ponytails are as tight as our focus on the sheet music propped in front of us. She's standing next to me, her chin resting on her violin, while I'm sitting on the narrow piano bench, my fingers resting on the keyboard. In our minds, her mom's family room was a wood-paneled version of Carnegie Hall, and we were the star performers.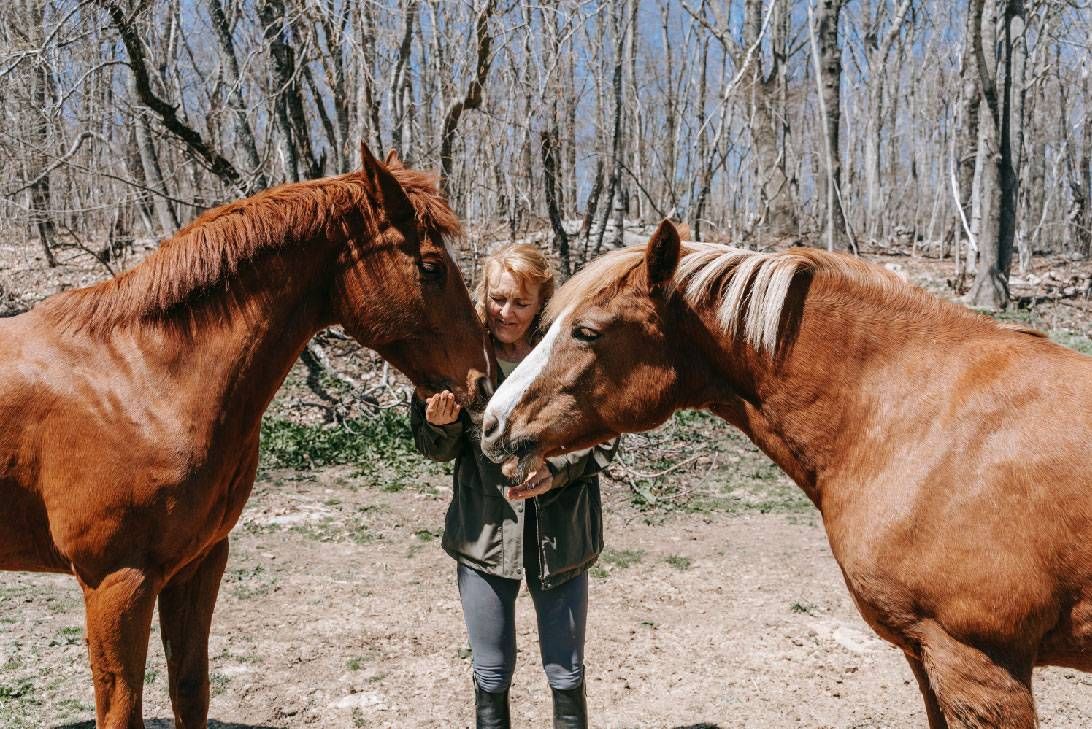 "I'm taking violin lessons again," Lori wrote. "I love it!" She's not alone in her enthusiasm for a hobby she enjoyed decades ago. People are crafting again, dusting off their cowboy boots and tuning their instruments. Along with the nostalgic aspect of rekindling a former hobby, those with a renewed passion for an old interest are noticing other benefits, from reduced stress to less depression.
So, before you recycle your baseball cards, or sell an old train set, consider these myriad benefits of bringing new life to an old hobby. 
"There's an opportunity to feel the joy that comes from engaging again in an activity you naturally enjoy."
Enjoy a Sense of Bliss
Taking a renewed interest in a hobby you once enjoyed can spark joy you forgot existed. The freedom you felt when the wind hit your face as you rode your bike to your best friend's house isn't hard to recreate using a mountain bike, or even better, an electric one.
"There's an opportunity to feel the joy that comes from engaging again in an activity that you naturally enjoy," says Sophia Godkin, a health psychologist, happiness and healing coach and author of "The Happiness Journal." "And doing so during a difficult time can help to combat some of the anxiety and stress that may come from going through difficult situations in your life."
Kim Hamilton, 61, of Evergreen, Colorado, has always enjoyed arts and crafts, but her favorite projects as a child were paint-by-number kits. "I did them by the hundreds!" she says. She wasn't creating freehand projects or painting her own designs, but she was fascinated by the rich colors. 
Searching for a creative outlet during the lockdown, she found an online nature sketching class. After completing six one-hour sessions, she realized she could draw and was eager to learn how to paint. After a watercolor teacher suggested she try oil painting, Hamilton found an oil artist through a local studio, and she continues to study with him to refine her skills. She paints five days a week in her basement studio.
"I don't think of painting as my hobby anymore," she says. "I think of how I'm becoming an artist."
Improved Health Benefits
Studies show a connection between adopting a hobby and decreased stress and depression. "Taking the time to engage in your passions can help to keep stress from becoming toxic," says Caroline Leaf, a clinical neuroscientist, mind and mental health expert, and author of "Cleaning Up Your Mental Mess."
She says you're balancing the energy in your brain and helping build up your cognitive resilience, which can help manage feelings of depression, anxiety and other mental distress. So, engaging in a hobby with meaning and intention can help you feel happy and at peace within yourself.  
Godkin points out that children have a particular element of open-mindedness, open-heartedness, and willingness to be creative, to explore and color outside the lines. "Reconnecting to childhood hobbies tends to include the elements of imagination, curiosity and exploration we felt decades ago and can encourage some of those qualities that can reduce symptoms of depression," she says.
Increased Mindfulness
Wendi Aarons of Austin, Texas, had always been a voracious reader — until the pandemic, when she couldn't concentrate on books. After she spotted a post of a cross-stitch project on Instagram, she remembered how much she enjoyed the hobby growing up and ordered an easy kit online.
"Cross-stitching took all of my attention more than reading was able to do," she says. "I could just sit and be quiet, and it became really meditative." 
"It's been great to rekindle an important part of who I am."
While cross-stitching, Aarons, 54, turns on a show that doesn't require her full attention or listens to a podcast or music. So far, she has given away between 10 to 12 framed pieces as gifts, each design selected with a particular person in mind.
"It is important to constantly try to maintain or reconnect with our old hobbies because they provide a healthy distraction and personal expression," says Leaf. "We are doing them with an intention, which is almost a form of mindfulness. And they help build the brain's strength and resilience."
No Pressure to Be Perfect
Growing up, Ed Koral's father played piano daily after work. The five-year-old sat nearby, listening to him play Chopin, and soon learned melodies by ear. Noticing his interest in piano, his parents enrolled him in lessons. He played until high school, when he switched to the viola.
Years later, he registered for piano lessons after discovering his daughter's music school offered adult programs. He has studied with a teacher for the past six years and feels a deeper appreciation of the music's beauty from when he took classes in his youth.
"It's been great to rekindle an important part of who I am," says Koral, 59, who lives in New York City. "There are pieces I can't play and never will, but I don't feel bad about that."
"We tend to approach life very seriously after a certain age," says Godkin. "Being able to re-engage in a hobby that you once enjoyed can welcome that feeling of lightheartedness about life." Consider the new and improved version of your old hobby as an invitation to take a less intense approach to life.
Bring Back Good Memories
Recalling old hobbies activates the associated memories, including the smells, sounds, feelings and emotions. "As the thought moves into the conscious mind, it triggers these memories," says Leaf, "which makes us feel similar to how we did when we were partaking in that hobby." 
Michelle Madhok, 51, grew up in California but spent her childhood summers at her grandparents' ranch in Oregon, where she learned to ride quarter horses. Eventually, she visited less often, and as an adult, she relocated to New York City. When the pandemic started, she and her husband moved to a country house on the east end of Long Island in Jamesport. Searching for an outdoor activity, she visited a nearby barn. 
"You can't be on your phone when you're on a horse."
"When I walked in — the smell of the barn — I immediately started crying," she says. "The emotional memory of being back was so strong. It was overwhelming." She thought she'd be surrounded by teenagers pursuing the physically-demanding hobby of riding horses. Instead, she found a community of middle-aged women who had started working remotely, closed their businesses, or taken early retirement. 
Her twice-a-week lessons involve high-intensity training that raises her heart rate, but she says riding is also good for her mind — she considers it a nice brain release. "You can't be on your phone when you're on a horse," says Madhok. "And your mind can't be elsewhere because your horse can sense it and won't listen."
Take Steps to Pursue an Old Hobby
Unlike Lori (and Koral), I haven't signed up for music classes. Instead, inspired by my love of tennis in high school, I'm starting pickleball lessons next month. I'm looking forward to learning a modified version of an old hobby, making new friends, and, hopefully, winning more matches than I did years ago.
Think about what caused you to quit your hobby years ago. Was it too childlike? Did you feel you were wasting time? Were you afraid of what others might think? While juggling the responsibilities of adulthood, it's easy to dismiss thoughts of participating in an activity or sport you once enjoyed in your childhood. At the same time, it's hard to ignore the mental, physical and social advantages of rekindling an old hobby.
An additional perk? You don't have to spend a fortune for a refresher. Search for classes online or sign up for in-store sessions at your local hobby store or recreation center. If you don't want to invest in new sports or hobby equipment, search Nextdoor, Facebook Marketplace, or other online apps for gently-used items.
Godwin says that whatever may have led you to step away from a former hobby, returning to it will require a little courage. "Allow yourself to find that courage inside of you," she says. "It's never too late to get back into doing what we love."