First Financial Steps to Take After Losing a Spouse
The transition time may be long and painful
By

National Endowment for Financial Education
Losing a spouse—whether through death or divorce—can be one of the most traumatic events you may face in your life.
The possible rush of intense emotions surrounding this event may be the beginning of a long and painful transition time.
First steps for widows/widowers
It's almost impossible to be emotionally or financially prepared for the death of a spouse. For couples who have taken the time to talk about contingencies after the death of one partner, the financial transition may be a little easier than for those who have not dealt with any of the practicalities surrounding the death of a spouse. Even when financial matters have been tended to, a broken heart may still hamper one's ability to deal with financial decisions.
There are very few decisions that must occur immediately following the death of your spouse. Many experts believe that the biggest mistake most people make is not going slowly enough through the maze of decisions that must be made.
First steps for the separated or divorced
Most people assume they are entering a life-time partnership when they get married. But the statistics show otherwise. According to the most recent divorce statistics from MissouriFamilies.org, by 2001, approximately 20% of adults over age 15 had divorced a spouse. While the emotional effects of this event can be devastating and unpredictable, managing the financial aspects of a separation or divorce is actually something you can control to a large extent.
Additional action items for widows/widowers
Some people find it helpful to include trusted family, friends, and professionals when gathering information or materials. You may find it beneficial to ask someone to accompany you to take notes or provide emotional support as you tend to the following actions.
Obtain at least 20 copies of your spouse's death certificate. It is usually easiest to request all the copies at once and keep them in a secure location to use as needed. Extra copies can be tucked away for future needs. You'll need to send this document to the Social Security Administration, credit card companies, your mortgage holder, and insurers to verify the death and either change the name on accounts or collect money that is due to you.
When gathering professional advice, get sufficient information to enable you to make decisions that are right for you. Estate-planning attorneys, tax accountants, and financial advisors should have experience in helping widows and widowers deal with the particular circumstances of being newly single due to the death of a spouse. In addition to notes that you or a friend might take, ask these professionals to provide you with written summaries of meetings so that you can refer to these notes after your face-to-face meetings.
Rename beneficiaries on all insurance policies, retirement accounts, and other accounts where your money is held.
Update your will. In most states, the death of a spouse invalidates a previous will.
Contact the Social Security Administration.
Don't be pressured by others to make hasty financial decisions. A common mistake is to listen to advice or investment tips from well-meaning family and friends. Allow yourself some time to heal emotionally from your loss and gain a better understanding of your financial picture before making major investment decisions. You may want to practice a response that you'll be comfortable with, such as "I appreciate your ideas and will take them into consideration when I'm ready to make those decisions."
Recognize that you may be a target for some unscrupulous sales people. If an investment sounds too good to be true, it probably is!
Pay your bills. Failure to pay your bills can result in even larger headaches—due to late payment fees, interest charges, and damage to your credit history. 
Additional action items for those facing divorce
When a marriage has ended, it is important to face the realities of your new situation and begin the task of separating your finances from those of your soon-to-be ex-spouse. In some cases, you may find it easier to deal with some of these activities if you ask a trusted friend, family member, or professional to accompany you as you tend to these actions.
Engage a divorce attorney or mediator. If you are going to engage an attorney, it is important that you avoid using the same attorney as your spouse. You need someone with an objective viewpoint who can represent your best interests during the upcoming negotiations. You want someone who can accurately value your assets and who can work to get you the best possible settlement. It's also important that you find an attorney who specializes in matrimonial law.
In certain circumstances, you may be able to use a mediator. You and your spouse may want to hire a professional divorce mediator to help you work out an acceptable agreement for both of you. This works best when both partners are agreeable or the divorce is amicable; or you have limited assets and debts and no children are involved. Remember that you will still want the final agreement to be reviewed by your divorce attorney. The agreement must also be filed in a local divorce court.
Gather all the information you need to evaluate your assets. Remember that, when getting a divorce, there is a greater urgency to collect this information in a timely manner—before important papers disappear along with your soon-to-be ex-spouse.
Contact custodians of all your accounts by letter to prevent assets from being moved around. You no longer want money to be deducted from a savings account with only one signature or valuable stocks to be sold with only one approval.
Educate yourself about applicable laws, especially as they relate to alimony, child support, and division of property. Although alimony is mostly awarded for a limited period of time, it can be especially important to a spouse who has never worked outside the home. The amount of your alimony will depend in part on how long you were married and the potential earning power of each partner. If children are involved, child support is usually awarded to the custodial parent. Payments usually last until the child is 18 years old.
When discussing final settlement agreements, view money as a survival issue. Even though your emotions can be strong during divorce proceedings, try to be realistic about money as you assess your future needs and attempt to get the best settlement you can to address those needs.
How do I find good financial advice?
If you already have a trusted financial advisor, you will likely turn to that person for help through this period of transition. However, you may need to evaluate your current advisor's experience with divorce or spousal death situations.
If you don't have a financial advisor, you may want to find one to guide you. Two methods for finding qualified financial counselors are (1) asking trusted friends or professionals, such as lawyers and accountants, for references, and (2) getting references from professional associations, such as the Financial Planning Association, the National Association of Personal Financial Advisors, or the American Institute of Certified Public Accountants.
Even with a recommendation from a trusted personal friend or professional, you must do your homework. Interviewing the financial planner is the best way to learn answers to questions such as how the planner earns money (commission or fee-based) or what qualifications the planner has. You will also want to get references and check them out carefully.
You may want to ask a trusted friend or relative to accompany you when you interview financial advisors. That person can take notes and afterwards help you think about how you feel about the advisor's ability to help you. Does the financial advisor feel approachable? Do you feel informed? Did the financial advisor answer your questions satisfactorily? Did you feel intimidated when you asked questions? Do you feel like you would be comfortable calling this person and asking advice? Remember, this person is going to be working for you so it's important that you feel comfortable and secure with whomever you choose.
Taking control of your future
Whether dealing with death or divorce, one common task is to rebuild your financial life. While money cannot heal a broken heart, it's important for you as a suddenly single adult to take stock of your financial situation, get expert advice, forestall most major decisions for a period of time, and gradually learn to ensure that you have control of your finances and your life.
This material is provided by SmartAboutMoney.org, a site from the National Endowment for Financial Education (NEFE) that helps people make sound decisions throughout all of life's financial challenges.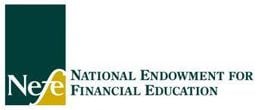 By

National Endowment for Financial Education