A Remembrance: No Stopping Florence Henderson
The 'Brady Bunch' mom: work, raising a family and caring for her terminally-ill husband
(Next Avenue is republishing this 2013 article today in memory of Florence Henderson, who died yesterday at 82.)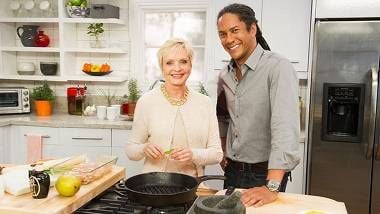 Alice the maid did all the cooking on The Brady Bunch, but Florence Henderson, who played the clan's mother, is no stranger to a kitchen. In the 1990s she had two cooking shows on TV: Shortcut Cooking on PBS and Country Kitchen on the Nashville Network. Now she's back with Who's Cooking With Florence Henderson, a new food show aimed at viewers 50 and over that airs Wednesdays (9 p.m., EST) on RLTV.
Appearing with Henderson, 79, is California-cuisine chef and restaurateur Govind Armstrong, 44. You may know him from Top Chef, where he's an occasional judge, or Iron Chef, where he once competed. You can't forget his looks: From the Caribbean side of Costa Rica, he has waist-long dreadlocks.
On each episode of Henderson's new show a celebrity, like Marie Osmond, Robert Wagner or Virginia Madsen, comes by her TV kitchen to whip up a favorite family dish, one that may taste yummy but is loaded with fat and calories. It's Armstrong's mission to adapt each recipe, making it lighter and more heart friendly.
"I'm not really a great cook," Henderson admitted in my phone chat with her, "but what I love about this show is I'm able to interview celebrities, have fun with them, present healthier ways to eat a dish and work with a wonderful chef like Govind, who's young and gorgeous."
The Ingredients for Working
But it's Henderson, not Armstrong, who should be giving lessons on how to adapt. Since the early 1950s, she has managed to find work in all genres of entertainment: theater, TV game shows, talk shows, commercials (Wesson Oil, Polident), movies (The Song of Norway, Shakes the Clown) and reality shows. She's even done improvisation on Who's Line Is It Anyway? She also hosts The Florence Henderson Show, which runs weeknights on RLTV. It's about Hollywood's golden era and, like her new cooking show, features interviews with celebs.
I'm old enough to remember when she was a musical star on Broadway. A buttery-toned soprano, Henderson counts among her Broadway credits the original title role in Fanny, which ran for two years and co-starred Ezio Pinza and Walter Slezak. She has also starred in touring productions, including South Pacific and The Sound of Music. The first time I ever heard the score of Oklahoma! was on a cast album my mother bought from the Columbia Record Club in the early 1960s. Henderson was Laurey to John Raitt's Curly.
I also remember her on The Today Show in 1960, where she did the weather and light news — pre-Barbara Walters.
In 2010 Henderson was a contestant on Dancing With the Stars. "Is it as physically brutal as I've heard?" I asked her.
"More so," she said. "I rehearsed seven hours a day, seven days a week. If I hadn't been in decent condition, I'd never have made it to the sixth week. My foot is still not in great shape from the experience. But you know what, I loved every minute of it. It reminded me a lot of my early days on Broadway, where you rehearse and rehearse and then the curtain goes up and, ready or not, it's live and you're on."
At this point in her life, Henderson said: "I don't have to work, but I consider it such a privilege and always have. It's just such a part of me." Maybe her innate drive comes from her humble Midwestern roots. She was raised in a small Indiana town, the youngest of 10 children. As she tells Leeza Gibbons, who's a guest in one episode of her new cooking show, her family was so poor that "I didn't get a birthday cake until I was 16." (In her 2011 memoir, Life Is Not a Stage, Henderson says her father was an alcoholic tenant tobacco farmer who was almost 70 when she was born.)
The Lowdown on Carol Brady
The Brady Bunch ran from 1969 to 1974 and has been in syndication ever since. "It's never been off the air in this country," Henderson said. "It's shown in 122 countries around the world. I get more fan mail today from it than I did when it was at its height."
Then there were all those Brady reunions and specials, including The Brady Bunch Variety Hour, where in one surreal sequence the Bradys join in a conga line with Milton Berle and Tina Turner. In 1995 Henderson did a cameo in The Brady Bunch Movie, in which Shelley Long played mom Carol.
I've always wanted to ask Henderson whatever happened to Carol's first husband, the man she apparently had three daughters with before she married Mike Brady (played by the actor Robert Reed, who died in 1992). "It was never touched upon," she says. "Back then divorces were a no-no. They never said whatever happened to Mike's spouse either. I used to kid people by saying I killed mine. Carol didn't have a job either. That used to upset me as a working mother. Mike and Carol were, however, the first couple to sleep in the same bed on television."
I asked too about Ann B. Davis, who played the wise-cracking Alice. "I just spoke to her," Henderson said, "she always calls me on my birthday. We had a wonderful visit." Davis, who is 86, is still going strong, living in an Episcopal commune in Texas.
The Difficulty of Being a Caregiver
On one episode of Henderson's new cooking show, Leeza Gibbons talked about her mother's and grandmother's battles with Alzheimer's. The TV personality and self-help author (Your Guide for Creating Happy Endings and New Beginnings) is the founder of Leeza's Place, which offers free support to caregivers. "Being a caregiver is one of the most challenging endeavors, having been one," Henderson said to Gibbons.
I asked her about that. "Even though I was the youngest of 10, I was the mother figure in our family," she said. "Caregiving takes many forms, including financial. I've already lost six of my siblings."
Henderson's second husband, John Kappas, died in 2002. They had been married for 15 years. A hypnotherapist, he founded the Hypnosis Motivation Institute in 1968. He died of lung cancer from cigarette smoking, a habit he had kicked 30 years prior to becoming ill.
"Caring for my late husband was a privilege and a challenge, so my heart goes out to caregivers" Henderson told me. "I don't think anyone who hasn't done it realizes how much work it takes."
Henderson is a certified hypnotherapist. "I can certainly hypnotize people, yes, it's my avocation," she said. "I work with friends and relatives and with people who are transitioning or dying. I've done it in different hospitals. It's great for motivation, depression, relationships, all of that. It's a very powerful tool. Hypnosis puts you in such a positive place. I still go to a wonderful therapist that my husband trained."
Making Time to Be a Grandparent
From her first marriage, which ended in 1985, Henderson has four children, two boys and two girls. All are married and are parents. "I have five grandchildren," she said. "As busy as I am, I find time to be a grandparent." She just got back from Florida to see one of her daughters and grandchildren, and will be going to St. Louis in April to see a son and his kids.
Does the super-active Henderson see herself as a role model for people who are getting older?
"I don't know about that," she said. "I just hope I can inspire people to keep moving, to say yes to life, to stay open to new experiences, new adventures. I just think it's so important to do that. If someone sees me going out there and still doing and loving it, perhaps they'll be motivated too."