For Scientists About to Rock (We Salute You)
When not overseeing the NIH, Dr. Francis Collins is jamming with his colleagues
Science and music are closely connected. Says Dr. Francis Collins, director of the National Institutes of Health (NIH): "Whether you're working with another person or a whole team of people who have different skills, different dreams and different aspirations and you put them together, you create something magical. Science does that and so does music."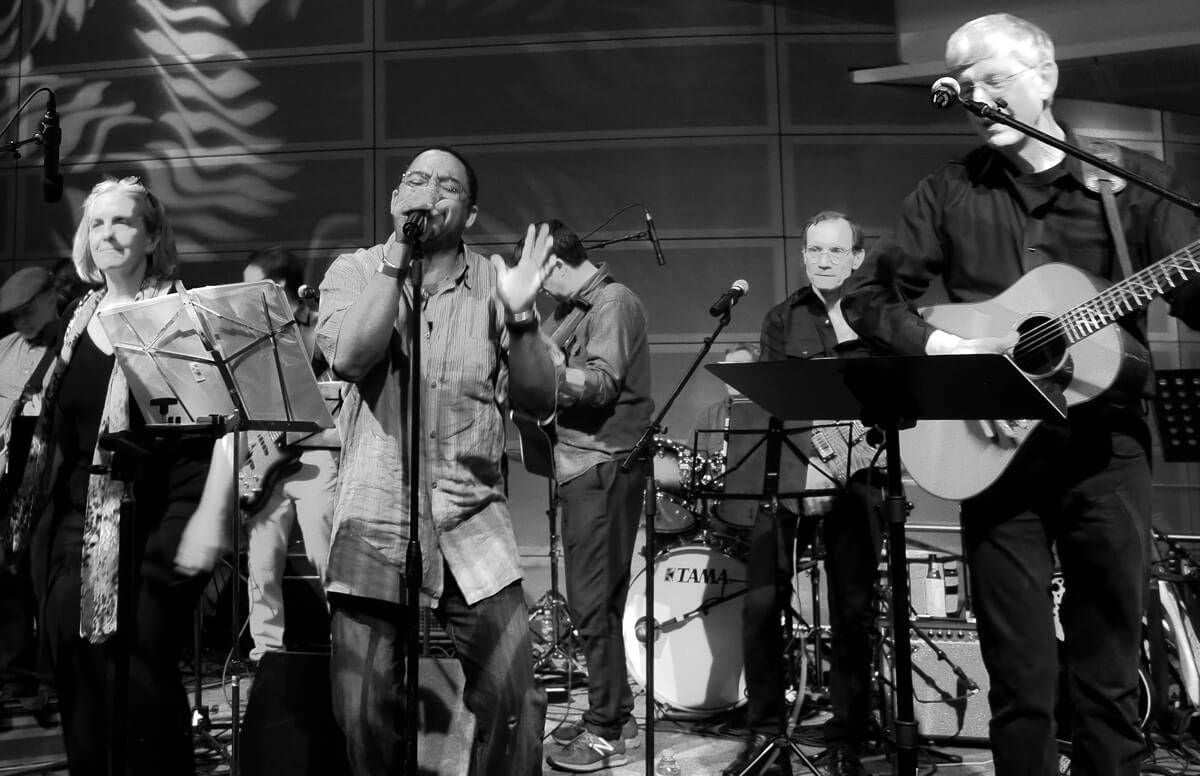 Collins, a physician-geneticist, is noted for his landmark discoveries of disease genes and his leadership of the international Human Genome Project, which culminated in April 2003 with the completion of a finished sequence of the human DNA instruction book. He served as director of the National Human Genome Research Institute at the NIH from 1993 to 2008. He was appointed the 16 NIH director by President Barack Obama and was confirmed by the Senate in 2009.
When Collins came to the NIH, he was concerned that his passion for music would take a backseat to science. He soon learned about The Directors, a band consisting of former NIH senior staff. The name changed to the Affordable Rock 'n' Roll Act (ARRA) and everyone at the NIH is welcome to join.
The name's not political. It stems from being affordable, "since we don't get paid for performing," Collins said.
Making Music
Collins grew up in a musical household. His father, Fletcher Collins, was trained as a classical violinist and worked for President Roosevelt's New Deal project collecting folk songs from coal miners in Virginia. About 200 of those songs are in the American Folk Life Collection at the Library of Congress.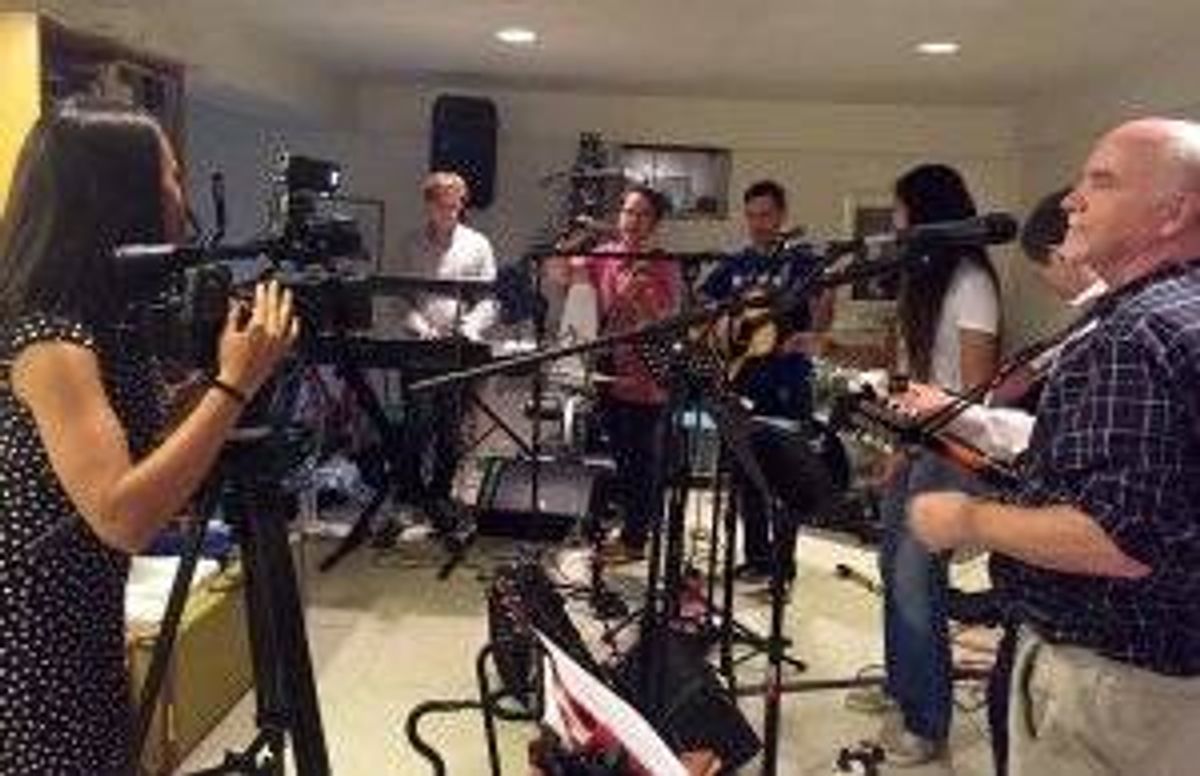 Collins' mom, Margaret, sang, and musicians gathered at the family's farmhouse to jam. Collins remembers a sullen young man with a scratchy voice celebrating his 18 birthday at his house. He didn't think the singer would go far. It was Bob Dylan.
In order not to be left out, Collins taught himself how to play the pump organ at age five. He also wrote songs and picked up the guitar around the same time. "My family didn't own a television," he explained. "Music was our entertainment of choice."
Collins played in high school and joined a bluegrass band at the University of Virginia. Throughout high school and college, he aspired to be a chemist, but music remained an important part of his life.
All NIH Scientists Are Welcome
Crystal "Crys" Young, lead singer and post baccalaureate grad from Washington University's class of 2017, has been working at the National Institute of Neurological Disorders and Stroke (NINDS), part of NIH, and has played music "all my life," she said. She's a classically trained pianist who started practicing at age four.
"I was excited to be accepted into the program and at the same time was worried I wouldn't have an outlet to do music," she said. "Playing in ARRA is so much fun. I was really nervous going into it because I'm performing with the top people in their fields. Music brings us together."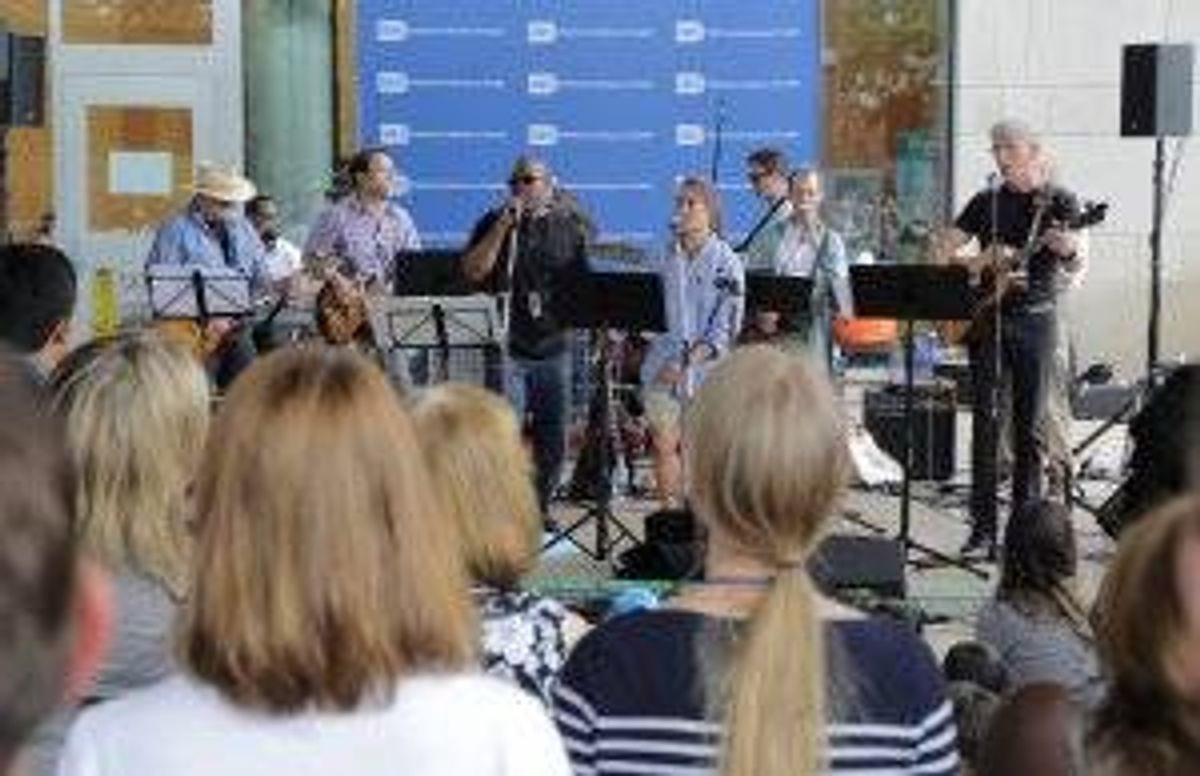 The number of musicians changes depending on the workload. Currently, there are a dozen regulars. They rehearse at Dr. John O'Shea's house. Chief of the Molecular Immunology and Inflammation Branch of the National Institute of Arthritis and Musculoskeletal and Skin Diseases, O'Shea plays guitar and mandolin. Occasionally, depending on the music and who's in the group, he has also performed on violin, bass guitar and drums. O'Shea is self-taught and picked up the guitar at age eight. He enjoys old-time and Irish music.
The music ARRA plays is geared towards its audience. When the group plays for scientists, Collins has been known to take a "Weird Al" Yankovic approach by changing the words of a song. For instance, Del Shannon's hit "Runaway" was changed to "Amazing DNA." He performed this at the NIH's National Heart, Lunch, and Blood Institute.
"In my perspective, the best rock 'n roll is from the last century," Collins said. "We also play The Black Eyed Peas and songs from Bruno Mars when the audience is younger. We often meet at John's (O'Shea's) house for good food, conversation, and of course, to rehearse."
Rehearsals can be one or two times a week if they're getting ready for a performance. Otherwise, they're less frequent. ARRA performances can be year-round, with more during the holidays and summer. They've performed for the National Association of Science Writers, at the Building Museum, the Library of Congress and numerous science and medical conferences.
"Francis is supportive of the extraordinary talent here at the NIH," O'Shea said. "All of us love playing. I like rehearsals more than performances because we get together, have dinner, talk and have fun playing together."
"Francis also has a yearly music party at his house where he invites a whole bunch of people over. Audience members call out a song and we play. The venues vary, too. Francis would say — and I've always felt this way, too — that music creates a sense of community," added O'Shea.
Collins has had the pleasure of performing with YoYo Ma, Jackson Browne, Kenneth "Babyface" Edmonds and Whoopi Goldberg. "One of the most heartwarming things is being with these stars and their roadies backstage," Collins said. "It's exciting for us and they respect what we do."
Researching the Links Between Music and Science
He and Renee Fleming sang together as part of an interview on NPR. Now, they're working together on an initiative between the NIH and the John F. Kennedy Center for the Performing Arts called Sound Health: Music and the Mind, to expand on the links between music and mental health. It explores how listening to, performing or creating music involves brain circuitry that can be harnessed to improve health and well-being.
For Collins and the members of ARRA, life rocks when you combine music and science.
https://youtu.be/FMFoE2ZntRE