From the Shower to Zoom, Singing as Stress Relief Goes Global
Virtual choirs can help lift spirits and fight loneliness
With the coronavirus pandemic keeping a large part of the planet's population sheltering at home, online opportunities to sing or hear singing have exploded, from the famous as well as the not-as-famous.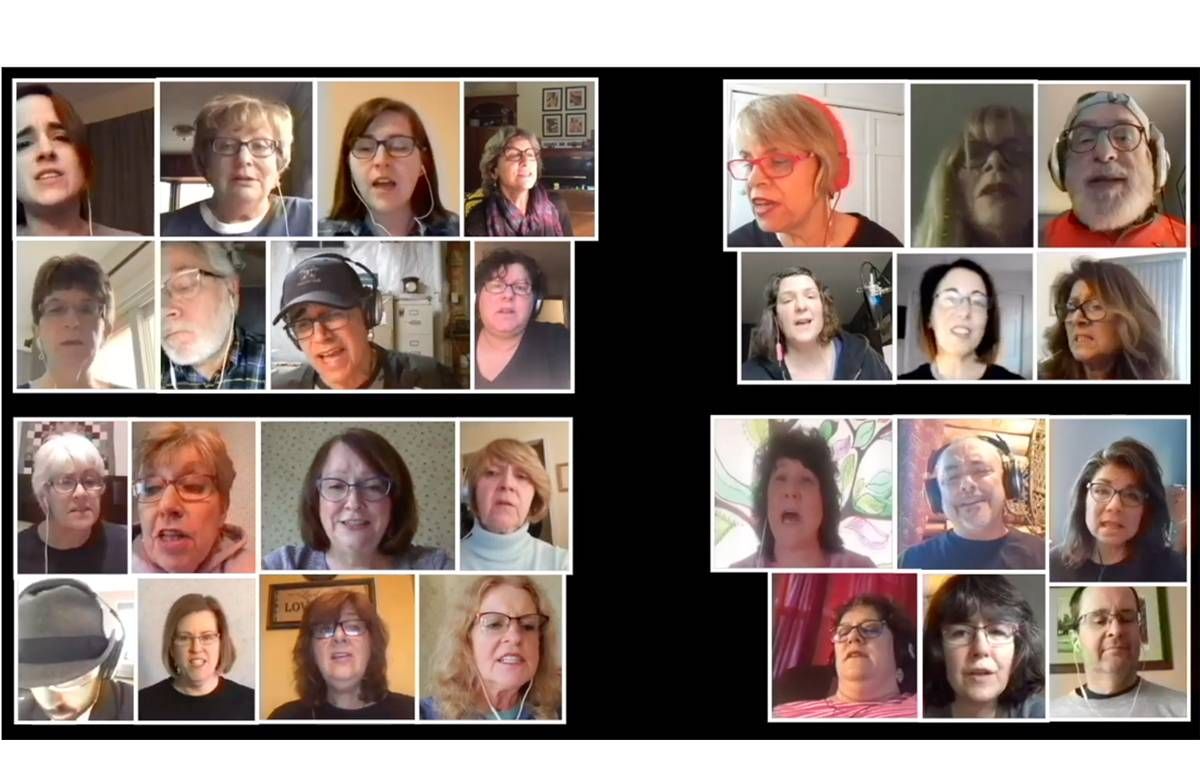 For example, the original cast of Hamilton gathered via Zoom to sing "Alexander Hamilton" on Some Good News with John Krasinski. And Jimmy Fallon, Sting and The Roots came together for a virtual version of "Don't Stand So Close to Me."
Whether they are established groups or choirs forced to sing online through computer software, or individuals seeking the new music-making opportunities sprouting up on social media, the urge to sing addresses people's desires to come together, raise their voices and make music — even while staying in place.
And with the recent news that communal vocalists are considered coronavirus superspreaders because of the deep breathwork done while singing, virtual opportunities are currently the only safe way to join voices together in song.
"Participating in a singing group is a great way to be a part of something bigger than yourself," said Tony Lechner, the founder and executive director of Rock Voices, a national rock music community choir open to all with more than a dozen chapters throughout New England; Brooklyn, Buffalo and Syosset, New York and Portland, Ore. "Singing harmony and experiencing that sound all around you is an amazing feeling."
Building Community by Singing Together

When Rock Voices shuttered its spring season in early March, live rehearsals and meetings stopped and soon continued virtually through Facebook Live. Because of time delays and other technological limitations, however, rehearsals take place with directors speaking to members who are logged in but can only hear themselves singing solo at home.
"You might think that online rehearsals can't possibly take the place of the real thing, but we're finding that our members greatly appreciate the weekly ritual of meeting — even remotely — and working on music together," said Lechner.
They are different from live rehearsals because they don't have the social element of gathering in person and being with friends. And the experience lacks the immediate feedback of hearing the full choir sing together in the same room. "However, we all are trying to make the best of the situation since we have no choice," Lechner said.
For people who weren't already part of an established singing group before the coronavirus struck, Quarantine Karaoke (or QK) developed as a Facebook group that features individuals recording themselves and then uploading the video for all to see.
"Singing is a vibrational activity, and doing it, in most situations, will make a person feel better."
Since it was founded in mid-March  by Joseph Meyers of Brewer, Maine, Quarantine Karaoke has ballooned to more than 706,000 members, a number of posts have gone viral and the group has spawned several copycat online groups.
"QK has helped build community by tying everyone together even while secluded in their own homes," Meyers said. "The first rule is to be kind, no bullying, which has helped develop a kind spirit that flows within the group. Many people have said this has been a godsend for them to cope with losing their normal support structure during the pandemic."
Singing Helps Many Cope With Coronavirus
With most of us sheltering at home, life is bound to feel lonely and unusual. But with social media, feedback can be instant.
"If you are participating, all of the lovely comments and support you receive can really help turn your day around or give you the confidence," said Meyers. "People sing all the time in their homes, unbeknownst to the world, so this has been a chance for people to have a window into the regular life of the average person. There's some amazing talent out there!"
Nobu Adilman is the co-founder of Choir!Choir!Choir!, a Toronto, Canada-based drop-in choir where people learn one new song each week and perform it the same night. The group, which has also done events in the United States, now does virtual singalongs, most recently with Rufus Wainwright.
Adilman thinks virtual gatherings help counter the range of feelings many have as the pandemic continues on.
"Singing is a vibrational activity, and doing it, in most situations, will make a person feel better," he said. "So it's no surprise that at a time when we are all feeling so out of control, joining others to sing your favorite tunes will lift spirits. Loneliness is a societal ill, and its effects can be really demoralizing and lead to unhealthy habits. Anything that fights this feeling is a good thing. And singing with others, even if we're doing it from our computers, is definitely one of them."
The Health Benefits of Singing

Despite the recent findings that live singers are more likely to spread the coronavirus, singing itself has many health benefits, according to research, advocacy and leadership development group Chorus America.
According to a 2019 study, Chorus America found that "adults who sing in choruses report significant personal benefits, including feeling less lonely." Those 65 and older reported that "older singers report both a better quality of life and better overall health than the general public."
The social benefits of singing — even when sheltering at home — are clear.
"Singing in a group can be a good way to meet new people and make new friends and it can even increase confidence," said Lechner. "It's a therapy that works in so many ways all at once, but without the negative side effects of drugs. Simply put, singing is good for you in every way."