8 Fun Things You and Your Dog Can Do Together
Think outside the dog park — there are more ways to enjoy the company of your pooch
1 of 9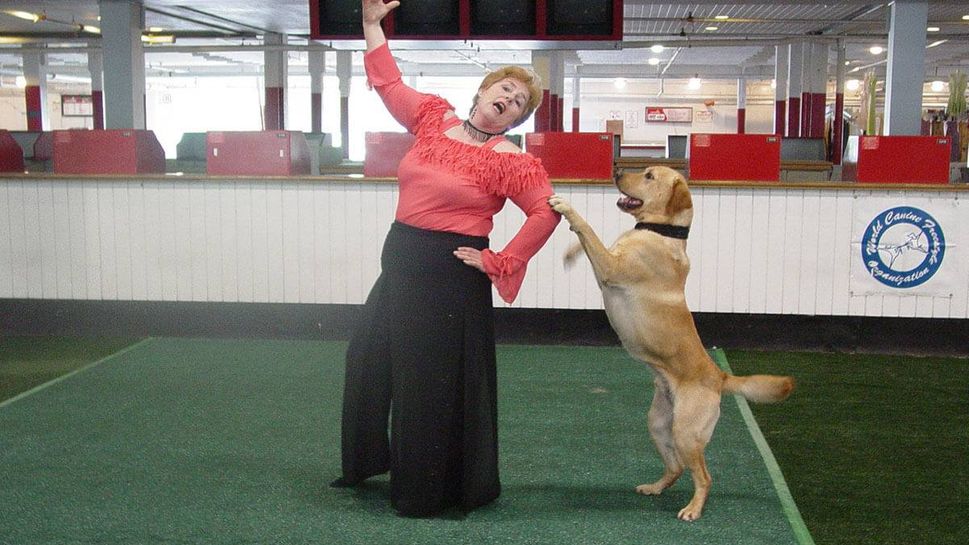 WCFO
"The more I learn about people, the more I like my dog." – Mark Twain
Your dog just may be the perfect companion: he doesn't complain, requires little notice to be ready for an adventure and always brings his unquestioning, loyal devotion. If, like Twain, you're partial to the company of your canine, you can enjoy many things other than trips to the dog park — from exploring the culinary arts to playing sports.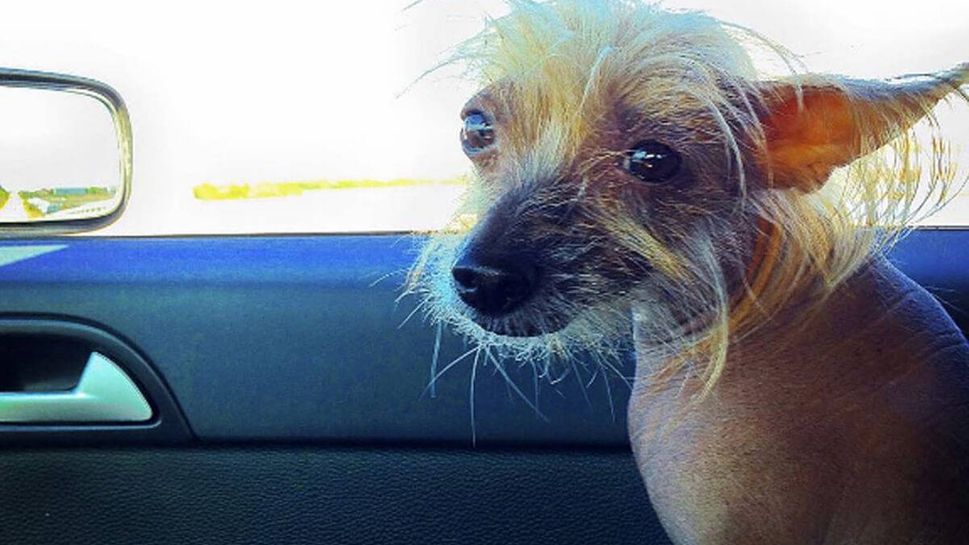 Courtesy of Winston Lord
1. Join a Virtual Dog Park
Not everyone is up for the morning chatter at the dog park. If you're good with a camera — any smartphone will do — you can join the company of many dog owners on Instagram.
Owners of Chinese crested dog Mei Li (Chinese for "beautiful graceful") found their little dog's daily capers so amusing they had to share them.
"Chinese cresteds are bald, except for hair on their head and feet," said Winston Lord, who rescued Mei Li four years ago with his wife, Stephanie. "They also regularly win the ugliest dog contest. Her antics and priceless expressions make us laugh or shake our heads almost every hour."
Soon Mei Li had her own Instagram account (@mei_li_the_crestie). "We've made many virtual friends with other dog owners who post as their dogs, especially in the Chinese crested community," Lord said, adding that the pup has also become quite well known in their neighborhood.
"Mei Li has become my alter ego on Instagram," he said.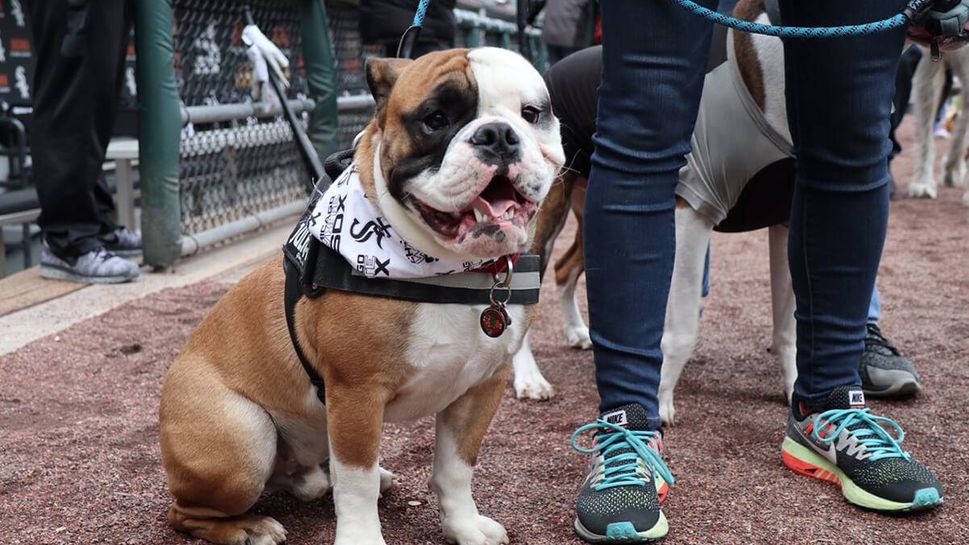 Chicago White Sox
2. Take Her Out to the Ballgame
Popular with many major and minor league baseball teams: dog night at the ballpark. Four-legged spectators are welcome to come and enjoy the game, provided they bring a human escort. Dog-friendly games often have an earlier start time and plenty of fun extras, like treat bags, pet parades or designated areas for doggie playtime.
Most dog-friendly games donate a portion of the evening's proceeds to a pet-worthy charity. Just be sure to keep a protective eye on your hot dog.
Check your favorite team's website for details.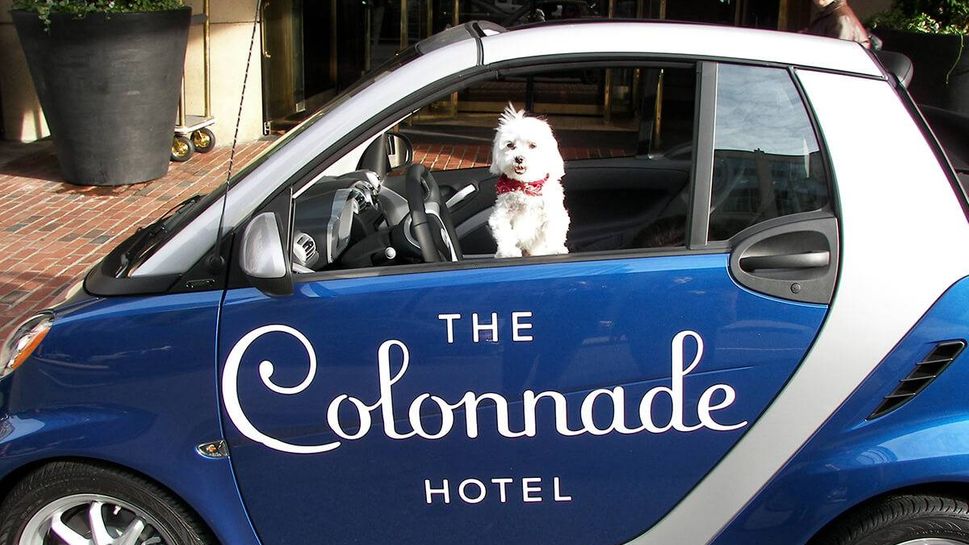 The Colonnade Hotel
3. Indulge in a Getaway
Most pet owners admit that vacationing isn't quite the same when you have to leave your best friend at home. Don't put the brakes on your travels. Instead, take a trip with your dog. From luxurious coastal resorts to urban destinations, hotels everywhere are making dog-human pairs feel welcome. For example, at the Colonnade Hotel in Boston, your dog is provided with a pet bed and bowl plus a choice of three brands of dog food, with walking, grooming and spa visits available for an extra charge. Owners are provided with maps of nearby walking areas and dog-friendly amenities so you can plan a day together.
And don't feel you need to settle for take-out during your vacation. Restaurants with sidewalk or patio seating are often agreeable to furry customers, especially in beach or vacation towns. Check out this website to see which dog-friendly options are near your destination. Confirm ahead of time to avoid disappointment.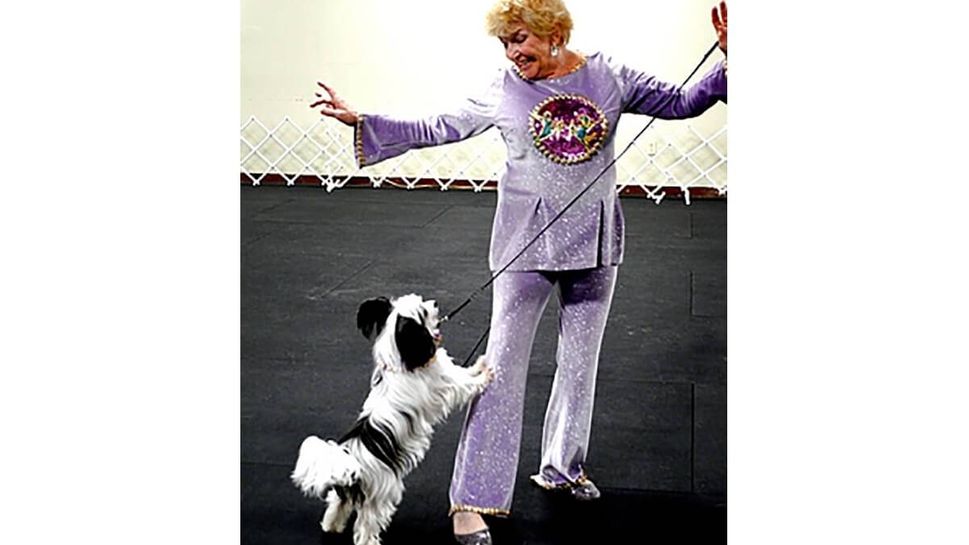 WCFO
4. Take Up Doggie Dancing
Patie Ventre, 73, of Brooklyn (pictured) put on her first canine freestyle dancing competition in 1996 for two pet food companies who were public relations clients. More than 20 years later, the group she founded, the World Canine Freestyle Organization, has almost 5,000 members and holds 70 to 90 competitions worldwide each year. It also conducts six or seven video competitions annually.
Owners perform with their dog or dogs — and in freestyle, anything goes, Ventre said.
One division, called Sassy Seniors, is for people over 65 and dogs over 7. The older adults take to the dancing easily, said Ventre.
Many of them were "brought up in the '40s, the swing era and the ballroom era," she said. And the dogs love it, too, she added. Learn more here.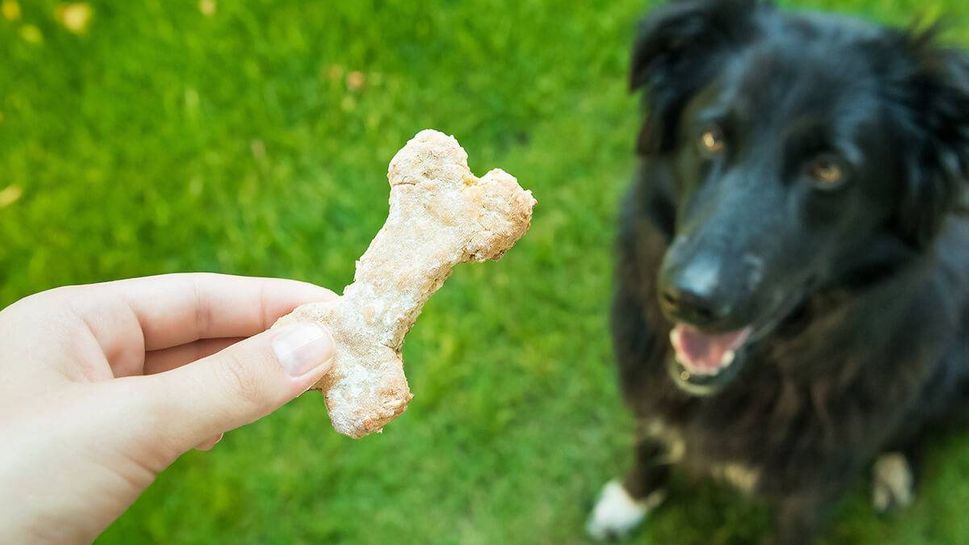 Adobe Stock
5. Become Your Dog's Top Chef
If you love to cook but don't have many mouths to feed, take a second look at that very grateful recipient of all things food: your dog. From mixing up a batch of homemade dog treats to cooking a complete meal, there are many ways to flex your culinary skills for your canine.
In addition to being able to use your choice of ingredients, the great thing about cooking for your dog is she's very forgiving. She won't complain if a treat is a little overdone or you didn't use a trendy cookie-cutter.
Always check with your vet before making a significant change to your dog's diet; you want to make sure her nutritional needs are met, and ensure you're not over- or under-feeding. Familiarize yourself with the human foods that aren't suitable for dogs — some are even poisonous.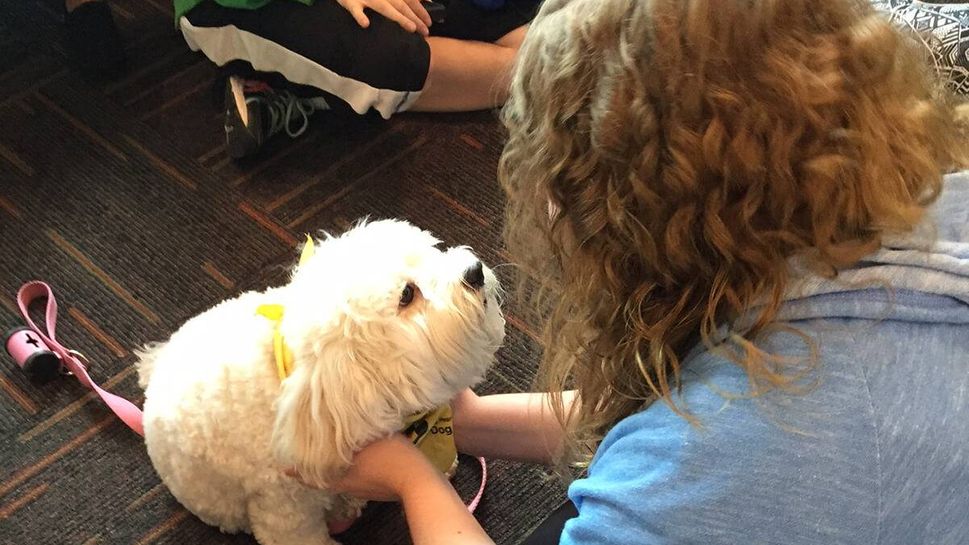 Millersville University
6. Make a Student's Day
Colleges recognize that dogs can be much more than just a sports team mascot. Therapy dogs have been effective at helping students offset stress and mitigate homesickness.
At Millersville University, located near Lancaster, Pa., the counseling center brings in certified therapy dogs during finals weeks and Wellness Week. "Each event can be identified by wagging tails and happy students," said Janet Kacskos, director of communications. "We encourage all of our students to stop by and make a new four-legged friend. And sharing pictures of your own pet is encouraged!"
If you'd like to become involved with campus visits, contact the college directly; some schools require the dog to be certified as a Canine Good Citizen or enrolled in an approved therapy dog organization.
For a less formal approach, you and your dog can bring some happiness to a college student by strolling the public areas of a nearby campus, ready to accommodate the occasional student's request to pet your dog.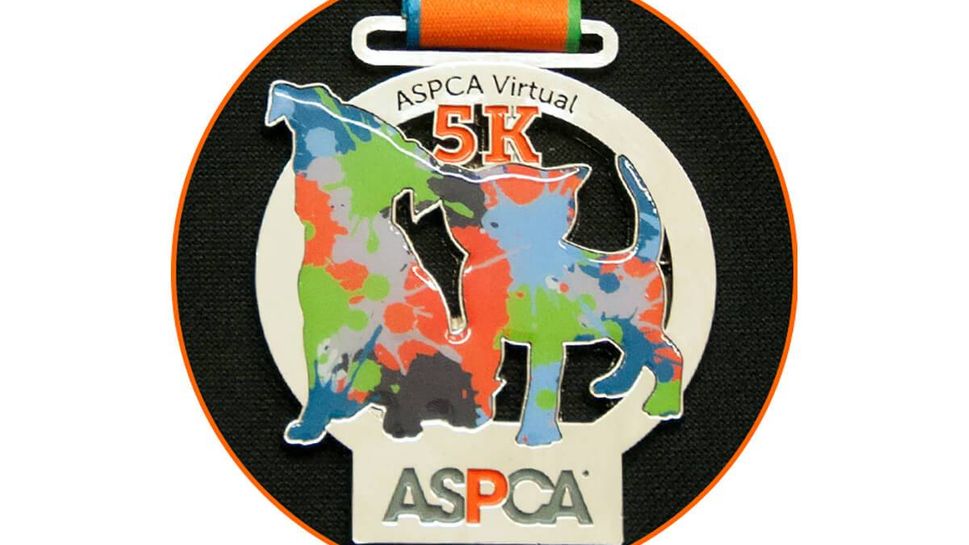 ASPCA
7. Run a Virtual Road Race
If your dog springs to action when you lace up your running shoes, there's no need to disappoint him by entering a road race that's off-limits to four-legged runners.
With a virtual race, you register online and then run the designated distance with your dog whenever and wherever you please, following the rules specified by the race. Your race can be based anywhere; proximity to race headquarters is not required. The entry fee often includes a bib, race T-shirt or other swag. Choose a dog-friendly route, and you and your pup can begin collecting finisher's medals, like the one pictured in the photo from the ASPCA's virtual 5K.
Consult with your pooch and plan your next race here. If your pup's not already a runner, visit the vet first to make sure he's fit for training.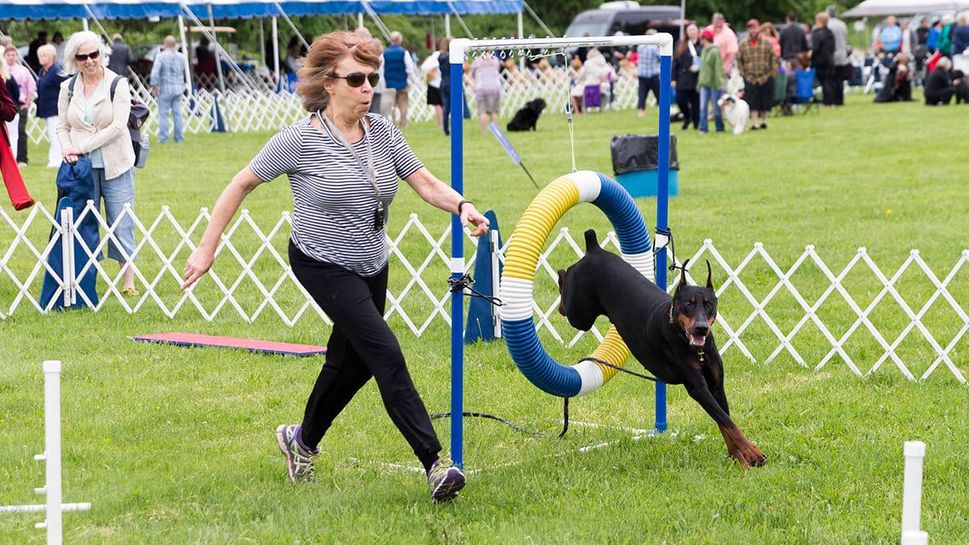 AKC
8. Enjoy Some Fur-riendly Competition
From chasing balls to sniffing out the tiniest morsel of food to displaying A+ behavior, every dog has his or her talent. Organized dog sports are designed to showcase the unique skills and instinctive drive of canines. They're fun for humans, too.
The American Kennel Club (AKC) holds a number of such events.
"There are three main categories of AKC events: conformation, performance and companion," said Gina DiNardo, AKC executive secretary. "Conformation and performance events are based on the standards and historical functions of breeds, and therefore are limited to purebreds." Dog shows, field tests and trials fall into these two categories.
Companion events are open to dogs of any breed, as well as mixed breeds.
"These are designed so any dog and person of any age can show off their athletic abilities, and demonstrate the bond that can develop between a well-trained dog and its owner," said DiNardo, citing examples such as Obedience, Rally, Tracking, Dock Diving and Agility.
Check out this list to see what appeals to you and your pup.