A Funeral Home Director's View of the Pandemic
The pain that she and colleagues feel, turning away the grieving
Dogwoods were in bloom, birds were singing and a crisp sun was shining at Green-Wood Cemetery in Brooklyn, N.Y. As I stood at the grave of a dear friend, gravediggers in protective masks and disposable gloves carried his casket to the open ground. Along with his son, there were only four of us in attendance, also masked, and keeping the required six feet social distance in the pandemic. Looking over at the casket, I thought: "You deserved more than this."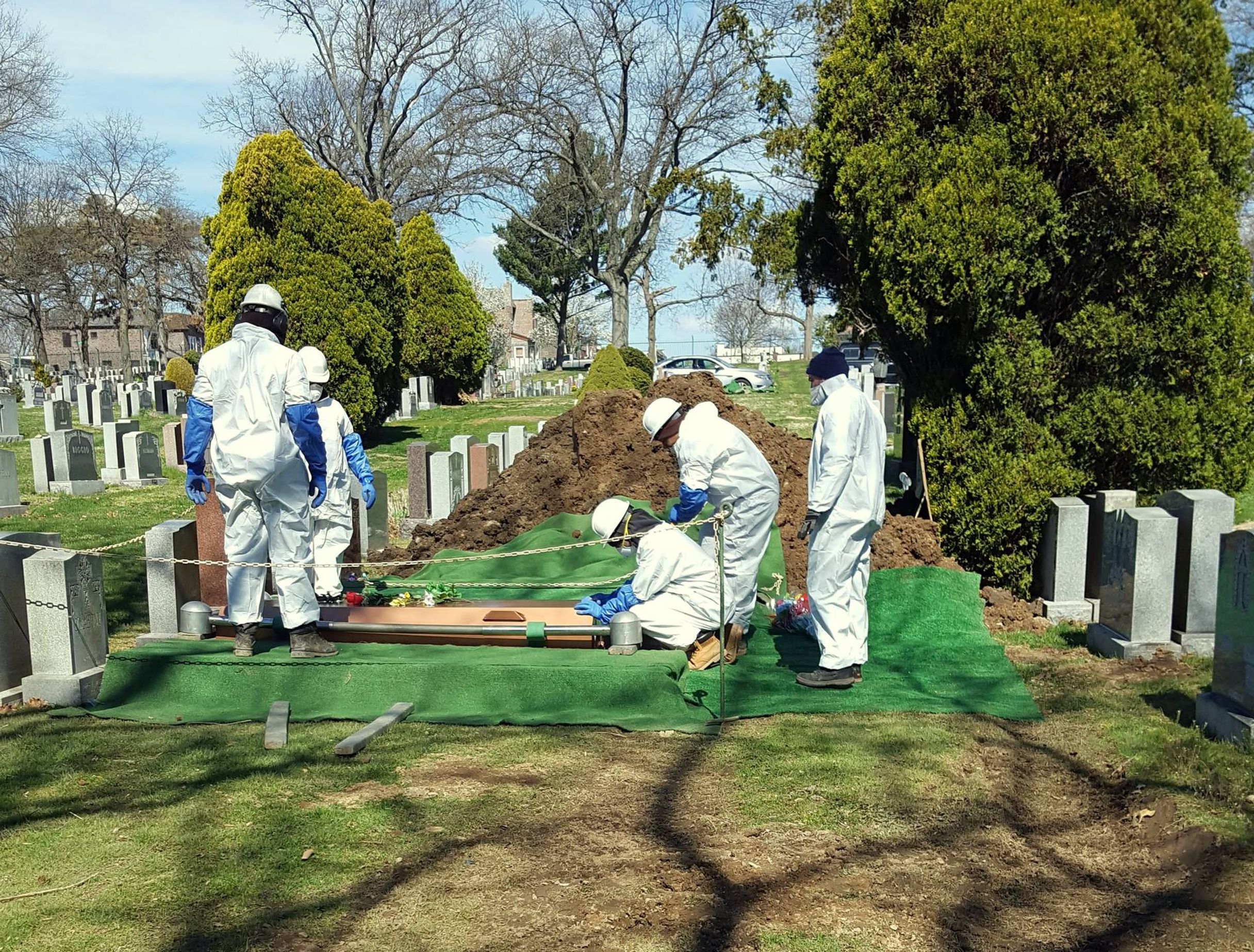 My friend had worked in the funeral industry and I knew his last wishes. Some of them I could do in my capacity as a funeral director in the New York City area. Others were impossible due to the COVID-19 rules. There was no visitation, or church service, as he had requested. No friends or colleagues could be there, not even his daughter who lives in Florida. And I could not give his son a consoling hug after the graveside service ended.
Still, we were more fortunate than many.
When Funeral Mourners Must Watch From Their Cars
I was able to find a Catholic priest to officiate and we were at a cemetery that was more welcoming than some, allowing people at the grave. More restrictive cemeteries require mourners to watch from their cars. Sadly, some don't allow anyone to attend.
Our Commitment to Covering the Coronavirus
We are committed to reliable reporting on the risks of the coronavirus and steps you can take to benefit you, your loved ones and others in your community. Read Next Avenue's Coronavirus Coverage.
These days, funeral directors like me try our best, against overwhelming circumstances, to lay the dead to rest with respect and dignity. We sometimes put our own health and safety on the line.
The pandemic feels like the AIDS crisis and Sept. 11 rolled into one, intensified in unimaginable ways.
Protective supplies, such as masks and disposable gloves, are in short supply and a number of funeral directors have come down with the coronavirus. Many of my colleagues are emotionally and physically drained; the exhaustion in their voices is palpable. We end each conversation cautioning one another to "stay safe."
For those of us who've worked in funeral service for any length of time in the New York City area, the pandemic feels like the AIDS crisis and Sept. 11 rolled into one, intensified in unimaginable ways. As the official death toll in our area has surpassed 12,000, funeral homes have been overwhelmed by the volume they're being asked to handle. Most have been forced to turn people away, something unheard of only a few months ago.
'I Could Cry Now'
"I could cry now," said Andrew Anastasio, who runs the B. Anastasio Funeral Home in Brooklyn. Each day, he receives about 40 calls from people all over the city desperately looking for a funeral home for their loved ones.
Anastasio has had to turn down most callers. When he asks if they've called their local funeral home, the invariable response is, "They can't help me."
It's the same story at Farenga Funeral Home in Astoria, Queens, whose website says they're at capacity and unable to  accommodate families who haven't already prearranged funerals with them. "I've never experienced anything like this in my entire life," said Gus Antonopoulos, the owner of Farenga Funeral Home.
Farenga is far from alone. The majority of funeral homes are small, family-owned firms, with limited staff and no refrigeration.
The Painful 14-Day Rule
Antonopoulos says: "You see the pain in these people trying to get a funeral home within the fourteen-day time frame." He's referring to New York City's contigency plan allowing hospitals to turn over unclaimed remains after 14 days for burial on Hart Island, a mass burial ground.
Earlier this month, a young woman from out of the area banged on the locked door of Antonopoulos's funeral home pleading for help. "Please help me. Please take my father. No one else wants him,"  she said through tears.
It is all being done to "maintain some integrity and give people what they want — to the best of our ability."
Despite being at capacity, the funeral home did.
Antonopoulos has tried to retain a semblance of normalcy during a time that is anything but normal. He has rented a refrigerated trunk to store the many remains in his care. Arrangements are made by phone and, to streamline the process, there are just two casket choices.
"Some of our Greek churches allow a service with a limited number of mourners," Antonopoulos said. For those that don't, "a Greek Orthodox priest will come in the morning and bless the body. Then we pass the house, place a rose in the door, and process to the cemetery as we normally would."
It is all being done, he noted, to "maintain some integrity and give people what they want — to the best of our ability."
One Friend's Heartbreaking Story
One of the last funerals Anastasio did with a viewing was for the mother of a close family friend. The elderly woman had died of COVID-19, through the death certificate did not note that.
"It was heartbreaking," he recalled. "My friend told me, 'Andrew, they took my mother at 5 a.m. on Tuesday morning. I waved to her as they took her into the emergency room. Now, I can't even see her.'"
It's a scene repeated again and again in hospitals across the city.
"I just want to see my mother. I have to see her," his friend said. "That broke my heart," noted Anastasio, who has not been able to go near his own elderly mother for a month.
George Luhring, who co-owns Village Chapels in Middle Village, Queens, has seen the changes unfold in increments.
"The canceling of the Masses came first," Luhring said. It was crushing for many families, so Luhring reached out to his local parish and arranged for a priest to come out and bless the casket as the hearse stopped in front of the church on the way to the cemetery.
With remains filling hospital morgues and social distancing mandated, many funeral homes have stopped holding traditional wakes.
Sadness On Top of the Saddest Time
One of the most affecting moments for Luhring was when, at a nursing home, he had to remove a deceased person from a table where she was being stored with two other remains.
Then there was the 90-year-old woman whose family feared she'd be susceptible to the coronavirus if she went to the funeral home or got out of the car at the cemetery on the day of her husband's funeral. "All she got was a picture" of the man in his casket, Luhring recalled.
Photographs have become essential. Antonopoulos makes sure each family gets a picture of their casketed loved one.
While the absence of traditional rituals during the pandemic has compounded the grief of so many, funeral directors are reassuring people that they will be able to hold a proper service someday.
Already, Antonopoulos has tentative dates for 22 memorial Masses. Most funeral directors in the New York City area hope that by September they'll see funerals return to what they were. "I think it's going to take dedication and hard work to get things back to normal. But I think we'll get there again," he said.
For Anastasio, it's about something very basic. "People are waiting for this pandemic to be over so they can give their loved one a proper goodbye," he said.
Alexandra Kathryn Mosca
is a writer, funeral director and funeral service activist. In 2018, along with a respected colleague, Mosca co-created The Morte Girls as a platform for keeping dignity in funeral service. Dismayed at what they were seeing in the media, the two women made it their mission to highlight the positive aspects of traditional funerals. She is the author of Grave Undertakings, Gardens of Stone and Green-Wood Cemetery. Her website is AlexandraMosca.com.
Read More