Gen Xers: Try Vision Boards Instead of New Year's Resolutions
How Vision Boards can help you set 2022 goals and reach them
Editor's note: This article is the fourth in a series about Gen X and money by Gen X Certified Financial Planner Lazetta Rainey Braxton.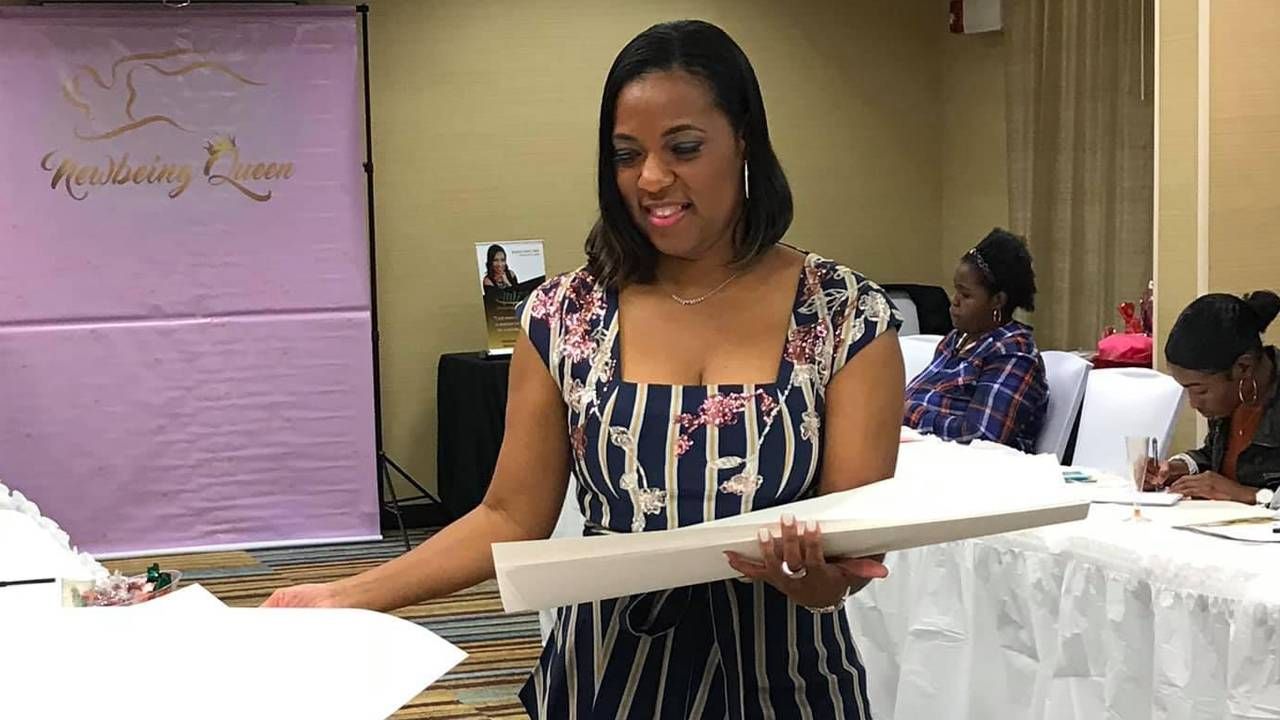 New Year's resolutions often ring hollow by the time you've lived a few decades. The classic themes of eating better, exercising more, cutting spending and being more present with loved ones frequently become abandoned due to a lack of willpower and laziness, according to a Finder.com survey.
Goal setting anchored in your values is a powerful exercise. In fact, it's a core activity for successful financial planning.
Yet, as a Generation X financial planner, I'd suggest that other Gen Xers shouldn't be quick to disregard the concept of New Year's resolutions as a goal-setting strategy. In the spirit of my grandmother who shared wisdom through idioms: "Don't toss out the baby with bath water."  
Goal setting anchored in your values is a powerful exercise. In fact, it's a core activity for successful financial planning and forward-thinking workplaces.
So, how can you set goals that truly inspire and motivate you to live your best life? Digital Vision Boards.
Capturing Your Life's Vision
With vision boards, you curate a collage of pictures, quotes and words that remind and motivate you to achieve goals and aspirations. Your artistically designed masterpiece transforms into artwork to be displayed in a high-traffic personal space for you to see frequently.
Otherwise, if you trust your goals to reside in your mind alone, they could eventually drift to out of sight and out of mind.
My first experience with vision boards was at a retreat with six other Black female Certified Financial Planners. Reshell Smith, founder and CEO of RS Smith Consulting, led us in a Vision Board exercise with stacks of magazines, glue, scissors, markers and other craft items.
"Creating vision boards has been so life changing for me and I want everyone to have that experience," said Smith.
During the retreat session, the seven of us shared, giggled and reflected as we birthed the vision for our lives across four themes on our uniquely designed poster boards.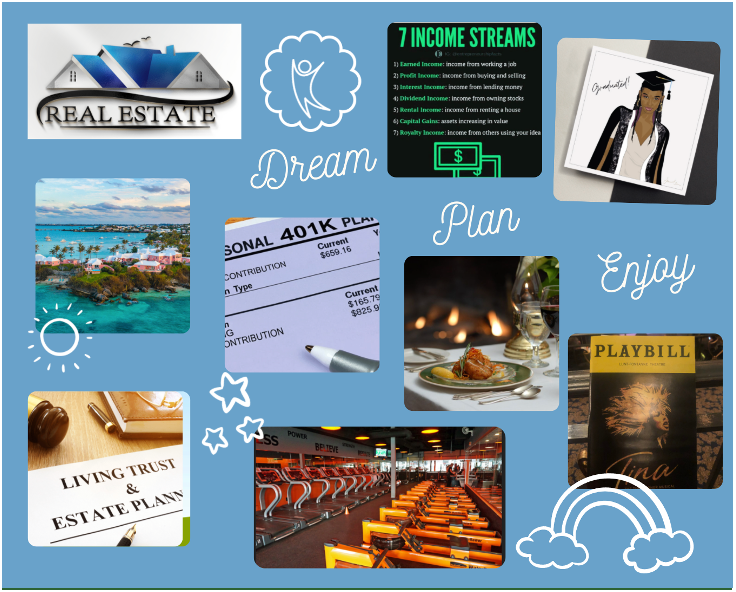 "Vision board events are, like they say, 'a party with a purpose,'" said Smith.
Mariko Bennett, author of "The Blueprint to Manifest Your Dreams" and founder and CEO of Coco Productions, encourages attendees at her "Blueprint" Vision Board sessions to reflect on three to four of seven "life focuses." Once those are identified, Bennett encourages participants to "start with goals and consider your action steps before designing your blueprint."
Also, having accountability partners increases the likelihood of turning your visions into reality. Bennett incorporates group texts and chats into her Blueprint strategy with clients which allow for check-ins, encouraging messages and congratulatory wishes.
Although the pandemic continually thwarts in-person gatherings, I decided to use my screen time during the holidays to capture digital images on my phone using the Canva app to design my 2022 vision board (it's shown above). Other vision board apps, such as Milanote and Visuapp, can also be used.
Expanding Goals to Reflect Your Life and Livelihood
As you can see, my vision for my life and livelihood spans physical and financial wealth to include meaningful activities, strategies and milestones. I've even added some graphic messaging and art to liven up my board. The graphic is printed and pinned to my bathroom wall, a frequently traveled location.
The next step is taking your Vision Board from goal planning to implementation.
In my case, since my Vision Board suggests activities that cost money — such as traveling, dining out, exercising and entertainment — I need to make sure I have the money for them. So, to avoid denying myself desired pleasures, I closely review my income, expenses and savings and decide how much to spend on these activities.
I know I must balance discretionary activities I enjoy with milestones in my life — paying for my daughter's college education, saving for my retirement and paying estate planning professionals to help update my will and create a trust.
To fund my goals, I know I need to either increase my income, reduce my expenses or come up with a combination of the two.
Mapping out a schedule for realizing and paying for your goal is critical. Yet it's often a neglected step.
Expenses are easy to define and manage. Increasing your income takes a little more effort. In my case, I've captured visions for securing multiple streams with my businesses, investments and real estate in ways that bring me delight as well.
Determine Realistic Funding and Timelines
Mapping out a schedule for realizing and paying for your goal is critical. Yet it's often a neglected step. Often, we compulsively charge gym memberships, dining out and travel and entertainment expenses without confirming that we have the cash to cover the credit card bill.
A better approach for these types of regular expenses is confirming that there is space in your monthly lifestyle plan for them. If there isn't, move funds from another discretionary expense (such as your cable bill or clothing) or add more sources to the income section (like a side gig).
For goals scheduled to occur later in the year — in my case, a trip to Bermuda in July — you'll want to create a savings plan. I know I have six months to save for my trip's airfare, lodging, food and excursions. That means planning to add enough to my savings each month to cover my credit card bill for the charges.
If I find that the monthly savings amount that I'll need will be too steep, I'll either have to reduce my trip budget or delay the date of travel. The verdict is still out on this one!
The other nice thing about Vision Boards — you can keep them alive and active for as long as you're working on your goals.
As we move into the New Year with aspirations for a more joyful 2022, let's seize moments to envision, engage and enact goals with the fun and excitement that a vision board can bring.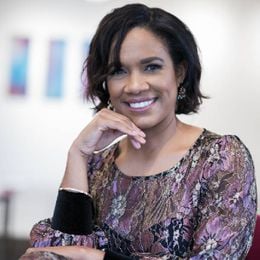 Lazetta Rainey Braxton
Certfied Financial Planner Lazetta Rainey Braxton is co-CEO and co-founder of 2050 Wealth Partners and CEO and founder of Lazetta & Associates. She is passionate about amplifying diversity, inclusion, equality and belonging in the financial planning profession and does so through financial planning, public speaking, writing, consulting and coaching. She was named a 2021 Crain's New York Business Notable Black Leader and Executive as well as one of the Top 10 of Investopedia's 100 Top Financial Advisors in 2020 and 2021. In all her endeavors, she is on a mission to create wealth for the common good.
Read More