Opinion
How Generations Can Collaborate for Climate Justice
Passion for climate activism doesn't have an age requirement - there are ways people of all ages can support multiple efforts
Turning to leave the classroom on an overcast afternoon, one of my students said to me: "It's scary to think generations like yours and my parents who contributed to the climate crisis will be long gone when our generation is facing the worst of it."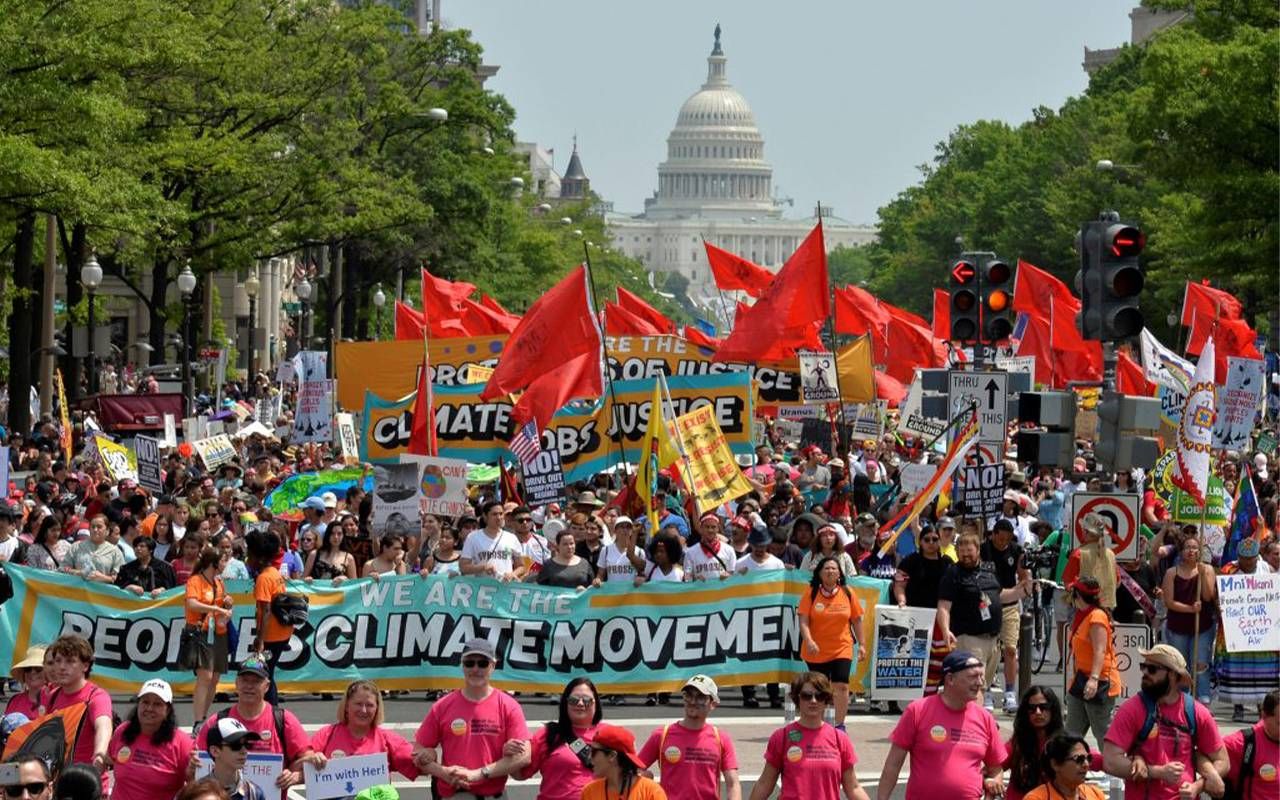 He wore a worried look but seemed to make the comment as an observation, without judgement.
We had just finished reading "The Intersectional Environmentalist: How to Dismantle Systems of Oppression to Protect People + Planet" by the youth activist Leah Thomas, who had Zoomed into my environmental education class at Warren Wilson College, a small liberal arts college in the Appalachian mountains of North Carolina near Asheville.
I'd lived for more than two decades with my daughters in a 900-square-foot rental on the campus, where students work in jobs such as herding cattle or growing kale for the cafeteria.
Tap the Strength of Generations
So I was used to being part of the solution, not the problem. When I started teaching, I was closer in age to my students than their parents. But now, at 57, with gray hair and grown kids, I concluded that I needed to engage in the climate crisis in a way that tapped the strengths of multiple generations, which I could share with my classes.
I was used to being part of the solution, not the problem. When I started teaching, I was closer in age to my students than their parents.
This would also serve me as a mother of 23- and 17-year-old daughters who are growing up in a world where daffodils bloom in December and hurricanes and wildfires affect family members from Alabama to Washington State.
So I embarked on a one-year journey to tell the stories of how women of all ages across the country — one from each state — were confronting the climate emergency, especially given the disproportionate impact of the climate crisis on girls and women.
My research culminated in the book "Love Your Mother: 50 States, 50 Stories, and 50 Women United for Climate Justice." And I sought organizations that could bring Gen Xers like me into a growing climate movement built by young people like the student who rightly wondered about my relevance.
Strong Young Leaders Emerge
In a recent Vogue cover story, youth activist Nalleli Cobo said: "It's not adults who stole our future. It's very specific interests." The striking Vogue cover showed the singer Billie Eilish surrounded by a diverse group of climate and Indigenous rights activists under 30, including Wanjiku "Wawa" Gatheru, whom I wrote about in my book.
"It's not adults who stole our future. It's very specific interests."
As founder of the organization Black Girl Environmentalist, Wawa is a scholar-activist using research and social media to advance equity and climate justice for Black, Indigenous and people of color (BIPOC) communities.
Here's what I learned from my research: older adults like me, who are dedicated to climate justice, can support the voices of younger people as we also push for systemic change to decrease our dependence on a fossil fuel industry invested in profits more than people or the planet.
For some adults, the Fridays for Future movement led by young people, including the 20-year-old Swedish environmental activist Greta Thunberg and many others, brought climate into the headlines and our social media feeds.
"Fire Drill Fridays" protests led by 85-year-old Jane Fonda often bring young and old together for the same goal. Youth groups are tapping into a variety of strategies, from legal to political, which older adults can amplify with finances, logistical support and resources such as time and experience.
One of my former students, Kelsey Juliana, is the lead plaintiff in a federal lawsuit Juliana v. US, calling for a climate plan to protect the constitutional rights of youth to a healthy life. Other young people in Hawaii, Montana, Utah and Virginia, have filed suit at the state level making similar claims.
Assessing a Bleak Future
I interviewed Grace Gibson-Snyder, a fifth-generation Montanan and plaintiff in Held v. State of Montana. She told me that when she was 15, she began to realize she didn't want to have children in the future because of the increase in floods, droughts, wildfires and extreme heat in the West.
Get ready to see older adults cut up their credit cards in front of banks.
"Each plaintiff in the case is impacted differently," she said, "But none of us is old enough to vote. That's why this case exists in the first place."
Intergenerational collaboration could fight fossil fuel interests and imagine a healthy world for all. To this end, I spoke with Cassie Cain, youth engagement coordinator for both 350 Maine and Maine Climate Action. She built coalitions between these climate organizations and young adults through actions such as giving young people paid opportunities or board positions.
"So many young people go to school, play sports and then focus on climate organizing afterward," she told me. "And they are doing the adult work of advocating for a livable future."
Use the Power of Your Money
In her role, Cain began working with a middle-school student, Anna Siegel, who led a campaign with Sierra Club Maine to advocate for LD 99, legislation requiring the Maine Public Employee Retirement System to sell all of its fossil fuel investments. Cain said the bill was meant to "stop the money pipeline" to oil and gas companies. Governor Janet Mills signed the bill into law in 2021.
Older generations also can leverage their financial assets to achieve climate goals. Third Act, an advocacy group founded by the writer Bill McKibben, organizes people over 60 to engage in the climate movement, especially to make the connection between cash and the climate.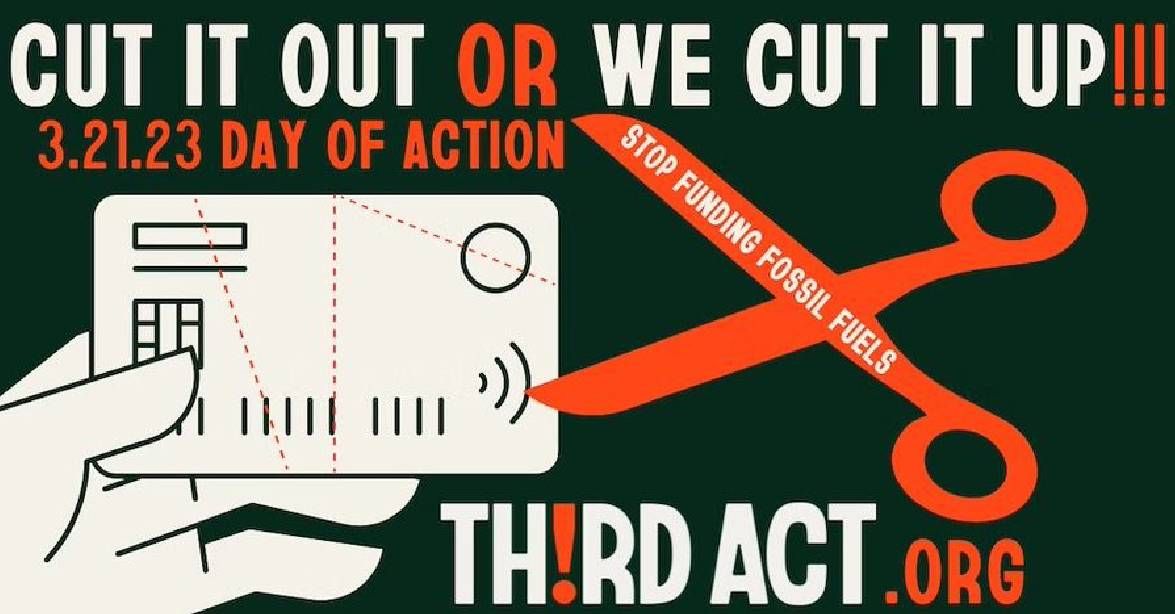 In a New York Times op-ed, McKibben and Third Act's lead adviser, Akaya Windwood, noted that 10,000 Americans turn 60 every day and will live an additional 23 years on average. That's a lot of years to use experience and resources for the good of all ages.
To that end, Third Act is planning a nationwide Day of Action March 21, 2023, to pressure large banks — Bank of America, Chase, Citibank and Wells Fargo — to move their investments out of companies in the fossil fuel industry.
Organizers have collected pledges from thousands of customers of these banks, committing to take their checking, savings, investing and revolving credit business elsewhere if the banks don't move their investments from fossil fuels.
"Stop the money pipeline"
Get ready to see older adults cut up their credit cards in front of banks, although anyone can join such events without cutting up their plastic as the point is to provide public pressure.
This type of pressure worldwide has had an effect. HSBC, Europe's largest bank, recently said it would end fund fossil-fuel expansion.
Indigenous leaders I interviewed have used this same strategy: Bernadette Demientieff, executive director of the Gwich'in Steering Committee in Fairbanks, Alaska, has used it to pressure banks to divest from fossil fuel infrastructure that endangered sacred land and people in Alaska.
"We all have to live on this planet."
Third Act also has created working groups based on vocations by, for example, bringing together lawyers, teachers and artists in focused networks to use their skills for change. And the final charge of this group — which connects to my students — is to support youth environmental and social justice leaders.
In Time magazine, Sophia Kiani, an Iranian-American climate activist, gave specific suggestions for how to show this support: by funding youth climate organizations, expanding formal roles and spaces for youth, giving youth the political power they've earned in elections, and embracing the energy of young people.
Share the Workload
With my students, I've also seen the importance of sharing the foundational work of older generations as we gain strength by learning whose shoulders we stand on.
"Check out this image from 1997," I told one class. "That's Diana Liverman, the only woman on a White House panel on global climate change with President Bill Clinton and Vice President Al Gore."
As a geographer, Liverman has been a co-author on the Intergovernmental Panel on Climate Change (IPCC) reports since 1995. But the first IPCC report in 1990 included only a handful of women, changemakers in their time.
"We all have to live on this planet," a student named Anna said. "It reminds me of that song from "High School Musical" —'We're all in this together.'" For the climate emergency, this message couldn't be truer — for young and old alike.