Healthcare-Based Massage Therapy Can Soothe Patients
Professional massage therapists seek to join health care teams to provide bedside massages for patients
Lying on the massage table, I relax into the moment. Suddenly I am reminded of a soothing back rub from a nurse years ago on the night before my surgery. Unfortunately, today, nurses' schedules most often don't allow for that.
Yet, healthcare-based massage therapists — professional massage therapists with specialized training — are eager to help patients relax during hospital stays, at nursing homes and in hospice.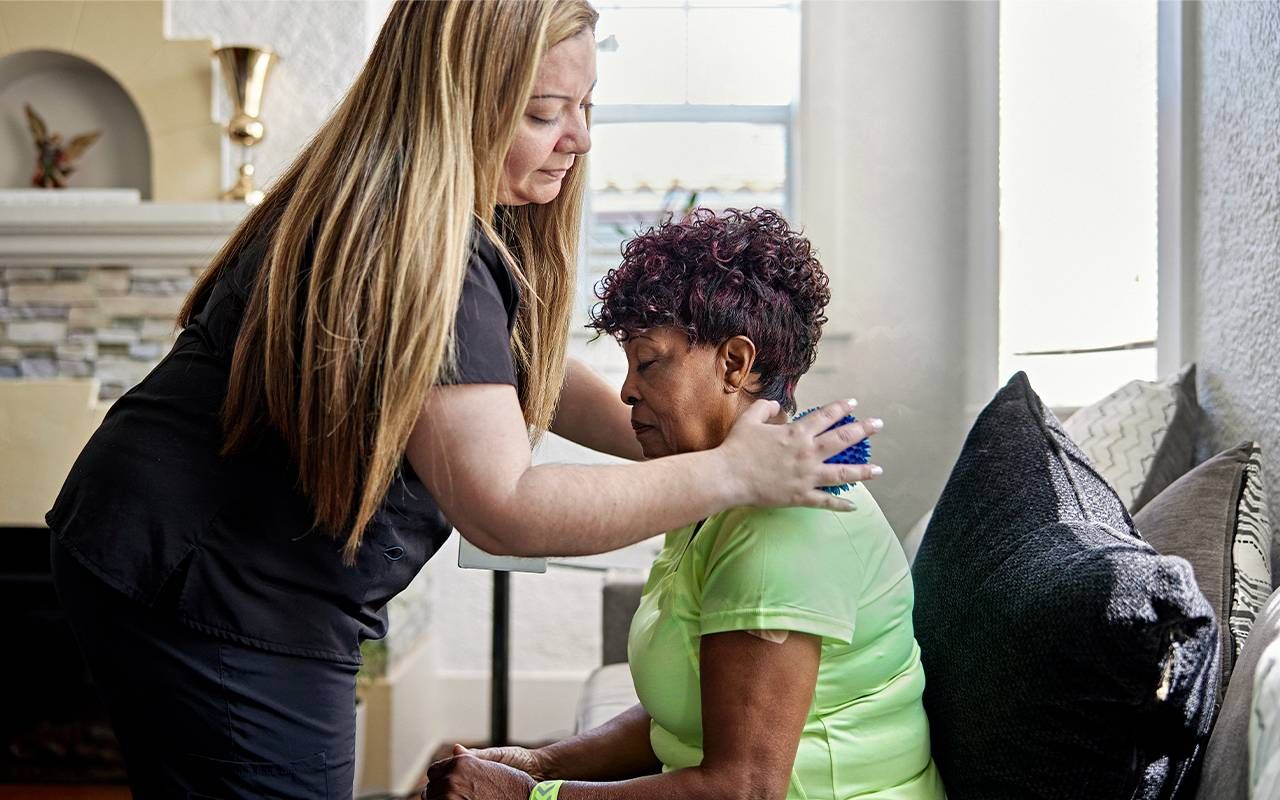 "Massage therapy has long been accepted as part of integrative medicine."
How do I know? Twice in recent months, I was invited to volunteer at a massage table during training sessions for future healthcare-based massage therapists. As someone who has significantly benefited from standard and oncological massage over the past 26 years — a routine part of my "Pamper Patricia" program — I immediately accepted this cushy assignment.
"Massage therapy has long been accepted as part of integrative medicine, and for ill individuals, bedside massage is a non-pharmacological intervention that can help manage symptoms without side effects and enhance the quality of life," says Carolyn Tague, program manager and lead instructor for advanced training in healthcare-based massage at the Osher Center for Integrative Health, a division of The University of California, San Francisco Health.
"It's tough being a patient, and touch at a time of stress or illness can be very beneficial," Tague continued. "I tell nurses to send us your anxious, cranky, or irritable patients. Massage therapists are not there to poke or prod — we provide comfort and care."
"When You Offered Me a Foot Rub, Something Switched"
Tague's patients seem to agree with her. On an evaluation form, one wrote, "There was something so soothing that occurred, a calm emerged." Another reported, "So healing and restorative!" A third told Tague, "I was driving in for my first chemo, thinking maybe I would be better off to die, and then when you offered me a foot rub, something switched. It all became more humanized. What you do is important."
How Important? 
A study conducted in 2017 at Mayo Clinic's Methodist and St. Mary's hospitals in Rochester, Minnesota, determined that massage for an in-patient population "may be a complement to opioids prescribed for pain." 
Researchers also noted that as more than one-third of patients fell asleep during a massage, "Our results suggest integrative therapies can promote a state of relaxation." Other studies report on patients' assessments of bedside massage. Spoiler alert: They liked it!
"Our results suggest integrative therapies can promote a state of relaxation."
In 2018, the Joint Commission, which accredits health care organizations and programs in the U.S., said that manual therapies, including massage, are appropriate for pain management. And the Mayo Clinic College of Medicine and Science predicts 32% job growth for healthcare-based massage therapists between 2020 and 2030.
Tague, who has taught healthcare-based massage for seven years, also is the co-author with Gayle MacDonald of "Hands in Health Care: Massage Therapy for the Adult Hospital Patient," a reference for practitioners. 
In 2021, along with Karen Armstrong, Tague co-founded the Association of Massage Therapists in Health Care. Armstrong is the manager of integrative medicine and clinical massage at Beaumont Health in Royal Oak, Michigan, a suburb of Detroit. 
The association supports massage therapists and offers resources for hospitals and health centers starting or expanding healthcare-based massage programs.
In the Hospital? Ask About Massage Therapy
Armstrong and Tague say healthcare-based massage therapists want to be part of the medical team and are convinced that patients wish to have massage when available. "My big dream is that massage would be the first method for relieving pain and that every hospital would have a therapist on staff," Tague said. "That would be ideal for both sides."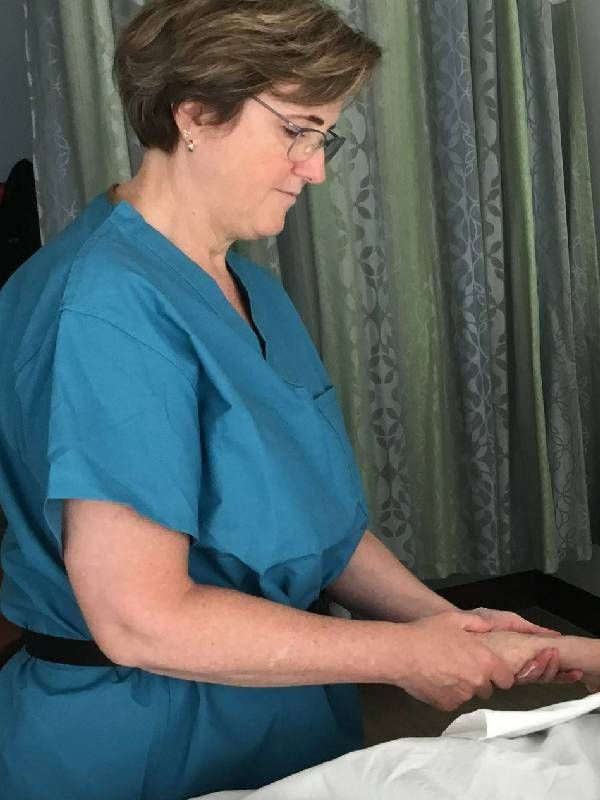 She suggested that consumer demand could help achieve that goal. "Individuals and their families can advocate for this service by asking nurses and doctors if massage therapy is available," Tague said.
Tague emphasized that hands-on training is necessary for professional massage therapists interested in this work. Armstrong agrees. "Training is key, and our association is working to establish best practices for teaching healthcare-based massage," she said. 
"We define 'healthcare' as any environment the Joint Commission could accredit, and entry-level massage schools do not prepare students to work at a patient's bedside," Armstrong added.
In addition to her administrative duties at Beaumont Health, Armstrong teaches. "My training is a robust curriculum with a clinical rotation in the hospital. Under supervision, we treat patients and function as additional team members," she said. 
Though healthcare-based massage is a low-cost, effective way of reducing anxiety and pain and promoting sleep, Armstrong noted that practitioners face a specific challenge: Funding.
"In Michigan, most health insurance does not cover massage, and many hospitals do not yet financially support it, though they are happy to offer massage if we can financially support ourselves," Armstrong said. Her department now sells gift certificates for in-hospital massage as an alternative to flowers or balloons.
Your Body Can Become a More Bearable Place
"There is such a disconnect — not all hospitals want to pay for our services, and some don't know they should be asking for a specially trained person," said Cal Cates, executive director of Healwell.  
Based in Arlington, Virginia, Healwell has provided advanced training for massage therapists for 12 years. Currently, the nonprofit agency places 20 therapists in hospitals, continuing care centers, and memory care facilities in the Washington, D.C., area and is on track "to have touched 9,000 people" this year.
"Some people may say massage is just rubbing," Cates said. "Okay, it is rubbing, but a healthcare-trained massage therapist also can serve as a collaborative team member, bringing another discipline into healthcare." 
Cates added, "For example, if I notice a skin breakdown on a patient or suspect a blood clot, I can report that, so it can be addressed. At the same time, if I provide a massage for 20 minutes, your body can become a more bearable place —and that's important."
Patricia Corrigan
is a professional journalist, with decades of experience as a reporter and columnist at a metropolitan daily newspaper, and also a book author. She has written for Next Avenue since February 2015. Read more from Patricia at latetothehaight.blogspot.com.
Read More