How I Helped My Parents Plan One Last Family Trip
We chose to honor their strongest urge: to do something new, far away, on their schedule
A few years ago, chemotherapy had so weakened my father that his doctor paused treatment. Before we even left the doctor's office, Dad's first thought was to orchestrate a family reunion and take a 9-hour flight to Hawaii.
"What do you think about me traveling?" he'd asked the doctor as if the break represented good news (time for a vacation!) instead of a worrisome, unplanned pause in his cancer treatment plan.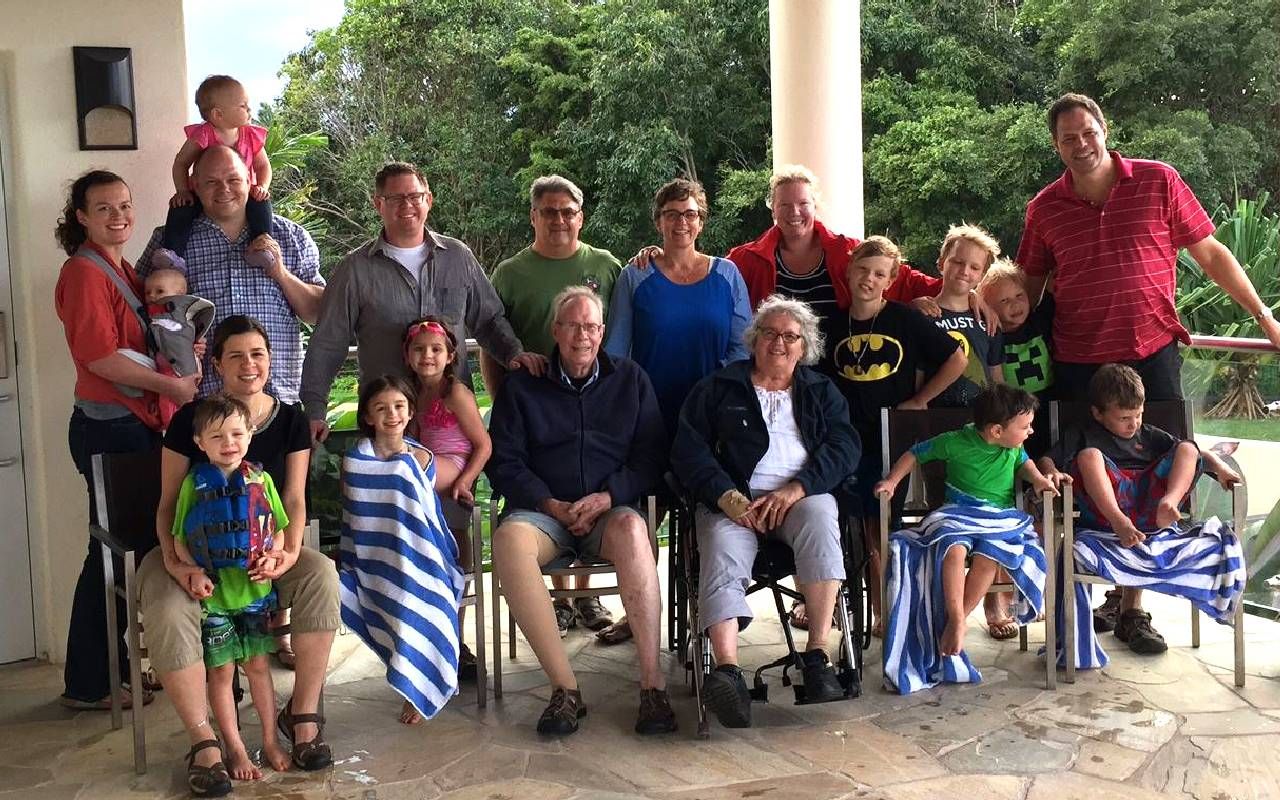 To our surprise and my initial chagrin, the doctor encouraged us to take the trip. But, unfortunately, my Google search history shows my mind was on "recurrent cancer prognosis," not "trip planning for seniors with limited mobility."
That smile sealed my commitment to making the trip happen.
Planning a multi-generational, cross-country family trip was daunting. But when Dad asked Mom if she'd like to have a family reunion in Hawaii, her face lit up with a sunshine-bright smile. My mother, an avid traveler, had not been on a plane since being disabled by a stroke three years earlier. That smile sealed my commitment to making the trip happen.
Apart from the logistical challenges of finding a time that worked with four busy families, the trip represented several physical challenges. Chief among them was meeting my mother's daily care needs "on the road." For example, she needed help bathing and dressing, at a minimum. She also used specialized (and bulky) equipment in the bathroom.
And that was just the start. My boys were under five then, so we'd have their travel gear and my mom's manual wheelchair. So the first lesson of traveling with a person with limited mobility was immediately apparent: don't plan a "quick trip" on a short deadline. 
You'll need time to make personalized travel plans. Here's how we did it.
Find Appropriate Accommodation
Since there are many airlines and flights from Chicago to Honolulu, flights were fine. However, it was more important to ensure we could find suitable accommodations before making other plans. 
All four adult children had small children of their own, so we decided to look for a place where everyone could "live apart and together" in a cluster of separate units or rooms. We found a resort with an accessible unit for my parents, space we could congregate for meals outside our rooms, and activities for the kids (all 10 of whom were under 12 at the time).
Finding Local Help
Next, we had to figure out how to take care of my mother while away from home. We considered bringing one of her caregivers on the trip, but it seemed like overkill. 
My father already managed my mother's nighttime routine, and the rest of us would help in the daytime. That left the 2-hour morning routine, which included helping her bathe and dress (and often, washing the bed sheets).
When we cleared the caregiving hurdle, it seemed like we could make the trip a reality.
None of us were comfortable attending to my mother's personal needs, so we looked for a local caregiving agency. Google and the resort concierge made a few recommendations. Finally, after several calls, we found a company willing to provide a caregiver and the necessary equipment for the week (a shower chair, for example.) 
Even though it was just a one-week assignment, we went through the same intake process as if we were a local client, which helped us all feel comfortable with the plan.
Seamless Travel (Sort Of)
When we cleared the caregiving hurdle, it seemed like we could make the trip a reality. After we bought the flights online, I called the airline's accessible travel information line and arranged wheelchair assistance at the airport.
All U.S.-based airlines are adept at meeting the needs of travelers with disabilities, partly because the Air Carrier Access Act prohibits discrimination based on disability in air travel.  Some, like United, have even designed special travel assistance services for older adults. So the sight of more than twenty wheelchairs in the early boarding staging area oddly reassured me.
When it was her turn, the flight team transferred her to a special chair, and I helped get her situated before rejoining my family in the "back of the bus." When I checked on my parents in their upgraded seats before take-off, I was surprised to see my mom sipping a glass of champagne and my dad already nodding off.
The trip was more than a reunion. It was a way to help my parents celebrate a lifetime of adventurous travel.
The trip was off to a good start. While the flight went off without a hitch, we encountered our first hurdle on the ground. My father wasn't strong enough to push my mom's chair, though he had regularly done this in Chicago before we left. Nor did he have the stability to walk independently without using her wheelchair as a "walker." 
This was a significant issue because my mother couldn't move her wheelchair independently. There weren't enough hands to go around. We had luggage, car seats, a double stroller, and two children on the loose, ready to party after sleeping through the flight.
We needed to borrow or rent a real walker. Luckily, the concierge knew where we could get one, even though it was Sunday. So problem solved (though it was stressful).
Divide and Conquer
The secondary effect of Dad using a walker was that my parents could no longer go anywhere without assistance. Add in their vastly different energy levels, and we had to divide and conquer as a family to meet everyone's needs. 
As it turned out, this was a blessing in disguise. Some of us would visit Dad before or after his afternoon nap while Mom joined the rest of us at the pool, reveling in the joyful chaos of the grandchildren. The kids even figured out how, with careful parental supervision, to use the lift to lower her into the hot tub. 
Each day we formed different groups and reconnected over dinner to share the day's adventures. Before the end of the trip, my father was too weak to use the rented walker, and we had to exchange it for a wheelchair, but that's not what the pictures show.
The pictures show the uncontained energy of the kids, who could only be gathered for seconds at a time and only then by physically holding them in place. The pictures show our arms on and around each other, shoulders relaxed. And more than anything, they show my parents beaming out across the years since this once-in-a-lifetime vacation. 
The trip was more than a reunion. It was a way to help my parents celebrate a lifetime of adventurous travel. Staying closer to home, going by car, taking a cruise, or going with a specialized tour group might have been easier, given their mobility issues. 
We chose instead to honor their strongest urge: to do something new, far away, on their schedule. Like every other successful trip we took, we just needed to work together and ask for help along the way. You can do it, too.