Invisibles at Work, Take a Bow!
The 'Invisibles' author explains what we can learn from these people
Let us now praise "invisible" men and women in the workforce. That's what David Zweig argues in his fascinating new book, Invisibles: The Power of Anonymous Work in an Age of Relentless Self-Promotion. And if you're an Invisible or manage one, you'll probably agree.
 
I recently spoke with Zweig about these talented, if uncommon, folks who derive satisfaction from the work itself rather than from glory or money (though they're happy to be well-paid, and usually are).
 
Invisibles aren't necessarily who you think they might be. Zweig isn't talking about people with mundane, thankless jobs who go unnoticed. No, the Invisibles Zweig profiles (from the guitar tech for Radiohead to a United Nations translator to a structural engineer for skyscrapers) and others like them are highly-regarded people whose "work is really critical to their endeavor," Zweig says.
 
(MORE: Why It Pays to Think Like a Freak)
 
Who Are the Invisibles?
"They're highly skilled professionals. I'm not talking about the factory worker toiling away anonymously or the person who's cleaning the hotel room. They're important too," says Zweig. "But what I wanted to focus on were the people who are highly educated, very well trained, and very talented and who chose specific fields and certain roles that would put them behind the scenes."
 
For most Invisibles, "the better they do their job, the more they disappear," says Zweig. "It's only if something goes wrong that they're ever thought of. If they do their job perfectly, they are unnoticed."
 
Zweig, a former magazine factchecker like me (a prime example of an Invisible job), wanted to find out why people choose to be Invisible at work and what those of us who aren't Invisibles can learn from them.
 
As Zweig writes in Invisibles: Receiving outward credit for your work is overrated."
Highlights from our conversation:
 
Next Avenue: Invisibles are swimming against the tide of self-promotion, aren't they?
 
Zweig: Yes. We live in a culture where attention seems to be valued above everything else, where people are willing to humiliate themselves to get on a reality TV show.
 
Many of us spend so much time online today, hoping to gain more and more followers and more and more Likes on every Facebook post. These people are really doing the opposite of that.
 
(MORE: Why Being a 'Giver' Is a Smart Career Move)
 
Are Invisibles always people who are the top of their game?
 
The people who I profile for the book are at the tops of their fields. I picked them because I wanted to find out how they got so successful when, by and large, they are very self-effacing and not out there tooting their own horn the way so many of us feel we need to do. But the Invisibles are not an exclusive group.
 
So how did they become so successful?
 
What's interesting about these people is that in the end, it's not even about whether you're visible or not. Invisibility wasn't even the most powerful unifier among them. The real unifier was what motivates them: intrinsic rewards.
 
And the research shows that intrinsic rewards offer a far deeper and longer-lasting benefit to us than extrinsic rewards like money or attention.
 
(MORE: Unconventional Career Advice You Need to Hear)
What are examples of intrinsic rewards that motivate Invisibles?
 
Intrinsic rewards are when you are rewarded by an internal measure — by the work itself. The value of your work, not the volume of your praise, is what brings you your reward.
 
But we think that in order to be successful and get ahead today you need to be an extroverted personality.
 
And that we're all supposed to be promoting ourselves by building our personal brand.
 
That's right. We are in the age of the branded self. Raise your profile. But these people reached the top of their field by doing none of that.
 
They got there by focusing on their work above all else, seeking out challenges, being collaborators and thinking about the larger enterprise. That was their motive: Creating the best result.
 
How do you get ahead by doing that?
 
The research shows that good work does get recognized. It's really encouraging and heartening, I think, that the myth of self promotion — that you have to be out there promoting yourself constantly — is really false.
 
There are a lot of CEOs who are quite self-effacing and have the characteristics of an Invisible.
 
You say that Invisibles share three traits. What are they?
 
The first, and the most important one, is an ambivalence toward recognition. Invisibles simply don't seek attention the way many people do today.
 
The second trait is that they're meticulous.
 
And the third is that they savor responsibility; they love the power of their role. For instance, in the book I profile anesthesiologists. If you have surgery, you never forget the name of the surgeon who took your appendix out or fixed your heart. But you likely never learned the name of the anesthesiologist, or you forgot it, even though your life was literally in their hands.
 
Are Invisibles born with these traits or do they learn them?
 
Some are born with them, some learn them. In the book, I talk about a graphic designer who said he was sloppy in his personal life but spent years in design school writing the same letters over and over again. So you can learn meticulousness.
 
Do you think everyone should try to emulate the traits of Invisibles?
 
Yes. If you want to get ahead, be excellent. Spend more time on your work and less time promoting yourself. The people who are really successful and who are leaders in an organization are people who are simply great at their work.
 
What advice would you give to employees who are Invisibles to ensure that they get the money and promotions they deserve?
 
The research seems to show that good work does get recognized. If you focus on your work, people get rewarded by being excellent at what they do. But you do have to come out of your shell periodically.
 
And what advice would you give to managers of Invisibles, since Invisibles aren't motivated by money or status?
 
Think about companies like 3M and Google where employees can spend a certain amount of their time to use their skills on personal work projects that are really challenging and rewarding to them. These intrinsic rewards often carry a hell of a lot more impact than simply offering someone a bonus.
 
There are a lot of interesting things that can be done to satisfy people. You need to create an office environment where tooting your horn is frowned on.
 
Someone doesn't need to be wholly anonymous to emulate the traits of Invisibles, right? You're a well-known author, but you also wear the cloak of invisibility.
 
I'm happy to have my name on the cover of my book and I don't think there's anything wrong with getting attention. But I found that embodying the traits of Invisibles is humbling and that what brings me my greatest rewards is the work itself.
 
Late one night, when I was working on the book with a huge transcript of about 30,000 words for hours and hours, I had an Aha! moment. I realized I felt really good and satisfied in a way that I didn't when someone would pat me on back for having a book deal.
 
I found that the most rewarding moments of my worklife were not when I got attention, but when I felt good at the end of a hard day's work.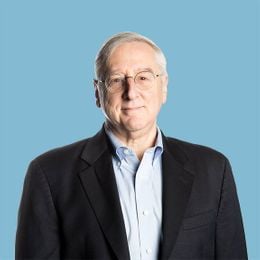 Richard Eisenberg
is the former Senior Web Editor of the Money & Security and Work & Purpose channels of Next Avenue and former Managing Editor for the site. He is the author of "How to Avoid a Mid-Life Financial Crisis" and has been a personal finance editor at Money, Yahoo, Good Housekeeping, and CBS MoneyWatch.
Read More