What to Do If You Have Hip Pain
An expert's advice on next steps to take, depending on the condition
David Cooper experienced hip issues in his late 40s, primarily when he slept on his side or walked uphill. He had been seeing a rheumatologist (a specialist in musculoskeletal disease and autoimmune conditions) and taking oral medication and topical painkillers for arthritis in other joints. "I applied the topical meds to my hip and mentioned it to my doctor," says Cooper, 65, of Brooklyn, N.Y. "I also changed my walking routes to avoid steep hills."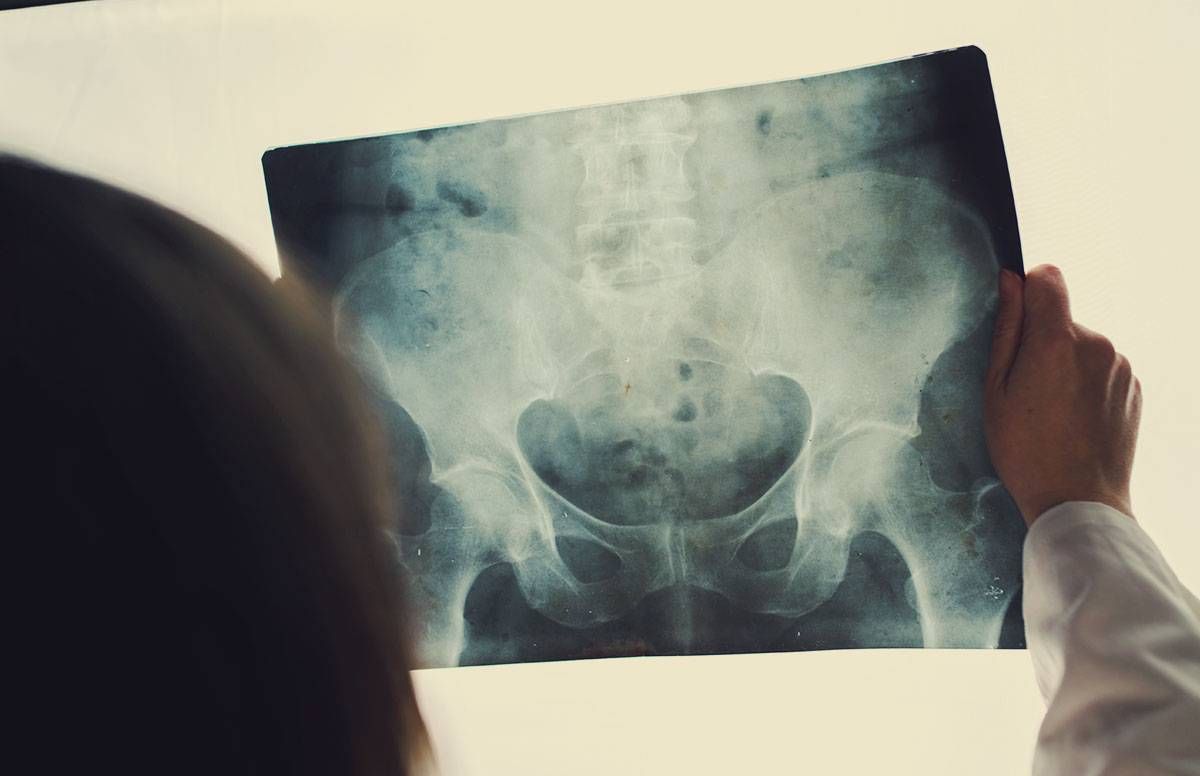 Cooper eventually was diagnosed with a common hip condition called trochanteric bursitis — inflammation at the part of the hip called the greater trochanter. His doctor prescribed hip stretching exercises in addition to the treatment he was already doing for his arthritis. He continued seeing his rheumatologist, taking pain medications and stretching. He continues to seek pain relief for his condition.
Cooper is one of many people who experience ongoing hip pain. Although we tend to think of older adults when it comes to this ailment, people younger than 50 can suffer from it as well, often due to muscle strain or injury, says Dr. Neil Sheth, chief of orthopedic surgery at Pennsylvania Hospital in Philadelphia.
Other reasons for hip pain include arthritis, muscle and cartilage tears, tendonitis, pain from impingement within the hip (between the ball and socket portion of the hip) or "referred pain" from the lower back.
Diagnosing the Cause of Hip Pain
If you're having hip pain, it's not necessary to be evaluated by an orthopedic surgeon immediately, Sheth says.
"If the patient is already under the care of a rheumatologist, the rheumatologist can evaluate their hip," he says. "Otherwise, they can reach out to their general practitioner or internist for an initial evaluation."
"I tell patients they will know when they are ready for hip surgery — they will, at some point, start living their life for their hip."
The general practitioner could end up referring the patient to a specialist. For example, "If the patient is diagnosed with end-stage arthritis, they will be referred to an orthopedic surgeon who specializes in joint replacement," Sheth adds.
Regardless of the type of health practitioner you visit, it's important to get a physical exam and a "weight-bearing" X-ray — meaning you're standing while it's done. This is important so the physician can determine how the hip joint is functioning, Sheth says.
Dara Silverman, 59, also of Brooklyn, recently began feeling pain in her hips while running.
"In the past, if I had pain after exercising, I'd do stretching exercises, and within a day or two it would get better. But this time it persisted and got worse," she says.
She took an over-the-counter pain medication and tried not to exercise, but the pain continued. So, after three months, she visited an orthopedist, who diagnosed gluteal tendinopathy, a degenerative abnormality that can occur in the pelvis muscles.
Silverman's orthopedist prescribed physical therapy and told her to see him again if it didn't help. She tried the physical therapy but, ultimately, didn't continue. However, she found some temporary relief from massage and stretching.
Treatment for Hip Pain
Sheth stresses that most hip pain can be relieved with conservative treatment, such as anti-inflammatory medications, activity modification, weight loss and physical therapy, and usually doesn't require surgery.
For people who develop hip osteoarthritis — a common condition in which the protective cartilage in the joint wears down — a cortisone injection in the hip joint can provide therapeutic pain relief. The injection also helps diagnose a person's condition because if the pain does not lessen from the injection, it could mean it's coming from somewhere else.
Alternative Treatments
Many of Sheth's patients ask him about the use of alternative treatments for hip pain, including: chiropractic care, acupressure, acupuncture, stem cell injections, platelet-rich plasma injections and vitamin and dietary supplements.
"There is no data supporting any of these alternative modalities," he says. "However, most patients are counseled that they can try them if they are interested, despite there being no guarantee that their hip pain will completely resolve."
Candidate for Hip Replacement?
When patients are identified as having end-stage arthritis of the hip, they may be considered a candidate for total hip replacement, Sheth says.
"I tell patients they will know when they are ready for hip surgery; they will, at some point, start living their life for their hip," he says, meaning the patient begins to significantly limit daily physical activity due to pain.
Patients over 65 who have an arthritic hip and are independent and living alone may be candidates for surgery, Sheth says.
"This population is at very high risk for falling and most commonly has a (related) diagnosis of osteoporosis," he says. These patients often are advised to consider hip replacement to avoid a fall and hip fracture. "They are counseled to consider surgery in order to maintain their independence as they get older, especially if they are healthy enough to tolerate elective surgery," Sheth says.
For people who have end-stage osteoarthritis of the hip, "total hip replacement has been termed the 'operation of the century,' and these patients recover very quickly and are able to return to high-level function in a relatively short period of time," Sheth says.
"Most of the technology (for) total hip replacement has been focused on enhancing the longevity of the implant, as more patients are trying to return to high-level function after total hip replacement," he adds.
Debbie L. Miller
Brooklyn, New York, writer Debbie L. Miller has been a freelance journalist for over 30 years and has been writing for NextAvenue.org since 2018. She writes mostly about health but has also written articles about aging, business, theater, and safety, as well as personal essays, short stories, and monologues. She's a satire/humor/comedy writer and playwright.
Read More