The Homes Boomers Will Retire In
A new survey has surprises about where and how they'll live
Sun City: Here we don't come!
 
That's one of my takeaways from the new Better Homes and Gardens Real Estate (BHGRE) survey about the homes boomers expect to live in during retirement.
 
As with just about everything else in their lives, the survey suggests, boomers will be choosing their retirement housing on their own terms — and quite differently from the way their parents did. Depending on your perspective, they're either selective or selfish.
(MORE: The Upside to Downsizing)
 
Highlights from the online survey of 1,000 U.S. adults ages 49 to 67 conducted in February by Wakefield Research:
Rural communities (small towns and farms) are the most popular type of area boomers say they'd like to move to in retirement. The study found 39 percent want to live there; 27 percent chose retirement communities (such as exclusive neighborhoods for people 55+); 26 percent said urban communities and 8 percent picked "lifestyle" communities (such as ones for active retirees, planned around golf courses).
More than four in 10 (43 percent) plan to stay in their current homes in retirement. Put another way, 57 percent plan to move out.
If they do move, it won't be very far. The vast majority (72 percent) plan to stay in the state where they currently live. "They won't move from, say, Boston to San Francisco," says Sherry Chris, president and CEO of Better Homes and Gardens Real Estate. "They want to stay close to their friends and family, but just make a lifestyle change."
Living with their elderly parents or grown kids? No thanks. A full 83 percent said they don't expect to live with other generations of their family.
More than two-thirds (69 percent) who plan to move are willing to update or renovate their next home to fit their specific wants and needs.
The most important factor in choosing their next home: low-maintenance features (the answer of 42 percent of respondents).
A quarter are "likely to buy a second home" to use in retirement.
Buying Lifestyle for Retirement
"There seems to be a new definition of retirement," says Chris. "It's not like it used to be, where you retired at 65 and downsized into an apartment in a retirement community. Today's homebuyer is buying lifestyle."
 
(MORE: How to Choose Your Best Place to Retire)
Even the concept of downsizing depends on the boomer.
 
Patrick Jones, co-owner of BHGRE's Sonoran Desert Lifestyles real estate office in Scottsdale, Ariz., told me that a late-60s couple recently expressed interest in a 6,000-square-foot home shown at an open house because their 13,000-square-footer got too big and maintenance-heavy for them. "They said: 'We want to travel and our children don't see us as much as we thought they would, so we want to downsize."
 
The Move Away From Retirement Communities
Why do so many boomers seem to be resistant to traditional retirement communities with others of their age? Chris thinks it's specifically because the other residents are their age.
 
"I think people want diversity now. They want to live with people of all ages," she says. 
 
Jones says he's finding that among older Arizona homebuyers. "A lot of them want to be around younger people and kids because it makes them feel like they're staying more stimulated," he notes.
 
Moving Local, Really Local
He also says the boomer buyers he encounters not only want to sell their homes and move within their own state, they want to stay within five or 10 miles of where they live now. 
 
"They know the people there and they know the restaurants," says Jones. "They love where they live; they just want a different lifestyle when it comes to their house.
 
The renovations boomer retirees want to make in their next homes seem to be a combination of the cosmetic (granite countertops, upscale appliances) and age-friendly (first-floor master bedrooms, laundry machines that don't require owners to walk up or down many steps).
 
Low-Maintenance Homes, Please
Put another way, they want these houses to look great and require as little maintenance as possible.
 
"In our market, we refer these as 'lock and leave' homes," says Jones. "You can be gone for a couple of months and everything is fine."
 
That means a minimal need for landscaping (rock gardens, small yards), exteriors that don't require painting (brick exterior or aluminum siding) and newer houses rather than older ones where things break down constantly.
 
"Today's boomers don't want to spend their weekends doing chores," says Chris. "They want to enjoy their time."
 
According to another recent survey, from the National Association of Realtors, 21 percent of boomer home buyers between age 59 and 67 bought new homes to avoid renovations or problems with plumbing and electricity.
 
Flatly Against Granny Flats
And those houses with an extra room for grandma or the boomerang kid? That's not what many boomers want in their retirement homes, according to the BHG survey.
 
"We had some clients who basically kicked their daughter out so they could sell the house and find something smaller because — and I don't mean it in a bad way — they're more selfish about how they want to live their life," says Jones.
 
Taking On a New Mortgage
I find it interesting that although many financial advisers recommend against having the albatross of a mortgage in retirement, quite a few boomers seem perfectly content to take one out. Almost one in three retired households have housing debt, according to the Federal Reserve, and that percentage has risen a lot over the past two decades.
 
Today's low mortgage rates, I'm sure, partly explain this phenomenon. The extra tax deductions of mortgage interest and property taxes could be tempting to wealthier retirees, too.
 
Jones says the home-buying retirees he sees tend to be cautious about their homeownership burden. "They're typically putting down 20 percent to 40 percent," he says. "That keeps their mortgage payment down, so they're more comfortable taking on the debt."
 
A $200,000 house in Arizona with a 3.5 percent, 15-year fixed rate loan and a 10 percent down payment might have a $1,287 monthly nut. Put 40 percent down, though, and the monthly payment could shrink by one-third, to $858.
That's an impressive savings, but my advice to my fellow boomers: Take the time to run the numbers and ensure you can afford any mortgage before making an offer. It's a decision you could be living with for quite some time.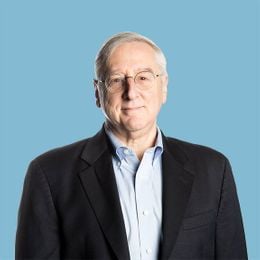 Richard Eisenberg
is the former Senior Web Editor of the Money & Security and Work & Purpose channels of Next Avenue and former Managing Editor for the site. He is the author of "How to Avoid a Mid-Life Financial Crisis" and has been a personal finance editor at Money, Yahoo, Good Housekeeping, and CBS MoneyWatch.
Read More