Hospice Music Therapy Provides Support for Dying Patients
The treatment can also ease isolation and help with pain, advocates say
Before hospice music therapy was even a profession, before it became a practice that touches thousands of lives daily, Russell Hilliard, of Chicago, saw first-hand how profoundly beneficent it could be.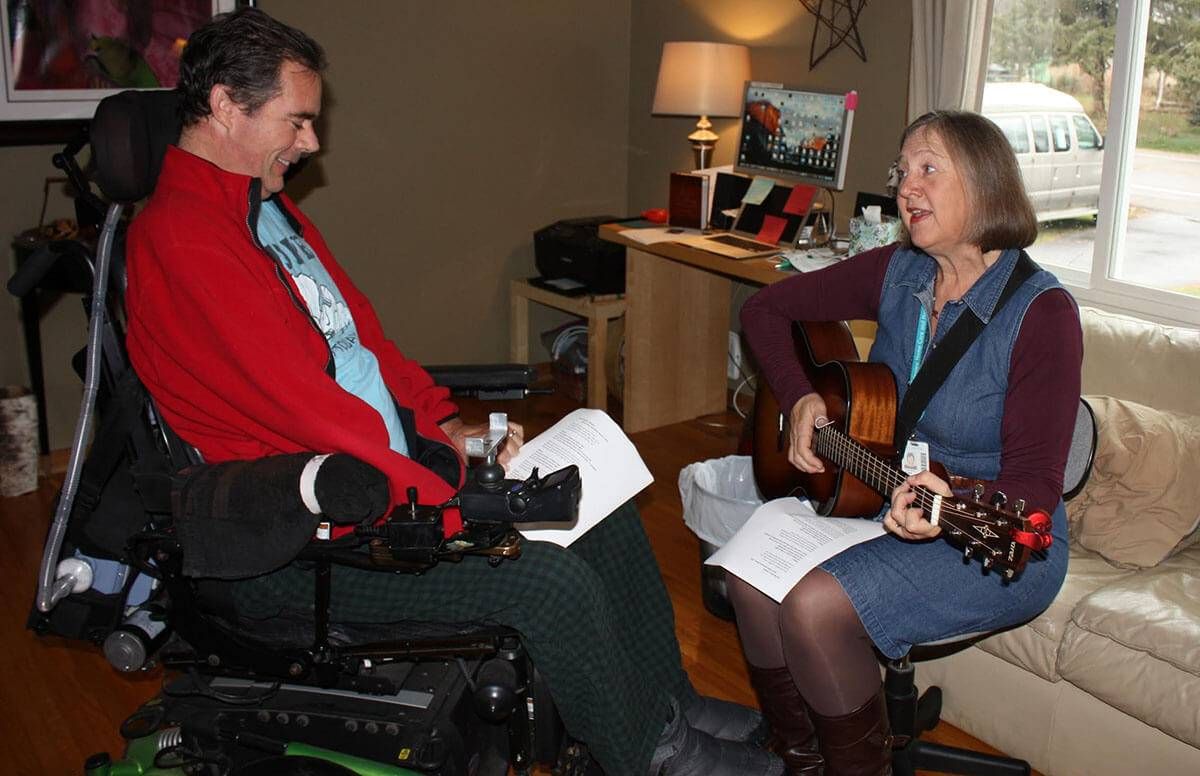 As a college student, he had watched in awe as a song his mother had known, "You Are My Sunshine," affected her after a cerebral aneurysm.
"My mother was not able to talk and made no indication that she knew us or even herself," Hilliard said. "When she heard 'You Are My Sunshine,' she looked at me with knowingness, teared up and sang the melody while making eye contact with me for the first time since her aneurysm.
"It reminded me and my brother that our mom was still in this body," he said.
So Hilliard switched his major from music performance to music therapy.
Part of a 'Holistic Model'
Today, music therapists are working with many hospice operations. They provide a variety of touchstones — social, physical, emotional, spiritual and psychological — for end-of-life patients.
"It works holistically, and hospice is a holistic model," said Susan Droessler of Big Bend Hospice, which covers an eight-county area in Florida's Panhandle.
After getting his music-therapy degree, Hilliard did a six-month internship in psychiatric music therapy, then got employment as a hospice music therapist in 1994. By all accounts, he was the first to do that work professionally in the United States.
Hilliard subsequently founded the Maryland-based Center for Music Therapy in End of Life Care and now serves as senior vice president of patient experience and staff development at Seasons Hospice Foundation in Chicago and 25 other cities, the nation's largest employer of board-certified hospice music therapists.
Goals of Hospice Music Therapy
The approaches and goals of hospice music therapy are many and varied, said Becky Pansch of Fairview Hospice in Minneapolis. Among them:
Emotional support, via expression of emotions, reducing anxiety, life review and/or mood elevation
Reducing isolation and providing social support, especially for people with limited family support
Music-assisted relaxation, passive listening sometimes enhanced with imagery
Cognitive and sensory support, waking up the brain and helping patients be more alert and present
Spiritual support, helping patients work through end-of-life concerns and/or providing music for comfort
Funeral/memorial service management, helping patients choose the music for their services
"Music passes into our limbic system, which is where our emotions lie," Hilliard said. "So music gets to the heart of our emotions. When we talk, it's mostly in our heads. Music is so intuitively good for us."
The Melding of Hospice and Music Therapy
Before there were hospices, there was music therapy. Just after World War II, physicians began noticing the positive effects of musicians playing for soldiers suffering from what then was known as shell shock. For decades, most music therapists worked exclusively with veterans.
Meanwhile, Dame Cicely Saunders began working with the terminally ill in England and seeing the benefits of palliative treatments, which relieve or alleviate symptoms without addressing the underlying diseases. She founded the groundbreaking St. Christopher's Hospice in 1967.
In the 1970s, the hospice movement started gaining momentum stateside, fueled in large part by the runaway bestseller On Death and Dying, in which Dr. Elisabeth Kübler-Ross advocated for home care and patient choices for the terminally ill.
Two decades later, in 1994, Hilliard became the nation's first paid hospice music therapist. Now he and thousands of peers work with dying patients and their families to fashion sessions aimed at reducing pain and anxiety. "The great thing," Droessler said, "is that the families and patients get ownership."
Connecting Through Music
Playing everything from banjos to bongo drums to harps, hospice music therapists try to forge personal, trusting connections, all the while knowing that these relationships may be, well, short-lived.
Or not. One of Pansch's patients is Kevin Pollari, who was diagnosed with amyotrophic lateral sclerosis (ALS, aka Lou Gehrig's disease) in 2010 and given 18 to 30 months to live. He and Pansch are still writing songs together and meeting regularly at his Vadnais Heights, Minn., home.
Recently, Pansch sat near Pollari in his living room, sheet music wedged between her guitar and thigh, and sang reflective, heartfelt tunes such as "Angel in You" (about unconditional love), "A Time to Wander" (reflecting on death) and "I'm Getting Better."
Pollari, sporting a T-shirt with Snoopy napping and the words "Nope. Not today," watched intently, occasionally mouthing lyrics, as Pansch performed "One Grain of Sand." She paused at one point to ask: "Isn't that a lovely song?"
Pollari is no stranger to writing, having co-authored a book called A Seeker's Harvest, about his post-diagnosis journey. He frequently jots down notes for potential songs and shares them with Pansch. "She'll kind of pull it out of me," he said, adding that their sessions have had a powerful effect.
"This is letting go and reducing stress," said Pollari, who has assiduously studied and sought sundry treatments for ALS. "Cells don't operate well under stress. I think it's insane to not move forward."
For Pansch, "This is an especially wonderful experience, working with someone this thoughtful."
For all the good work they do, hospice music therapists face two challenges.
The first is funding.
Many programs and foundations raise money, and Big Bend, among others, is completely supported through community donations. But Medicare and health insurance don't cover hospice music therapy, and a lot of hospices do not include it in their budgets. Increased awareness and acceptance could be game-changers on this front. "There is more knowledge and clinical research," Droessler said. "There are palliative-care agencies that are trying to educate at the national level. As those outcomes become more and more known, we have a chance to see [funding] change." Hilliard's hope is that "seeing is believing" experiences will continue to create word-of-mouth advocacy. "My experience is that it works so well, the patients demand it. It's almost never the therapist doing the advocating, but the patients and their families," says Hilliard.
Another ongoing issue for hospice music therapists, and a more personal one, is dealing with so much death.
Pansch has been at this for more than two decades and admitted that "there's a cumulative effect of being with so many people who are dying."
But, she added, "the work is so meaningful, it keeps you going. It's very important to have compassion and to be empathetic. But we find ways of letting our grief go. We have to remember, it's not our grief, it's their grief. Mindfulness and relaxation are built into our work. You can't help someone if you're not relaxed yourself. You have to be alive. You need friends. You need to dig in the dirt. You need to exercise. You need to experience beauty in the world, keeping spiritually centered."
Bringing Loved Ones Together
One particular experience remains with Hilliard after all these years.
As a college student, he started playing guitar and singing for a young HIV patient named David. Putting David's poems to music, Hilliard quickly recognized how "overall [David's] life was greatly enhanced."
But he wanted to do more, especially since David and his father were not speaking. So he suggested that David write a poem about his relationship with his dad.
"In about five minutes, he wrote the poem because it was so heavy in his heart. I asked if we should put it to a hymn, and he said that might be the only way to get his dad to listen. So we set it to 'Blessed Assurance.'"
With David's father sitting at the end of his bed, Hilliard sang. "His father started getting misty-eyed, and then he picked up his son and cradled him and they both sobbed and sobbed and sobbed. They talked about how much they loved each other, how much they appreciated each other. They needed to be able to say 'I love you, I forgive you, please forgive me, thank you and goodbye.' That hymn with those words did all of that. The music worked where words hadn't."
Below: See how the power of music affects people at a hospice in Scotland in the POV documentary, Seven Songs for a Long Life, which aired on PBS.

Bill Ward
is a freelance wine, food, travel and lifestyle writer. His "Liquid Assets" column runs in the Minneapolis Star Tribune, and he has a wine website, www.decant-this.com, with a blog and a travel-itinerary service. He won a James Beard Award in 2004 for a series on Italian regional cuisine. He lives in the Minneapolis suburb of Hopkins, Minn., with his wife, Sandy.
Read More