How One Easy Art Class Can Change Your Life
The class cost 10 bucks. Rediscovering the artist within: priceless.
When I purchased a family membership to the nature center across the street, it was supposed to be for the benefit of my children: With the discounted rate for members, I could sign up the kids for the day camps the nature center ran during spring break and summer vacation. But when the nature center sent me an e-mail of upcoming activities for February, I found myself drawn to this art class: Nature Painting: Winter in the Woods.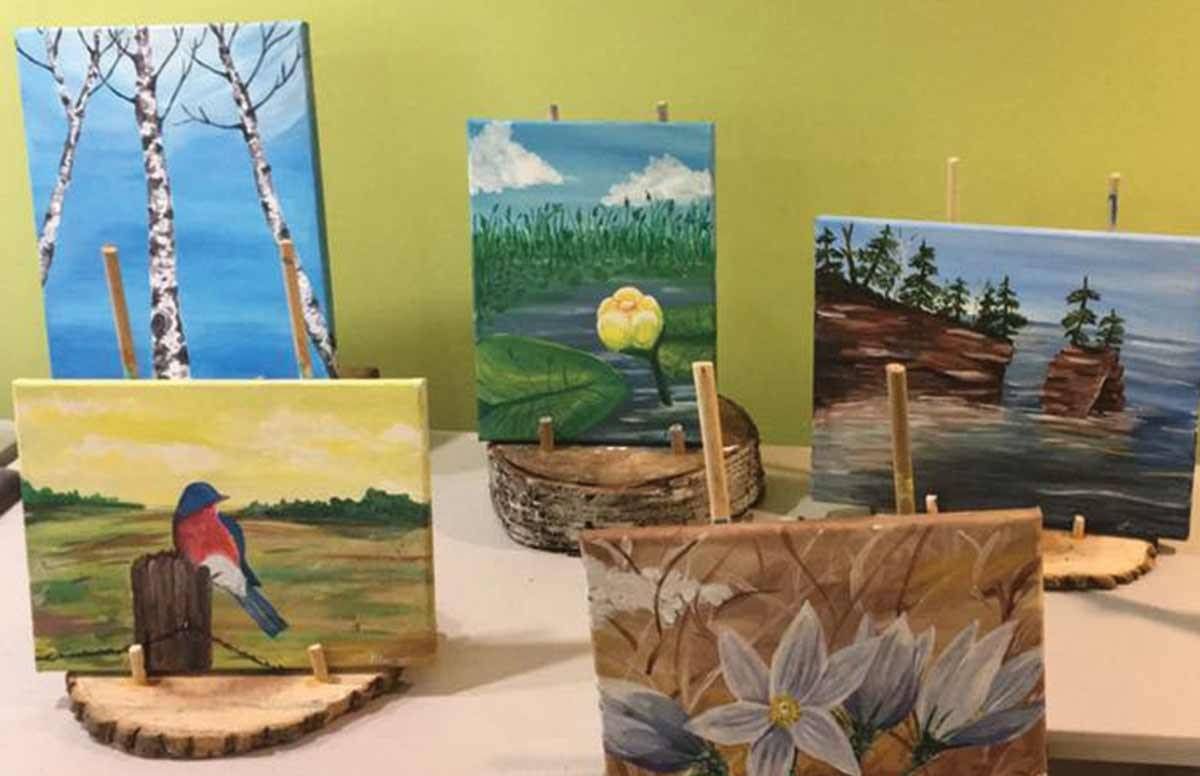 "Keep warm this winter by fueling your creative fire with our nature-inspired art classes," the description read. "We will lead you in creating a simple, yet beautiful winter scene on a canvas to take home. Try new painting techniques, or practice and share the skills you already have. Hot cocoa and tea will be provided. Come for a cozy and creative experience … For adults and teens ages 14+."
A painting class. 
Not for the kids. 
For me. Me. Remember me?
In high school, back in the '80s, my art teacher told me that I was a good enough painter that I could be "anything I wanted to be" in art.
That was so long ago.
"The past is a foreign country," is the quote by L.P. Hartley that pops into my head occasionally. "They do things differently there."
A Blank Canvas
Instead of art, I ultimately decided to study journalism in college because I thought I'd have a better chance of getting a "real" job. That was almost 30 years ago. Now I'm nearing 50, struggling to raise my three kids with my newspaper job. There's not much time or money for this single mom to do much for herself — I haven't even gotten a haircut in about three years — so this class was a treat. An affordable one: $10!
That is how I found myself wandering into the woods on a weekday evening.
A fortysomething friend of mine was there, too. She and another friend signed up together after seeing my post on Facebook about enrolling in the class.
"So what made you want to take a painting class?" I asked her later.
"Just something I've never done. I love theater and music and writing, but don't consider myself very creative with the 'tactile' arts.  I have a hard time letting go," she replied.
As for me, I love the creative arts — writing, scrapbooking, photography, painting. I just don't seem to have time to indulge.
That Monday night was different.
What a joy to be greeted by my very own blank canvas!
Blast From the Past
Suddenly, I had a flashback to another blank canvas — on the long wooden table in my art class at Fargo North High School. Back then, while AC/DC shouted out Back in Black and Shook Me All Night Long, I painted my incongruous masterpiece, a sweet little Grandma-Moses-like creation of a pink house overlooking the sea.
My painting later ended up in a student exhibition at Moorhead State University.
Someone's mom offered me $50 for it, but I turned that offer down because to me it was priceless.
The artwork hung on a wall in my childhood bedroom in Fargo for years. During the great flood of 1997, when we feared that my parents' house would be affected, I gingerly transported the canvas in my 1992 Ford Fiesta back to my apartment in St. Paul. It's been on the move with me ever since. The pink house currently hangs in my bedroom, a reminder of the girl I used to be and the painter I wanted to be.
Now, more than 30 years later, I pushed aside my graying hair as I dipped a paintbrush into water.
This time, there was no AC/DC blasting. This time, it was the voice of Leah Dittberner, a 24-year-old naturalist fellow at Dodge Nature Center who was leading this series of painting classes.
"You took my first class," Dittberner told me when I spoke to her a few months later.
It was an independent project, part of her fellowship.
"I initially thought of an after-school painting class for kids, but we would have been competing with other after-school activities, including sports," Dittberner says. "And then with the rise of the paint-and-drink-wine classes, I thought that it would be fun to do that with a nature focus. And so I proposed that and everyone was excited about it."
1 of 7
During her fellowship at Dodge Nature Center in West St. Paul, naturalist Leah Dittberner offered a series of nature painting classes for the public as part of an independent project. Since these beta classes were only $10, I took one and ended up walking away with my own version of the birch trees (left).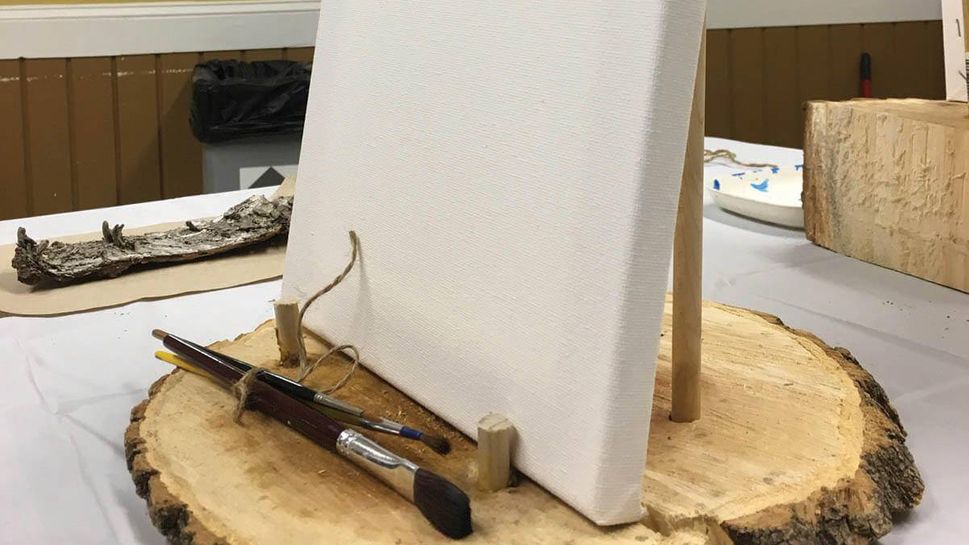 A blank canvas on a rustic easel awaited me at my spot in the painting class at Dodge Nature Center near my home in Minnesota.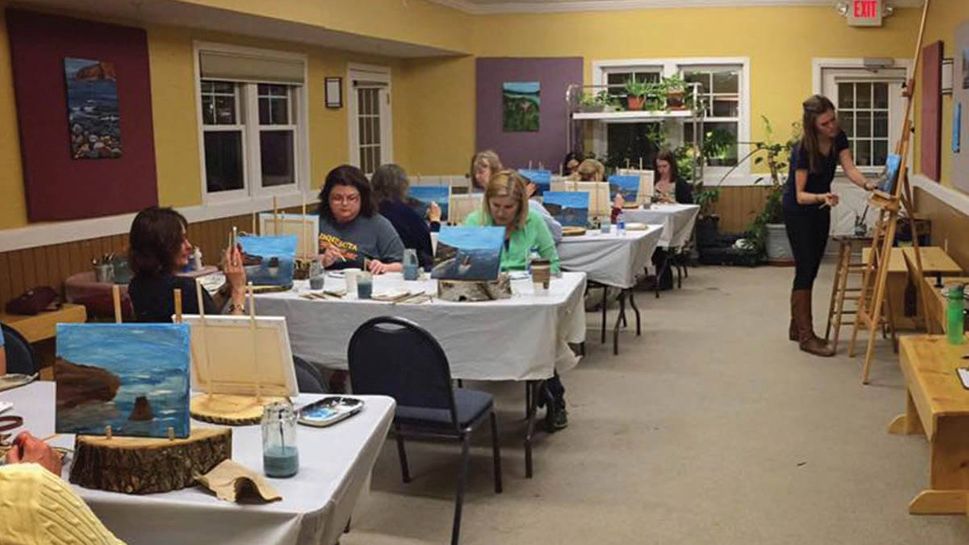 Naturalist fellow Leah Dittberner (standing, right) teaches one of her nature painting classes earlier this year.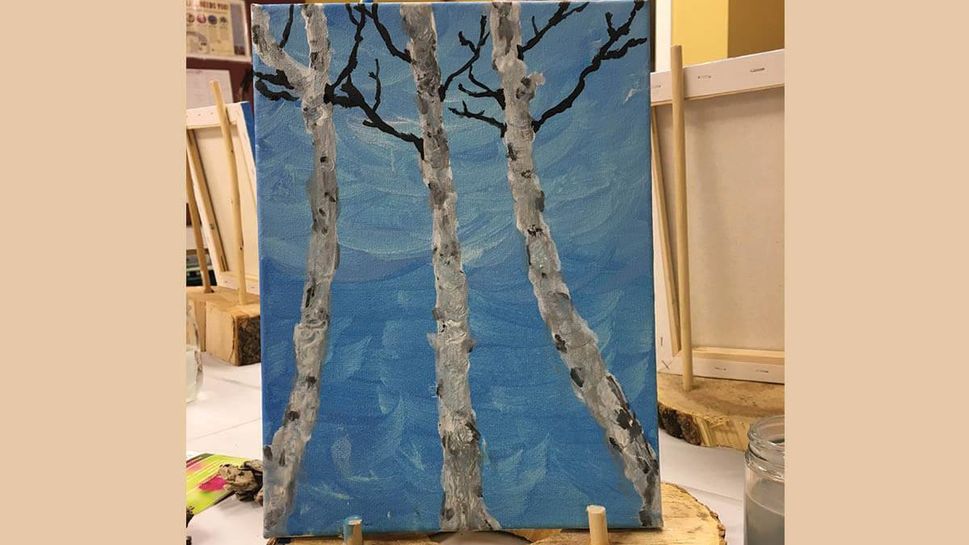 My finished work of art — a close-up of birch trees that I painted with the guidance of Leah Dittberner, the naturalist fellow who led the class at the nature center.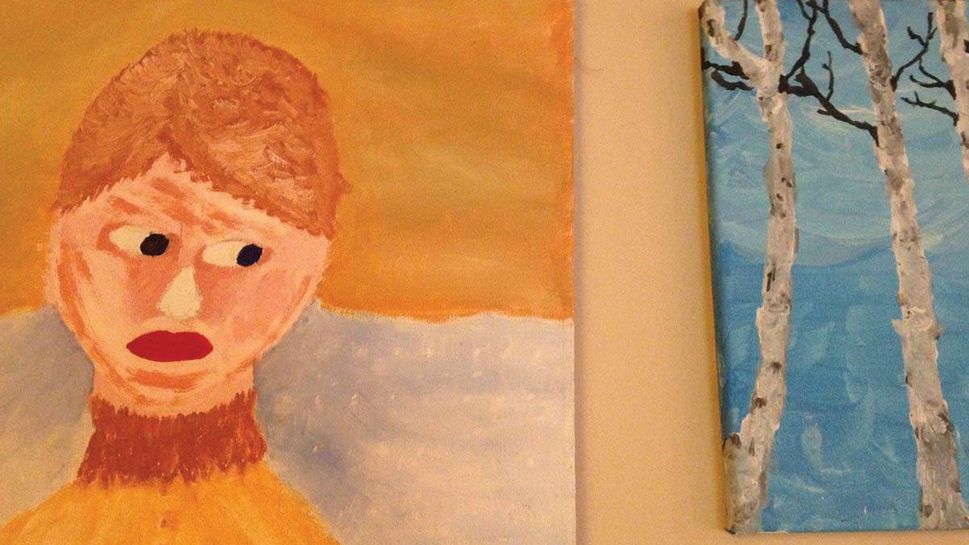 Sadly, I don't think my thrift-store painting approves of my nature-class painting on my art wall at home.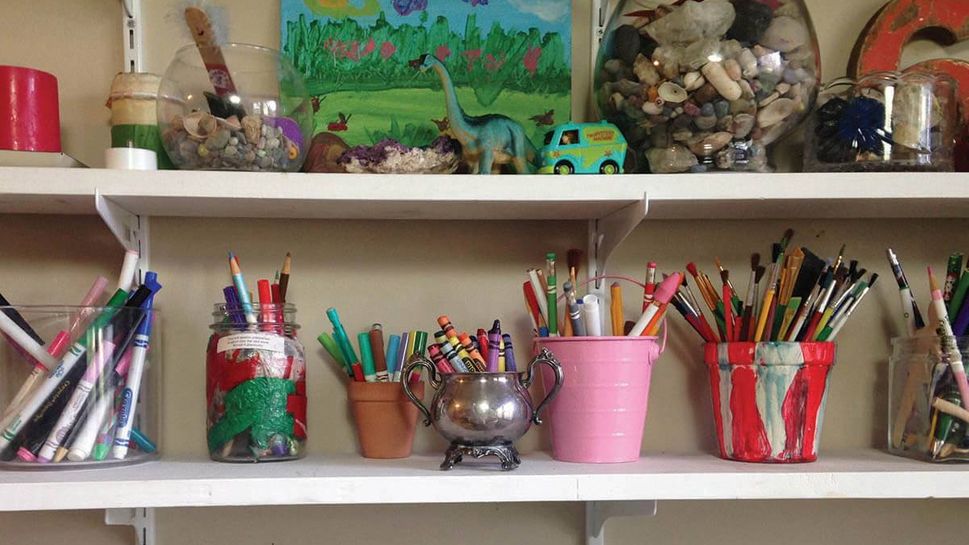 After taking a painting class, I decided to turn my dining room into a "mini makerspace" to spur creativity — the shelves are now stocked with items like paintbrushes and glue sticks.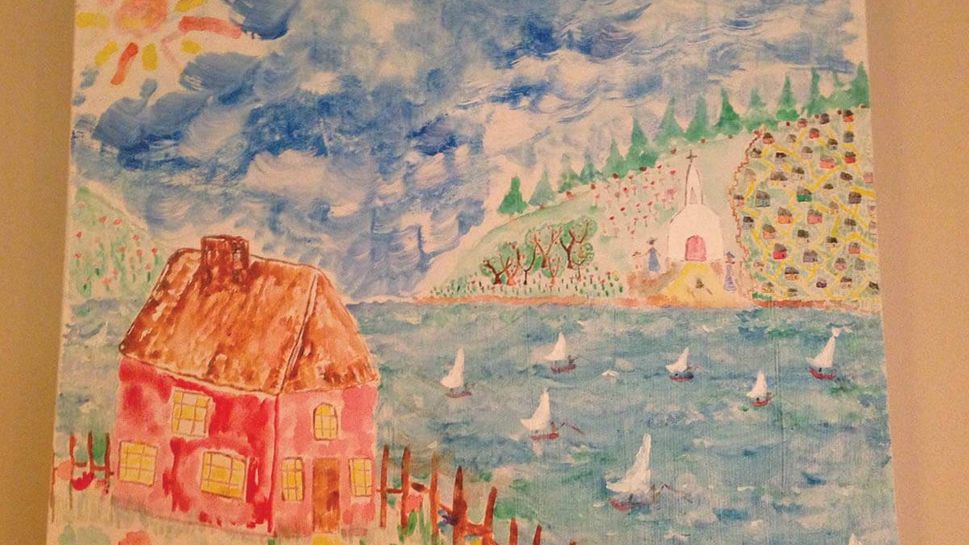 My favorite painting effort, completed back when I was in high school.
A New Approach
Unfortunately, I didn't get wine with my painting.
"Licensing issues," says Dittberner. "Also, alcohol is not part of Dodge's vision."
Well, at least there was hot chocolate. I indulged.
Along with the hot chocolate, one of my favorite details of the evening was how the canvases were set atop handmade easels fashioned out of log stumps. I also loved how the supplies were all set out for me, from the paint to the water to the brushes.
We didn't paint alone: Dittberner was there to guide us, from instructing us to first wash the canvases with water to talking us through how to paint the sky, the trees and the details of the trees.
As we worked, I noticed my fellow students. I shared a table with an expecting couple who mostly ignored me unless I asked them questions. Across from me was another young couple, also apparently on a date night. The woman seemed hesitant about approaching her canvas. Her date encouraged her with this advice: "Lean in!"
I laughed as I eavesdropped — and I took his advice.
Maybe it worked.
"I like your sky," my friend, my acquaintance, noted.
My sky turned out to be the best part of my painting — perhaps because I did "lean in" when it came time to water the canvas. I wasn't hesitant; I wasn't afraid. Painting felt like coming home.
I even improvised: To "weather" the birch trees, I put down the brush and picked up my keys and credit card to use as tools instead.
It was fun!
The Art Wall
When I got home from my night out, my children oohed and ahhed over my painting — they really seemed impressed. We added it to our art wall — a collection of thrift store paintings and my kids' school artwork that hides the greasy fingerprints and smudges on this pass-through hallway.
As winter melded into spring, Dittberner offered more nature painting classes.
"The birch trees were in February, and in early March there was a landscape of the North Shore," says Dittberner. "Wildflowers were at the end of March, as were hoping for spring. We painted bluebirds in April and that was fun. We painted a pond theme with lilies in May. And then in June, we painted colors the colors of the prairie in a landscape."
Turns out, I was representative of the demo that showed up.
"I'd say the majority were women. And the average age, if I had to guess, was possibly 40 to 55," Dittberner says.
Too bad I didn't sign up for one of the landscape classes.
"The more 'zoomed out' the painting was, the more wiggle room people felt they had for interpretation," says Dittberner.
With Dittberner's fellowship wrapping up — she will be starting a job in Washington state soon — her nature painting classes have wrapped up, too.
Sadly, I didn't get a chance to sign up for any of the other ones.
I asked my acquaintance if she did. "No, I wasn't able to because of my schedule," she said.
Sounds familiar.
On a Roll
While I might not have the time or money to take another class at this stage of my life, I do have time to create at home, with my kids. A friend of mine recently told me about the trend of "makerspaces" -- basically "community spaces with tools." For now, makerspaces are mostly found at libraries, schools and museums — and my home.
I spent a recent weekend reorganizing our dining room into a "mini makerspace." The dining room table? It's now a worktable. The breakfast bar? It's now the computer station. The open shelving? It's now stocked with paper, colored pencils, Play-Dough, glue, scissors and pots of paint and jars of paintbrushes.
The only thing I need to do now is blast AC/DC's Back in Black. Then I'll be ready to paint me some landscapes. It's me. I'm back.