How I Learned to Appreciate 'The Sound of Music'
After refusing to watch, he finally found new respect for the classic film
Ask my wife, Sue, what her favorite movie is, and before you'd even finish the question, she'd answer, The Sound of Music, which she first saw on its original release in 1965. As for me, a few of my favorite things that year definitely did not include a movie featuring singing kids, singing nuns and Julie Andrews singing on a mountaintop. In fact, I wasn't interested in any musical unless it starred The Beatles.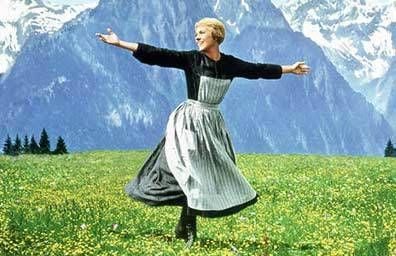 To me, the creators of The Sound of Music, Richard Rodgers and Oscar Hammerstein II, were relics of another time. Who on earth would take Do-Re-Mi over, say, Nowhere Man, Like a Rolling Stone or (I Can't Get No) Satisfaction, to name three songs released the same year. Heck, Wooly Bully was a better example of contemporary pop culture.
No, there was absolutely nothing about The Sound of Music that remotely reflected the world as I knew it when I was 9 years old. And it turned out I was in pretty good company. To critics and the intelligentsia alike at the time, The Sound of Music was the symbol of all that was wrong with American cinema. Co-star Christopher Plummer himself has famously referred to it as The Sound of Mucus.
From Avoidance To Discovery
As years went by, I successfully avoided The Sound of Music's annual primetime TV airing as well. While I went to bed early, Sue always made sure to have a box of Kleenex and a bowl of chocolate ice cream handy when the movie started. How was it, I wondered, that a movie so reviled by critics and non-fans could have such a hold on a smart cookie like her?
 
I had to find out for myself, if only to see what I was missing. Sue had spent countless hours watching my misanthropic film noirs. Certainly, I could devote one evening to something a little sunnier. Movie purist that I am, however, I turned my nose up at the network broadcast, insisting we watch the restored letterbox DVD instead.
 

Everything that was supposedly wrong about the movie when I was nine worked quite nicely in my 50s. There was an unashamed sweetness to The Sound of Music that stood out in stark relief to the dangerous world when it took place, when it was made and where we live today. Who wouldn't want a beautiful nanny, handsome father and firm grasp of choreography?
 
To my surprise, I found myself getting emotionally involved in the story. I imagined the Nazi invaders on my daughter's heels, and me as the brave father who saved her from certain doom — a preposterous idea, considering how I almost threw up while riding a kiddie rollercoaster with her when she was four.
 
But I realized I what I had been missing before that I had now, the key ingredient to appreciating the movie: life experience.
Timeless Joy
It took a long time, but I finally understood why audiences everywhere loved a musical considered by many to be hopelessly old-fashioned even in 1965, yet still radiated a timeless joy. So much joy that this spring, they've flocked to 50-anniversary showings, many in giant IMAX theatres, making it the Rocky Horror Picture Show for boomers.
One Monday evening, I settled into my favorite chair, pushed "play" and prepared for a coma-inducing sugar rush. Julie Andrews had barely gotten "The hills are alive" out of her mouth before Sue was blowing her nose. All I could think was, "Huh. This is a nice song. Very pretty melody, especially the middle. Kind of sophisticated, in its own way."
 
And later on, when the children sang the reprise, I felt myself getting misty-eyed — but only in reaction to Sue's joyful weeping. You're aware of how guys get at the sight of a woman's tears, right?
Escape From A Complex World
As The Sound of Music unfolded, I found myself watching it with 1965-era eyes — and its remarkable popularity all made sense. Casual sex, the dawning of the psychedelic age, a war nobody quite understood — no wonder "The Greatest Generation" thought the world was flying apart.The Sound of Music gave them a chance to escape a kind of madness that was beyond their comprehension.
 
Then a funny thing happened. I began watching the film with contemporary eyes. The world still seemed to be flying apart, mostly for the same reasons as before, only updated for the 21-century. Sexting, music raves, another war nobody quite understood — I finally got what my parents were going though in 1965. 

 
If a recent ABC TV special covering the history of The Sound of Music is any indication, there's a blessedly non-ironic vibe among its fans. They watch it not to feel superior to the movie, but because they honestly love it. The fans I saw seemed genuinely nice and would undoubtedly make an extra place for me at their next viewing party, despite my ghastly singing voice
 
Too, having seen a Broadway revival of South Pacific, I've come to realize that Rodgers and Hammerstein aren't relics of another time, but timeless masters of tapping into human emotions and setting them to song. Even North Korean schoolchildren happily sing Do-Re-Mi.
Even more stunning, Christopher Plummer, of all people, has finally come around to appreciating The Sound of Music. Turns out, then, I'm still in pretty good company.
Kevin Kusinitz
is a writer living in New York with his wife. To his shock, he won three Promax Awards for his network promos at the turn of the 21st century. His cynically humorous outlook on life, culture and politics can be read at www.theolfisheye.blogspot.com.
Read More