How to Keep A Parent Safe From Financial Abuse
The co-author of a new novel on the subject offers important advice
As someone who blogs about money and work matters for people 50+, I get taunted periodically by my wife and friends for writing depressing and frightening pieces. So for a change-up, this post is my interview with William R. Henry, Jr., the co-author of The Crown of Life Society, an intriguing new novel about elder financial abuse.
 
Ok, that's not a cheery subject, either.
 
But if you have parents in their 70s, 80s or 90s, I think it's essential to familiarize yourself with the way scammers exploit the elderly. This way, you'll be able to prevent it from happening to your mom or dad (or, if the financial abuse has already occurred, you'll know how to take action). The topic is especially timely, since this happens to be International Fraud Awareness Week.
(MORE: When Elder Abuse Hits Home)
 
The novel, an e-book that Henry wrote with A. Frank Johns, Jr., past president of the National Academy of Elder Law Attorneys, is a terrific way to bone up, while giving you reading pleasure, too.
It's about the myriad ways older residents of a small Indiana city and their families get snookered by elder abuse scoundrels, particularly the conniving Sherrelle Sturdivant, who devises a scheme to franchise the exploitation through her Crown of Life Society network of scammers. (I also recommend another gripping new novel about this problem, The Night Guest, by Fiona McFarlane.)  
 
I asked Henry for his advice on how to prevent and respond to elder financial abuse. Highlights:
 
Next Avenue? What made you and Frank decide to write a novel about this topic?
 
Henry: I had a bad experience in my own family involving a hired caregiver, so I became interested in the subject. I then wrote about elder exploitation for The Washington Post and Frank was one of my sources. After the article was published, I visited Frank and heard all these horror stories of cases he had been involved with.
 
We decided to collaborate on a book to help people understand that any family could be affected. Many characters in it are based on real people he encountered in his law practice or ones I read about in my research. 
 
What concerns you most about the financial abuse of elderly?
 
That people are so busy, exploitation often goes under the radar. And there's been a "don't ask, don't tell" mentality when physicians, attorneys and financial advisers deal with elders. If they don't suspect a problem, they won't ask questions that might uncover a problem and lead to a red flag.
 
Do you think this is a growing problem?
 
Yes. It just keeps getting worse because of demographics. There are more older, fragile people each year, so exploitation schemes continue to proliferate.
 
One of the most recent examples is with the Affordable Care Act. Scammers are calling elders saying, "I'm from Health and Human Services and I just need to verify your information." Then they use that to get the Medicare beneficiary number to get free surgery or something like that.
 
There'll be something new next week.
(MORE: Building a Network to Look Out for Your Parents)
 
Are the elderly too trusting of scammers who are disguised as people trying to help them?
 
Yes. Too trusting sometimes for their own good.
 
That's why their children need to remind them if someone calls, they shouldn't give out any personal information. Tell your mother or father, "If you want to know more about something someone said on the phone, I'll check it out for you." That kind of support can be done long distance.
 
The book has one terrible story of elder financial abuse after another. Could all of these things happen in one community?
 
Yes. You could have any of those forms of exploitation happening on almost any city block. The problem is so pervasive that one in 10 people over 60 has been abused.
 
In the book, I was struck by how much law enforcement and Adult Protective Services didn't know about what was going on under their noses. How well do they protect the elderly?
 
They are extremely dedicated and deal with problems as they learn about them. But by that point, the damage has often already been done.
(MORE: How to Manage Your Parents' Money When They Can't)
 
It's really up to the families to prevent these kinds of things from happening.
 
How should they do that?
 
You could say, "Mom, it's been a while since we got out your documents. Let's look at your will and your advance medical directive and make sure they're still current and that we don't need to change anything. And by the way, have you changed anything?"
 
In one of the stories in the novel, Marcia manages to get power of attorney for her elderly aunt, Naomi, and drain $40,000 from her account. It made me paranoid about allowing anyone to be your parent's caregiver.
 
Well, that's probably a good thing to be when you're hiring a caregiver or any sort of support network for your elder.
 
I was surprised that it can be so easy to obtain power of attorney fraudulently. Wouldn't a bank be skeptical if someone other than a person's daughter or son was trying to do this?
 
It would not be that difficult. That's part of the problem.
 
But in some places, there are what are known as FAST teams (Financial Abuse Specialist Teams) and part of their training is to help bank officers and attorneys ask probing questions to look for red flags.
 
What are some red flags that adult children should watch for?
 
If there's a new "friend" in the elder's life and you can't see a good reason why he or she is there. Watch the interaction between that your parent and that person or caregiver. Does the elder always seem to defer to the friend or caregiver and seem to be under the influence of this person?
 
And where is your parent's money going? One advantage of having durable power of attorney is that you can get copies of your parent's bank statements or view them online. Is your father writing checks to someone new? Is he making an unusual number of cash withdrawals?
 
What should people do to help prevent fraud if they'll be hiring caregivers for their parents?
 
I would only hire through an agency that is bonded [N.A.: that way there would be compensation if the caregiver steals].
 
Whatever the agency's standard written agreement is, I would modify it to say that under no circumstances would the caregiver accept any gifts from the person they're caring for, including a bequest in a will. If they're not willing to accept those terms, find someone else.
 
And be ready to fire a caregiver if you have any suspicions. If you feel something isn't right about the relationship between the caregiver and the elder, get that person out of the picture. There's just too much at stake.
 
Your book has examples of tensions that can arise between adult siblings, especially when one is near a parent and one isn't. What advice would you give to brothers and sisters in this kind of situation?
 
It is important for all siblings to have a discussion about the caregiving that's needed. The earlier the better. If you wait until there's a health crisis or the parent's mental capacity has begun to diminish, it's much harder to have this conversation. 
 
What would you like people to do after they read your book?
 
The novel is not just for entertainment. It's to stimulate discussion. That's why we put a discussion guide at the end. If you're in a book club, you might want to read The Crown of Life Society and then have the group discuss some of the issues it raises their own families.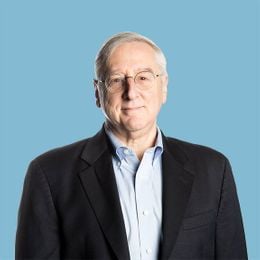 Richard Eisenberg
is the former Senior Web Editor of the Money & Security and Work & Purpose channels of Next Avenue and former Managing Editor for the site. He is the author of "How to Avoid a Mid-Life Financial Crisis" and has been a personal finance editor at Money, Yahoo, Good Housekeeping, and CBS MoneyWatch.
Read More