How Older Performers Are Helping Us Rethink Aging
If Rod Stewart and Keith Richards can, why not me?
You may remember the line from the Buffalo Springfield song For What It's Worth: "There's something happening here, what it is ain't exactly clear."
I couldn't get that lyric out of my mind when I started wondering why so many star performers and visual artists are remaining creative and active in the second half (or last third) of their lives. I wondered, too, if the rest of us watching and enjoying them are thinking, maybe we can keep doing what we love well into our 70s and 80s also.
I think many of us are thinking exactly that. That's because we're at an inflection point with unretirement — the reimagining of the traditional retirement years to include work and meaning, passion and a paycheck, typically through part-time work, flexible jobs and entrepreneurship.
From Randy Newman to Eric Carle
Recently, I gathered a stack of interviews with, and stories about, performers as well as visual artists, in their 60s, 70s and 80 appearing in major publications. What I saw was impressive.
The Financial Times, for example, just reviewed singer Randy Newman's performance at Royal Festival Hall in London. Now 71, Newman played several songs from an album coming out next year. "New track 'Putin' showed that Newman's powers of mockery are undimmed, puncturing the Russian leader's cult of personality over teasingly jaunty melodies," the reviewer wrote.
The Wall Street Journal interviewed rock balladeer Rod Stewart, 70, about his newest solo studio album, Another Country. Stewart wrote 12 of its 15 songs, remarking that this time he collaborated with instrumentalists first, a "liberating" creative process that revolutionized how he thinks about songwriting and storytelling.
The Journal's profile of prolific children's book illustrator and author Eric Carle (The Very Hungry Caterpillar), 86, talked about his seeming inability to retire. His latest book is The Nonsense Show, an introduction for kids to surrealist art; more than 70 others preceded it. After each new book gets published, "he will say his whole life's work is finished," his longtime editor Ann Beneduce told The Journal. But soon she'll get a call. "He'll say, 'I have an idea I'd like to run by you.' And, there's the start of another book."
A favorite unretirement quote of mine comes from an interview with British painter David Hockney, 78, published in The Guardian last year. "When I'm working, I feel like Picasso, I feel I'm 30," he says. "When I stop I know I'm not, but when I paint, I stand up for six hours a day and yeah, I feel I'm 30."
Older Stars in the Movies
If you've been to the movies lately, you probably noticed that Hollywood has discovered there's more to the passage of time than jokes about senior moments for women and portrayals of grumpy old men.
Philomena (directed by 74-year-old Stephen Frears) powerfully portrayed an elderly Irish woman searching for her adopted son in the U.S. The Intern starred Robert De Niro as a 70-year-old intern working for chief executive Anne Hathaway (it was directed by Nancy Meyers, 65). And on…and on…
"It seems likely though that with the help of Hollywood, boomers may finally start breaking down barriers in all kinds of media beyond films and television, including commercials," wrote Erica Manfred in her recent Atlantic article, "Box-Office Boomers: The Encouraging Greying of Hollywood."
Ten years ago, her prediction would have seemed outlandish. Yet now it seems uncontroversial.
The S-Curve Moment
Stereotypes about aging are swiftly crumbling. Have you thought — as I have — that if Bob Dylan and Keith Richards and David Byrne (OK, now you know my music taste) can keep challenging themselves, advancing as artists, why can't I do the same in my career?
My contention is that the Age-of-Retirement is at the early stage of accelerating its S-curve moment into the Age-of-Unretirement.
The S-curve is a concept most closely tied to studies of the impact of major technological innovations on the economy. When a major technology is introduced, productivity typically falls because workers and managers struggle to master new techniques and skills. Over time, the pace of adoption accelerates and productivity picks up smartly — you can visualize that diffusion of innovation as an S-curve.
A similar diffusion-of-innovation pattern occurs in the broader culture. First, the majority opinion is relatively stable and widespread. (Gays shouldn't marry. Married women shouldn't work out of the house. Retirement is leisure.) Then, alternative visions and expectations emerge and opinion starts changing; this is a divisive period marked by social struggle and passionate disagreements.
Eventually, a major shift in public attitudes accelerates, racing toward a new shared vision of the good life. (Gays should marry. Married women can have careers. Boomers will want to work well into the traditional retirement years.) The pace of change ultimately settles into the new consensus.
"Many phenomena, from trying a new crop or people changing their opinion on a social issue, show an S-curve pattern," says Claude Fischer, sociologist at the University of California, Berkeley. "The dynamic is there."
The New World of Unretirement
As recently as the late 1990s, most people still assumed the retirement years meant the embrace of leisure and saying goodbye to your colleagues for the last time. Never mind the population's increased longevity and the mounting evidence that growing numbers of boomers either couldn't afford to stop working or didn't want to because they preferred staying engaged for both meaning and money.
A cottage industry has since emerged to help boomers answer questions like: What does continuing to work mean? And what kinds of jobs would be available for people in their 60s and 70s? Pioneers include Ken Dychtwald of the consulting firm AgeWave, Marc Freedman of the social venture Encore.org and, more recently, the AARP's Life Reimagined initiative based on concepts developed by Richard Leider, co-author of Life Reimagined: Discovering Your New Life Possibilities.
A research network of university-based centers provides data and analysis about today's shifting expectations, including the Center on Aging & Work at Boston College and the Stanford Center on Longevity. Job sites targeted at aging boomers are proliferating, such as Retirementjobs.com and RetiredBrains.com. (Next Avenue, launched in 2012, is part of the conversation. I encourage you to read Next Avenue's new 2015 Influencers in Aging list, featuring 50 thought leaders transforming how we think about aging, to see the unretirement infrastructure that's been built.)
My sense is that we're early in the S-curve acceleration, moving from unretirement's evolutionary stage to the revolutionary phase. Aging artists are more than role models for boomers working in cubicles and on shop floors. Their continuing engagement, creativity and pursuit of meaning and money are pointing the way toward a new vision of the good life in our elder years.
This is exciting.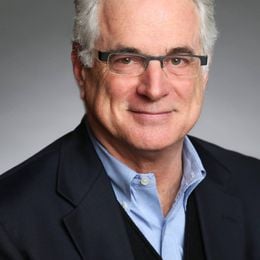 Chris Farrell
is senior economics contributor for American Public Media's Marketplace. An award-winning journalist, he is author
 of the books Purpose and a Paycheck:  Finding Meaning, Money and Happiness in the Second Half of Life and Unretirement: How Baby Boomers Are Changing the Way We Think About Work, Community, and The Good Life.
Read More