How to Stop Mom or Dad From Stupid Spending
2 new services swoop in if your parent makes problematic purchases
This past weekend, as my sister Robin and I reviewed our 91-year-old father's recent checkbook entries — a precaution we take for dad regularly — we noticed an odd one: An $11.90 check to something called The Library of America, which calls itself "one of the most visionary publishing programs ever undertaken in this country."
The amount wasn't concerning, but I had a hunch when our dad signed up for the "trial offer" that came in the mail, he inadvertently committed himself to a costlier subscription to books he'd never read. I was right.
My dad, who's on a fixed income, had enrolled to regularly receive books costing $25.95 apiece — plus $4.95 shipping and handling. (Dad thought my 20-something sons would want the two-volume set, Debate on the Constitution, that The Library of America has since sent — each book is roughly 1,200 pages of 18 Century Federalist speeches. He was wrong.)
2 Services to Protect Your Parents
If you're concerned about your elderly parent spending inappropriately — or someone exploiting him or her financially — I think you'll want to know about two new services I learned about recently while attending the joint Aging in America 2014 conference of the American Society on Aging and What's Next Boomer Business Summit in San Diego.
(MORE: How Aging Impacts Our Financial Decisions)
Sadly, the problem is huge and expanding. In a new survey by the National Association of Professional Geriatric Care Managers, 71 percent of care managers surveyed said financial abuse and/or exploitation of the elderly is a growing problem in their communities. And roughly one in five Americans age 65 or older (about 7.3 million) have been victimized by financial fraud, according to the Investor Protection Trust. I can only assume that the elderly make up many of the victims who've lost $1 million in the new IRS phone scam — when callers are told they need to send money to pay taxes.
Sad Family Stories Led to the Product Launches
Both of the remedies I just heard about — the True Link prepaid debit card and eXscan monitoring service  — were invented because their founders, like me, found their loved ones improperly handing over some of their precious money. As I wrote in an earlier Next Avenue blog post, financial capacity is one of the first things to go when you have mild cognitive impairment.
Kai Stinchcombe, the 30-year-old founder of True Link, says that he and his family discovered that when his grandmother Ruth — a former schoolteacher — began losing her memory in her 80s, she was writing as many as 75 checks a month to fake charities.
"The bank told us to take away her checkbook, but that would have left her with no way to buy her groceries or go to the movies," says Stinchcombe. "It was her money, she spent her whole life saving it and she had a right to spend it without being taken advantage of."  Ruth also wound up buying an overpriced hearing aid she was pitched and falling for a scam requiring her to wire money immediately.
"Once you make a first scammy telephone or mail purchase," says Stinchcombe, "you're on their list and you may be called or written to by scammers dozens of times a day."
Howard Tischler, of eXscan, says his mother — a "fiercely independent" former accountant — was sold an $80-a-month auto club membership in 2006 despite being blind and without either a car or a driver's license.
"Then, when she wasn't making the credit card payments, the card issuer hit her with late-payment fees and jacked up her interest rate to 30 percent," says Tischler. The credit card company then sold his mom, a retiree living on Social Security, an insurance policy to make minimum payments if you lose your job.
After his mother died in 2011 and Tischler, a self-described "serial technology entrepreneur," was still angry about his mother's financial exploitation, he "wanted to see if there was something I could do" to help other families avoid similar circumstances.
He learned that when banks see potentially suspicious activity in their elderly customers' accounts, they're supposed to file what are known as SAR reports (SAR stands for Suspicious Activity Reporting) with the federal government's Financial Crimes Enforcement Network.
But filing SAR reports is "a long process," Tischler says. "There are a lot of times that by the time you get to the end of it, the money is gone. So I thought, 'Why not develop a service that basically delivers a SAR straight to the senior as well as his or her circle of trust — which could be their children, their CPA, their friends or their siblings?'"
(MORE: How to Keep a Parent Safe From Financial Abuse)
How the eXscan Monitoring Service Works
That, in essence, is what eXscan is — a service that's always on the lookout for the warning signs of elder financial exploitation.
After you sign up, eXscan downloads as much of your parent's financial activity on a daily basis as it can: primarily credit card statements, bank accounts and investment accounts. This summer, eXscan will start adding credit reports, too.
"We scan these transactions for suspicious activity, which could take on many different forms," says Tischler. "It might be the senior hasn't used an ATM before and now all of a sudden is using an ATM card all the time. Or she used to take out $200 a week in cash and is now taking out $500 a week. Or a 75-year old who's never bought electronics before but is now shopping at Best Buy."
The key, says Tischler, is flagging patterns of spending or cash withdrawals that don't fit the person's historical pattern — eXscan has more than two dozen rules programmed into its system.
Once eXscan sees something questionable, it sends an email to the person as well as his or her circle of trust who then decide whether there's a problem and take action if necessary. ExScan doesn't ever move a customer's money.
The service is free for six months for those who sign up in March. Starting April 1, it will cost $4.99 a month; by June, the company will also offer a $9.99 monthly service that includes daily monitoring of one credit report.
How the True Links Debit Card Works
If eXscan operates after the fact, the True Link prepaid Visa debit card — issued by the federally-insured Sunrise Banks — acts before your parent gets into a jam or becomes a fraud victim.
You enter settings noting which types of purchases or withdrawals could be made with the card (or couldn't be); you can program per-purchase or per-day spending limits or cap ATM withdrawals, too. Then, True Link blocks purchases or withdrawals that don't pass the test. So, for instance, you could block purchases at specific stores or merchant categories (such as sweepstakes, charities or magazine subscriptions). The card also sends alerts of any suspicious charges.
The True Link card is pre-funded from the cardholder's checking account or through direct deposit of pension or Social Security checks and can be used wherever debit Visa cards are accepted. It costs $10 a month; there are no interest fees or overdraft fees.
True Link's staffers help cardholders and their families resolve suspicious or fraudulent purchases. The company is also building a database of suspect merchants and scams.
What You Can Do on Your Own
If you're not interested in either of these services but want to keep your parents from becoming financially exploited, look for unusual changes in their spending patterns and cash withdrawals.
You may also want get a durable power of attorney, allowing you to get copies of your parent's bank statements or view them online.
Now, excuse me. I need to call The Library of America to cancel my father's subscription. Anyone interested in a brand-spanking new pair of Debate on the Constitution books?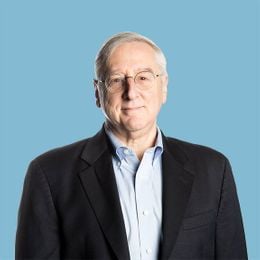 Richard Eisenberg
is the former Senior Web Editor of the Money & Security and Work & Purpose channels of Next Avenue and former Managing Editor for the site. He is the author of "How to Avoid a Mid-Life Financial Crisis" and has been a personal finance editor at Money, Yahoo, Good Housekeeping, and CBS MoneyWatch.
Read More