How the Pandemic Has Changed the Way We Grieve
A funeral home director's poignant account of the evolution of mourning
A year ago, when the pandemic began, here is what funeral service looked like in New York City: Bodies stacked in funeral homes. Burials and cremations scheduled for weeks down the line. Houses of worship closed. Attendance at gravesides severely limited or sometimes not permitted at all.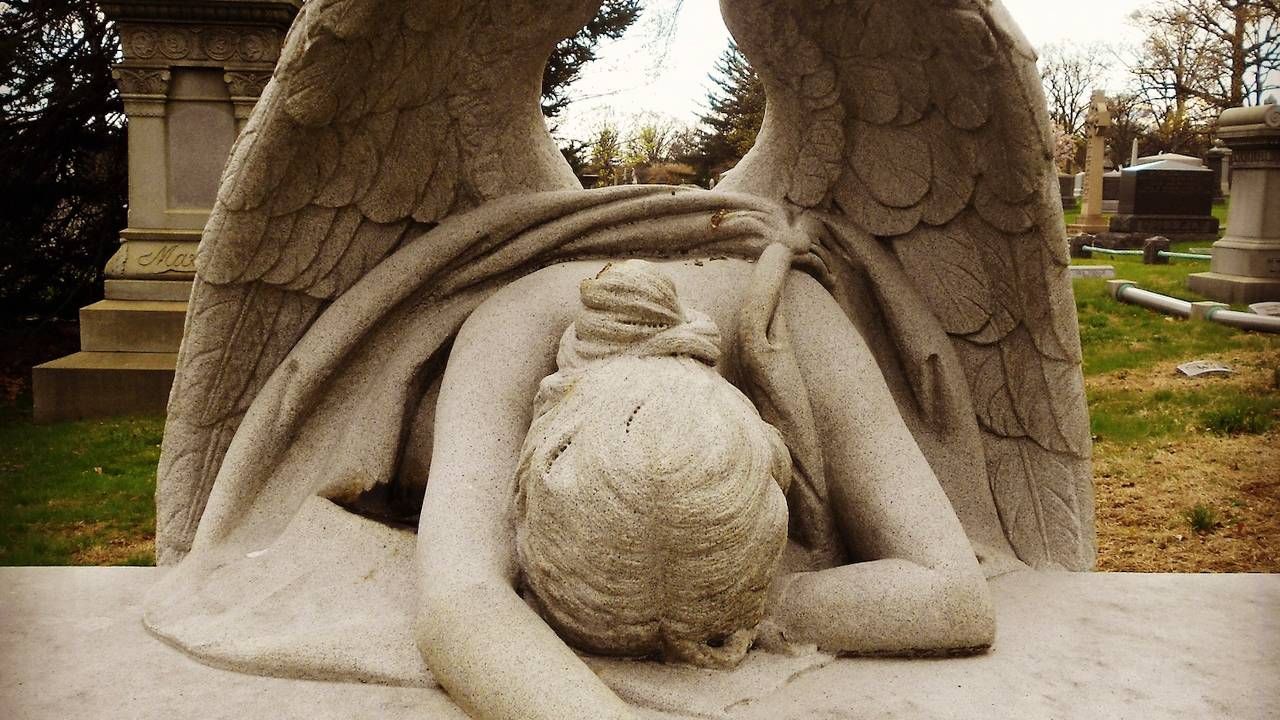 The ongoing pandemic rules continue to make it hard for many families to experience the rituals that have meant so much to so many in the past.
Speaking as a New York funeral director, I can say that the emotional toll on mourners, missing tried and true rituals, was palpable.
Now that nearly 12 months have passed, a semblance of normalcy has returned to funerals and grieving, but not entirely. And some changes we've seen due to COVID-19 are likely to be permanent.
People now also feel more comfortable making funeral arrangements in person, rather than over the phone or through the aid of computers. Houses of worship have opened their doors.
Nationwide, the country's 155 veterans' cemeteries have resumed committal services (brief rituals at gravesites after funerals or in cremation chapels).
Still, funeral visitors in New York and in many other places must remain masked at all times, chairs are spread far apart and signs ask visitors to refrain from hugging and kissing.
Here in New York, wake (also called a visitation or viewing) hours have decreased. And with few exceptions, crematories remain closed to the public.
Fewer Funeral Restrictions, But Still Tough
As much as funeral directors have tried to create funerals that still speak to the needs of the grieving, the reality is that the ongoing pandemic rules continue to make it hard for many families to experience the rituals that have meant so much to so many in the past.
Here's what I've seen and heard during the first year of the pandemic; I suspect much of it is true in many other parts of the country. (There has been no uniformity in COVID-19 funeral restrictions from state to state and New York was among the states with the strictest rules, according to Michael Lanotte, executive director of the New York State Funeral Directors Association.)
To put things in context, New York, once the state hit hardest by the coronavirus, has had over 46,000 deaths; it now trails California's roughly 49,000 deaths.  
When COVID-19 first hit New York state, in March 2020, only the immediate family was allowed to attend private visitations.
Then, in June, the state announced four new phases of reopening restrictions. In the first phase, 10 others could join the immediate family at the funeral home at one time. Phases two and three increased the attendance limit to 25% of a funeral home's maximum capacity. That percentage rose to 33% in phase four in November and is now at 50%.
The relaxed rules have been welcome news for families and funeral directors alike.
George Luhring, co-owner of Village Chapels in Queens, N.Y., believes that COVID-19 has ushered in a new way of doing business for funeral operators. Since last March, he has continued to hold only one visitation at a time in his funeral home.  
The Present and Future for Funerals
"In general, there's going to be a new normal," said Luhring. "This may make us rethink our facilities and make things more touchless."
Luhring expects mourners will continue wearing masks for an indefinite period of time. "'When is the next virus going to drop?' may be in the back of everyone's mind," he said.  
"I don't think we're ever going to go back to the traditional wake where people are in the building for hours and hours at a time."
The D'Arienzo Funeral Home, in Brooklyn, N.Y., has only one visitation at a time, too. A sign in the lobby asks that visitors limit their visit to 15 minutes. 
"For larger funerals, we set up vanity ropes and have people enter one way and exit through the back door," explained John D'Arienzo, who manages the family funeral home,and serves as the recording secretary for the New York State Funeral Directors Association.
D'Arienzo, whose funeral home is disinfected before and after each use, takes an additional step to comply with New York City's coronavirus contact-tracing rule. When visitors sign the register book, they're also asked to provide their phone number.
Reduced Hours for Mourners
Both D'Arienzo and Luhring agree that the biggest change for funerals brought by COVID-19 has been the reduction in visiting hours — sometimes to no more than an hour or two on the morning of the funeral or in three- to five-hour blocks of time the day before.
"It seems people are starting to like these consolidated hours. When you think about it, they are safer hours for our seniors," said Luhring.
Our Commitment to Covering the Coronavirus
We are committed to reliable reporting on the risks of the coronavirus and steps you can take to benefit you, your loved ones and others in your community.
Read Next Avenue's Coronavirus Coverage
Added D'Arienzo: "I don't think we're ever going to go back to the traditional wake where people are in the building for hours and hours at a time."  
Despite the opening of religious establishments for funerals in New York, families still can't attend services in a crematory's chapel. What's more, some crematories have been backlogged for a week or more lately due to an uptick in COVID-19.
"As far as I know, all of the crematories in New York are not having services," said Gema LaBoccetta, the crematory manager at Green-Wood Cemetery in Brooklyn. "We're trying to socially distance and keep the place germ-free. That's the reason we're not allowing any services."
Such constraints are prompting people to try other ways of saying goodbye.
Some cemeteries have been slow to ease their own restrictions, though, which has been painful for the grieving.
Said LaBoccetta: "There are some families, like in the Asian community, who will do a service outside by our burners [structures which allow for the ritualized burning of spiritual tributes]." Others, she noted, will say a final goodbye near the crematory's loading dock.
Upholding traditions and rituals, however, can still be hard for families who prefer cremation over burials.
In some cultures, it is critical for a family member attending to push the button to start the flames of the crematory retort, but that hasn't been possible with COVID-19. To accommodate mourners, All Souls Crematory in Queens has begun allowing two members of a family to enter the retort area and push the button; other family members must remain in their cars.
Cremation Restrictions Can Be Painful for Families
Some cemeteries have been slow to ease their own restrictions, though, which has been painful for the grieving.
I witnessed that in late September when serving a family at a Long Island cemetery. The office remained closed, not only to the public but to funeral directors as well. A makeshift tent served as office space. Bathrooms were locked, too, and Porta Potties took their place. 
At the entombment site, the casket was hurriedly hoisted into the family's crypt, out of the family's view. Only 10 people were permitted to stand 20 feet away; the rest were instructed to remain in the roadway. Traffic cones served as barriers, and the deacon was forced to awkwardly pray to a curtain high above us. The family was visibly shaken.
 "It felt like a drive-through funeral," said the aggrieved daughter of the deceased. "My mother deserved better than that." 
And now a more personal story: On a December Sunday that would have been her 80th birthday, there was a wake for my friend Lucille. One of 10 children, she'd been the heart of her family. Lucille had been there for the funerals of her seven siblings.
Despite the funeral home's restrictions permitting only 25 people at a time, many of Lucille's longtime friends came.  Still, there was a glaring absence: the majority of Lucille's immediate family. Her sister and brother didn't come because they were fearful of contracting the coronavirus. Lucille's many nieces and nephews and their children also stayed away.
Looking at her mother reposing in an elegant casket, Lucille's daughter, Roseann, exclaimed through tears, "She looks beautiful. But my family's not here to see her."
Like so many others, Roseann asked: "When is this going to end?"
Alexandra Kathryn Mosca
is a writer, funeral director and funeral service activist. In 2018, along with a respected colleague, Mosca co-created The Morte Girls as a platform for keeping dignity in funeral service. Dismayed at what they were seeing in the media, the two women made it their mission to highlight the positive aspects of traditional funerals. She is the author of Grave Undertakings, Gardens of Stone and Green-Wood Cemetery. Her website is AlexandraMosca.com.
Read More