When Dementia Is a Laughing Matter
A Los Angeles company pairs comedians with dementia patients for 'comedy care'
Have you heard the best part of having Alzheimer's? You can hide your own Easter eggs! Ouch, sorry. This article isn't about that kind of humor and dementia — unless the cognitively impaired person in your life is the sort who finds bad-taste jokes funny. Then it's OK. Laughter, in its many forms, is increasingly seen as good medicine for those with dementia and for their families.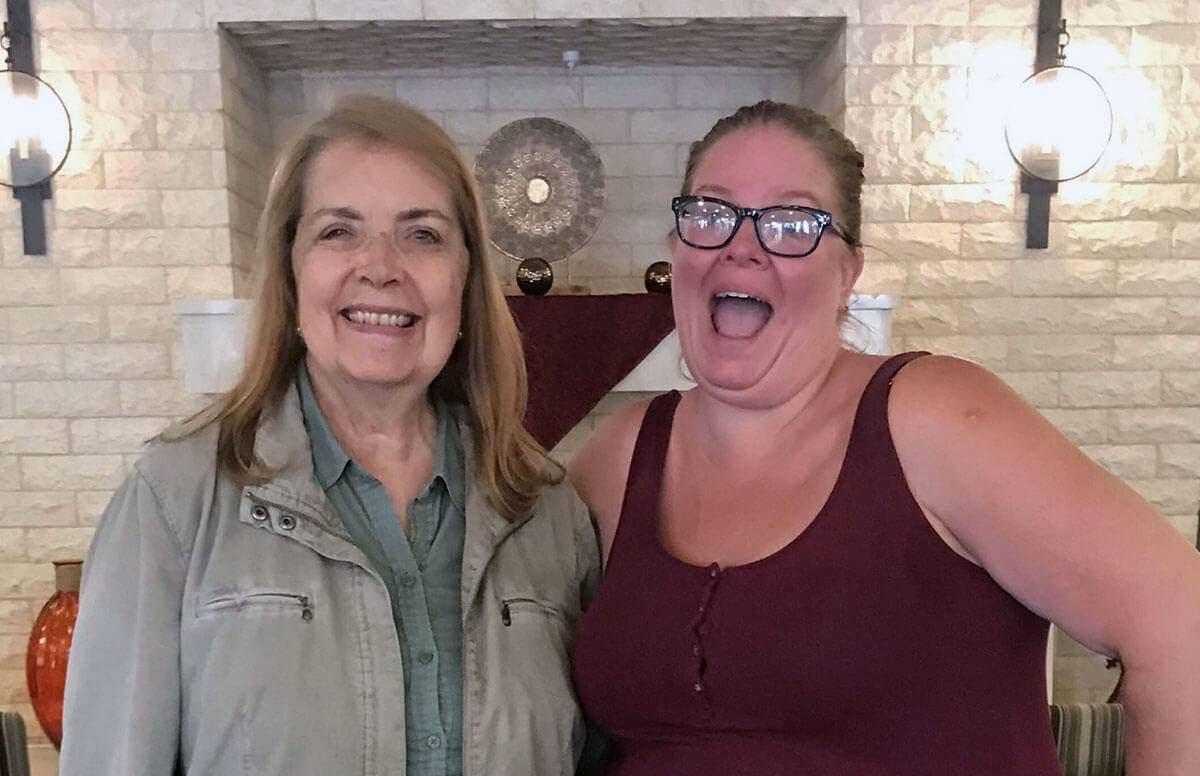 It's the latest, jolliest alternative therapy in dementia care, joining music, pet therapy, aromatherapy, dance, multimedia and reminiscence therapy as effective ways to improve mood and socialization while reducing depression, anxiety and agitation.
Comedy Care and Alzheimer's
For Carmen Saperstein, 70, who has mid-stage dementia, it's about hanging out with a stand-up comedian, Angela Dirksen, twice a week. The pair leave Saperstein's home at a memory care living center in Los Angeles to "just have fun in the moment," Dirksen says.
Over two hours, they might visit a museum and get ice cream. Or, they might drive around singing to Saperstein's favorite Beatles songs and giggling over who lives in a yellow submarine.
A body of research shows that a positive mood shift can last long after the person with dementia has forgotten the reason why.
"Sometimes she'll get sad and say, 'What's wrong with me?'" Dirksen says, "And I just riff back, 'I don't know. What's wrong with me, Carmen?!' That redirects her energy. "It's all improv, wound up into everyday life."
Dani Klein Modisett calls this "comedy care." She's the founder of Laughter on Call, a company that brings together professional comedians like Dirksen and people with dementia.
The idea was born in 2016 when Modisett grew distraught seeing the once-bright personality of her mother, Muriel Klein, wilt after she moved from New York to LA due to advancing Alzheimer's. She longed for her mom to laugh again.
A humor writer and performer who's also taught comedy at the University of California Los Angeles, Modisett turned to Facebook, writing: "Looking for a funny person with an interest in geriatrics. Paying gig. Part time."
A friend-of-a-friend with a New Yawk-ish schtick was hired, sparking Muriel into joking and even dancing again.
Interactive Storytelling and Improv
Laughter on Call now offers one-on-one companion services with vetted, trained comedians, as well as group sessions.
"Stand-up doesn't work, because they can't track the setup and punchline," Modisett says. Instead, comics use interactive storytelling and improv techniques — like songs, props and questions — to engage people.
"Long-term care is very serious. No one is ever silly with them," Modisett says. So, her company's "laughter workshops" also teach techniques to facility staff and families.
Humor Helps
The effects are no joke. A 2011 Australian study of humor therapists working in residential care reported that humor therapy was as effective as antipsychotics in reducing agitation in dementia patients — without the serious side effects.
A body of research shows that a positive mood shift, whether from a beloved's visit or a comic's, can last long after the person with dementia has forgotten the reason why.
What's more, humor and laughter create a normal, safe environment for people with cognitive impairment, a Journal of Holistic Nursing study found; no matter whether its dry wit, sarcasm, silliness or gallows humor. It's a coping mechanism that establishes trust, even as memory and logic fade, the authors noted.
"So many people feel they can't laugh in the face of a serious thing like Alzheimer's," says dementia educator Lori La Bey, founder of Alzheimer's Speaks, a radio show about Alzheimer's and Alzheimer's care. "But laughter is the core ingredient of a good relationship — the moments that bind you, melt your heart and stay with you.
"When anyone is sick or having a hard time, they still like to laugh," La Bey continues. "I spend a lot of time teaching people that feelings don't go away and it's okay to get back to that zone."
La Bey once found her mother, in late-stage Alzheimer's, lying in a patch of sunlight on her bed with her shirt pulled up way above her belly and her pants pulled down. "Oh, Mom! Do I have to pull up that bikini for you or what?" she teased. Her mother smiled, giggled, and said, "Oh Lori! I don't think I should be wearing a bikini, do you?!"
"I hadn't heard her say my name in three years. In that moment of humor, she gave me a gift," La Bey says.
Laughter Yoga
Laughter also creates biological effects, from the release of positive hormones like endorphins to the suppression of stress hormones. In a 2019 Japanese study, laughter therapy improved blood pressure and lowered pain for people 60 and older.
"Our bodies don't know the difference between genuine laughter or faking it," says Pete Girard, who with his wife, Jan Girard, leads "laughter yoga" sessions at memory-care facilities and memory cafes around the Minneapolis-St. Paul area. Mumbai physician Madan Kataria, of Mumbai, India, introduced the idea in the 1990s.
Over 45 minutes, the Girards lead exercises in making "he-ha-ho-ho" type sounds. They also clap, sing or do silly moves like holding teacups with their pinkies out. "It also leads to genuine giggles," Jan Girard says. They've seen unresponsive residents slumped in chairs start to smile and pat their legs in rhythm.
Humor Therapy at Home
"Laughter on Call and Angela have taught me to have more humor with my mom," says Olivia Saperstein, Carmen's daughter, who considers the investment (typically $100 to $200 per week) worth her mother's lessened anxiety.
"Even if she's asked a question a million times, I let it go," Olivia says. "I crack jokes with her. And she's been funnier and cracking jokes again, too. At a recent wedding, I took her out on the dance floor and we were completely silly — the most fun I ever had with her."
Here's some advice from Modisett for people who would like to infuse a little laughter into their relationships with loved ones who have dementia:
Be honest. "You can't laugh if you're being fakey."
Let go of the moment before. "It's a classic comedian tool. If the guy in front didn't laugh, you can't hang on to that joke. If my mom throws daggers at me with her eyes, I just look away; when I look back, she might be smiling. Just stay alive to what's next."
Be silly. "It's okay to jump up and down, sing a song, crack jokes like you used to. Anything that brings a laugh."
Use "yes" to move things along. "This is right out of improv. Don't argue, don't say no. Just say yes," and move on.
Never forget it's OK to laugh. "People think you have to be serious around dementia. It is a serious problem, but (laughter and dementia) can co-exist."