How to Improve Aging? Hack It
A report from Senior Planet's inspiring Hack Aging hackathon
I feel like I've just seen two wildly different-looking bookends of ways to improve aging in America.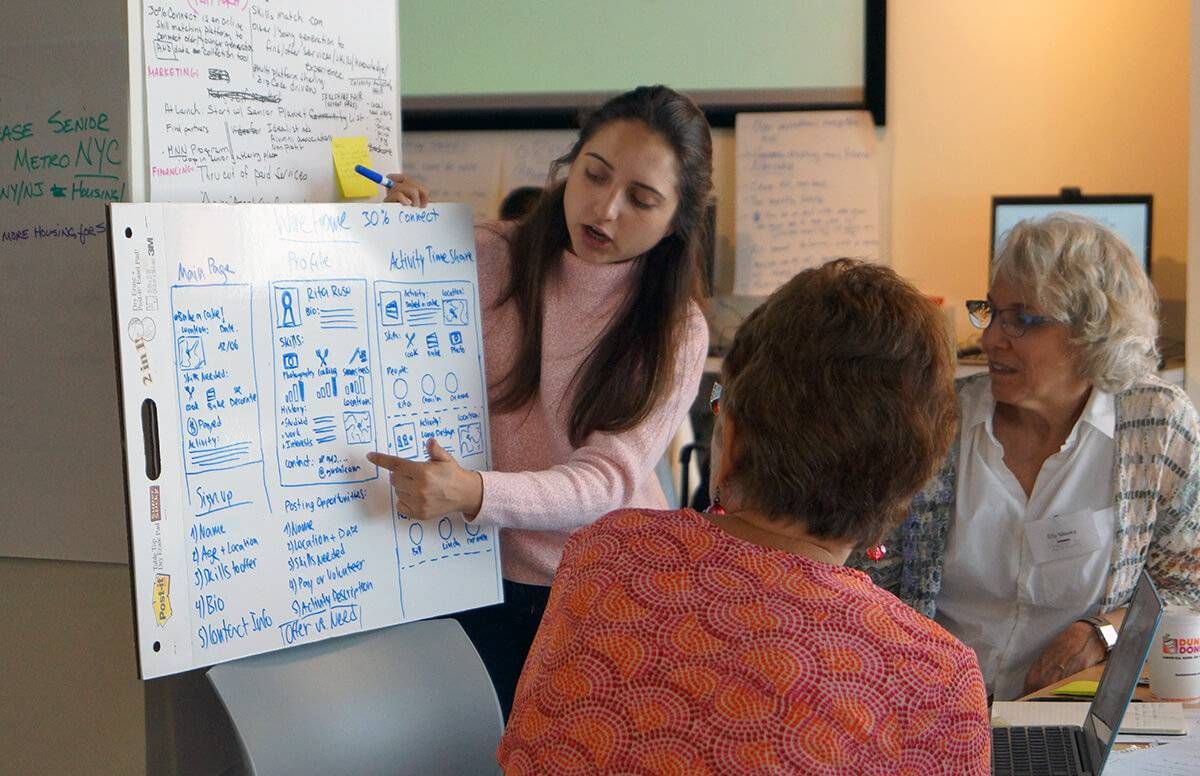 Last weekend, I attended the Spotlight Health program of the Aspen Ideas Festival (entrance fee: $2,000), where many of the nation's leading minds gathered in chi-chi surroundings and expounded; I blogged about what I learned. Yesterday, I was a judge at Senior Planet's free Hack Aging hackathon in a Manhattan room filled with folding tables, plastic cups and inspiring older men and women wearing sensible shoes.
You know what? The ideas were fantastic at both events.
Hack Aging happened because journalist and journalism-themed hackathon planner Debbie Galant met Barbara Aria, director of seniorplanet.org (a group that supports "aging with attitude") and saw the Senior Planet space in the bustling Chelsea neighborhood. Galant pitched Senior Planet's team her idea to produce the event and…
"I originally turned it down," said Thomas Kamber, executive director of Older Adult Technology Services (OATS)/Senior Planet — the largest municipal tech program for older adults in the country. "I was wondering whether we would be able to attract enough people who'd be interested in doing it and taking it seriously."
He needn't have worried. The tickets sold out in 12 hours. Planning began in May.
Let the Hack Aging Hackathon Begin
After getting some training, the Hack Aging hackathoners divided into five teams in the Senior Planet Exploration Center, spending the day elbow-to-elbow formulating ingenious ideas — some designed to assist older people and others to show the rest of the country how valuable older people can be. Many of the hackers were in their 70s and 80s; some were students from Parsons School of Design, New York University's Tisch School of the Arts Interactive Telecommunications Program and Pratt Institute.
"It was amazing to see the growth in the teams in the course of a day and to see gardens of multi-colored Post-It notes blooming on the walls," said Galant. "There was a lot of time pressure, but all the teams hit their deadlines and presented like pros."
Kamber conceded: "I had to eat a little bit of crow. It was a resounding success. I was pleasantly surprised."
From the start, Galant felt a Hack Aging hackathon would be more than just fun. "We thought this hackathon was important because we put seniors at the planning table. So often they're relegated to being passive recipients of services. At Hack Aging, they were not only able to imagine a better future for aging, they were given tools for making those ideas concrete," she said.
Galant and Senior Planet used the IDEO toolkit for human-centered design to pull it off. The kit asks participants to frame their challenge by answering the three-word question: How Might We?
Team 1: Flexi-transit
Team 1,  Flexi-transit, came up with what they called a "Match.com for people who need a ride." With the free app, older people could get volunteers in the community to drive them to doctor's appointments, the grocery store and the like. It would be especially valuable for those who have physical limitations taking mass transit or those living in suburban and rural areas where public transportation and taxis are uncommon. A bonus, said a member of the Flexi-transit team: the service could reduce the isolation of older people.
The Flexi-transit hackers envisioned incentives for drivers such as free or reduced parking or EZ passes for tolls. They acknowledged a few potential risks and concerns: vetting drivers; liability insurance; reliability and objections from organized labor.
Team 2: Care Score
Team 2 was Care Score — a kind of Yelp for home health care. Family members would use the Care Score app to rate their loved ones' caregivers and the star ratings would then be totaled to provide overall scores for the aides' agencies. Care Score's tagline: "When you grow old, you only want the best."
The team specifically kept "senior" out of the name, thinking that Care Score could blossom to eventually include ratings of child care workers and givers of pet care.
Team 3: RoomForUs
Team 3 was RoomForUs, a for-profit business where 25 percent of a multigenerational apartment building would be designated for communal living. "A kibbutz in New York," one member called it. The need: "For aging in place, that's what most of us want to happen," said one Team 3 member. The communal space could be used to "meet the initial needs of members as desired by a committee" — with food fairs, talent shows, tutoring, art shows and for communication, education and socializing.
Team 4: Intergenerational Life: Beyond Mentorship
Team 4's Intergenerational Life: Beyond Mentorship would turn a school into a place where students could learn from older members of the community. The team members chose this as a "low-tech, low-cost" way to tackle ageism and encourage intergenerational interaction.
As Ivana Edwards, who said she came from the Radical Age Movement, explained: "The young are affected by ageism and we need to confront it."
Team 5: 30% Connect
Team 5 chose the clever name "30% Connect" because, as one member noted, by 2030, 30 percent of the population of developed nations will be over 60. ("We bought the [domain] name!" one team member exclaimed.) Their multigenerational idea: a skill-sharing platform "matching seniors with skills and knowledge with younger people seeking skills in the same ZIP code, and vice versa."
You'd tell 30% Connect which skills you have and how skilled you are at them. Then someone else looking for the skills would find, and match up with, you. For instance, someone who loves to bake could help someone else needing cakes for a party.
The person with the skills would decide whether to charge for his or her services or volunteer them.
"We challenged the negative concept of old aging and how to solve it. The negative concept is that being old is undesirable," said Muriel Beach, a team member who cheerfully used her walker to get to her presentation spot. "If you're lucky you get old!" (The room erupted in applause.)
The Judges Confer
After the teams delivered their ideas, the five judges moved to a back room to deliberate. My fellow Simon Cowells were Kamber; Lauren Weisenfeld, program officer of the Samuels Foundation; KT Gillett, in charge of community outreach for Blue Ridge Labs at Robin Hood Foundation and performance artist/writer/poet Penny Arcade.
A spirited debate ensued, and the judges ultimately gave the Hack Aging first prize to 30% Connect.
What's Next
Kamber hopes and expects some of the teams to return and refine their ideas, maybe even find funding and champions for them. "I already got a voice mail from a guy on the Care Score team, Shlomo, who said: 'I'm reaching out to you as the new CMO of Care Score."
OATS/Senior Planet will help some of the hackers with resources and a convening space for their idea and, Kamber said, "we'll throw some bucks at it. We see ourselves in the role as an early-stage incubator and a cheerleader." He added: "It just requires the motivation of the teams and a little bit of luck."
Why Hack Aging Was a Hit
I asked Kamber why he thought Hack Aging proved so popular. "When I talk to older people, the No. 1 thing I get is a sense of lost opportunity in America," he said. "They say: 'I feel like I'm blocked and can't get through.' With the hackathon, they could bring their ideas and maybe do something about them. I underestimated how ready people were for that."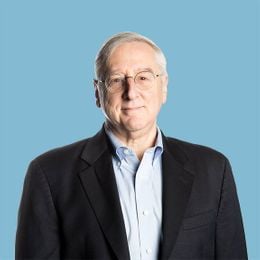 Richard Eisenberg
is the former Senior Web Editor of the Money & Security and Work & Purpose channels of Next Avenue and former Managing Editor for the site. He is the author of "How to Avoid a Mid-Life Financial Crisis" and has been a personal finance editor at Money, Yahoo, Good Housekeeping, and CBS MoneyWatch.
Read More