The College Programs Where Young and Older People Connect
At over 40 schools across the U.S., both generations teach and learn from each other
An inspiring intergenerational connections movement has been growing at colleges across the country, bringing together students and primarily lower-income older adults from local communities.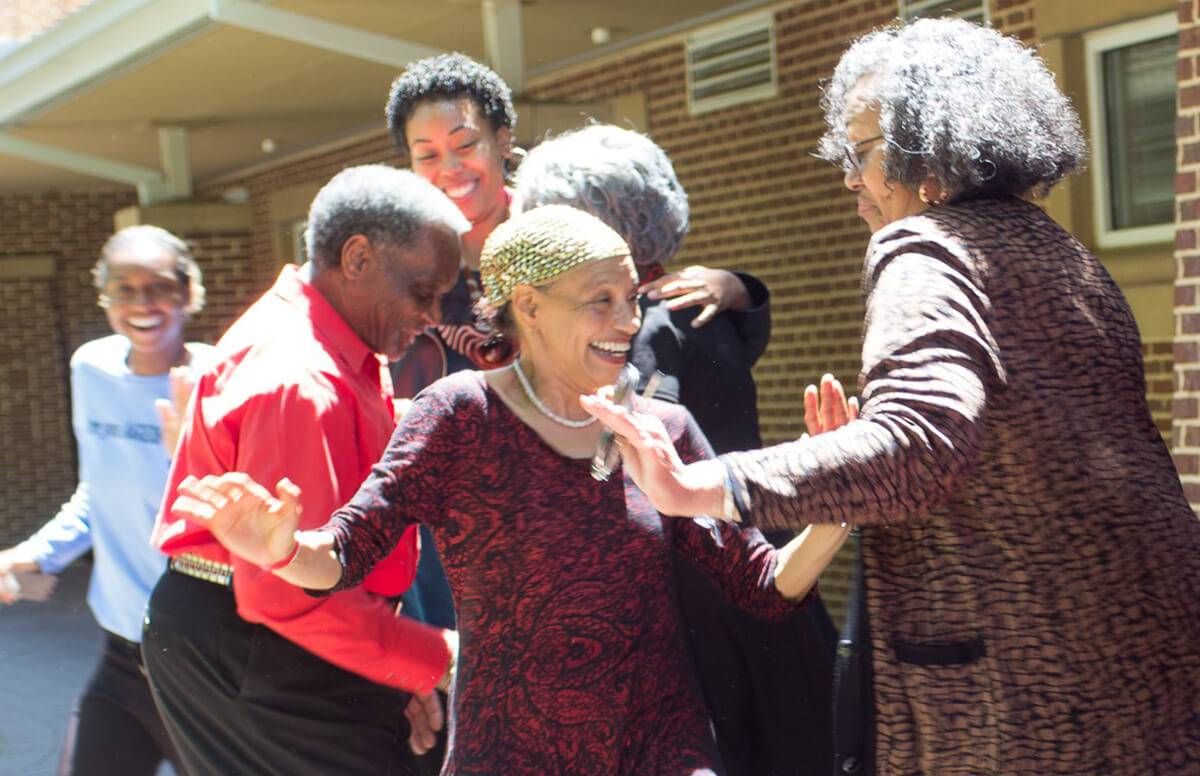 Intergenerational Connections: Students Serving Older Adults, a three-year-old project of The Council of Independent Colleges and the AARP Foundation, is becoming a triple win for students, older adults and organizations in the schools' communities.
It's a beautiful exchange of gifts. Students work in their college's locale with community organizations to help older adults achieve safer, healthier and more independent living. Those students participating in service-learning projects get the experience of working with at-risk older adults on issues such as medication management, fall risk reduction, social isolation, food insecurity and overall self-care. Older adults receive a greater sense of independence and safety. In other projects, students celebrate the lives of these older adults by developing oral history projects. Most of all, these two generations enjoy each other's company. They eat meals together, perform in theater together, dance, sing and worship together. While the older adults get splashed with attention, the younger ones learn empathy, communication skills and an appreciation of the life experience of older adults.
'News Flash' About Older Adults and Students
"The older adults in your communities and the students of all ages, you know: 'News Flash.' They like each other. They want to be working together," said AARP Foundation President and Intergenerational Connections' co-creator Lisa Marsh Ryerson at a recent conference of program participants. "To be teachers, to be learners. To be learner is to be teacher. And your projects really lifted that up in high relief for me."
"After the students had the opportunity to work with older adults, we just recently noticed that among the graduates this year, seventy-five percent of these students are now working with older adults."
Occasionally, the program can even be life-changing for students.
Kitsum Li, associate professor and program director of the Department of Occupational Therapy at the Dominican University of California (a private school in San Rafael) told her program peers: "Before they had the opportunity to come to the [Intergenerational Connections project], I can say that more than fifty percent of the occupational therapy students who joined our program wanted to work with children. Because children are fun and energetic. But after the students had the opportunity to work with older adults, we just recently noticed that among the graduates this year, seventy-five percent of these students are now working with older adults."
How the Intergenerational Programs Differ
More than 40 small private colleges and universities across the country participated in the program during the 2018-2019 academic year. They've already served over 1,000 lower-income older adults during the first half of this academic year and nearly 2,000 in the 2017-2018 academic year.
Each school chooses its own program, targeted at key issues in the community.
For instance, Concordia University Wisconsin, a private Lutheran school in Mequon, Wisc., had an Interprofessional In-Home Team-Based Assessment project helping with fall risk, medication risk and mental health for older residents receiving home-delivered meals from Fresh Meals on Wheels of Sheboygan County, Wisc.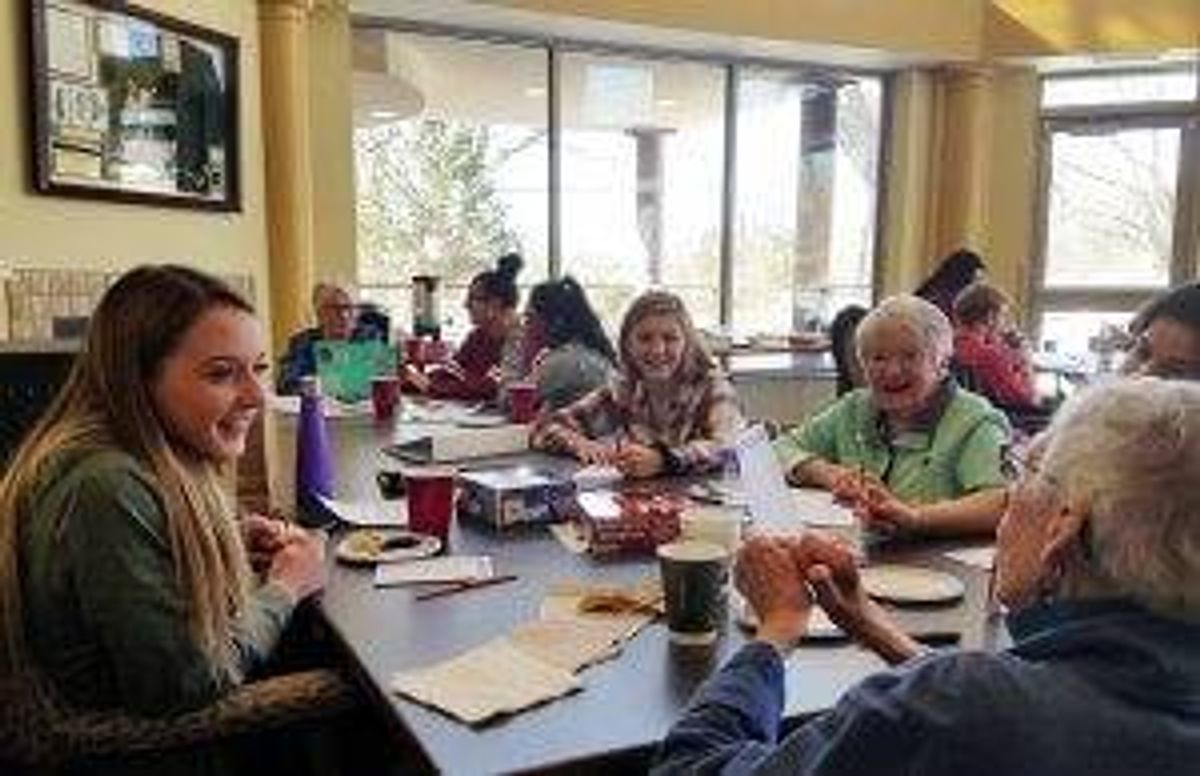 Twenty-nine students from nursing, pharmacy, social work, physical therapy and occupational therapy participated, assisting 27 older, high-risk adults who were clients of the Meals on Wheels program.
At the conference, Sharon Chappy, dean and professor of Concordia's School of Nursing, along with Lois Harrison, associate professor at the School of Health Professions and Kelly Anderson, CEO of Fresh Meals on Wheels of Sheboygan County, described several alarming discoveries in the homes of the older adults. One older person had 87 bottles of medications on the counter; some medications were decades old.
Chappy recalled one in-home visit, where a woman had been in the emergency room the night before, after falling three times, and was sent home by taxi at 3 in the morning. "Basically, we caught her falling out of bed. The students that day saw this whole situation unwind," Chappy said. "I truly believe that we saved that woman's life that day. That impacted those students so much."
Growing New Health Care Professionals With Empathy
Added Anderson: "When the students come in, for many of our clients it feels like the angels have arrived. It's just incredible." Anderson noted that she wanted this project "to grow new health care professionals who have some empathy for those who are older."
Students at St. John Fisher College, a private liberal arts school in Rochester, N.Y. , have been paired with older adults in the community through a very different project —  "Bridges Across Generations: Intergenerational Connections through biology and sociology."
Jonathan Millen, visiting assistant professor of biology said, "We work with seniors to basically report their physical and cognitive abilities — I like to call them biomarkers of aging or longevity — and then put together a longevity plan to help those seniors live longer, happier, healthier lives."
Students in Chatham University's project paired with older adults from Vintage Senior Services in Pittsburgh, where the school is located, sharing food stories and meals and creating a community cookbook. The focus of the project was addressing older adult isolation and food insecurity.
Carrie Helms Tippen, associate professor of English with research interests in food studies, said she thinks of food as "a universal experience." Tippen noted: "At potluck meetings, the seniors appreciated the connections, as well as the chance to talk about food."
Some Projects: Social, Spiritual and Fun
In other instances, the projects were social, spiritual and fun.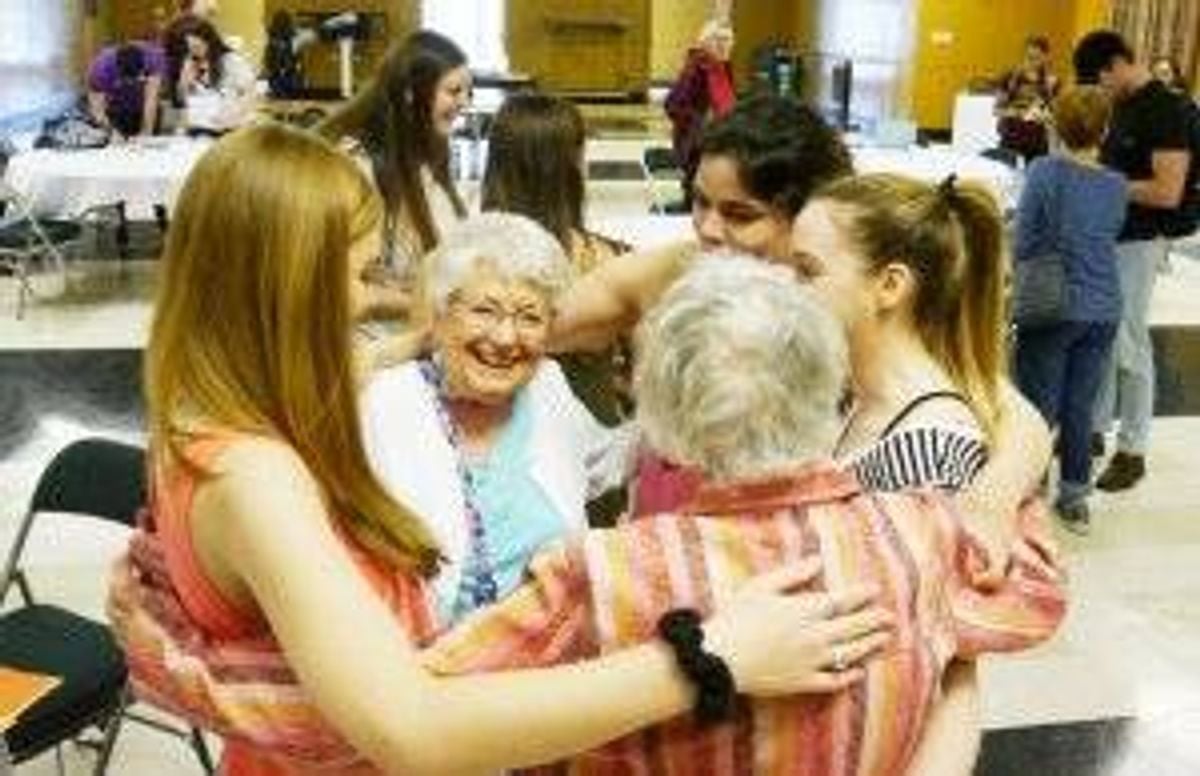 "My colleagues and I sing love songs to elders." That's how Gloria Wade Gayles, founder and director of the SIS Oral History Project at Spelman College, a historically black liberal arts college for women in Atlanta, described her students' project. "What we've learned from this experience is that being age-conscious in our learning, and in our teaching, produces a new generation for the twenty-first century of age-conscious scholars, writers, and activists."
The SIS Oral History project (SIS stands for Spelman Independent Scholars) gives voice and visibility to African American women elders in the South who range in age from 70 to 107 through activities that bring elders and students together, Gayles said. Students engage in activities including worshipping, dancing and learning together.
During the conference, project leaders shared challenges they encountered that turned into valuable teaching moments.
One concern that numerous faculty members shared was how to address death when an older adult passes away. Rhoda Reddix, associate professor and director of service-learning at Franciscan Missionaries of Our Lady University, a private Catholic school in Baton Rouge, La., said: "That was a challenge for me and for our students." Reddix added that grief and loss is "a component that we need to build into future activities, because that is a normal aspect of life. Future health care providers need to understand end-of-life issues."
What Students Said
At the conference, a panel of students who had participated in inter-generational programs were asked what stood out for them. Some of their responses:
Rachel Timmermans, Calvin University '19
"The power of listening. These older adults were just so happy to have a fresh face and a fresh pair of ears to hear the stories that their family members had heard so many times before."
Anastacia Hutchinson, Converse College '19
"I did not have a great relationship with my grandparents growing up. So, it was a little hard for me. But then when I started speaking with these amazing women, it was just like, 'Oh, never mind. You're my new grandmother.' It was fine."
Jessica Stuart, Shenandoah University '20
"You really need to enjoy where are you right now and enjoy the time. Because you can't go back."
Micheala Crew, Jarvis Christian College '20
"The older generation has taught me so much about patience, responsibility, so many life lessons to help me pursue a degree in social work...It taught me more about being a leader and working with peers."
Marshall Westbrook, Wofford College '20
"Empathy, definitely. With older adults, I actually didn't realize how much I need to respect their approach. They are seeing things from a completely different way than I would. Maybe if an older adult is driving slowly on the interstate, you need to understand why they are. They may have some health issues."
Intergenerational Advice for Boomers
Marsh Ryerson of AARP had two suggestions for boomers to keep intergenerational connections going and to find such programs for their parents:
1. Look for intergenerational programs and activities at nearby colleges or in your community. "If there isn't a college with one of these programs in your area, you can reach out to an Area Agency on Aging or to a local food bank and to some of the community-based organizations and see what intergenerational activities they have already established," she said.
2. Include your family and neighbors. "Work actively to ensure that younger family members are given the opportunity and encouragement to develop meaningful connections with their older family members," Marsh Ryerson noted. She also suggested reaching out to older neighbors or local residents when you're, say, out on a walk in the park. "Have a mindset that says, intergenerational is best," she added.