It's Time for a Retirement Reality Check
A new survey shows many Americans are deceiving themselves about their retirement prospects
America's biggest retirement problem isn't that so many people have saved so little (although that is a serious problem). It's that too many people are wildly unrealistic about their retirement prospects.
That's my takeaway from the landmark 2012 Retirement Confidence Survey just released by the Employee Benefit Research Institute.
The 22nd annual study is getting a lot of attention because researchers found that Americans' confidence in their ability to retire comfortably is at historically low levels. Just 14 percent of Americans are "very confident" they will have enough money to live comfortably in retirement.
That's no great surprise, since 60 percent of workers say the total value of their savings and investments is less than $25,000, and potentially high health care and long-term care expenses loom in retirement. And here's another chilling stat from the study: 33 percent of workers 55 and older aren't currently saving for retirement.
But what's amazing to me is the way so many Americans are dealing with their retirement fears. Or should I say not dealing with them?
Instead of deciding to save more, meet with a financial adviser, or estimate how much money they'll need in retirement, many have adopted what personal-finance writer Kerry Hannon calls the Scarlett O'Hara Syndrome. They'll deal with it "tomorrow."
Americans are unrealistic about their retirement prospects in four ways:
They expect to solve their dearth of savings by retiring later than originally planned and working part-time in retirement. "There are two ways you can deal with a shortfall in retirement savings," says Jack VanDerhei, research director of the Employee Benefit Research Institute. "You could say, 'I'll start saving more,' or you could choose to defer the pain and say, 'At age 65 or 66 or 67, I'll see if I have enough money. If I don't, I'll defer my retirement age.' Unfortunately, most people are choosing option two."
Problem is, the survey also found that 50 percent of retirees say they had to retire earlier than they'd planned, because of health problems — their own or a spouse's — or because they couldn't find work. 
And although 70 percent of the workers surveyed said they planned to work part-time in retirement, just 27 percent of today's retirees have actually done so. More than half of retirees say they're not confident about finding paid employment in retirement.
"It's a very risky gamble to presume you'll be able to keep working beyond the age you originally planned to retire," VanDerhei says.
Maybe it will become easier for people to find work at 65 than it is today. Barry Bluestone, dean of the School of Public Policy and Urban Affairs at Northeastern University, maintains in a Next Avenue article that employers will need to hire older workers as the nation faces a labor shortage over the coming decade. Economists at the Urban Institute and the Sloan Center on Aging and Work at Boston College just told Chris Farrell, a regular Next Avenue contributor, the same thing.
But do you really want to bet your future and your finances on the assumption that employers will suddenly warm to the idea of hiring older workers? Or, for that matter, that you will stay healthy?
Many Americans also seem to count on receiving imaginary pensions. According to the survey, 56 percent of workers (and/or their spouses) expect to receive benefits from employers' pension plans — known as defined benefit plans — in retirement. Yet only 33 percent say they (and/or their spouse) have such a benefit with a current or previous employer. 
"I have no clue why so many people who don't have a defined benefit plan still think they'll wind up with one by the time they retire," VanDerhei says.
Most workers haven't estimated how much money they need to save for retirement. Just 42 percent of workers — and 50 percent of workers 55 and older — have done so. Women are less likely than men to have estimated their retirement savings needs.
There's a glimmer of good news here, though. The percentage of people running their retirement savings numbers has risen since the Employee Benefit Research Institute asked the same question in 2002. At that time, just 38 percent of all workers and 41 percent of workers 55 and older had tried to calculate how much money they'd need to save.
Very few Americans have met with a professional adviser to assess their retirement prospects. Americans are less likely to consult with retirement planning pros than they were a few years ago. According to the new survey, only 21 percent of workers have talked with a financial adviser about retirement, down from 33 percent in the 2010 survey. "It's certainly not because fewer people need to," VanDerhei says. "I think they don't want to feel like they'll be taken advantage of by a salesperson."
How to Get Realistic About Retirement
What should you do if you've taken the Scarlett O'Hara approach to your retirement?
Don't wait another day. Follow VanDerhei's two recommendations now:
First, he says, use an online calculator to estimate how much money you'll need to save to retire when you want with the income you expect to need. (I particularly like the Employee Benefit Research Institute's free Ballpark E$timate tool.)
Second, hire a financial planner who can give you astute advice about your retirement strategy. There are now many planners who specialize in this field; Next Avenue has an article on how to find and work with one of these pros.
"Even though the cost of professional help might be a few hundred dollars," VanDerhei says,  "I can virtually guarantee" that it will more than pay for itself.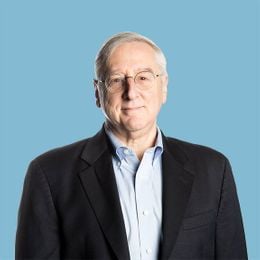 Richard Eisenberg
is the former Senior Web Editor of the Money & Security and Work & Purpose channels of Next Avenue and former Managing Editor for the site. He is the author of How to Avoid a Mid-Life Financial Crisis and has been a personal finance editor at Money, Yahoo, Good Housekeeping, and CBS MoneyWatch.
Read More