The Baseball Player Who Lived a 'George Bailey' Life
A beloved Navy vet shared memories of his major-league fighter pilot baseball team
Imagine growing up in a Michigan farm town, shipping off for WWII training and landing on a U.S. Navy baseball team with Boston Red Sox legend Ted Williams. Imagine pitching for a military squad with teammates who played for the New York Yankees, the Detroit Tigers and the St. Louis Cardinals. Imagine treating the experience like a secret, only waiting to reveal the full account when you are 96 because you thought it might "sound like bragging."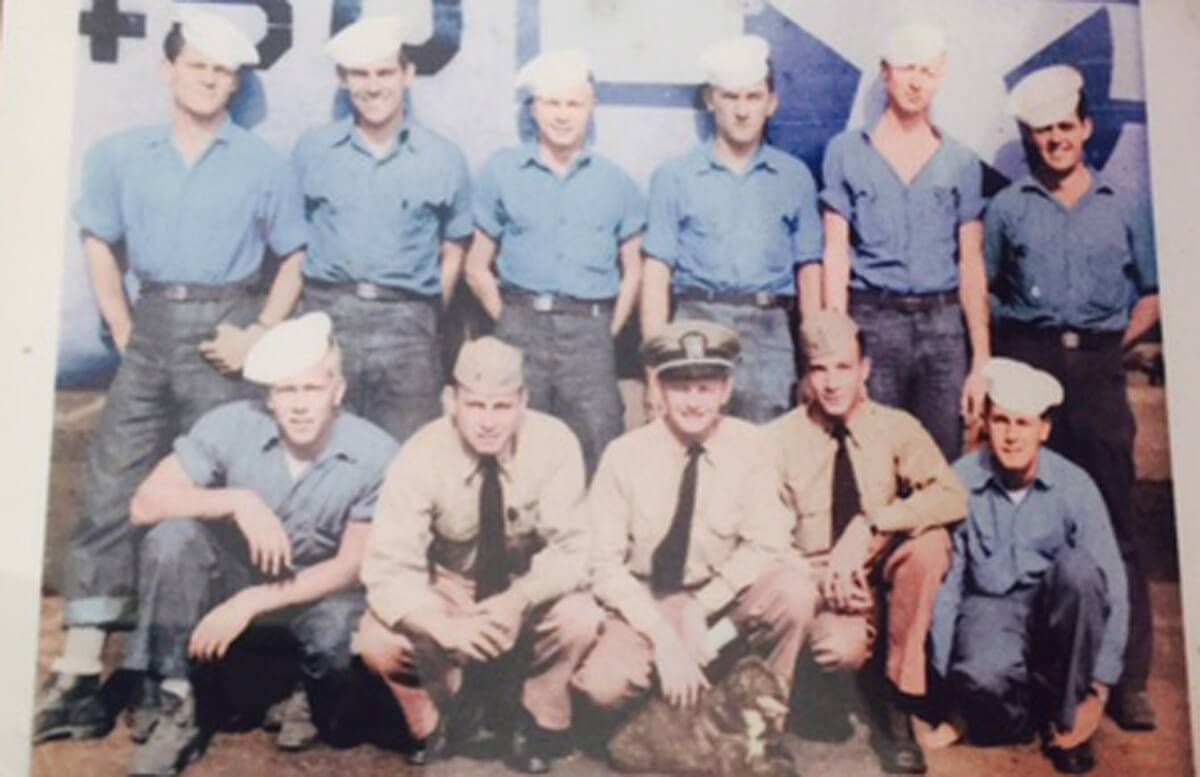 When I discovered Ivan Keith Fleser, he was a widower living in Marshall, Mich., a Norman Rockwell town near Battle Creek. Fleser drove a white Chevrolet, mowed his own grass and shoveled snow at the house he built with his own two hands. Though Fleser had only one cavity in his teeth and ice fished well into his 90s, nothing compared to his extraordinary baseball experience during World War II.
An Incredible Story That Was Almost Lost
Ivan Fleser grew up with five brothers and two sisters. His father was a carpenter. Money was tight, but the Flesers were rich in love and integrity, and all of the children pursued a college education. When the husky "baseball brothers" were not in school, at church or doing chores, they wore matching jerseys and played baseball in muddy cow pastures straddling cornfields.
When the war broke out, Fleser was playing ball at Western Michigan University. He enlisted in the V-5 Naval Aviation cadet training program, a seaborne aviation program that attracted some of Major League Baseball's most brazen players.
When I met Ivan Fleser in person, he dressed formally and had a firm Naval officer's handshake. Dissolving into laughter, he described himself as a "chunky" 23-year-old cadet from Burnips, Mich. (population 175) when he boarded a southbound train for one of the toughest physical ground training programs on earth for fighter pilots.
Little did Fleser know, future President of the United States George H. W. Bush had left the North Carolina training station in 1942, where fellow Michiganite and future President Gerald Ford served as an athletic instructor, along with famed football coach Paul "Bear" Bryant. Former Olympians, world champion athletes, All-Americans and Heisman Trophy winners also volunteered their services at this 90-day camp that would form a major league fighter pilot club billed as the "Cloudbuster Nine."
Because the Navy only entrusted certain reporters to witness this secretive training culture, the story about the Cloudbuster Nine ball club largely remained untold until I sat down with Fleser.
Thumbing through a stack of worn Navy photographs, Fleser transported me to the spring of 1943, when he was coached by Charlie Gehringer, a Detroit Tiger Hall of Famer, and Buddy Hassett, first baseman for the Yankees who led sing-alongs on the team bus with his beautiful tenor voice.
That season, cadets Ted Williams and Red Sox shortstop Johnny Pesky, and a host of other big-leaguers, trained with Fleser, barnstorming the state in ramshackle buses to play against colleges, military teams, factory squads and the minor league Durham Bulls to boost morale. The finale of the season was a war-relief game at Yankee stadium, where the Navy pilots slayed a big-league team managed by Babe Ruth.
A Wonderful Life
Like Ted Williams — one of the most revered pilots and ballplayers of all time — Fleser earned his wings in 1944. He survived a plane crash when his patrol bomber went down between the coasts of California and Hawaii, and made phone calls to all 10 crew members on Christmas Day for many years to come.
After the war, Fleser returned to Western Michigan University where he played in the first College All-Star Game, now known as the College World Series. Instead of pursuing a professional baseball career, he hung up his spikes to follow another dream of teaching eighth-grade history and state government.
Fleser married a local girl, Betty Jane Kraushaar, and earned a master's degree in counseling. Over the decades, the modest Cloudbuster pitcher became a town hero as a guidance counselor, volunteer and baseball coach for the Marshall High School Redhawks.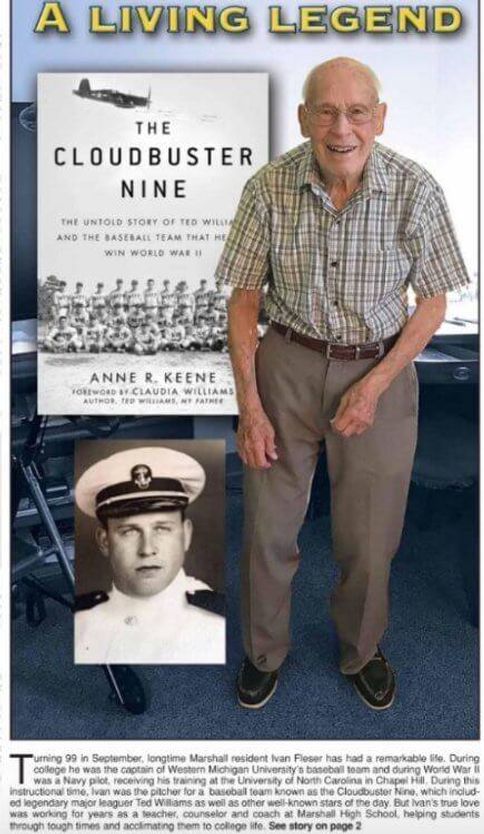 After Fleser's story was published in my book, The Cloudbuster Nine, the local newspaper chipped away at a cover story to elaborate on his playing days with Ted Williams and the Navy team that came to symbolize war-time baseball. Locals planned a 99 birthday celebration for Fleser at the Methodist church. He was also invited to serve as the Grand Marshall of the town's legendary Christmas Lights Parade.
Days before the story was published in the ad-visor & chronicle, Fleser fell and broke his hip. Friends flooded his hospital room all week: former students and baseball players he coached, now in their 60s and 70s; church members, neighbors, farmers and employees from hardware stores, restaurants and the police department.
When Fleser declared that he was ready to meet his maker, everyone believed he would recover. For a man who was hardly sick a day in his life, locals expected him to walk out of the hospital. Even after Fleser moved into hospice, townspeople believed he would go back to the tidy white-frame house he built with his brothers near the historic town square.
Never one to put anyone out, Fleser passed away peacefully, hours later, on July 27, 2018.
'Something That Tests Our Mettle'
Like the much-loved George Bailey character from It's a Wonderful Life, Ivan Fleser was rich in friendships and lived to serve God and country. In one of our last conversations, he encouraged adults and kids to expect failure.
"Life is not a bed of roses; there's always something that comes along that tests our mettle," he said.
Fleser also encouraged people to be upbeat and grateful for every day, saying, "The Lord has blessed me thus far, and he will take me to the end."
During World War II, America's pastime of baseball was at its zenith — still, more than 500 major-league players sacrificed their careers to serve Uncle Sam. Today,  fewer than 40 major league players and WWII veterans are still with us. Every survivor I have had the opportunity to interview, including Fleser, humbly expressed that they are prouder of their military service than any laurel or World Series pennant earned on the ballfield.