Justice Scalia's Candid Views on Work and Retirement
What he told Edward Gero, the actor who portrayed him in 'The Originalist'
Just hours after news of Supreme Court Justice Antonin Scalia's death on Saturday, the office of Sen. Ron Johnson (R-Wisc.) tweeted out condolences. Trouble was, the tweet pictured not Scalia, but veteran Washington D.C. actor Edward Gero, who bears an uncanny resemblance to Scalia and played him on stage last year.
For Gero, who was transformed into Scalia for nearly three months at Washington's Arena Stage last March, the bulletin on the car radio Saturday afternoon was especially jarring. "It threw me back and hit me like a slap in the face," Gero recalls. It was as though he was hearing his own obituary on the news.
A View Like No Other
Few people have as unique a perspective on the late justice as Gero. Despite being 17 years his junior, Gero was first tapped in the fall of 2013 to play Scalia, the polarizing conservative jurist, in the world premiere of The Originalist, the first play about a sitting Supreme Court justice and one written specifically for Gero.  It was a performance that would earn Gero a Helen Hayes Award nomination — Washington's version of the Tony.
But before he first stepped foot on stage beneath an ornate chandelier, wearing the justice's black robe, singing, "I dissent! I dissent!," Gero spent more than a year immersing himself in what was the role of a career. He watched videos, consumed Scalia biographies, read the Federalist Papers and attended oral arguments to study Scalia's gestures and facial expressions on the bench, anything that might offer a peek inside what Gero called Scalia's "40-pound brain."
In fact, Gero refused to meet with Scalia until "I had fully done my homework, so I could show this intellectually intimidating man that I had some depth, or at least aspired to that."
The First Meeting
The first time Gero was Scalia's guest in the courtroom, the Italian-American actor from New Jersey and the first Italian-American Supreme Court justice (born in New Jersey) sized each other up. Both men's Catholic families, incidentally, could be traced to the same Italian village. "I vividly remember that first encounter," says Gero. "Two or three minutes after taking his place on the bench with the other justices, Scalia looked over at me and we locked eyes. We stared at each other for about a minute and a half. He nodded and then held forth displaying all his mannerisms, humor and intelligence as if for my benefit."
After the arguments, Gero was ushered into Scalia's chambers. "He shook my hand firmly and proclaimed, 'I'm not coming to the play, but I'm glad they got somebody good to do it so I won't be embarrassed.'" It would be the first of occasional lunches, email and letter exchanges and even a skeet shooting session with Scalia.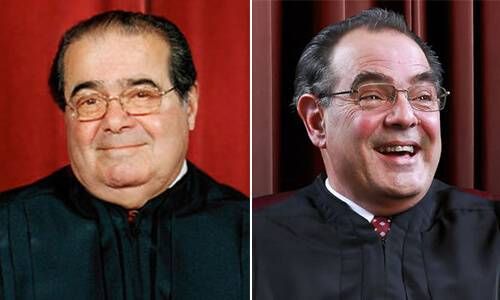 By the second meeting, Gero broke protocol and offered Scalia a book about Shakespeare and opera, interests the two shared. Scalia insisted, "I will call you Ed if you will call me Nino."
'Nothing Left to Conquer'
Along the way, Gero saw what he called a "parting of the veil" in his meetings with Scalia.
Case in point: when Gero told Scalia he was fortunate to be a Washington actor because he knows where he'll be for the next 18 months or two years, unlike the nomadic New York actor. Scalia responded: "I certainly know where I'm going to be for the rest of my life. There's nowhere else to go."
Gero sensed Scalia was expressing some sadness for having nothing left to conquer, having been passed over for Chief Justice.
Scalia also shared that he could have retired at 65 and gotten his full salary every year. Instead, Scalia said he's "working for free (at full pay). I love my job. If I didn't love it, I wouldn't do it any longer." If it ceased being fun, he said, he would leave. Asked at a Midwest judicial conference this past summer, where he was the keynote speaker, what he would do if he did retire, Scalia joked, "I'm thinking about starring in a play about Edward Gero."
Disappointment at the Losses
Perhaps the most revealing moment came last June when Gero was riding in Scalia's car to go skeet shooting. Even before the final decisions were handed down in two of the term's big cases — Obamacare and same-sex marriage — where Scalia found himself yet again writing dissents, "he told me this was the most discouraging term of 29 years on the bench. And that he'd written more dissents this year than any other in his career, even when the Court took twice as many cases.
"I sensed a sadness about that," Gero says, "a stinging sense of disappointment that he wasn't able to sway his colleagues as the court moved to the left."
The Friendship
Among Gero's mementos from his brief friendship with Scalia is a note the Justice wrote him from the bench the last time Gero would see him in court. While Justice Sotomayor was reading one of her opinions, Scalia wrote a note, folded it up, handed it to a clerk who came off the bench and delivered it to Gero. It read, 'Welcome, doppleganger!'"
Scalia made good on his vow not to see The Originalist, sending Gero what amounted to a dissent saying he was in a no-win situation. "I am sure to be asked whether I liked the play. Damned if I say yes (there are sure to be parts I think are unfair and I would be endorsing them) and damned if I say no or criticize particular features (thin-skinned poor sport). Sorry to disappoint."
The play was captured on video and there are plans to stream it. It has all the elements of art imitating life. On the actual day the Supreme Court took up the historic same-sex marriage case, Gero as Scalia was a few miles away at the Arena Stage theater, sparring on stage with his liberal law clerk about a same sex-marriage case.
Grieving the Loss
For Gero, playing Scalia and getting to know the larger-than-life justice was a "life-altering experience. I feel the loss for all of us."
In the wake of the news this weekend, Gero says one line from the play stands out at this moment. Playwright John Strand nailed it toward the end of The Originalist when Scalia plans to drive his own car to a funeral. His law clerk asks what would happen if he died in a car accident. Scalia says: "Half the country would cheer. The other half would fight over who replaced me on the bench."
Richard Harris
is a freelance writer, consultant to the nonprofit iCivics, former producer of NPR's "All Things Considered" and former senior producer of "ABC News Nightline with Ted Koppel." Follow him on Twitter @redsox54.
Read More