Ways to Do a Kitchen Remodel While Saving Money
With smart shopping and sweat equity, her cosmetic remodel was a success
The 1947 condo had been updated only once, in the 1960s. The original oak-paneled floors suffocated under sad wall-to-wall carpet, stained by what could only be circus animals with digestive issues. I can still picture the kitchen: drab vinyl floor, avocado green electric stove, virgin cabinets unpainted save for a coat of dark stain. Somewhere under this macabre mess lived a gracious two-bedroom apartment, with moldings on the walls, bright light and sweet neighbors. Once I moved in, I wanted the place to look like my own, but didn't have a lot of cash to spare.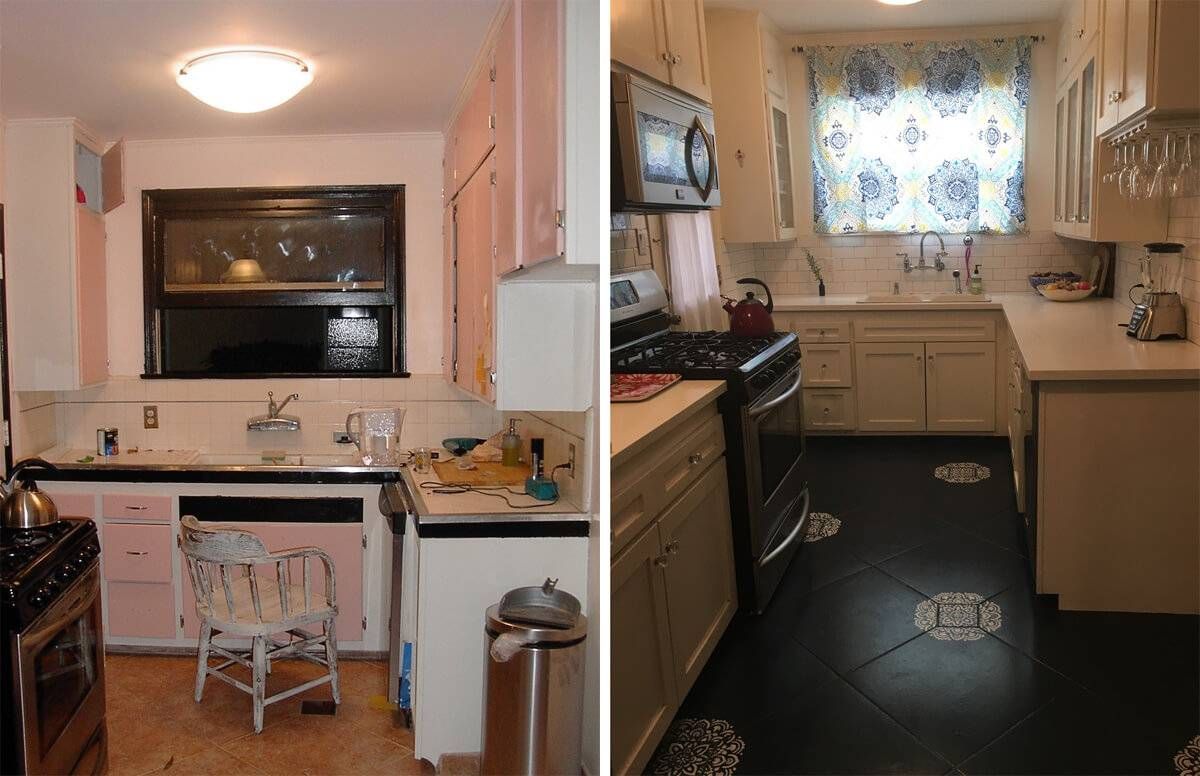 When we consider renovating, design magazines and HGTV shows like us to think it's all or nothing — ripping out cabinets, tearing up floors, removing entire walls. But those remodels come with a steep price tag: an average kitchen remodel costs upward of $20,000; a bathroom, between $6,000 and $14,000, according to HomeAdvisor. And with a tight housing market, more people are staying put, choosing to refresh the look, feel and functionality of their home.
Bonjour, Rose et Noir
For my kitchen's evolution between 2005 and 2009, I wanted to pay homage to the building's era, yet express my funky feminine side. A small design devil stood on my shoulder and I heard it say, "Perhaps this kitchen should be reminiscent of a charming French bordello," so I chose large Italian pink ceramic tiles offset by small shiny black marble squares. I upped the ante by painting the trim black and the walls light pink, and installing a black-and-white granite countertop that immediately looked dated.
I recently entertained the thought that it would be nice to have an actual house with a yard for my daughter and our dog, but realized that even a teardown in our neighborhood was out of my range. So I made a choice. I would love my home, and keep working on every single piece of it until puttering would make me feel like Julie Andrews singing and twirling in a Bavarian meadow.
The greatest frustration to me was the kitchen — it would require the most transformation. I wanted an upgrade, but couldn't justify the expense of a full remodel, so I decided to splurge where necessary, and save where I could.
The Kitchen Remodel Savings
I scoured the Habitat for Humanity Re-Store and scored a stainless steel double sink for $15, and later went back and picked up a Kohler almond-color double enamel over cast iron one for $20 and sold the stainless one for $60.
Instead of the expensive Moroccan-inspired backsplash I liked, I opted for gleaming white subway tiles from a home improvement store. Subway tiles are one of the lowest-cost improvements that deliver the highest impact, plus they never become dated and give off that cool coffee shop vibe.
The Splurges
I'd originally settled for inexpensive butcher-block counters, but the guy I hired to put them in upsold me to a snow-white slab of quartz for $1,500 installed. I'm a million times happier I went for the quartz, even though I had to face the returns department at IKEA, where the crestfallen spirits, defeated by complex furniture-assembly gymnastics, reminded me of a sad Sunday afternoon trip back from Las Vegas in coach on a discount airline.
The Grand Finale
There was still the issue of the floor. I couldn't justify ripping up my French brothel tiles and starting over to the tune of $2,000 or more. Then I stumbled upon Mysha Bolen's tutorial on her DIY blog, Remington Avenue, where she painted over boring ceramic tiles like mine and turned them into what looks like an Indian palace floor. I followed the directions religiously, and when I was done, nearly wept for joy. My kitchen floor is now a deep sea blue punctuated with creamy white mandalas. I am, dare I say, floored by the result.
The Price of Happiness
When you go the high-low route, expect to do a lot more work sourcing materials and putting in sweat equity. There were a few things I wish I'd done differently. I should have chosen the undermount stainless sink instead, and I wish I hadn't paid the counter guy so much upfront because he disappeared for three days, and plumbed the sink so badly I had to bring in another plumber to correct his work.
In all, here's what I spent:
Sink: $15
Countertops: $1,500
Tile backsplash, adhesive, grout and installation: $500
Floor paint and tools: $125
Additional plumber: $75
New matching curtain (actually, it's a shower curtain from Ross I got on clearance): $8
In all, my price of happiness rings up at $2,208 (plus a $40 profit from selling the second sink). I am thrilled with  my kitchen. In this case, a little bit of money actually can buy a lot of love that will last for years to come.
Vanessa McGrady
Vanessa McGrady is a writer who lives in Glendale, Calif. She'd be thrilled if you visit her website, vanessamcgrady.com, and hang out with her on Twitter @VanessaMcGrady.
Read More