A New Film Company Connects Reel Life to Real Life
Amy Baer, president of Landline Pictures, talks about making films for 50-plus moviegoers
When Brye Adler and Jonathan Golfman, co-presidents of MRC Film, contacted Amy Baer a little less than two years ago, she was thrilled. They were focused on building out their roster of movies that would be specifically focused on distinct audiences and/or genres, and they wanted her to head up creating films by, about and starring people in the 50-plus age group.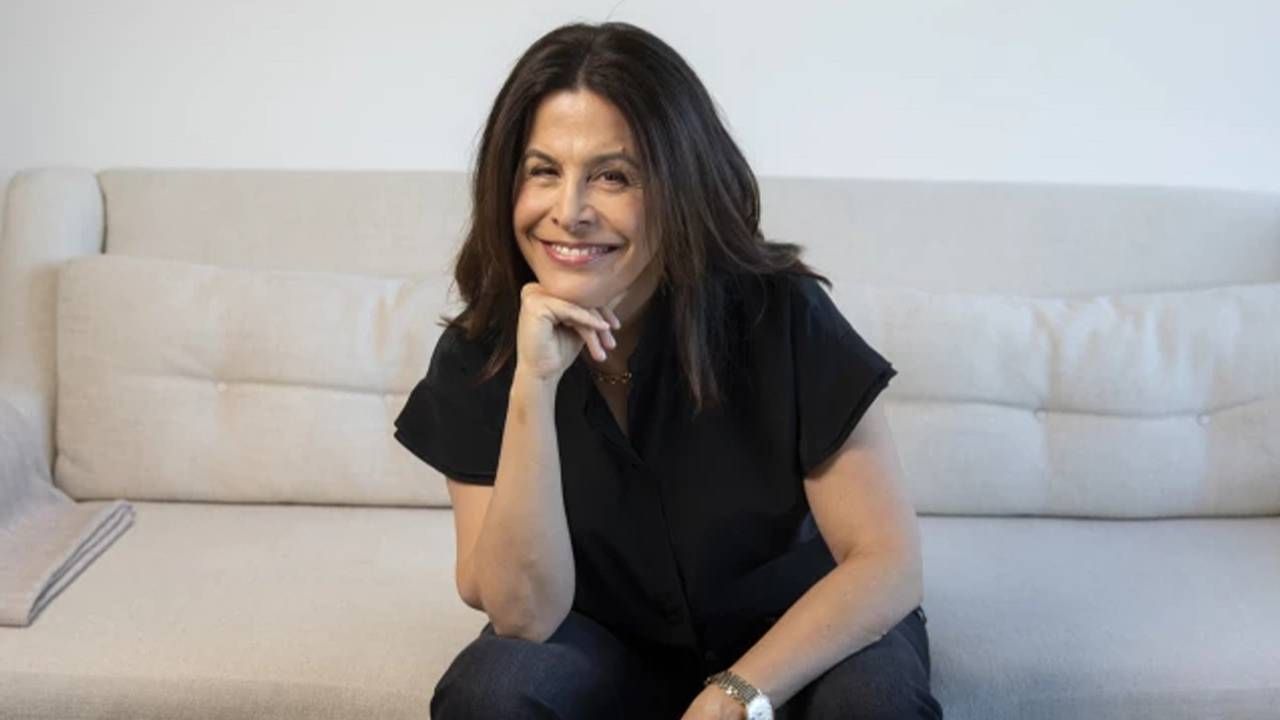 As a former senior executive for Sony Pictures and CBS Films, Baer, 55 and a Gen Xer, had already produced or overseen super-successful films of this type, such as "Last Vegas" and "Something's Gotta Give." As a result, working on this project was right in her wheelhouse. And she wanted in.
Landline Pictures, a label of MRC Film and with Baer as its president, plans to make three or four films a year for people 50 and over. It's already announced two films: Renée Zellweger is set to star in "The Back Nine," a golf comedy, and Annette Bening and Bryan Cranston are starring in a comedy for the streaming service Paramount + called "Jerry and Marge Go Large," inspired by a true story of a retired couple living in Michigan who, after winning the lottery for $27 million, revive their small community.
"We talk about it internally that there's probably never been a studio head who gets the job and the first thing they announce is 'I want to make a cohort of films for an over-fifty audience.'"
Baer took time to answer our questions about what this means for the future of film. The interview that follows has been edited for length and clarity.
Next Avenue: Why are you excited about Landline Pictures?
Amy Baer: Two very specific and clear reasons. Number one, it was a unique opportunity. Nobody else that I know of in entertainment is focused squarely on the over-fifty audience. It's an audience I understand; it's an audience I am a part of.
Number two, it is an audience that is consistently committed as moviegoers, and when you make movies for them and about them, they watch them. It's an audience that oftentimes is neglected. Then when movies are made for and about them and they succeed, everyone is shocked.
So I got really excited because I knew there was opportunity to consistently make entertaining content for an over-fifty audience, and I also understood, from my own perspective, that when you say 'over-fifty', you're no longer talking about baby boomers.
Gen X is moving into their fifties and their life experiences are very different than the baby boomers. Even though the baby boomers are still a relevant cohort to be telling stories about, there's a whole new cohort that's coming in who look at aging in a very different way.
I also got excited that Brye and Jonathan, from just a business model, were exploring something new as a hybrid. Because I am both running the label for them as an 'executive,' but I'm also producing all the content that we make. So it wasn't just a traditional producer deal, but it also wasn't to come and just be an employee. There was a real entrepreneurial spirit to it that got me excited.
Why do you think this hasn't happened before where a company has focused on movies for the fifty-plus demographic?
I think it's a pretty simple answer, which is it's just not something sexy to announce. It's just not something that a studio is going to say -- 'We are undertaking this initiative.'
You know, we talk about all of the inequities in our culture that we're trying to correct when it comes to sexism, sexual harassment, racism and LGBTQ issues. There's another significant issue, particularly in the entertainment space, which is ageism. And it's existed since the beginning of Hollywood. We talk about it internally that there's probably never been a studio head who gets the job and the first thing they announce is 'I want to make a cohort of films for an over-fifty audience.'
I think it's just a missed opportunity, much in the same way that Jason Blum saw an opportunity to make really low-budget horror movies (such as "Get Out "). He saw a real business opportunity and built it into a brand [known as Blumhouse].
Often, people over fifty are pushed to the side in terms of anything that has to do with commerce because companies want to target millennials, even though people over fifty tend to have more disposable income. Has this had any influence on the creation of Landline?
Oh, absolutely. And again, I think the data supports it. If you look at the last twenty-five years of movies that would be defined as content for an over-fifty audience, almost without exception, I would say probably seven or eight out of ten are successful and are profitable. That kind of track record was hiding in plain sight. It really just required an enterprise to do that analysis and say, 'Wait, wow, there's an opportunity here that nobody's really focused on.'
I give credit to the guys at MRC Film because they did their own deep dive analysis, they talked to every theatrical distributor and they talked to every streamer. Consistently, one of the areas of content that they were hearing that these companies needed were movies for an older audience.
Because they are not exclusive to any one distributor, they saw opportunity across the landscape to generate content and find the right home for each project as it comes through our system. I think it's really about timing and looking at an expanding content horizon — there are so many content distributors and a desperate need for an endless amount of content.
When you look at the landscape and you see nobody is doing a consistent pipeline of movies for an over-fifty audience, that becomes a really interesting enterprise and an opportunity to corner the market because you're ahead of the curve.
It's surprising that someone hasn't hit it before this because 'Grace and Frankie,' for example, has been so successful.
They're in their seventh season, and it's the longest running series on Netflix.
What do you hope to be able to create?
Well, there's the mandate and then there's what I'm focused on, and they obviously are related.  The mandate from the get-go was entertaining, uplifting, aspirational, inspirational -- so it's comedy, romantic comedy, inspirational true-life stories. We're not going to do any heavy-duty dramas about dying or death or dementia. We're not looking at the sort of the pitfalls of aging.
"Our culture cannot be ignored any longer, cannot be shunted aside because there's a lot of us, and we are aging differently than our parents and especially our grandparents did."
If you look at all the movies in this space over two or three decades that have succeeded, they're pretty consistent. It's about reinventions, it's about starting over, it's about finding your tribe, going out on adventures, things that you are able to relate to as a more mature adult that isn't gimmick.
A movie like 'Best Exotic Marigold Hotel,' where people are deciding to travel on their own because they haven't gone away in a while and they meet each other and they build a sort of a more mature family or 'Something's Gotta Give', where you're falling in love again or 'Book Club,' where you're getting back in touch with your sexuality and you acknowledge that even in your seventies, you're still a sexual being -- those are all relatable ideas that I'm committed to telling.
As much as I think a movie like 'Bad Grandpa' is fun, that story is about the younger character and the Robert De Niro character is the comic relief. I want to take our audience seriously by telling stories about, and for, them through the eyes of people their age and do it in a meaningful, uplifting way.
What have you personally learned from undergoing this venture so far?
I think the single most exciting thing I've learned so far is the passionate excitement that exists both within the community in the talent pool and also with the audience at large of a hunger for a place to tell these stories and a hunger for the audience to receive these stories. I haven't had one person in the community say, well, none of my clients would ever want to make a movie like that.
It's a bit of an embarrassment of riches with the kind of talent that we are in business with, and I hope that continues. I'm also really excited by the reception that we've had just based on the very limited press that we've done. People [are saying] 'Finally, thank goodness.'
It's also giving a platform to talent, particularly talent in this age range, to tell stories about their own life experiences that traditionally studios haven't really wanted to spend a lot of time on.
There is appetite for this space as a creator and as an audience, and I'm excited about that.
Do you think this will have some kind of influence on how society views people as they become older?
I can only say that I hope so. I think that the conversation has begun.
Our culture cannot be ignored any longer, cannot be shunted aside because there's a lot of us, and we are aging differently than our parents and especially our grandparents did. It's a very different dynamic than what happened a generation ago, and I think that it will force the conversation. Because if there's a business proposition that is investing in focusing on content for this demographic, you can't ignore it anymore.
The 'Friends' reunion should've just proven that, because they are all fifty and up. You've got big names already working with you -- Annette Benning, Bryan Cranston, Renée Zellweger. Just because they got older doesn't mean they're still not good actors.
Of course. The only difference is that those actors and actresses just haven't had the plethora of stories that would be appropriate for them to be in, and that is the goal of Landline — to be able to generate the content that will allow them to thrive because it's appropriate and relevant to where they are in their life and in their career, as opposed to having to wait another ten or fifteen years until they're getting the older roles or pretending that they're ten years younger than they are, none of which is organic or authentic.
Most of this talent would rather not work than take a role like that, so that is absolutely one of the main goals of what we're doing.
Do you think this may contribute to a change — that people over a certain age are no longer considered invisible?
I certainly hope so. I think that most times, change happens incrementally. Then one day, you look back and you realize how far a culture has shifted or a business has evolved. I think, simply by virtue of the announcement of Landline, it plants a flag that is important in changing the conversation around relevancy of talent after it's over a certain age
I think now the onus is on us to make good content that succeeds. And the more successful the movies are, I think the more the needle will move.