What We Can Learn from Louisa May Alcott and 'Little Women'
The home where 'Little Women' was set provided wisdom
(Editor's Note: This story was previously published by Rewire.)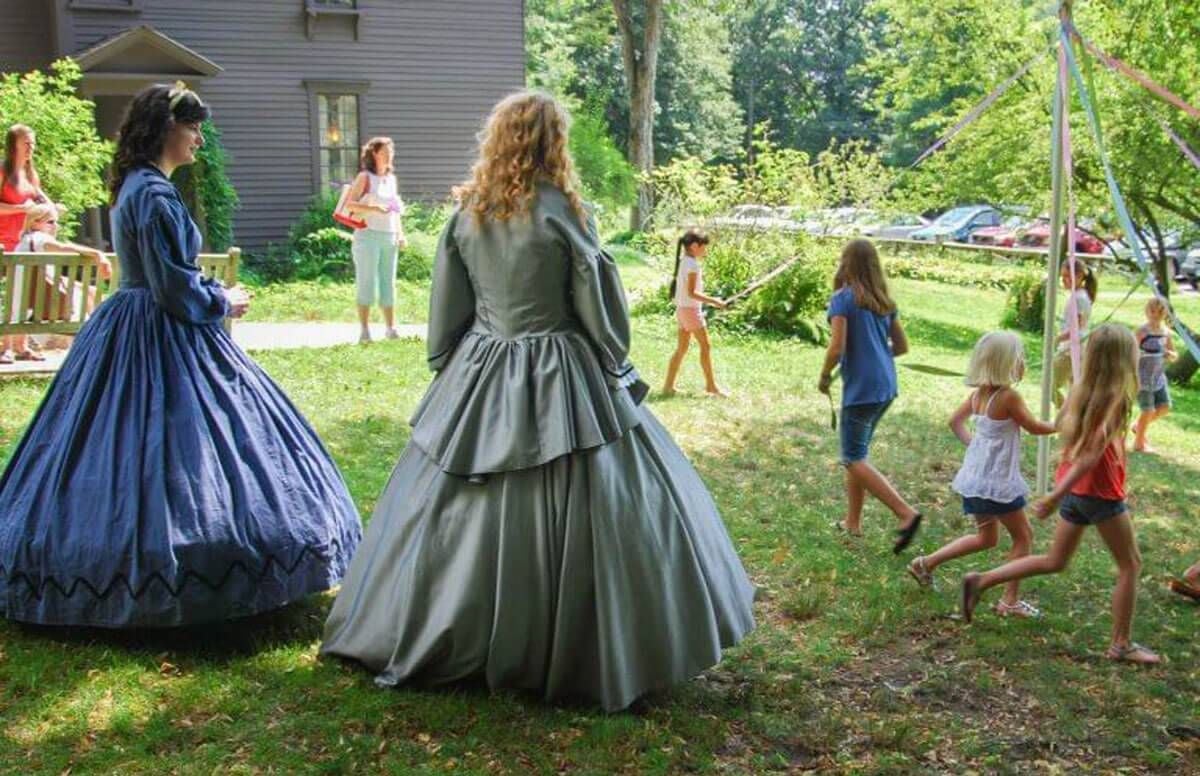 While I stood posing for photos in full graduation regalia, I leaned toward my mother and whispered: "This is the worst day of my life."
I should have been celebrating, but I loved school, and it was hard not to feel like I was being forced out. Even for students who find a job right away, transitioning from student to adult takes time. You're shedding one self for another. College parties and friends for rent and bills. At the beginning of the Great Recession, it was even worse. I wasn't scared of the hard work; I was mostly scared that there wouldn't be any hard work for me to do.
In the years after graduation, I was having trouble finding my place in the world. But there was one saving grace, a place with a green door and a lion-face door knocker, a place that I would learn in those years to call home. That place was Louisa May Alcott's Orchard House Museum in Concord, Massachusetts, the very house where Alcott's most famous book, Little Women, was set. For several years, I worked as an educator and guide at the museum.
While at Orchard House, I learned about the trials of Louisa May Alcott's life that helped me navigate my own tricky transition. These were the lessons I needed most back then — but even as I am writing this, I find comfort in them.
Tell Your Story: It Matters
When her publisher first approached her with the idea of writing a "book for girls," Alcott was skeptical at best. She wrote in her journal: "Never liked girls, nor knew many, except my sisters, but our queer plays and experiences may prove interesting, though I doubt it."
She couldn't have been more wrong. Over 150 years later, readers are still drawn to these little plays and experiences because they see themselves in her characters. Her universal themes about love and loss have appealed to people for generations.
From Louisa, I learned that your story might feel trite to you, but only because it's so familiar. It has value if it connects to other people, if it is told simply and truly. In times of doubt, remember that your story might mean a lot to other people — but you won't know until you tell it.
Support Your Causes and Make a Difference
It's a commonly posed question among the Orchard House staff: What would Louisa do? Her activism, though lesser-known than her novels, is an inspiring part of her life and one that we can all look to as an example. The Alcotts are remembered as fervent abolitionists who housed runaway slaves in their homes. Later in life, Louisa was a suffragette who became the first woman voter in Concord in 1880.
In adulthood, it's easy to get caught up in yourself and your own path, wondering what will become of you. Because of the Alcotts, I started volunteering and becoming involved with organizations that led me to greater opportunities. More importantly, I saw that focusing on other people and bigger problems doesn't detract from your own progress in life. In fact, choosing and supporting causes you care about are the ways that you make meaning and create deeper connections.
Friendship Doesn't Have an Age
During those trying years when I was starting out, it was hard to imagine how my life would look in the future. But Orchard House introduced me to women from many walks of life who had made their own careers, and they gave me hope. Women who are drawn to work at the museum typically share the Alcotts' values and intellectual curiosity, and it was comforting to know that even beyond college, I would keep learning for many years to come.
I had never shared friendships with women 10 or 30 or 50 years older than me, but since then, I've actively searched for these relationships because I see how fruitful they are in my life. They help me to understand how I want to live, one or two or 10 steps ahead, and to march deliberately in that direction.
Finding Your Path Takes Time
It's hard not to rush toward a singular goal when you're charging out of the college gates, but I had to remind myself that Louisa May Alcott didn't write Little Women until she was 35. Before that, she worked as a seamstress, a governess, a teacher, a nurse and even a servant, and she later credited these years with contributing to her writing. She said that her work gave her a chance to "simmer stories," and these stories would eventually become her books we know and love. All that hard work eventually paid off.
While I was young and hunting for jobs, I was comforted by Louisa's own topsy-turvy path to greatness, and I could see that each of my jobs, while sometimes menial or disappointing, were all going to be part of the story one day.
Learning about Louisa May Alcott in those early years of my adulthood is a very important part of that story, the one I am still writing. At Orchard House, Louisa May Alcott still feels present and alive with so much to teach, and — as long as there are little girls growing up in the world — we still have so much to learn.
Little Women premiered on PBS' Masterpiece on May 13, 2018. Check your local PBS station for broadcast dates and times, or watch online at PBS.org.