Why You Need to Learn Something New at Your Age
The 'Late to the Ball' author on his late-in-life journey from journalist to jock
Want to age well? Learn how to do something new and challenging.
That's the premise of our Artful Aging special report, which explores how learning how to paint, dance, write, act, sculpt or knit later in life helps people stay happy, healthy and connected as they age. In his new book, Late to the Ball,  former New York Times Magazine editor Gerald Marzorati talks about a similar pursuit.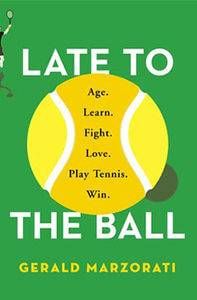 Only in Marzorati's case, after spending his career doing creative work, he decided to take up tennis.
Marzorati recently talked to KQED radio host Michael Krasny about what it's been like to be a non-athlete who takes up a sport later in life.
"I'd been a reader all my life. That's what I was good at," Marzorati tells Krasny. But as he faced retirement he craved an entirely different kind of challenge.
"I wanted to push my body to its limits before it pushed me to mine," he reads from the book during the interview.
During the wide-ranging, hour-long conversation, he talks about the benefits of learning something new that requires discipline and practice. And callers share their equally inspiring stories and insights about learning to do everything from speaking Arabic to singing in a four-part a cappella group.
Listen to the whole interview here:
%%
Heidi Raschke
is a longtime journalist and editor who previously was the Executive Editor of Mpls-St. Paul Magazine and Living and Learning Editor at Next Avenue. Currently, she runs her own content strategy and development consultancy.
Read More