6 Benefits of Learning a Skill Later in Life
New mastery has far-reaching payoffs
It could have been raising chickens, or playing piano or doing double-entry bookkeeping. The point is, learning something completely new while in my 50s — and sticking with it — was a revelation.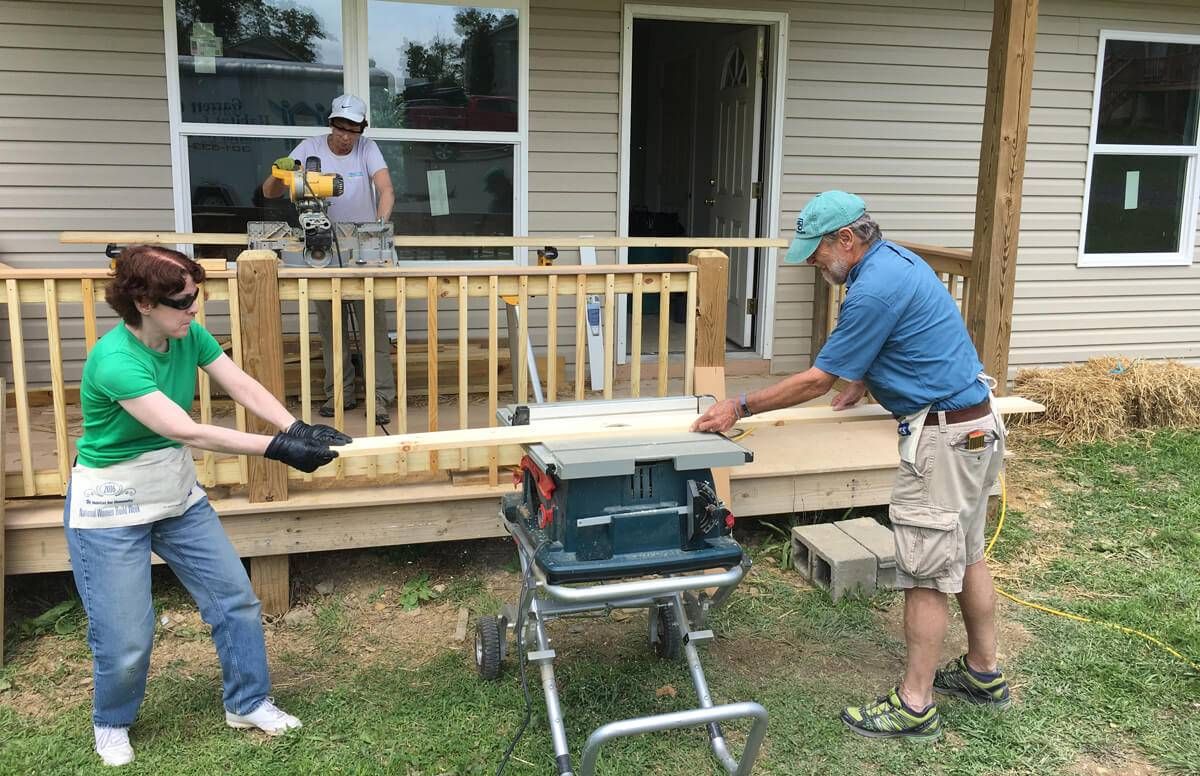 In my case, it was carpentry. As a lifelong school and community theater volunteer, I knew the rhythms of setting up and striking a stage set. After schedule and personnel changes made intense backstage work for Rockville Little Theatre (RLT) in Rockville, Md. difficult, I stopped by its set-building workshop one weekend.
"Come on in. Welcome," people said.
"Let me show you what we're doing," said William Kolodrubetz, the master carpenter. "Have you used a drill before?"
A few times, but never with instruction or guidance. Instruction, guidance and a positive, productive atmosphere were what the RLT workshop was all about. Newbies were building next to experienced woodworkers in no time.
Improvement Every Week
The first Saturday of any group of build sessions for an upcoming show didn't look like much — a scene shop full of tools, materials and people looking expectant.
As the weeks went by, things started to take shape. Over here, a platform. Over there, stairs or a ramp. Walls, doors, a gazebo, a bedroom. In the final weeks, paint and set dressing (pillows and books, for example) added the final touches.
Just as, week by week, even a newbie's skills and assurance improved from negligible to reliable.
It helped that using power tools to good ends was completely different from what I usually do all day (sit at a desk and type). But learning something new — and continuing to practice it most weekends — also feels like it's opened some unused pathways in my brain.
6 More Benefits From Learning a Skill
Other benefits I received from learning a skill:
1. It got me out of a rut. I was already reasonably confident, but didn't feel like I'd learned anything fresh in years. There had been ice-skating lessons at 40 or so … rough on the thigh muscles and the ego, and resoundingly unsuccessful. Klutzy attempts at contra dancing (a folk dance) in my thirties are likewise better left undiscussed. But here I'd stumbled across something interesting I could learn, decades past the end of school.
2. It was a useful, transferable skill. Sometimes it's fun to know how to do something for its own sake — because few others can (driving a stick shift) or because it's creative (painting with watercolors). But using power tools and solving small construction problems are things I should be able to put to use in or out of the house, saving time and money.
3. It made me feel empowered. I'm not at all an expert. I don't do carpentry enough to figure much out on my own, and when something goes wrong, I still have to call over a mentor. But I have learned the basics of a chop saw, miter saw, table saw, jigsaw, square and cordless drill. With other volunteers, I've attached doorknobs, framed windows and built staircases from scratch.
4. It produced something tangible. Don't underestimate the effects of seeing the results of your work — something that didn't exist before and now does. Whether you're building a theater set or a porch, hanging a door or nailing a baseboard, you get a solid sense of accomplishment from seeing it, touching it, and saying, "I/We built that."
For a production of Neil Simon's play Jake's Women, I donned safety goggles and gloves, picked up a jigsaw, and cut a 32-foot-long New York City skyline out of luan (plywood), one building after the next. Lit up in silhouette every performance, it looked awesome.
5. It expanded my social circle. Learning and using a skill can bring you into contact with others doing the same. With both groups I've worked with, I knew some folks, but met strangers as well. It's refreshing to chat while working toward the same goal, and of course friendship and fun usually result.
What groups, you ask? After a few years in the community theater workshop, I paid attention when members of my congregation called for volunteers at a Habitat for Humanity site in far western Maryland. This past summer, 10 of us drove out to beautiful, rainy Garrett County, where we spent a week working on three houses in various stages of completion.
In the photo above, that's me in the green T-shirt, "catching" at the table saw. I also did a lot of the drilling of the pickets into two porches, and caulking windows and doors. Different people worked together depending on the task — laughing, talking or concentrating in silence — after which we'd get dinner, comparing experiences before bunking down for the night. Some have done this for a decade now.
6. It allowed me to be a mentor, too. One Saturday last spring, two high school students came by the theater workshop — partly out of interest, partly for school service hours. Our lead carpenter assigned them to my table. I showed them the right way to hold a drill and emphasized safety and the meaning behind "measure twice, cut once." They seemed surprised that classroom math lessons had practical applications.
Twenty minutes later, the lead carpenter stopped by. "How's it going?" he asked, eying the platform to which we'd attached braces.
"We built this," one girl replied. And both of the girls high-fived me.
Ellen Ryan
is an award-winning writer and editor. She is the former managing editor of The Washingtonian.
Read More