Leave a Legacy: Build a Trail
Older adults are embracing the physical and mental health benefits of walking and are working together to leave a lasting legacy of scenic trails
I was wandering around recently, soaking up some warmth before heading back north to what passes for spring in the Midwest, when I stumbled on a bountiful farmers' market in downtown Sarasota, Florida.
The first booth I saw caught my eye with a colorful banner: "Friends of the Legacy Trail." Since I'm an unabashed trail geek, I had to stop and talk to the volunteers in the tent.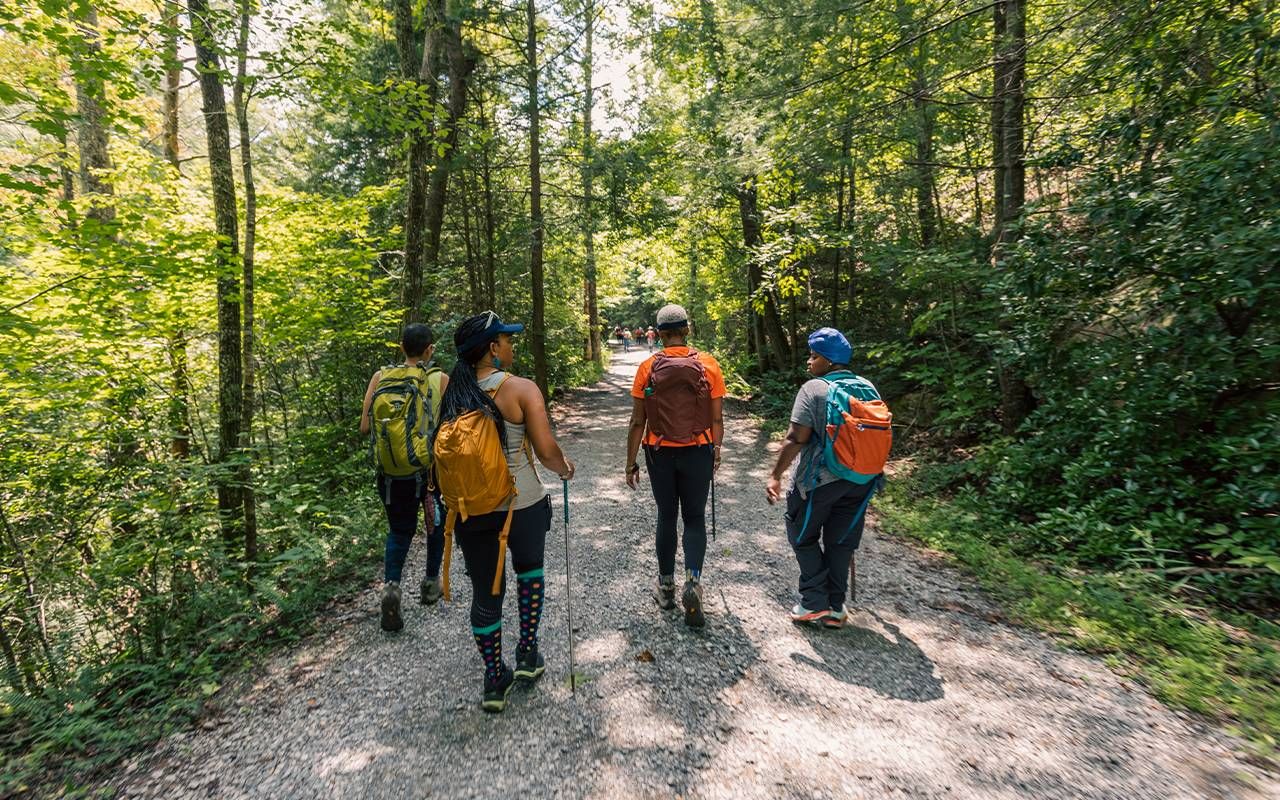 To my surprise, the president of the organization, Louis Kosiba, was from an industrial area in South Chicago that I knew well from my days as a business-labor reporter. We swapped tales of his family and the old "hood" (Hegewisch) and connected like old war buddies.
Louis and his volunteer group had helped build and fund the "Legacy Trail," which stretches from downtown Sarasota to Venice along an abandoned railroad right of way. Car-centric Florida is not known for its walkability — much less multi-use trails — so I was mightily intrigued. Here a dedicated group of mostly retired volunteers spent hundreds of hours in an effort to connect parks and communities, something Florida — and nearly everywhere in the U.S. sorely needs.
A Revolution in Healthy Retirements
Kosiba, 72, who had worked for the Illinois Municipal Retirement fund, helped raise money for the trail when he got involved in 2018 after moving to Florida the previous year. He joined a corps of other volunteers that raised $600,000 over the past five years and built public support for a $65 million countywide bond referendum to build out the trail and add facilities like restrooms and adjacent parks. They've also sold 123,000 square feet in "virtual" bricks.
After meeting Louis and walking a section of the trail, I wanted to rent a bike and ride the trail at a later date. What's amazing about the trail is that it was open to everyone: Amish and Mennonites on three-wheel electric bikes; joggers and children.
"That will last. It generated a lot of buzz."
As a trail aficionado and urban walker/rider, I relished the safety features: Each busy street crossing had a Ped-ex switch that would turn the stoplight to red, actuate flashing pavement lights and show the time remaining for a safe crossing. Unlike many motorists at conventional intersections elsewhere, drivers respectfully stopped at the red light.
Trails are a key part of the silent revolution in active, healthy retirements. They get people out in nature, which boosts well-being and builds community. The Legacy Trail is supported by towns along the corridor, businesses, the Sarasota Bicycle Club, county and municipal governments and the historic downtown Venice Train Depot, one of the southern points on the trail.
"It's permanent and concrete," notes Kosiba. "That will last. It generated a lot of buzz. We love what it provides."
One of the many benefits of trails is that they can traverse natural areas like forest preserves, state/national parks and even mountain ranges with minimal environmental impact. Trails also are instrumental in connecting people in a random, entropic way.
Easier Access to Nearby Nature
When I was learning about the Legacy trail, I was surprised to learn that one of the organizers, Rita Miotti, was from my hometown, Matteson, Illinois. Long ago, my then-retired father volunteered in Matteson to convert an abandoned New York Central railroad right of way into the Old Plank Road Trail.
Although it's certainly not unusual for fellow Midwesterners to end up retiring in Southwest Florida, meeting a kindred trail lover from my old turf was akin to a homecoming.
Thousands of communities are benefiting by converting unused rail rights of way to paths (like the one in Sarasota) that can be used by anyone. They also have broad public support. To date, governments have dedicated more than $20 billion to these projects, according to the Rails to Trails Conservancy, a non-profit that advocates for trails. In (fiscal year) 2021 alone, federal funding more than doubled for hiking/biking trails, supporting some 40,000 projects.
Health Benefits Abound
Trails are generally health-promoting places for people of all ages, according to the Centers for Disease Control. It says that trail use leads to better weight control; reduced risk of diabetes, cardiovascular disease and some cancers; and increased longevity. Trails also decrease road traffic, which can reduce pollution-caused diseases in many areas.
"Having access to places for physical activity," the CDC states, "such as parks and trails, encourages community residents to participate in physical activity and do so more often.
"The closer you live to a park, the more likely you are to walk or bike to those places and use the park for exercise," the agency adds. "However, only a small number of people in the U.S. live within half a mile of a park."
"The closer you live to a park, the more likely you are to walk or bike to those places and use the park for exercise."
Like most activities that involve walking, biking or jogging, trail use is a triple win. A 2019 study by the American Heart Association found that "for every $1 invested in building trails, there is a direct correlation to $3 of saved medical costs."
Moreover, just being near a trail boosts positive health outcomes, according to a 2014 report in the American Journal of Public Health: "The results showed that those living within less than a mile of the new trails were getting on average 45 minutes more exercise a week after the trails were built than they were before they had that available infrastructure."
The Goal: Keep People Moving
By offering an alternative to driving, trail presence encourages people to be outside and exercise in a low-impact way. It's also better for the environment. During the pandemic lockdown, for example, millions of people took to trails to get out of the house or their home offices and safely walk around.
Ultimately, though, building trails is a fundamental community amenity to keep people moving at any age.
"Once you retire and go onto your next chapter," Kosiba adds, "you need to stay active. Trails are a rewarding and a great way to stay physically and mentally active. That's incredibly important."