Let It Snow, Let It Snow …
Others may love their Southern comforts, but a snowy winter keeps me feeling young
Beyond the window of my city apartment, snowflakes as big as dimes are falling on a diagonal, sticking to the sidewalk and raising serious questions about plans to run in the park.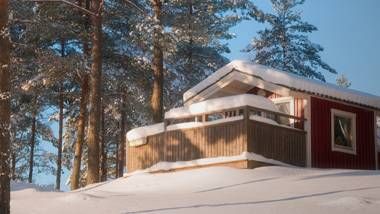 For many people in my age group (let's just say the last time I saw 57 was on a jar of sauce), flurries are a reminder to book those reservations to fly South ASAP. Not me. I like palm trees as much as the next person, but while balmy weather may make you feel better, it can also put your life on fast-forward. I won't speak for anyone else, but escaping winter makes me feel older.
To me, 85-degree January temperatures come prepackaged with an E-Z pass to Geriatric-ville, where the all-inconclusive plan includes conversation showcasing orthopedists, canasta, senior citizen discounts, cataract surgery and statin drugs: Generic or brand name? Discuss!
Is the tradeoff worth it? As I thumb through the L.L. Bean catalog, pondering parkas that promise to keep me toasty in Arctic temperatures, I think not. I'm a four seasons kind of gal. I hope I am never too old for snow. When it starts to fall, I once again feel like a kid.
Admittedly, wintry climes evoke cozy memories. I was raised in the Upper Midwest before meteorologists had, thank God, started invoking the wind-chill factor, or I might have hibernated from Halloween to Mother's Day. We simply took a look at the thermometer, said "yikes," piled our beds with blankets, dressed in layers and always made sure to warm up the car before we got in it.
My wardrobe leaned toward angora, wool leggings and hats with pom-poms. When my parents threw a party, my little sister and I would sneak off to play dress-up in the fur coats piled in their bedroom. (This was in the pre-PETA era, and every woman in my parents' crowd owned one.) By Thanksgiving, playgrounds were intentionally flooded with water that froze into skating rinks. Any self-respecting kid spent most of each weekend afternoon and plenty of starry nights playing crack the whip, or, if you were a boy — this being a decade before Title IX — hockey.
Winter as Youth Tonic
I went East to college, all the way to Madison, Wis., where the wind blowing off Lake Mendota lashed your face as you hiked to early morning classes. Eighteen months after graduation I got married in my hometown of Fargo, N.D.: It was Dec. 26, minus 4 degrees, and guests who arrived by plane still talk about how when they debarked to the tundra, the cold made their eyes tear into tiny icicles. My new husband was an elegant skier, so learning that sport soon became obligatory. The first time he and I went up a mountain in a chair lift with our young sons, he declared that it was the happiest moment of his life.
Winter may come with frostbite, but for me it's a season layered with warm memories. So five Februaries ago, when my husband and I laid eyes on a snug pine cabin in upstate New York's Rensselaer County, my heart did a flip-flop. Sun bounced off snow hanging from hemlocks that lined a spit-rail fence out of a Ralph Lauren catalog. The home's exterior was a bit corny — it may have been designed by Hansel and Gretel's architect — but through the windows, I glimpsed a two-story stone hearth where my mind's eye kindled a blazing fire. And in the meadow beyond, we could make a snowman!
No one could accuse the house of being practical. It was rather small, many miles from a decent supermarket and almost three hours from the city where we live. Yet while other people I knew were starting to snap up bargain condos in Florida, I had an immediate vision of tartan, taxidermy and tureens steaming with chili. We bought the getaway, unpacked our fondue pot, scored Hudson Bay blankets at tag sales and acquired snowshoes from the neighbors who decamped each October for Arizona.
We love the house in all seasons: Summers are lazy and green, fall foliage takes your breath away, and spring is sweetened by the woods once again coming alive. But winter has continued to be as special as I'd imagined. If it's too cold to tramp along the hills, we blast opera and old-time rock 'n' roll, play board games and indulge in orgies of Netflix.
Southern Comforts
I know a time may come when we, too, will tire of winters punctuated by blizzards and worries that our four-wheel-drive vehicle or the snowplow guy will fail us. Playing Scrabble or reading in flannel pajamas may lose its sparkle, as might, at the end of each visit, the appeal of filling pipes with anti-freeze so they won't freeze and burst. Inevitably, I imagine we will be blown in a southerly direction, two more fragile autumn leaves eager to slow life's pace to languid, willing to trade mugs of cocoa for fruity cocktails.
But until that time, I still see winter as a challenge that represents all that is roaring, robust and prime-of-life young.
The cold is a tonic that sharpens senses that heat tamps down. Survival in the north requires a vigor that thickens the blood but along with it, your pride — a trade-off that pays heartwarming dividends.
Sally Koslow
is the author of Slouching Toward Adulthood: Observations from the Not-So-Empty Nest and three novels, including Little Pink Slips, inspired by her years as editor in chief of McCall's magazine. Her latest novel, Another Side of Paradise, was released in May.  Follow her on Twitter @sallykoslow and visit her website.
Read More