We're Living Longer, But Will We Be Working Longer?
A report from The Atlantic's conference, The New Old Age
If nearing retirement was a board game like Monopoly, you could have pulled a Chance card that landed squarely on the 2008 stock market collapse which economist Monique Morrissey says "basically knocked out about half of people's net worth." Or, if the dice rolled right, you could have lucked out, started a sweet, new entrepreneurial project, rubbed shoulders with venture capitalists and thrown around terms like "user experience."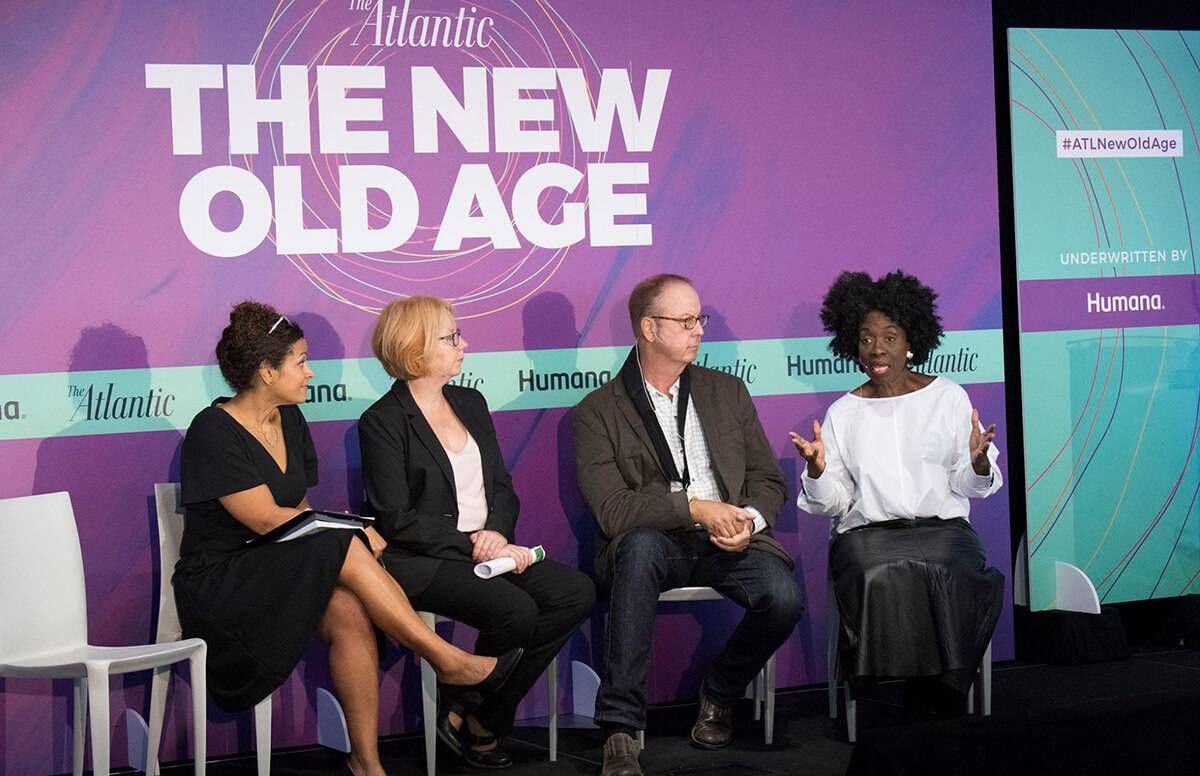 Morrissey, who works at the progressive Economic Policy Institute, spoke about the disparity last week on a Living Longer, Working Longer panel at The Atlantic magazine's conference in New York City called The New Old Age (you can watch the video embedded in this article). The room, on the 40th floor of 7 World Trade Center, was peppered with silver-haired, sensibly-shod women much like myself and underwritten by health insurer Humana.
The Good and Bad News About Working Longer
"The good news," Morrissey said, "is that some people are finding interesting jobs and want to stay employed. Some people are doing surprisingly well — the very top, the top 10 or 20 percent." The bad news, Morrissey said, is "everybody else."
To make her point, Morrissey mentioned a new, buzzy nonfiction book by journalist Jessica Bruder called Nomadland. "It's about the bad kinds of jobs that happen when you really don't have anything in your 401(k) and now you're doing things like swabbing bathrooms in campgrounds."
Morrissey's co-panelists, Avery Chenoweth and Elizabeth White — both in their early 60s — seemed chosen to prove her point.
Chenoweth, a former novelist, has rolled the dice well, it seems. After a heart attack rendered him too exhausted to write, Chenoweth wound up in a University of Virginia business incubator called i.Lab, where he and a partner developed a gaming app to make visiting national parks more experiential.
The Old Guys in the Room
His company, "Here's My Story," which presents animated versions of historical figures, is a clever personal-brand extension for a professional storyteller who learned his craft growing up in the South, listening to the grownups tell stories on the veranda.
The latest chapter of Chenoweth's own story, however, comes with the oh-so-common arc of overcoming geezerhood to prevail in the Millennial/tech/startup world.
"We were the old guys in the room," Chenoweth said. "We were culturally outside the curve. Everybody in there [the business incubator] spoke in pitch decks."
So he learned to speak in pitch decks, too. And — cue the happy ending — the excitement of his new career makes Chenoweth "wake up in the morning and love life." Albeit, he concedes, with an underpinning of "existential peril."
Fifty-Five, Unemployed and Faking Normal
And that was precisely the subject of panelist White, author of Fifty-Five, Unemployed and Faking Normal, which sprang from a Next Avenue essay she wrote. A Harvard MBA who became an entrepreneur like they taught her to be in business school, White found herself broke in her 50s when that business failed. And if she didn't fall to the indignity of having to scrub campground bathrooms, the blow was still a huge comedown, especially for an African-American woman who had been her family's big success story.
"I was faking normal," White said. "I still had the clothes. I still lived in my place." But she had to scrimp, ordering mineral water at restaurants instead of the wine her friends imbibed and canceling her cable, gym membership and nail appointments.
She quickly learned she was hardly alone.
"It's crazy-making to land here," White said. "Particularly when we're not having the conversations about the seismic shift we're in the middle of and we don't talk publicly about the pain we're in."
If you're in your 50s and out of work for nine months, White said, your chances of getting a job goes down 50 percent. Morrissey confirmed this, adding that the issue of age discrimination is real and "well documented."
Get Off Your Throne
When you're up against it, White explained, that's when you learn to get off your throne.
"You're going to get offers that are going to make you angry," she said. "But all money is green. You'll have to do bridge work, stuff that is below your talent, your skills, your gifts."
Eventually White discovered a cohort of friends — her "resilience circle" — who had been secretly in the same predicament she was. "We borrowed the same $300 back and forth," she said.
It was through friendship and honesty that White survived her comedown.
And though it sounds like White has climbed out of her hole (or at least come to terms with it), she worries about her earning potential for a lifespan that could extend decades —the Living Longer half of the panel's theme.
A Problem Not Just for Boomers
"And don't think this is just the pesky little problem of boomers," she warned the room. "Every one of us is going to age. We're just the first ones over the hill. But believe me [she warned younger audience members], you're coming up behind us."
The conference went on to discuss how rarely older characters show up on television — a problem, said Stacy Smith, director of The Media, Diversity & Social Change Initiative at the University of Southern California, caused by Hollywood's failure to hire many writers, directors and show runners over 60.
But the event ended with a triumphant star turn by 95-year-old Norman Lear, the sitcom genius who created All in the Family and whose idea for a comedy about life in a retirement home, Guess Who Died?, has just been greenlighted by NBC.
Finding Work for a Longer Life
The question about how boomers, Gen X'ers and their successors will find work (or at least money) to last an increasingly long lifespan wasn't exactly answered. Too bad, considering that a new Rand study (Working Conditions in the United States) found that people in their 50s say they expect to have the physical and mental ability to continue in their jobs for another 10 years.
But there was at least a glimmer of hope.
Lear said he's been pitching Guess Who Died? for going on three decades, always getting the same response: "Not our demographic." Said Lear: "That was the refrain. They laughed. It was funny. But 'Not our demographic.' "
That refrain, apparently, has changed.
"Something has gone on and is going on in the culture, because there's a sudden realization that we're all, if we're fortunate, going to reach an older age," Lear said, with a wry chuckle. "Suddenly, there's great interest in this."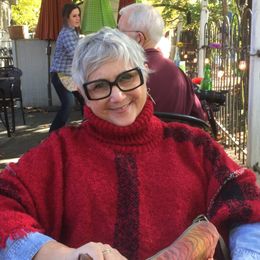 Debbie Galant
is an artist, writer and diarist. She started Pandemic Diaries to record this bewildering, terrifying and occasionally funny moment in history.
Read More