Long-Term Care Panel Chief Speaks About Looming Crisis
The commission's leader, Dr. Bruce Chernof, talks about how the long-term care system must change for patients, families and caregivers
Richard Eisenberg is editor of the Money & Security and Work & Purpose channels at Next Avenue. Gary Drevitch is the editor of the Caregiving and Health & Well Being channels at Next Avenue.
 
Roughly 70 percent of Americans who reach age 65 will need long-term care for at least three years during their lifetimes and the cost of this care — in nursing homes, assisted living facilities, at home and elsewhere — can be staggering. (A private room at a nursing home costs $83,950 a year, on average, according to the Genworth 2013 Cost of Care study.) Since the bipartisan federal Commission on Long-Term Care just finished its 100-day assignment to offer recommendations about this significant national concern, Next Avenue interviewed the panel's chair, Dr. Bruce Chernof.
 
An internist and president and chief executive of The SCAN Foundation, a nonprofit based in Long Beach, Calif., that focuses on "improving the quality of health and life for seniors," Chernof discussed the commission's takeaways for Americans receiving long-term care, their children and their caregivers; why the panel couldn't agree about ways to pay for the high cost of long-term care and what needs to happen next. The commission's final report will be released Wednesday, Sept. 18.
 
Highlights of the conversation:
 
Next Avenue: What was the key item on the commission's agenda?
 
Chernof: One really important point the commission would want me to call out is the need to raise public awareness of the fact that although all of us will want to live our lives with dignity, choice and independence as we age, some of us will need help.
(MORE: What We Don't Know About Long-Term Care ... Is a Lot)
Next Avenue: Some analysts, such as the National Council on Aging, are disappointed that the commission didn't endorse a public or private program to help families pay for long-term care. What would you say about this?
 
Chernof: After 100 days, which is an incredibly short period of time, the commission actually made a lot of headway exploring two different approaches to addressing the long-term care financing issue. One is built around private-sector solutions and the other is built around leveraging current public programs. 
 
We believe very strongly that Congress and the White House need to put something in place that follows up on our work.
 
Next Avenue: The commission's report seems to favor moving toward a family-centered system of long-term care rather than an institution-centered system. Can you talk about that?
 
Chernof: I think every single person on the commission really sees putting the person and the family first as the way to build a more effective and efficient approach to service delivery.
(MORE: 10 Things Every Family Should Know About Aging With Dignity and Independence)
I'm a physician and I think the challenge is that we tend to approach long-term care through a medical lens. But most people don't spend their lives in hospitals or doctor's offices. They spend their lives with their family members, their loved ones, and in their communities. Starting with that as the primary focus is really important.
 
Next Avenue: Did the commission discuss other alternatives to the current nursing-home model?
 
Chernof: In a limited way. The commission believed that trying to break down the focus on bricks and mortar facilities, which is so prominent in how services are paid for now, is really important. And breaking it down allows you to think differently about new models of service and new locations of service that are more community-oriented.
 
One recommendation was the notion of site-neutral payment where you give people more choice about where they'll receive the services they need.
That means that if I need extended rehabilitation, I may want to get it at home, if possible. Others may want to start out in a nursing home. We should understand what somebody's needs are and then give them the choice to pick the setting they want. The choice shouldn't be driven by "this program only pays for nursing homes" or "this program only pays for home services."
(MORE: How Family Givers Can Find and Hire at-Home Help)
Next Avenue: The commission also recommended including family caregivers as members of the care team and documenting the services the caregivers provide in patients' records. Why would that be helpful?
 
Chernof: This, for me as a physician, is one of the most fundamental and transformative recommendations in the report.
 
This is not just about the caregiver having a durable power of attorney for health, although that's important.
 
The commission felt the caregiver should be involved in discussions and planning to the greatest degree possible and the medical system should recognize the caregiver in the patient's chart.
 
I'm a general internist and I could build a beautiful care plan but if I don't really understand whether the family members and support can actualize that plan, that's a real problem.
 
Next Avenue: So you're saying that a doctor could also conceivably find a caregiver lacking and need to adjust the program based on that?
 
Chernof: That's exactly right. If I'm an 80-year-old, 95-pound spouse of a 200-pound husband who's just had a severe stroke and is paralyzed in half of his body and can't get out of bed to go to the bathroom, I may be committed to keeping him at home. But there's no way that I'm going to be able to lift my husband out of bed.
 
So as a physician, I might say, let's call a time out. Let's bring a little bit of help into the house.
 
Next Avenue: The commission also recommended encouraging states to establish a certification process for home-care workers. Why?
 
Chernof: To become a cosmetologist, you need something like 100 or 120 hours of formal training. We don't require that of home-care workers.
 
So the commission was acknowledging the fact that home-care workers deserve a set of tools and skills just like any other part of the health care team.
 
Next Avenue: Many insurers have stopped selling long-term care policies or have significantly raised premiums. Do you see these trends changing in ways that will make people more willing to buy these policies?
 
Chernof: The commission spent a great deal of time thinking about this, with a range of ideas that could help improve the private long-term care marketplace.
 
The SCAN Foundation produced a paper earlier this year that looked at the challenges in the long-term care industry and talked about the usefulness of hybrid products, where people can purchase long-term care tied to things like life insurance or annuities.
 
Next Avenue: What will it take so this isn't just another one of those Washington blue-ribbon reports that gets put on a shelf?
 
Chernof: Some of the commission's recommendations are things that could happen in fairly short order, with a little bit of encouragement. Not all of them require new legislation.
 
By building incrementally, we have the opportunity to really change the system.
Next Avenue will follow up with details about specific recommendations in the commission's report after the document is released.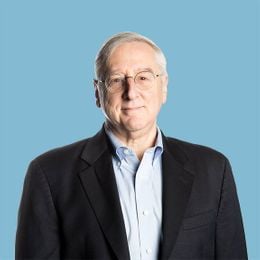 Richard Eisenberg
is the former Senior Web Editor of the Money & Security and Work & Purpose channels of Next Avenue and former Managing Editor for the site. He is the author of "How to Avoid a Mid-Life Financial Crisis" and has been a personal finance editor at Money, Yahoo, Good Housekeeping, and CBS MoneyWatch.
Read More