'Longmire's' Zahn McClarnon Soars in 'Dark Winds'
From 'Reservation Dogs' to 'Westworld,' the actor embraces playing Native American roles while honoring his heritage
Editor's note: In this last week of 2022, we are featuring some of our most popular stories of the year. This piece was originally published in November.
Surprises have been part of actor Zahn McClarnon's life since, well, before he was born. That's because his parents had no idea that they were going to have twins. In fact, McClarnon's middle name, Tokiya-Ku, which means "first to come" in the Lakota language, refers to his being the first born, just shortly before his fraternal twin brother.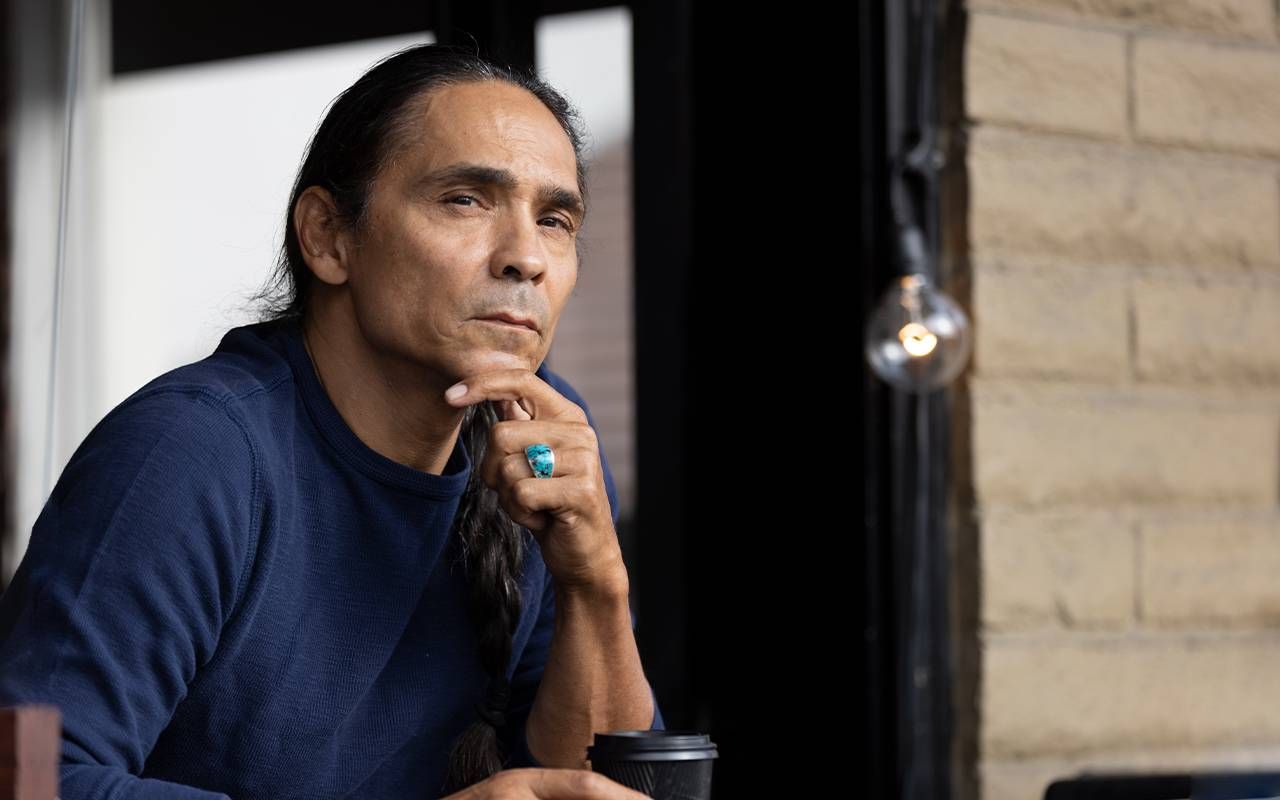 Another surprise for him was becoming an actor. We'll get to that in a minute.
And one final surprise was landing a role in a musical. You'll read why.
Zahn McClarnon, 56, took time to talk with Next Avenue about all this and more. What follows is our interview, edited for length and clarity.
Next Avenue: When did you decide to go into acting?
Zahn McClarnon: It was kind of a strange thing. I had lived in Los Angeles in the late '80s, and I had moved back to Nebraska to be with some family and take care of some things, and I just kind of fell into it.
"I believe it's a special time for Native representation in TV and film, and I hope we can keep it going. I'm glad that I'm a part of it."
I auditioned for one of my favorite musicals, "Jesus Christ Superstar," on a whim. I saw an ad in the paper, and I can't sing at all. I loved the play. I know all the lyrics to every song, and I took a risk. It was in a local community theatre. I sang, and they asked me to be a part of the production as one of the apostles.
I think they were trying to fill a quota for brown people because I'm horrible. I'm a horrible singer. [He says while laughing.]
The show ran for about three months, and I fell in love with that process. I knew a lot of actors from LA, but I just never thought about doing it until that play. I got into local commercials in Nebraska. This was in the early '90s and they paid me three or four hundred bucks for a couple hours of work playing basketball in a commercial. I thought, "This is fun."
Back in Hollywood, we had a Native American Registry of Performing Arts in the early '90s, and I got in touch with them. They were casting people for Native American roles. I got headshots done. Then I decided to move back to Los Angeles and take a shot at this. That's kind of how it started.
Wow. So, once you got back to LA, what was your first big role, or what was something that you thought, I'm really doing this?
There were two. There was a series called "Tequila and Bonetti" that I had a small co-star role on, playing a Latino gangbanger. And do you remember Nell Carter? She was an actress?
Oh, yeah.
She did a movie, and I had one line in it. But I was working with Nell Carter! And that's kind of the beginning. And then, "Baywatch" came and you know, I just kind of ...
You were on "Baywatch?"
I was. They were trying to spin off a show called "Malibu High," and it was the same producers from "Baywatch." So, they did an episode of "Baywatch" and introduced my character with David Charvet and Pamela Anderson. They were going to spin it off into a series. Then they were going to make it a new season replacement for the show, and it just didn't go. So, it ended up being a big guest star role. Then they hired me for other shows they were producing as well.
"It's great to be a part of things that the youth are looking up to saying, 'There are people on television like me.' Back when I was a kid, they were few and far between."
I continued to get guest work and co-star work for the next twenty years. I've been at it for a while, you know. It's really not an overnight success.
I've read that you identify as a Lakota American.
I'm part Lakota, part Irish. I have some German blood in there, Polish blood, I think. I'm pretty much a mutt. But you know, I grew up within and around my culture, the Lakota culture, and ceremonies, etc. And I'm pretty dark-skinned, and people don't believe that I'm Irish. Yeah. I call myself a Lakota man.
What does it feel like now to be playing so many respectful Native American character roles? I mean, did you ever think that was going to happen when you were playing the Latino gangbanger?
I hoped so. Starting off in this business being "Indian number one who sits by the teepee," or "Indian number one on horse," or whatever it may be, you hope that one day we'll be able to have more control over our stories, more visibility. And I am standing on the shoulders of my predecessors: Chief Dan George, Will Sampson, Jay Silverheels. These were Native actors who were a little bit more three-dimensional.
It's gotten better, and we're finally again having control of our stories and telling our own stories and being given the opportunity to do that. People are finding out that they like these stories. I believe it's a special time for Native representation in TV and film, and I hope we can keep it going. I'm glad that I'm a part of it.
It's great to be a part of things that the youth are looking up to saying, "There are people on television like me." Back when I was a kid, they were few and far between.
Today, we're getting full fleshed-out and multi-dimensional characters. We're breaking some of those old tropes, stereotypes and myths. The shows I'm involved with today, I hope they are a vehicle to open more doors for the others who are coming up in front of and behind the camera.
I first got to know you as an actor when you played Mathias on "Longmire," which was such a great role. What did that role do for your career?
It just got me out there more. My experience on "Longmire" was absolutely awesome, and that was a special group of people. Greer Shephard was the showrunner. I was with Robert Taylor last weekend, who played Longmire. With Katee Sackhoff, John Bishop, A. Martinez, and Lou Diamond Phillips — it was a family. We went six seasons, which is a good run for a show.
"I'm getting offers for nonspecific ethnicity roles, which is phenomenal. I'm doing one now. I can't really talk about it, but he's just a lawyer."
It did open up some doors by people seeing me more on television as a recurring character and casting people seeing my work. I think every job kind of opens the door a little bit more for actors.
It was a dream come true to work with Lou because we kind of look alike — we look like distant cousins. It was just a dream come true to be in his presence and to learn from him, and be around that professionalism, and grow from it and take that experience to my next jobs.
You've played a ton of Native American roles from "Westworld" to "Reservation Dogs," and now starring in "Dark Winds." What do you do to immerse yourself in certain roles?
I grew up within the Native American communities, and I've been exposed to many different tribes. I've been to many different ceremonies from different tribes, as well as spent a lot of time on the different reservations within cultures. So, I take those experiences from each individual tribe and try to bring that to the characters.
In an interview you did quite some time ago, you said were concerned about being pigeon-holed. Are you still concerned about that, or do you feel that in this point in your career you have more opportunities to choose the exact roles you want?
No, not really. I'm getting offers for nonspecific ethnicity roles, which is phenomenal. I'm doing one now. I can't really talk about it, but he's just a lawyer. I can say that. He's a lawyer.
When I did "Doctor Sleep," the Stephen King sequel to "The Shining," I played Crow Daddy, but he was nonspecific. They didn't mention anything about him being Native, so I grew out a little mustache and little goatee and did my hair differently.
So, I'm getting those opportunities, but I know where my bread and butter lies. And I love playing Native characters, so I don't mind. I've gotten to a place in my career where if I don't like the script, I can say no. I prefer, you know, to not to go back into the 1800s and get on horses and stuff like that.
But you did that in "Westworld."
I did that in "Westworld," but the character was a robot. I guess I should say I don't want to go back to the 1800s and play the "Indian on the horse."
What type of character haven't you played that you'd like to?
I like tragic characters, I really do. I like drama. Comedy is extremely difficult; it's very hard to do. I'd like to play a family guy who's got kids and relationships with those kids, so I could explore that because I don't have kids. When I do play a father and I have a child on the show, I find it a lot of fun.
I'd like to even do some darker characters that are possibly dealing with tragedies like addiction and things like that. I haven't done that yet. I did a movie called "Mekko," but just a part of his character was about addiction; he was more of a really bad person. I'd like to play a good person who's fallen on bad times during possibly addiction or homelessness or something like that. Just stuff to dig my nails into and go for it.
I often see you play these serious characters, but in "Reservation Dogs" I actually saw you smile for the first time on screen. Why is playing Big [his character] important to you? Why do you like being on that show?
Sterlin Harjo [who created the show along with Taiki Waititi] is a good friend of mine, and whatever Sterlin asks me to do I'm going to do because I believe in him and his talents. When Sterlin asked me to be a part of Rez Dogs, I jumped at the chance. I wasn't supposed to play Big, actually. I was supposed to play a different part, and we had one of the actors unfortunately drop out a few weeks before they started shooting the pilot. Sterlin called me up and asked me if I wanted to play Big and I said, yes, of course, and I'm so glad I did. We have such a good time on the set. It's such a big family.
"You enjoy each character for a different reason. It's nice to finally get to a place in my career where I'm number one on the call sheet."
I base Big on a lot of different people that I grew up around. It was my aunty, or my grandma, who used to call me Sh*tass. It just popped up in, I think it was the pilot, and in the improv scene where I called the kid Sh*tass.
It's a groundbreaking show, and I'm so happy that I'm getting to be a part of it.
As you've gotten older, how has the way you perceived your career changed?
That's a tough question. I don't have as much anxiety and stress like I had before in the early 2000s and the '90s of when is my next job going to happen, and the audition process and the stress you go through with that. When we grow older, we become more confident. We learn more. Things I know now I wish I would've known back in the early '90s. It's a cliché, but just the confidence of knowing that I belong there.
You're starring in "Dark Winds." What have you enjoyed about playing Joe Leaphorn?
Well, I think a lot of the heavy lifting has already been done for that character because we have such a library of source material. [The show is based on novels by Tony Hillerman.] With 18 novels, I think Joe was in ten of those.
You enjoy each character for a different reason. It's nice to finally get to a place in my career where I'm number one on the call sheet. It's a lot more responsibility. You have to be prepared, and you get to set a tone on the set as the number one. I've learned from some really good people, like Robert Taylor and Lou Diamond Phillips, on how to do that. I actually leaned on Lou a few times in first season when I had some questions in how to proceed, etc.
There are many different aspects to Leaphorn's personality where he's kind of walking a fine line between his culture and between being a cop and trying to deal with that. And he's dealing with his loss, and he's dealing with his marriage — that seems to be crumbling — and he's dealing with his coworkers.
He's definitely a fleshed-out, multi-dimensional character. And that's what we hope for as actors — that we're able to be in a position where we're being asked to do those roles. I feel very, very fortunate.