Looking for Work: The Silence Is Overwhelming
A successful author and journalist meets the 2020 job market
First off, I am not looking for, nor deserving of, pity. At 69, I have enjoyed a robust career as a bestselling author, journalist (Washington Post and elsewhere) and professor. I have squirreled away enough for retirement that my net worth places me in the top 5% of American households. I have been fortunate.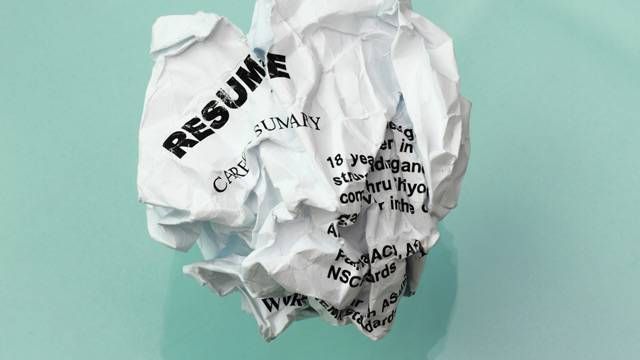 But a series of indulgent (some might say "imprudent") expenditures, a setback or two, unpaid taxes, a collapsing freelance market and support for other family members have strained an otherwise ample budget, forced me to take out several pesky loans, and, to my surprise (and chagrin) landed me square in the middle of the worst job market in generations.
If I don't find work, the annoying could quickly morph into the unmanageable. And besides, at stake is ego, self-respect and a gnawing hunger to remain an active, contributing member of society.
Finding Work Has Changed In So Many Ways
While there has never been a queue lining up outside my door to hire me, until recent months, I've considered myself among the lucky ones to have always been able to find good and challenging work. That has changed and changed utterly.
The only queue now is the one in which I wait week after week for any response to my job applications.
I am now getting a glimpse of what way too many of my neighbors and friends and family are experiencing in a market so dire, impersonal and unresponsive that it takes my breath away.
The only queue now is the one in which I wait week after week for any response to my job applications. Even a rejection would be welcome, breaking the silence.
My quest for work began with a series of websites with job postings — the usual suspects of Indeed, Monster and the like. I papered the known universe with applications and resumés, first applying to those positions that were within my wheelhouse of familiarity, then expanding the search to what I might charitably call the "straight-face test."
The application process itself has been vexing.
I discovered that in most instances, my uploaded resumé, carefully curated and manicured, was chopped and diced to fit some universal form and came out looking like a life run through a Cuisinart.
The Vexing Online Job Application Process
I've since learned that in the quest for a job, there is no customizing your job application – it's been a lesson in humility and conformity.
The questions and forms I've encountered have seemed designed to torment the applicant rather than enlighten the prospective employer.
When I applied for a writer's or editor's position, I was asked to upload samples of my writing. Fair enough. But my samples were rejected as either too long or incompatible in form.
My work history — at various times, author, freelance writer, itinerant professor and writer-in-residence — just didn't comply with the chronological regimentation and left me feeling like some bohemian exile.
What's more, I often had little idea what the job entailed, so Spartan was the description. Many postings had no hint of salary range.
The whole process has been opaque and byzantine.
Job Applicants: Welcome to the Black Hole
And once I pushed the "submit" button, it felt as though I had dropped a coin in an empty well. There was no email contact with the company, no phone number, no name of an application reviewer.
Also, personal charm, eloquence, humor and professional demeanor were as immaterial to the outcome as the color of my socks (that is, if I were wearing any).
It was a black hole.
Each week that passed, as millions more Americans filed for unemployment, as more and more businesses were shuttered, as more and more families self-isolated, and an entire economy — the pride of the world — cratered, I realized that I might as well be waiting for Godot.
I was competing with a pool of candidates that included the entirety of the nation and even beyond.
The absence of any answer was, in fact, the answer, and the only one I was likely to receive.
How the Hiring Market's Dynamics Changed
What had not occurred to me — but surely should have — was that the dynamics of the hiring market had changed profoundly over the years. Not only were there vastly fewer jobs, and entire industries facing an existential crisis, but the number of applicants had swelled in unimagined ways.
With remote work making geography and job proximity irrelevant, I was competing with a pool of candidates that included the entirety of the nation and even beyond. Someone in their PJs and slippers in Tampa could apply for the position in Dubuque, and someone in Mumbai, for the position in Tempe.
The line literally stretched around the world.
It was only weeks into this experience that I became aware of the staggering odds against me.
Up Against 2,000+ Applicants
An email from Indeed laid out the grim reality in the starkest of terms: An online tutoring position to which I had applied had garnered 564 applications;  a proofreader position, 813; a virtual writing coach, 2,130.
I also was surprised to discover that some of the positions I'd applied for were speculative. Or with startups that were uncertain of their own financing.
I managed to research one employer's background. He had a history of bankruptcies and constantly changing addresses. He had no known phone number. God help me if he was my future.
And still I persisted.
I expanded my job search beyond websites, scanning local papers, Craigslist, the back pages of magazines. All the while, the freelance market seemed to be imploding.
What One Editor Said
One very kind editor-in-chief of a magazine where I'd written several pieces responded to my submission with an apologetic note that he loved my piece and desperately wanted to run it, but that because of failing advertising revenues, there would be no pages for it. If advertising picked up, he said, he'd get back to me.
Do I feel sorry for myself? Hardly. I need only look around to know that I am among the lucky ones.
My son's job at a camp that teaches young kids the skills of basketball has withered away because of self-isolation. My niece's teaching position has evaporated.
A Job — Or Not
My sister lost her job at a community college and was hired back for another position at a fraction of the salary. And even that job hangs by a thread; the college has let go the dean of students, the dean of admission, the director of facilities and the director of human resources. I joked with her that the last person to be let go will be the janitor as he padlocks the college.
A year from now —the fall of 2021 —  I am to be a distinguished visiting professor at an Ivy League college and I suspect (make that pray)  that the country and the economy will have righted itself by then.
For now, though, I am not the professor but rather, the student, learning the art of appreciation, daily made more aware of the fragile nature of all that I have and humbled to be standing in a long line of men and women who want nothing more than the chance to work.