Love, Loss and Starting a New Chapter Through Art
This woman's journey to becoming a 'gutsy broad' and a painter
(Editor's Note: This essay was originally published by Gutsy Broads.)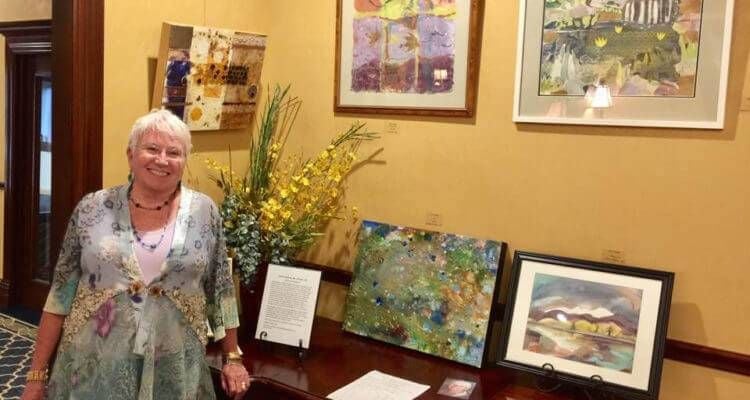 Gail M. Edwards didn't start out as a gutsy broad. Her parents, whom she remembers as emotionally distant, taught her to expect that things would go wrong, and discouraged her from attempting difficult goals. She smiles tentatively — or not at all — in photos taken of her as a child and as a young woman. Only her best friend shared her early passions, which included drawing, astronomy and rock collecting. She was "generally a nerd" in college at the University of Rochester, she says, majoring in geology against her father's best advice. (There were no jobs for women in that field, he warned in the early 1960s.)
Tragedy and New Beginnings
Now, in her eighth decade, Edwards has proven them all wrong, and at times seems surprised by her own prowess. Three years ago, she pulled up roots, relocated from suburban Maryland to Boulder, Colo., and started a new chapter of her life. On opening night of her show of landscapes and geoscapes, which ran in July 2017 at the Denver Athletic Club, she beams in a photo taken beside her work. Among other things, she is celebrating a milestone: The 30 paintings on display there were all done since the death of her husband more than 10 years ago.
That was husband No. 2 — a man she had dated in her early 20s but didn't marry because he was headed for divinity school and she didn't want to be the pastor's wife. Instead, she wed a Washington lawyer who wanted to "take care of her" and, though she was trained as a geologist and showed great promise as an artist, initially put aside all career ambitions. For 25 years, she raised three kids and kept house for a man who, she says, was rarely home.
The first sign of Edwards' emerging gutsiness came when she reunited with her first love at the age of 46. After getting a divorce, she married Myles Edwards, that old boyfriend, two years later.
Though she had finally found her soulmate, their time together would be marked by tragedy: As he developed first brain cancer and then Parkinson's, she became his caregiver and underwent surgery for a brain tumor of her own. Fortunately her tumor was benign, and by removing only part of it, doctors strategized, they would leave her still able to speak.
Talking — and listening — were by then crucial to the work that Edwards was doing to support the two of them. She had parlayed her artistic talent and powerful sense of empathy into a career as an art therapist. And in various jobs for the Army and the Navy, she worked with veterans, children and HIV patients (she made a video of their artwork set to music).
Finding Strength and Making Priorities
You might say she is now drawing upon those therapeutic skills in her own life. After becoming a widow, she led a support group for Parkinson's caregivers, held various volunteer jobs and expanded her repertoire as a painter to include encaustics — melted wax paintings.
Meanwhile, a botched hip replacement had left her in intractable pain. No longer able to maintain her home and garden in Kensington, Md., she moved to Colorado to be near her daughter and family. Between hip and shoulder surgeries, she's had seven joint replacements. Scoliosis has reduced her lung capacity. But portable oxygen carried in a backpack has enabled her to exercise and, with Nordic walking poles, soak up the spectacular Colorado scenery.
Its powerful influence, and Edward's passion for geologic subjects, are all reflected in her latest show. There are abstracts in encaustics — turquoise flecked with purple and copper, for example. Beside them hang her much more delicate and realistic watercolors in purple and olive hues. Together, they seem like an apt metaphor for an artist who is at once so sensitive and yet so strong.
I caught up with Edwards on a trip to Boulder. My uncle was the workaholic lawyer she married back in the 1960s, and our friendship had been a casualty of their divorce. We reconnected through Facebook. During the long hiatus, she had become an amazingly Gutsy Broad.
"The woman you first met more than 50 years ago was fearful and hesitant," she told me. "The challenges I faced have strengthened me and sharpened my priorities."