Take a Walk on the Mall Side
Some malls are gone, but walkers still want to reap the physical and social benefits
Mall stores are shuttering, and David Brown is shuddering to think what mall walkers can do when the malls close, too.
By title, Brown is a behavioral scientist with the federal Centers for Disease Control and Prevention's (CDC) division of nutrition, physical activity and obesity. By expertise, Brown is a go-to person for exercise and older adults. Which makes mall walking a field of dreams in his field of vision.
In 2015, Brown co-authored the CDC report, "Mall Walking: A Program Resource Guide." Its goal was to explain the benefits of walking and strategize how to develop walking programs at malls and elsewhere.
"What I discovered in helping put together the mall-walking guide was just how popular these programs are," Brown says. "People who gravitate to malls to walk are very dedicated. That's very unusual. One of our challenges is to get people to start moving and keeping them moving."
That same year, the Surgeon General launched the "Step it Up!" program, a "call to action to promote walking and walkable communities." Why not get off our phones, pull out the old warmup suits, and head to the mall?
Building Social Camaraderie at the Mall
"I cannot think of another option that addresses so many barriers to physical activity,'' Brown says, "especially with older adults."
Level surface? Climate control? Places to sit? And to hydrate? And to relieve ourselves after all that water? Yep.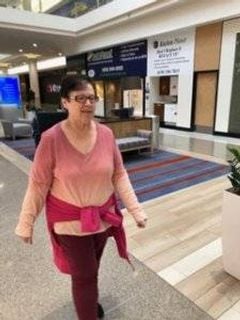 Low cost for people on fixed incomes? How about no cost? A sense of safety? There's mall security, plus the other walkers will see if you need assistance — and will care if you don't show up.
While some prefer walking alone, others like and even need the interaction, especially the oldest mall walkers.
"I like that the mall-walking programs can build social camaraderie," Brown says, "keeping them connected when they might be dealing with loneliness and depression."
The CDC's mall-walking guide cited Lincoln Mall in Matteson, south of Chicago, as one example of an effective program. The facility offered a "Milers Club" program tied to a hospital and a health-care system. There were guest speakers and blood-pressure checks. "Mall walker participants," the CDC's guide said, "represent the racial and ethnic demographics of the surrounding community."
Today there is no mall walking program at Lincoln Mall. Today there is no Lincoln Mall. It closed a few months before the CDC guide's release.
Love for Our Malls
What began in 1956 with Southdale Center in Minnesota, the nation's first indoor mall, exploded into a cultural phenomenon.
Our mall was our community center, 20th century surburbia's Roman Forum. You walked, you talked and you bought. Then came the internet; Amazon, EBay and everystoreyouwant.com, reducing people's inclination to leave home to shop.
Mall stores keep closing, with vacancies reaching a seven-year high of 9.1 percent in the third quarter of 2018, the Wall Street Journal reported in October. In 2017, Credit Suisse predicted 20 to 25 percent of the roughly 1,200 U.S. malls would close within five years.
"It does concern me," Brown says. "There are two issues. One, what happens to the mall-walking programs? And two, what happens to the malls themselves?"
Malls have come up with a variety of ways for reinventing themselves. Some look for different kinds of tenants. Medical centers. Fitness centers. Dojos (martial arts spaces). Classrooms. To Brown, these ideas beat the abandoned malls that turn into what he calls "community eyesores."
Faithful Walkers Through the Years
At 6 a.m., the doors to Yorktown Center will open. They'd better, Erin Falbo jokes, or someone will hear about it from the mall walkers.
Falbo is marketing and business development manager for the mall in Lombard, a western Chicago suburb. Last year, Yorktown celebrated its 50th anniversary. "And there has been at least an unofficial mall-walkers program probably all fifty years," Falbo says.
Falbo worked with Humana, the health care colossal, to take mall walking to the next level. This was a chance, she says, to give back to a community where so many neighbors also took root in the mid-20th century and to reward those who faithfully walk the malls. About two years ago, the Heart & Sole Walking Club was born.
There are approximately 700 members, Yorktown marketing coordinator Emily Barack says. Each received a drawstring bag, a water bottle and a pedometer (now a cooling towel). There also are deals with mall stores, which is good for the walkers — and, yes, for business.
'I Have So Many Friends Here'
Every Thursday, there is a free program for the Heart & Sole members and anyone else who pops in. On a recent morning, the walking group is scheduled for 8:15-9:15 a.m., and scores of people are here, not all group members, walking the two half-mile tiers.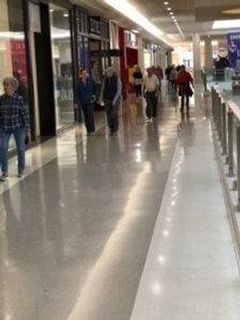 Chuck Enge, a retired tennis and basketball coach from Downers Grove affectionately known as "Coach Enge," walks here six days a week. He appreciates what the mall has done to stay as vibrant as he is at 82. He likes his fellow mall walkers and credits staying active and not feeling sorry for himself to helping his recovery from a stroke about four years ago.
"It's a great place to walk without having to worry about the weather," he says. "I have so many friends here."
Lombard neighbors and retirees Kathy Smith and Mike Goddard were friends before they became mall walking companions. Both say they feel better after they walk.
Smith walks the mall five days a week. Goddard jokes that she comes "every day I have nothing else to do," conceding she hates getting up early and is happier now that they pushed back their starting time 30 minutes.
Goddard says that when you are retired and single, you have a lot of time alone, and going to the grocery store just doesn't cut it. Smith says she loves having the mall for her exercise and worries about what a gym would cost.
"If they took it away from us," Smith says, "I don't know what I'd do."
Richard Beemer of Lombard, also retired, says he's happy to walk outside in better weather, but enjoys coming here as an alternative. The only cost is buying  lunch.
At 10 a.m., Humana's Kristin Conrad leads a "Foods to Boost Your Brain Power" presentation, championing the  Mediterranean diet. At 30, she seems less than half the age of the roughly 20 attendees. But she connects with them, talking to them, not down to them. Conrad loves how engaged they are, the questions they ask.
"I'm always surprised at how they break so many stereotypes," she says later, "like that the senior population is not tech savvy. They are."
Stephanie Welch, Illinois manager for Humana, says she sees some of the same people each week, and they become like family. She tells the story of a woman who isolated herself after her husband died, but her daughter started bringing her to Yorktown. At first, the woman wouldn't engage with anyone. "Now," Welch says, "she is the life of the center."
A Changed Mall Scene
I have a confession. I am a mall walker, too.
I'm not ready to turn pro. The malls are an occasional choice for my walking fix. I live in the Chicago area and there are a number of indoor and outdoor malls. I tried walking Northbrook Court recently, before the stores opened, to see how the regulars do it.
Northbrook Court doesn't list any club or program, but dozens of people on this day are circling while the escalators and many of the lights are off.
Take Mabel Janke. She is 85 and says she was on Northbrook's safety commission when the mall was built. She says the place needs updating, but still enjoys walking here for about an hour, and three miles at a time, sometimes with a friend.
Ken Levin and Marshall Weinstein walk at Northbrook Court or at Schaumburg's supersized Woodfield Mall, which ended its Woodfield Walkers club, but now holds one programmed event with Amita Heath on the fourth Friday of each month.
Matt Wakely, Amita vice president and chief communications officer, says the change from club to program came after talking to the mall walkers. They said they would walk even without a club.
Wakely has seen the walkers and program members shrink over time; some moved on and others have died.
The mall scene has changed and David Brown brainstorms about where yesterday's mall walkers could go.
Could schools open their hallways and indoor facilities before and after classes or on weekends? Could faith-based institutions with big facilities accommodate walkers? Could indoor ice- or roller-skating rinks let the walkers instead circle outside the ovals? Could major hardware/garden stores rearrange their aisles to provide clear walking paths?
There are options, from community centers to senior centers to fitness clubs. The Lincoln Mall Milers walking club found a home with a community center.
"There isn't a 100-percent-exact solution," Brown admits.