Ways to Manage Menopause With Diabetes
Hormone shifts can affect blood sugar, but a healthy lifestyle will help
Diabetes and menopause can prove to be a one-two punch for some women.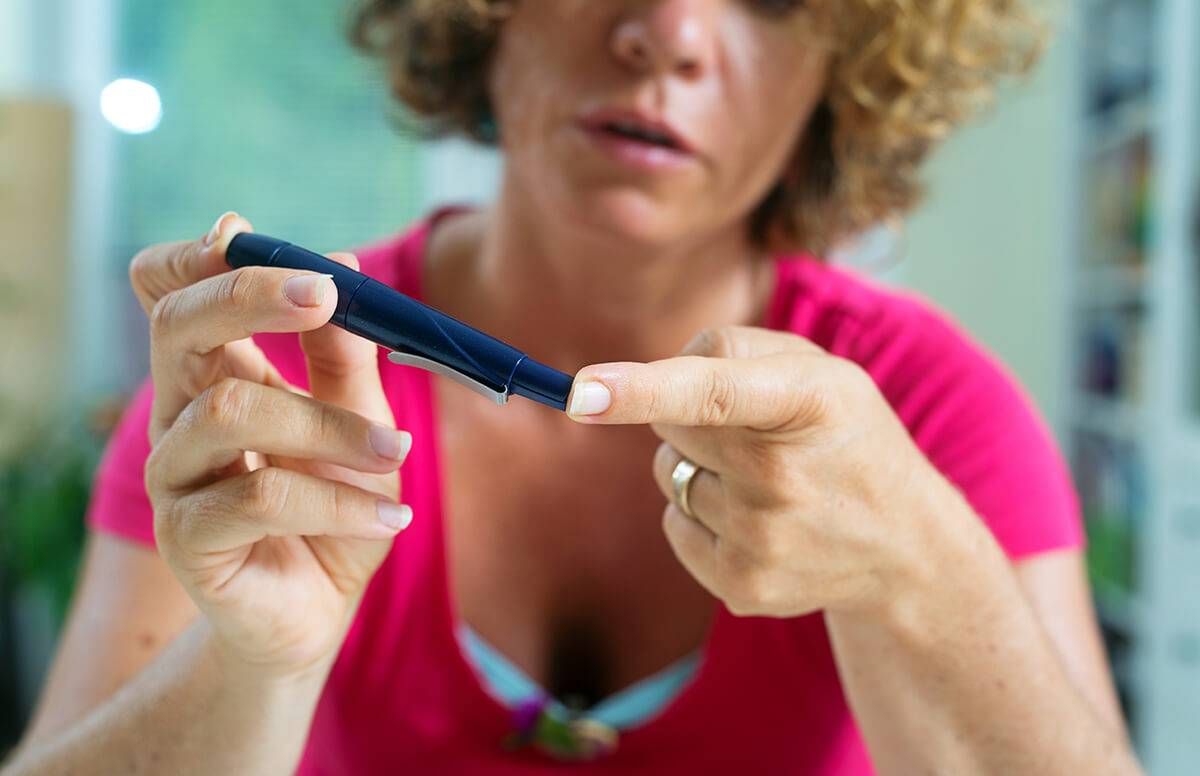 Fluctuating estrogen and progesterone levels can cause unexpected high and low blood sugars. Hormonal shifts can hike the risk of vaginal and urinary tract infections, already more prevalent in women with diabetes. Hot flashes and night sweats may interfere with sleep and a lack of adequate rest can also impact blood sugar readings. Osteoporosis can increase significantly, which is a special problem for women with diabetes who already have more joint and bone issues and may be more prone to fractures.
Add to that extra pounds from menopause that can affect cardiovascular health — a worry for women with diabetes — and a loss of libido, which can also be aggravated by diabetic neuropathies.
And while it's hard to separate the effects of age and weight, there is some evidence that hormonal shifts during menopause can be a risk factor for developing type 2 diabetes.
"Women with diabetes are also at a higher risk for heart disease, and may need more aggressive management of their blood sugars and cholesterol," says Dr. JoAnn V. Pinkerton, executive director of the Midlife Health Center and professor of obstetrics and gynecology at the University of Virginia.
Knowing your hemoglobin A1C (which measures your average blood sugar over the previous three months), your lipid profile and your body mass index (BMI) can help you get in control of your weight, your sugars and your cholesterol, says Pinkerton. She urges women to see their endocrinologist and a menopause specialist during this critical time.
Fighting Menopausal Weight Gain
A healthy lifestyle may be the best defense against the combined effects of menopause and diabetes, when women can average a 4.5-pound weight gain in the years before menopause, often in metabolically active abdominal fat. Data from the Massachusetts Women's Health Study shows that women who exercised and maintained their weight were able to escape some of the metabolic deterioration in glucose, lipids and weight that can occur during this period.
To avoid gains, Pinkerton counsels menopausal women with diabetes to decrease daily calories by about 300, limit carbohydrates, fats, sugar and alcohol intake, reduce stress and increase daily exercise.
"Find exercise that fits into your lifestyle," she says. "You can do 10 minutes of aerobic exercise three times a day and still benefit. We also recommend strength training, not only to lose weight but to increase muscle mass, which can improve the efficiency of insulin."
Hormone Therapy and Diabetes
Hormone therapy (HT), when it is used, must be tailored to fit individual needs, says Dr. Cynthia Stuenkel, clinical professor of medicine at University of California at San Diego.
For patients with diabetes, there is a question of cardiovascular risk and stroke from HT that has not been adequately studied, she says. And when it comes to using HT, experts can disagree.
While using a transdermal HT patch might help women with hot flashes, bone loss, mood improvement, sleep and vaginal symptoms, "we have to let women with diabetes know that we don't have compelling data on cardiovascular risk in that group to know it's going to be safe," Stuenkel says. "Symptomatically, for hot flashes, HT is the best thing we have going, but we do have other non-hormonal agents that can really help women get through if that's their real concern."
Pinkerton says, "A lot of people say 'Oh, with diabetes you can't take hormones,' but we can find ways to give hormones safely if that's what they need. But pushing a healthy lifestyle first is very important."
Both doctors suggest taking a proactive approach with your practitioner about your cardiovascular risk and the use of HT in your particular case.
Seeking Solutions
Blood sugar.  Test your sugar regularly and talk to your endocrinologist about glucose readings and other health factors impacted by menopause, including blood pressure and cholesterol levels. You may need to adjust diabetes medications and add a cholesterol-lowering medication to prevent against an increased risk of cardiovascular disease.
Vaginal infections. Menopause changes the climate of the vagina for everyone, but women with diabetes who have problems with glucose control have an even higher risk of yeast and urinary tract infections. Recurrent infections can be a sign of pre-diabetes, warns Pinkerton.
Sleep problems. Night sweats caused by elevated or lowered blood sugars prevent sleep and can be mistaken for hot flashes, so it's important to check your sugars to verify their source. Sometimes HT can help sleep and increase REM sleep, says Pinkerton.
Sexual issues. Women can start to lose their libido as they move through the menopausal transition, while medicines for mood changes or diabetic neuropathies can interfere with sexual desire. "Women can be helped by a number of vaginal strategies, whether it's lubricants, moisturizers or vaginal estrogen," says Stuenkel.
Osteoporosis. "During the first five years of menopause, you can lose 20 percent of bone density," says Pinkerton. She recommends taking at least 1,200 mg of calcium daily, either through diet or supplements. She also suggests getting a blood test for vitamin D, and to consider over-the-counter supplements or estrogen therapy to prevent bone fractures, which are a risk for people with type 2 diabetes and particularly for those with type 1.
"Women shouldn't suffer in silence whether they have depression, painful sex or difficulty controlling blood sugars during menopause," adds Pinkerton. "They can be helped."
Ilene Raymond Rush
is a health and science writer whose work appears in the Philadelphia Inquirer, Diabetic Lifestyle, Diabetic Living, Good Housekeeping, Weight Watchers Magazine, Philadelphia Magazine and many other publications. She lives in Elkins Park, a suburb of Philadelphia, with her husband and overweight schnauzer, Noodle.
Read More