Mental Health Support in the Workplace Benefits Employees
Especially for stressed caregivers, burned out from the pandemic, additional resources have impact
Laureen Granger, 55, did not mind the monthly 6-hour drive from her home in Watertown, Mass. to her 85-year-old mother's studio apartment at an independent living community in Rochester, NY. But when the coronavirus pandemic forced social distancing, and safety protocols prohibited Granger from seeing her mother for more than 18 months, Granger said, "It was heartbreaking, every time I talked via video chat or phone she would say 'I'm so lonely.'"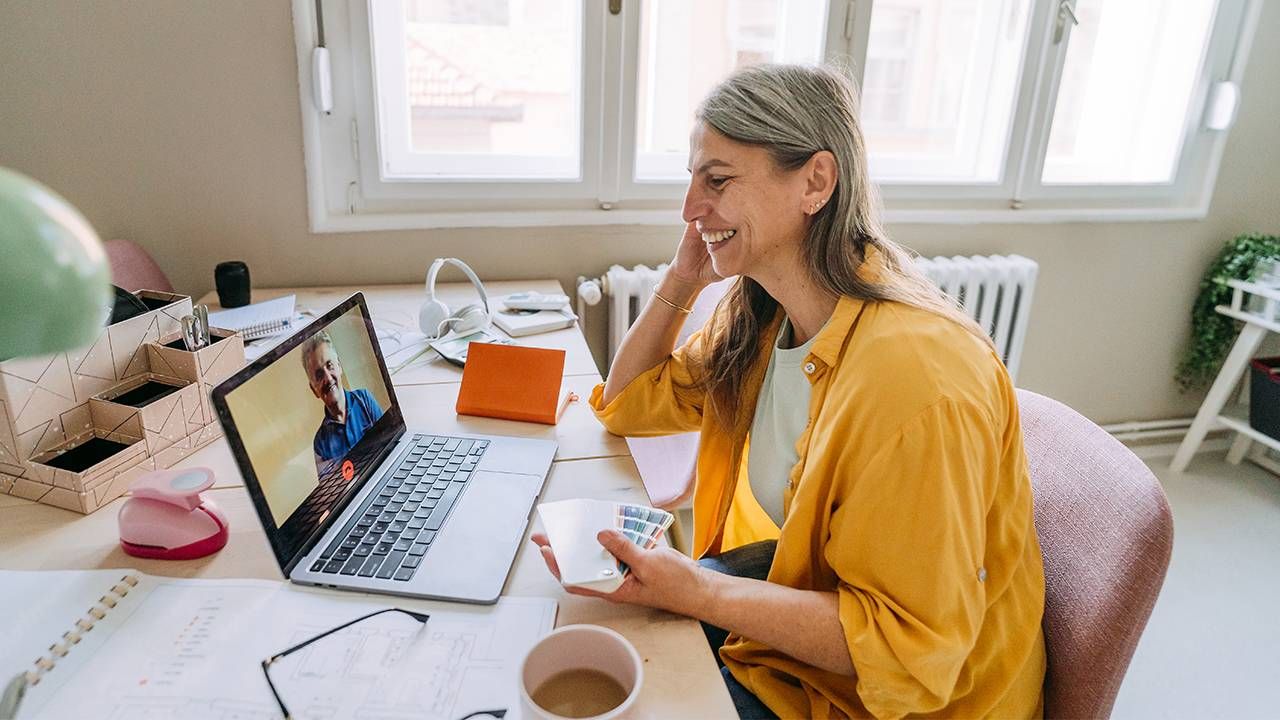 Since the beginning of COVID-19, feelings of loneliness and isolation caused both seniors and family caregivers to feel anxious and depressed. And while pandemic fatigue has set in for some, there is a continued wake of unpredictability for family caregivers with the emergence of Omicron and other variant strains of the virus.
A McKinsey report highlighted research showing workplace stressors such as longer work from home hours, economic insecurity, work-family conflict, and high job demands, coupled with low job control, can be as detrimental to employee health as secondhand smoke. The report also cited that stress and mental health issues cause 120,000 unnecessary deaths annually.
"The doctor told me if I intended to see my granddaughters grow up, I needed to press the restart button."
"The ongoing uncertainty and living in continued flux – companies announcing they are coming back to the office, then not yet, now it may be January (or February) – created anxiety for a lot of employees, but for family caregivers, and especially sandwich generation caregivers with kids and older parents, the emotional health burden was exponential," said Lindsay Jurist-Rosner, CEO of Wellthy, a digital care concierge platform providing workplace benefits to employer clients as well as directly to the nation's 53 million family caregivers.
On the day Granger's mother was set to get her first vaccine, she suffered a stroke. And while she has recovered remarkably, Granger said the guilt of not being with her mother every day, "felt like I was failing as a daughter."
While women comprise more than 60% of family caregivers, results from the National Poll on Healthy Aging conducted by the University of Michigan's Institute for Healthcare Policy and Innovation also found women, people in their 50s and early 60s, and older adults who have a college degree or higher were more likely than others to report worse mental health than before the pandemic.
According to the National Alliance for Mental Illness, 1 in 5 U.S. adults experience mental illness, including anxiety disorders, addictive behaviors and depression, while people with chronic depression have a 40% higher risk of developing cardiovascular, metabolic diseases and Alzheimer's than the general population.
Employers Support Mental Health Initiatives
When Arianna Huffington announced her corporate wellness platform, Thrive Global, her blog quote has now become a tagline for the business venture, "Employee well-being is no longer a benefit, it is a strategy."
As one of the first corporate offices to offer "nap rooms" and meditation apps for employees, Huffington's latest initiative is "Thriving Mind: Mastering Resilience," a behavioral change program developed with Stanford University to "address mental health by going upstream, as we say, identifying stress triggers before they become depression and anxiety," as she explained in a recent podcast with an employer partner, Accenture. The focus is to navigate work-life balance effectively.
Last year as the pandemic was raging, Lenny Mendonca, 59, former chief economic and business advisor to California Governor Gavin Newsom, shared why he left his position with the administration. In a CalMatters op-ed, Mendonca shed light on his private struggles with severe depression and anxiety in order to remove the stigma of mental illness and encourage employers to support mental health in the workplace.
In explaining the situation that landed him in a Los Angeles hospital emergency room, Mendonca wrote, "It felt like a 350-pound lineman had slammed me to the ground and hit me hard against the head. The doctor told me if I intended to see my granddaughters grow up, I needed to press the restart button."
According to a recent report from the Rosalynn Carter Institute, nearly 2 in 10 family caregivers quit their jobs and 44% went from full-time to part-time during the pandemic.
[email protected], the employer benefits division of Care.com with clients such as Starbucks, Delta Airlines and Proctor & Gamble, recently released a survey of more than 500 human resource leaders and 2,000 employees finding 45% of employees want a family-friendly workplace culture but only one-third feel their current employer provides it.
Offering More Options for Employees
"While benefits emerging from the pandemic, such as work from home, gives employees more flexibility, it also made communication and emotional support for employees more challenging," said Jill McNamara, a licensed social worker and senior director for [email protected]
One new benefit the company offers both its employees and employer clients is access to Talkspace, an online and app-based mobile therapy service.
The 2020 Society of Human Resources Management Employee Benefits Survey released in September 2021, showed 25% of human resource executives reported their organizations increased mental health benefits and programs since the pandemic began.
"The pandemic didn't change the trajectory of mental health benefits in the workplace but it certainly sped them up," said Andrew Shatté, who has a PhD in psychology and is chief knowledge officer and co-founder of meQuilibrium, a mobile personalized resilience system offered to employers such as Marriott International and Qualcomm, to help battle workforce stress and burnout.
Shatté, who has two children, 9 and 15-years-old, and 90-year-old parents living in Australia, also said, "Resilience issues were being discussed at the C-suite level, but what changed is the chief human resource officer took on a more significant role during the pandemic and there was alignment among top leadership on how mental health can impact an organization. You don't want to be on the wrong side of history, and addressing mental health is a marathon not a sprint."
Ginger, a company providing an on-demand mental health platform to employers, conducted a survey during the pandemic that showed 96% of CEOs believe their companies are doing enough for employee mental health, yet only 69% of employees agree.
The same report found 94% of CEOs are receiving mental health support themselves and that 99% of employees report that their mental health has benefited from their work from home situation.
Recently, Ginger took its teletherapy services and merged with Headspace, which offers a mindfulness and meditation app, to form a $3 billion mental health company. Announced last fall, the newly formed Headspace Health estimates it reaches 100 million consumers mostly through its employer clients.
"Without the support of my employer and the services I could tap into, I don't know what I would have done."
Jurist-Rosner shared Wellthy did not experience any disconnect between the C-suite and employees whose employer clients include Accenture, Best Buy and Facebook.
"All our clients are highly tuned into their workforce needs and the nature of our business is not just to offer services to caregivers but to do the blocking and tackling for them in navigating elder care so these employees feel they have a partner," said Jurist-Rosner. "I'm not sure if this makes a big difference but we also have a lot of employer clients led by female CEOs."  
For Granger, the support she received from family, including her three sisters and husband, was matched by the support she felt from her employer, Care.com, an online caregiving marketplace for families to find, manage and pay for senior care, child care, pet care and other services.
"I felt like my employer invested in me as a person and not just as an employee. They gave me emotional space and a place to feel supported by both my colleagues as well as the services I needed, such as talking to a social worker and not feeling judged."
Shatté believes EAP [Employee Assistance Program] resources, especially addressing mental health, may still carry stigma for employees but more importantly they are not easily accessible, especially during a pandemic.
"While ultilization of EAP services really did not see an uptick, remaining at about 3-10% during the pandemic, there was a 25% spike in clinical depression," continued Shatté. "On-demand apps you can use at 3 a.m. are what can work for employees who need help now."
In addition to increased employer mental health benefits, the Centers for Disease Control and Prevention (CDC) along with other national health agencies created  How Right Now?, an online tool offering a quick survey assessment and then providing a wide range of personalized resources.
"Without the support of my employer and the services I could tap into, I don't know what I would have done," said Granger. "My fondest wish is for everyone to have a compassionate employer and for all employers to understand that humans have lives outside of productivity."