More Than Just Caffeine: The Benefits of a Coffee Group
A cup of coffee comes with camaraderie and companionship, and can keep loneliness at bay
When Sunday morning comes, Joel Iskowitz, a talented coin designer and illustrator who has worked for the U.S. Mint and lives in Woodstock, New York, drives into town and finds a seat at his local coffee haunt, Bread Alone, to "chew the fat" with five or six of his friends who have become coffee mates.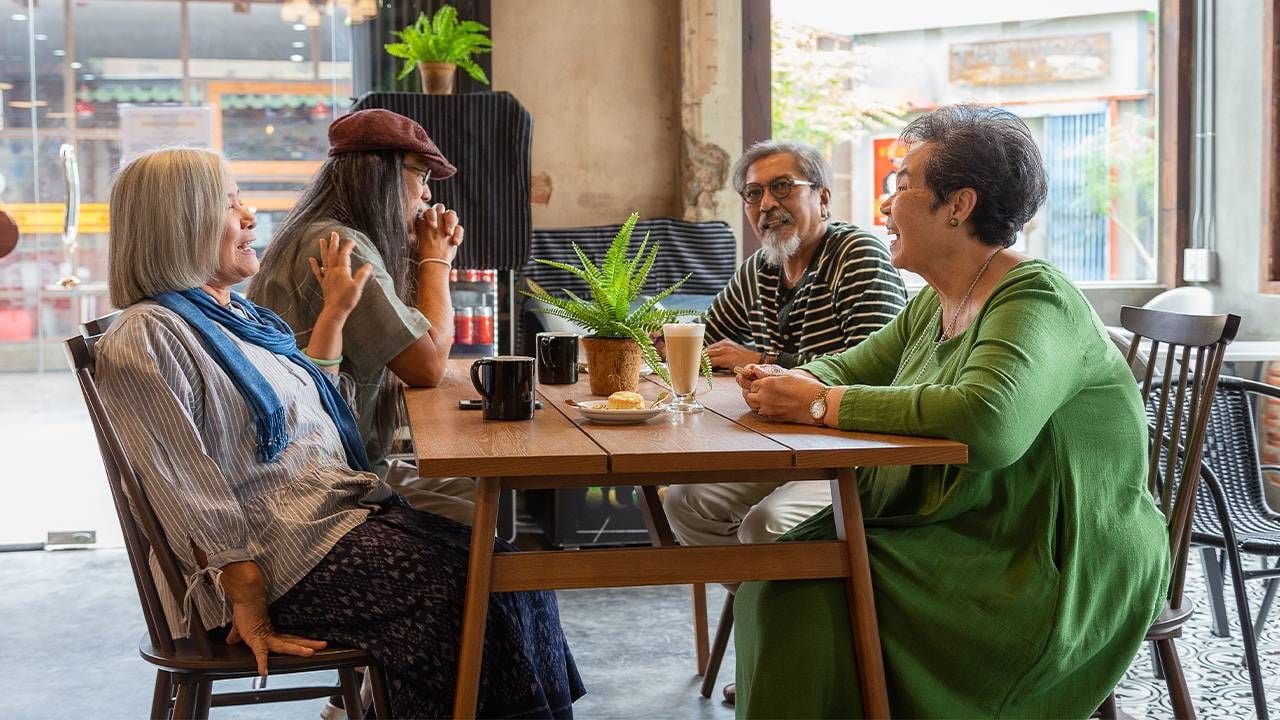 "We're all Woodstockers, so although we all share narratives that span the globe, we often exchange tales of Woodstock and Woodstockers past and present," Iskowitz said.
They'll discuss zoning issues, why the local library should or shouldn't expand, the flow of New York City residents into the town or a specific concert or event.
Iskowitz refers to this group as the Sunday Morning Round Table. And it's about much more than coffee and is mostly about community and being with people in person.
Connecting with a Diverse Group
"We talk about everything and not much," Iskowitz admitted. He describes the conversation as "tangential ramblings, laced together by threads of true wit and sometimes brilliant humor."
He describes the conversation as "tangential ramblings, laced together by threads of true wit and sometimes brilliant humor."
These coffee get-togethers can play a hidden psychological role in keeping older adults connected to friends, staying mentally sharp and avoiding the many pitfalls of being isolated and adrift from social contact.
And the Woodstock group is extremely diverse, consisting of a novelist/essayist, a funeral director, a former TV producer turned photographer, a musician who has a day job as a master craftsman, and a magician/ventriloquist/comedian. You don't get more varied than that.
But Iskowitz also noted that three of its former habitues, who happened to be a talented trio, have died over the years: one a New York Times bestselling nonfiction author, another a famed painter, and an editor/author whom Iskowitz said "could talk her way out of a high security prison."
Though Iskowitz is content with the Sunday only get-togethers, for several of the group's members, it has morphed into friendships that operate through the week.
I have also been involved in a coffee group, which now meets outside, in winter's cold or summer's heat, most mornings around 8 a.m. at Bonsignour, a West Village café in New York City.
As with Iskowitz's group, the conversation varies from what Mayor Adams can do to stop subway crime, whether these ramshackle outdoor huts of local restaurants are good or bad for the neighborhood and who knows where the best Chinese restaurants are these days since several shuttered before and after the pandemic.
'Shelter From the Storm'
As Dan, a savvy attorney said, "We talk about everything and nothing." 
The group is diverse and includes: Marc, whose mom is Mimi Sheraton, a former New York Times restaurant critic (so he often has his radar on the food scene) and is a former attorney now in a theology program; Caitlin, a full-time attorney in New York who teaches a course on the Supreme Court at Harvard University; Kathy, a former Random House editor; Bonnie, a massage therapist; Michelle, an architect; Kate, a pediatrician, who doesn't come much because she moved to Tribeca, two miles away; Brian, a branding specialist and theater maven who performs cabaret on the side; and Casey, a prolific actor, now retired, who takes care of the brownstone he owns.
What the local coffee group offered me during the dreaded pandemic was companionship and camaraderie, or what Bob Dylan might have called "shelter from the storm."
Rather than being cooped up in our one-bedroom apartment, I could socialize each morning with a group of neighbors who became friends, over a cup of coffee with steamed milk, and also converse with Danny, Bonsignour's owner, and Jason, the barista, who prepares my daily coffee in record-breaking time.
Since we all live in a four-block radius, we are connected to the neighborhood and each other, making everyone feel valued.
The worst thing that older adults can face as they age is the dreaded isolation. Cut off from socializing can damage the brain and weaken a person's sense of self. Feedback from others, like the normal give-and-take of what goes on at the coffee group, is good for the brain. Like a disease, loneliness dampens the spirit, compared to these coffee groups that are life-affirming and energizing.
Coffee Groups Can Fight Loneliness
Julianne Holt-Lunstad, a professor of psychology and neuroscience at Brigham Young University in Provo, Utah, who researched the effects of loneliness, said coffee groups, book clubs or chess groups, provide opportunities to "build trust and support." 
She added, "As people get to know each other over time, if someone were to face a health crisis or confront other needs, these people know you, are familiar with you, know your preferences and are better able to support you in time of need."
Holt-Lunstad said studies have shown that "people who are more socially connected are at reduced risk of depression and anxiety. People who are more isolated and lonelier are at increased risk of cognitive impairment and that includes dementia and Alzheimer's disease."
"As we get older, we need others and we rely on people for survival. Being a part of a group provides a pooling of resources."
Moreover, isolation contributes to a variety of physical ailments — heart diseases, strokes, Type 1 diabetes and is linked to one's risk of premature mortality.
Kory Floyd, who wrote "The Loneliness Cure: Six Strategies for Finding Real Connections in Your Life," said these social groups play a more significant role for older adults than younger ones.
"Particularly when you're older, the structure is really comforting. Having a standing appointment to see each other gives them something to look forward to, something to base [their] day or week around," he said.
Finding the Right Kind of Group
Finding a group can be tricky. People who live in remote areas face certain barriers in joining groups in person. Other factors that contribute to making it difficult: Many Americans are mobile and change communities frequently, and church attendance, which led to friendships in the past, has been declining. Because of the internet, more people are staying home, ordering their food delivered and shopping online, so face-to-face interaction is diminishing.
"There is something special in being able to see someone, hug them, be in proximity to them, that computer mediated tech just can't replicate," Floyd pointed out.
To get involved in a coffee group, Floyd advised asking the proprietor of your local coffee shop if there is one there already. If there isn't, ask if you could put up a flyer to attract others, which, in turn, could boost the shop's business. According to Floyd, this can create the "snowball" effect, which can lead to meeting others, volunteering in a group, joining a church and who knows what else.
All of these coffee groups, book clubs or bird-watching groups are an antidote to isolation.
Being lonely, Floyd said, "creates a downward spiral. When you're lonely, the motivation is to withdraw. You don't want to be seen as a failure; a [feeling] particularly attached to men."  Withdrawing in that way can lead to an onslaught of problems like overeating, excessive drinking, not exercising and other self-defeating behaviors.
Holt-Lunstad noted that not all coffee groups are beneficial. They could become "a source of tension or conflict, and could, for example, become divisive over politics. Instead of being a source of coping with stress, it might create stress rather than relieve it."
"Humans are social beings. As we get older, we need others, and we rely on people for survival.  Being a part of a group provides a pooling of resources. Our brains have adapted to expect social interaction," said Holt-Lunstad.
Floyd added that these coffee socials "give people a purpose. For older adults, the real benefit is having people looking out for you. If someone doesn't show up, someone will call and check on you.  Knowing we are loved and appreciated is essential to our physical and mental well-being."
Gary M. Stern
is a New York-based freelance writer who has written for the New York Times, Wall Street Journal, Fortune.com, CNN/Money and Reuters.  He collaborated on Minority Rules: Turn Your Ethnicity into a Competitive Edge (Harper Collins), a how-to guide for minorities and women to climb the corporate ladder. His latest book collaboration From Scrappy to Self-Made, written with Yonas Hagos, about his life as an Ethiopian immigrant coming to the United States, knowing two words, yes and no, opening one Dunkin' Donuts 30 miles west of Chicago, and turning it into owning 47 restaurant franchises including 21 Smoothie Kings, 16 Dunkin's and 6 Arby's is just out from McGraw Hill.

Read More