A Mother and Son's Baseball Road Trip
Three weeks of (mostly) summer fun taught us a lot about ourselves
When my son, Rory, graduated from New York City's Stuyvesant High School a few years ago, I wanted to do something special for him. He didn't grab top honors or a full college scholarship, but he did live through the 9/11 attacks, just down the street, and held his own against some of the brightest young minds in the country.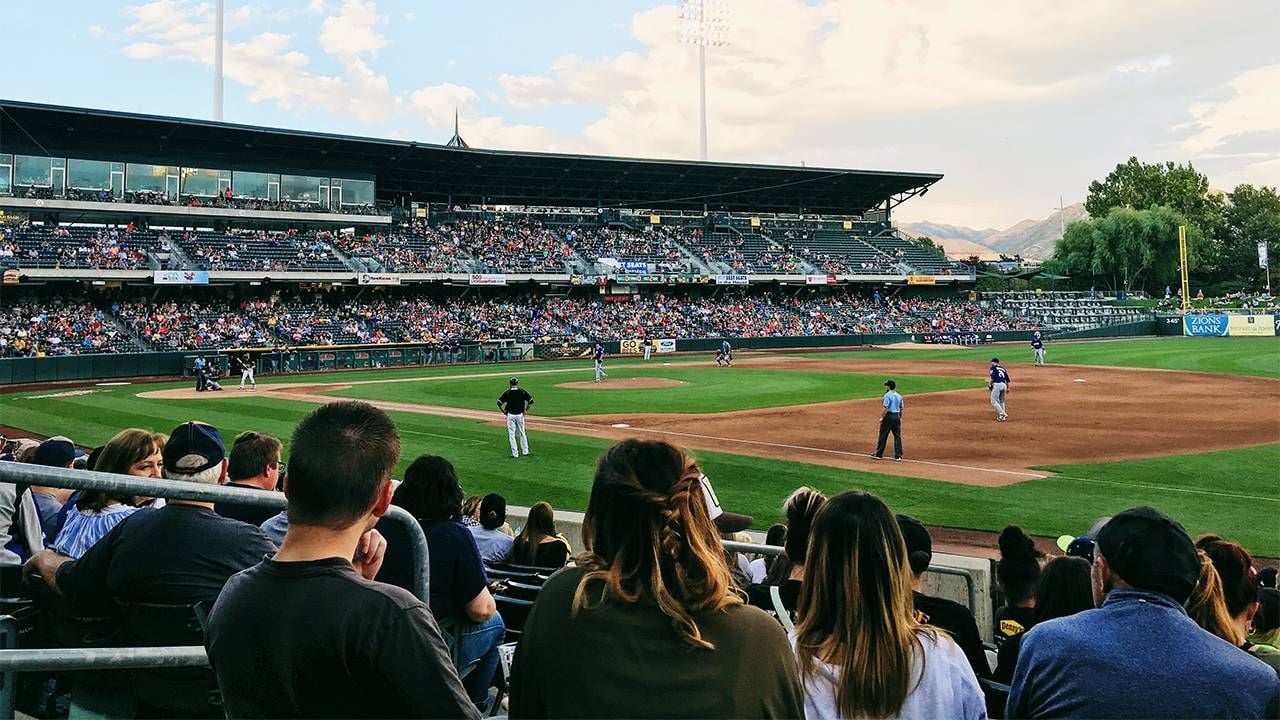 "So what would you like," I asked: "an African safari, a trip to Australia — maybe a train tour of Europe?" His eyes lit up at the possibilities, but I could see that his brain was already speeding in another direction. "How about if we drive around the Midwest and see a bunch of baseball games?" he countered. I should have expected this answer from a kid who follows every sport, including the English Premier League of soccer, is in three fantasy leagues and still believes the first word he learned how to spell was ESPN.
The child who can procrastinate taking out the garbage until the following collection day took precisely 90 minutes to work up two different itineraries, factoring in driving distances and the home-away schedules of 16 teams in 10 cities spanning 3,600 miles.
 
He was holding a printout in each hand. "It all depends on whether we want to see the Cubbies-Sox on the Fourth of July," he said. "It's sold out, but I found decent tickets through a broker."
 
There was more: "We can see 10 games in three weeks, I can get tickets online, you never have to drive more than four hours, and, if we play our cards right, we can dip into Canada for three days of R+R during the All-Star break."
 
There are many ways for a single mother and her only child to bond, but there's no more American way than over baseball. And — setting aside our respective Yankees (me) and Mets (him) loyalties — there's no more all-American baseball than the White Sox playing their crosstown rivals, the Cubs, at Wrigley Field on the Fourth of July.
What We Learned in That Car
A few things to know: First, Rory doesn't drive. Second, he knows a lot about baseball — he knows a lot about a lot of things — and third, like both his parents, he can be a bit … opinionated. Fourth, this was in the days before ubiquitous GPS. (And you already know we're talking 3,600 miles over 10 days, together 24/7.)
 
Fortunately I love baseball and exploring new places, and Rory and I have similar tastes in music, culture, humor and food, so conversation comes easy, and I figured it wouldn't be hard to negotiate non-baseball activities. If we weren't related, we'd be ideal traveling companions.
 
Being trapped in a car for long stretches can get on anyone's nerves, but I didn't expect that the actual driving and navigating would become such an issue. We covered a lot of unfamiliar territory — often in the dark and, nearly as often (or so it seemed), in the pouring rain. As a non-driver, Rory was frustrated at having to be at the mercy of someone else's decision-making. And this wasn't just any old driver; it was his mother!
 
For my part, I made the rookie mistake of assuming he couldn't think like a driver or understand the nuances of navigation. Not only was I wrong, but in underestimating that particular skill set, I insulted him deeply and, when I didn't take his suggestions, wound up paying a steep price — both in terms of instigating an argument and, more often than not, racking up unnecessary miles on the odometer. 
 
This may not sound like a big deal, but it was huge! Yes, it was about literal navigation, but it was also about things like trust and control. I still saw Rory as a kid — necessarily less experienced and skillful than I in certain areas — and he saw me as his control-freak mother who couldn't admit when she was wrong.
 
Once I understood that dynamic, I was determined to catch myself in the act of dismissing him, and one city at a time got better at letting him make the calls. It wasn't easy, but it was necessary. And on the rare miscue, his map-reading skills and innate sense of direction always got us out of the situation.
  
By letting him handle that job, I showed him (rather than merely told him) that I respected him and that his contributions were important and appreciated. And in return, he taught me the invaluable lesson that he had the ability to handle things. I started to see him in a different light and was grateful to have this insight before he went away to college.
Looking Back on the Road Trip
It wasn't all family therapy, of course. It's been eight years, so it's kind of a blur of highways and billboards for gentlemen's clubs, samey cityscapes, amply proportioned fans consuming mass quantities of stadium food, cool restaurants and boutiques in surprisingly chic or funky neighborhoods, an epic kayaking trip down the Chicago River, and hot summer days in the heartland visiting dear old friends. 
 
I figured Rory remembered a bit more, so I recently asked him for a report. The next day he sent a 2,000-word detailed email, with every game, score, top plays, what he ate both at the stadium and in the cities. He recalled what we did when not at stadiums (which CDs we bought, what movies we saw, where we ate) and what other major sports events were going on.
Typical was his recollection from Detroit: "We got there early and saw BP. Nice stadium. The Yanks had five hits, and they were all solo HRs. A-Rod had two of them. Parking and traffic was a nightmare around the stadium, though, and we got lost in some back alleys straight out of The Wire."
 
From what he wrote and the pleasure I sensed in his recounting, the trip was apparently a success — mission accomplished, Mom. He's mature enough to say it was a learning experience for both of us, and he's glad we did it, despite the tense moments. He ended his email with "oh, and thank you again for making that trip possible."
 
Rory: If you would learn to drive, the Australia trip is still on the table.
Suzanne Gerber
, former Living & Learning editor for Next Avenue, writes about inspirational topics including health, food, travel, relationships and spirituality.
Read More