A Must-See Film on Being Over 50 and Out of Work
The poignant documentary 'Set for Life' tells the stories of three full-time employees who played by the rules — then the game changed
I was heartened to read in The Wall Street Journal this week that there are 3.5 million more Americans 55 and older working than in September 2009. But before you break out the bubbly, remember this: There are an additional 3 million people over 50 and unemployed — many for a year or longer.
 
Susan Sipprelle, the writer and producer of Set for Life, a new, compelling documentary about three unemployed boomers, thinks the 3 million figure is seriously understated. More important, she says, it doesn't reflect "the huge ramifications that unemployment of older Americans has had on their families and on the country."
 
Decimating Family Savings
 
Sipprelle, a journalist, notes that it takes about a year for unemployed people over 50 to find work, but that financial advisers typically recommend having an emergency savings fund to cover six months worth of expenses. "If you're out of work for a year, your family's savings can be decimated," she says.
 
(MORE: 5 Lessons From People Who Lost Jobs After 50)
 
The tragedy that has befallen the Great Recession's long-term unemployed and their families comes through poignantly in Set for Life, which resulted from the work Sipprelle and filmmaker Sam Newman did for their website, Over 50 and Out of Work. "I thought I was set for life" was the phrase they heard repeatedly while interviewing 100 older Americans across the country who lost their jobs during the recession.
 
The film focuses on Deborah Salim of Conway, S.C., Joe Price of Weirton, W.Va., and George Ross of Livermore, Calif., who all believed that because they'd worked hard and played by the rules, they could expect to be on good financial footing for the rest of their lives. Then the ax came. 
 
Three Who Became Jobless After 50
 
Sipprelle told me she chose to feature the three stories because they represented major trends affecting older workers:
 
Deborah Salim, 60, is an example of the hollowing out of the workforce, as low- and mid-level white-collar workers saw their jobs vanish due to government budget cutbacks and technology. "She represents the tidal wave the Great Recession caused," Sipprelle says. "After the private sector contracted, the public sector contracted."
 
Salim lost her job in the records department of a community college in 2008. "I haven't paid my full mortgage since 2009," she says in the film. "I had to put my house up for a short sale, but no one bought it."
 
Salim was recently hired as a part-time, $7.25-an-hour grant writer for the United Way. The $580 monthly gross pay isn't enough to cover her modest expenses, so Salim's daughter gives her $300 a month. "It's tough, really tough," Salim says. 
 
Joe Price, 52, provides a glimpse into the decline of U.S. manufacturing. One in 5 blue-collar workers over 50 lost jobs in the recession, Sipprelle says.
 
A third-generation steelworker, Price was laid off seven times, most recently in 2009. In the film, Price's wife, Janie, says that when her husband was first hired at Weirton Steel, "I thought we hit the jackpot."
 
(MORE: When the Job Interviewer Thinks You're Too Old)
 
George Ross, 58, is an example of the wave of layoffs among the higher end of white-collar workers, Sipprelle says. Ross, a Vietnam veteran, started out as a grocery clerk and later enrolled in college to become an IT project manager. His wife, Linda, ran a day care center out of their home.
 
George was laid off in 2008 and the recession clobbered Linda's business. Then, the couple's son Jason was severely wounded stepping on a mine while serving as a Marine in Afghanistan. As a result, Ross moved to San Diego to take care of Jason during his rehabilitation, putting aside job hunting.
 
"The American Dream to me has been erased," Linda says in the film, choking back tears. "We're going to get there," George responds.
 
Only 25 of the 100 people Sipprelle and Newman interviewed have returned to work full-time and just seven of them have pay and benefits comparable to what they received before losing their jobs.
 
That's right in line with national trends. According to The New York Times, Americans age 55 to 64 who lost their jobs between 2007 and 2009 made an average of 24 percent less when they were hired for new positions in January 2010.
 
Advice for 50-Plus Job Hunters
I asked Sipprelle what advice she could offer unemployed people in their 50s and 60s based on her research.
 
"It comes down to a willingness to keep trying," she says. "You have to try every avenue you can think of — volunteer, network continuously and go to job support groups. It can be extremely discouraging, but eventually you'll succeed finding work."
 
How to See Set for Life
 
You can buy Set for Life on DVD for $14.99, plus $5.00 shipping and handling at the Over 50 And Out Of Work site, which has a trailer for the film.
 
The documentary, which was selected for the Louisville International Film Festival and the Massachusetts Independent Film Festival, will be shown at the John J. Heldrich Center for Workforce Development at Rutgers University in New Brunswick, N.J., on Nov. 27 and the Hartford Flick Fest in Hartford, Conn., Dec. 6-9.
 
(MORE: 6 Fatal Mistakes Job Seekers Make)
 
Future screening dates and locations will be on the Over 50 and Out Of Work site.
 
"I hope the documentary explodes stereotypes and shows how determined people over 50 are not to rely on unemployment," Sipprelle told me. "They want to be self-sufficient and are willing to do whatever it takes."
 
And I hope you'll see Set for Life. I'm also hoping Sipprelle will do a sequel, with happy endings for Salim, Price and Ross.
Sadly, I don't think that's likely.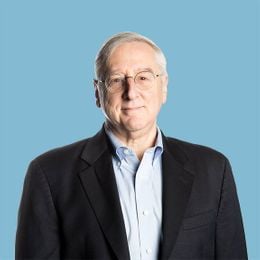 Richard Eisenberg
is the former Senior Web Editor of the Money & Security and Work & Purpose channels of Next Avenue and former Managing Editor for the site. He is the author of "How to Avoid a Mid-Life Financial Crisis" and has been a personal finance editor at Money, Yahoo, Good Housekeeping, and CBS MoneyWatch.
Read More