Nancy Travis is Happy to Play a Modern Heroine
In the Hallmark series 'Ride,' she plays a strong-willed woman and is a role model for the real-life younger cast members
When Nancy Travis reminisces about her time in Calgary making the Hallmark original series, "Ride," her mind wanders to the wide-open spaces, the fresh air filling her lungs and the peaceful nature of her surroundings.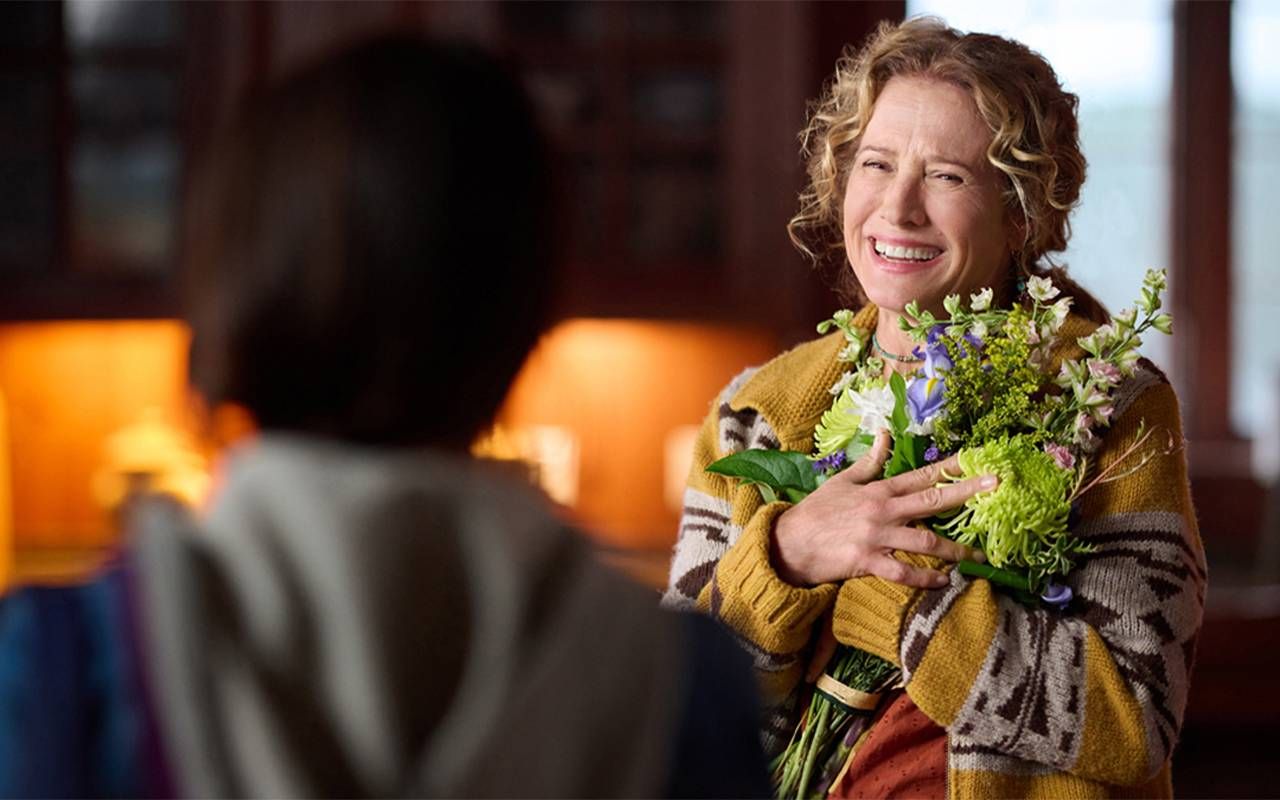 In fact, she often envisions leaving behind city life for a calmer type of lifestyle, which is why she was thrilled with the opportunity to play matriarch Isabel McMurray on the new multigenerational series about a Colorado rodeo dynasty that struggles to keep the beloved McMurray Ranch afloat.
"Right now, I am embracing 'Country Nancy' a little more than 'City Nancy,'" the 61-year-old actress, who lives in Los Angeles, recently told Next Avenue. "I love the space and I love the quiet, which is probably why I was thinking about ranches, and even looking at property listings, because I crave space and nature, and the closer I can be to that the better off I am."
"The fact that the entire family can watch our show together is something that can be treasured."
Once Travis arrived in Calgary, Alberta to film the 10-episode series, she immediately felt at home, although there was a major learning curve when it came to riding horses and discovering the intricacies of overall ranch life.
Spending months on an actual working ranch was the stuff of dreams. "I would run these fantasies in my head of what if we had a ranch in a beautiful place with animals and an expanse of land," says Travis. "But in my dream, it's one situation, and to actually be there and see what the people have to do who live this life, I could immediately see that it's a hard life." 
Travis appreciates the multi-generational drama both on the screen and for the audience. "This isn't something isolated that you watch on your cell phone. The fact that the entire family can watch our show together is something that can be treasured," she says.
Travis is best known for co-starring with Tim Allen on the nine seasons of "Last Man Standing," (2011-2021), as well as the fan favorite 1987 movie, "Three Men and a Baby," and the 1993 film, "So I Married an Ax Murderer," all of which various fan groups remember fondly.
She also played Michael Douglas' girlfriend in the 2018 Netflix dark comedy, "The Kominsky Method."
Some of her fans go way back and even remember her having "a big headache" in an Excedrin commercial in the late 1980s.
"I'm not really a person who revels in the empty nest thing."
The focus of "Ride" is on the three strong women in the family — matriarch Isabel McMurray (Travis), widowed rodeo queen Missy (Tiera Skovbye) and former teen runaway and "adopted daughter" Valeria (Sara Garcia). All three women vow to stand strong against a myriad of challenges to save their ranch, and by extension protect the family. The power of grief — and the need for healing — after the death of the eldest son, Austin, in a bull-riding accident is another major element of the series.
"For Isabel to be surrounded by two other strong women is something you don't see very often in a story that is not a Marvel movie," Travis notes.
Playing a Modern-Day Heroine
Isabel is one of her favorite roles. Says Travis: "Isabel is a modern-day heroine, and I think she is every woman. It's all about the women like her who have grit, grace and determination and are dealing with a lot of challenges at once. She also values her family above everything else."
As the mother of two grown sons, Benjamin and Jeremy, Travis says she can identify with Isabel's protective nature, especially amid the grief of losing both her husband and son.
"She is in this for the fight and the struggle and determined to see it through and save the family ranch, despite her son's passion for bull riding, which she doesn't relate to," she says.
While some parents rejoice in their adult children leaving home to embark on their own journey, Travis is not one of them.
"I see my own life reflected in Isabel's. My two sons are in their twenties now, and it is all about letting them go and hoping they still want to hang out with me," she says. "I'm not really a person who revels in the empty nest thing. For Isabel, it's about saving the ranch, but also how hard she works to keep her loved ones close."
The Importance of Role Models - On and Off Screen
Tiera Skovbye, who plays Isabel's widowed daughter-in-law, Missy McMurray, says she learned a great deal from Travis' work ethic, kindness and sense of humor.
"Nancy has worked in this industry for so many years and shows up every single day happy to do her job. She is so respectful to every single person in the cast," Skovbye says. "I was inspired by her as a person, and I want to show up on sets, and in the world, more like she does."
Sara Garcia, who plays Isabel's adopted daughter, Val, said that working with Skovbye and Travis was a career highlight. "These two women are so talented, such bright, energetic and vibrant people. I learned so much from them, and it's nice to work with people who you care so much about," says Garcia.
Cast Members Bond on a Hike
Although Travis says she "is several decades older than many of the other people in the cast," they were so welcoming. "They included me in all of their adventures, and I always felt like I was part of a great little clique."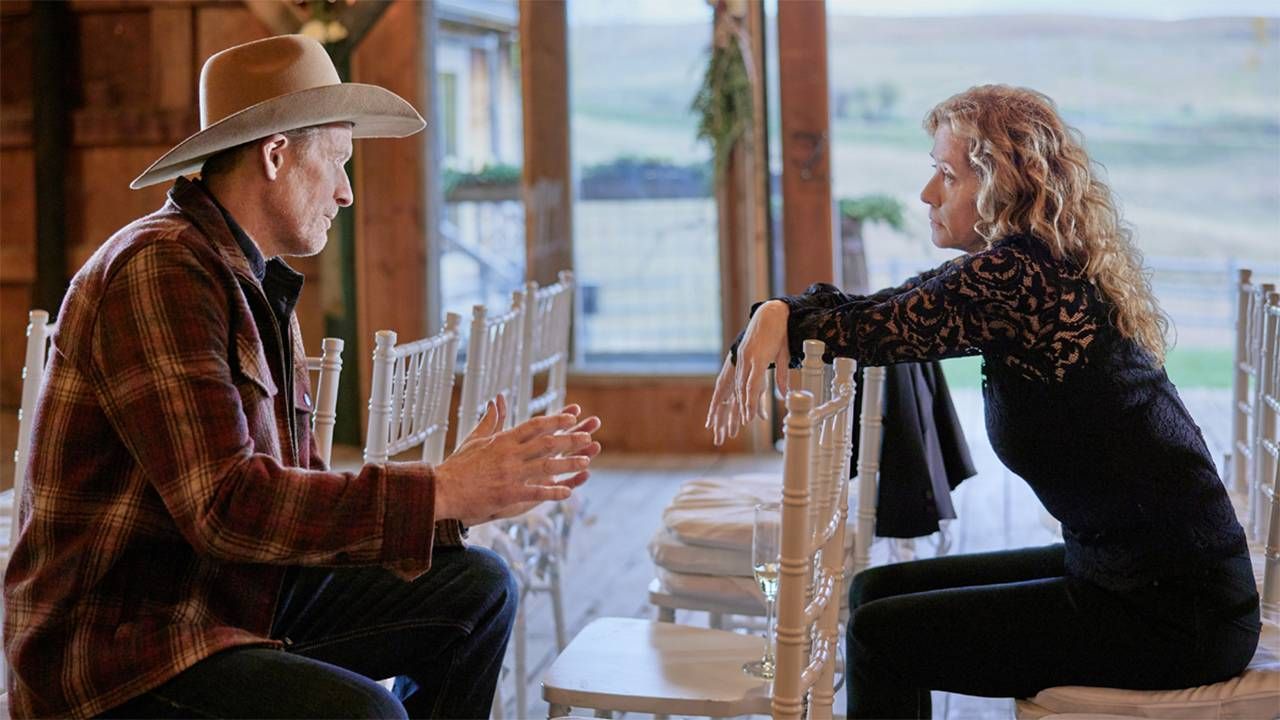 Shortly after the three actresses met, they had a lovely lunch in Banff and then embarked on a three-hour hike, going off trail (by accident) and forging their way through ice-cold streams.
They took off their boots and ended up at a beautiful lake where they basked in the flow of the upcoming journey they would be taking. "The day that we hiked, enjoyed the park and took lots of pictures was heavenly; a true bonding experience," Travis recalls.
Empowering Women
Not only is Isabel a fiercely protective mother and savvy businesswoman, Travis says she is her own woman, and not a sidekick to a man; a first in Travis' career.
"This is the first time that I really had the opportunity to play a fully formed, dynamic woman who is very much her own person, and we see this story unfold very much from her point of view. That is an amazing thing, especially at this point in my career and in my life," she explains.
"This is the first time that I really had the opportunity to play a fully formed, dynamic woman who is very much her own person."
The strength that Isabel possesses makes her extremely attractive for Travis to play, especially when she is standing up to potential business partners who often underestimate her abilities. So, when a developer wants to radically change a major business deal to the detriment of the McMurray family, at first Isabel wavers but then puts her foot down.
"This is another example of being able to be a woman who is stepping into a leadership role and saying, 'Look, I know how to run a ranch, but me wearing a business hat; this is new.' But I'm also going to fight for what I believe in and I'm going to believe that I know what I'm fighting for."
An Acting Journey Continues
"Last Man Standing" is now available on several streaming platforms. "Oh, my gosh, that was a lifetime ago. I have to admit that we never thought that series would go beyond Season 1," says Travis. "So, looking back to nine seasons, it was an amazing journey."
Travis has an upcoming project, a movie called "Ordinary Angels," which will be released in October and stars Hilary Swank and Alan Ritchson.
"It's a story about a little girl who needs a kidney transplant and is waiting for a donor, and there is a woman who commits herself to do everything in her power to help [their family]," Travis explained. "Again, it's about determination, grit and never taking no for an answer."
As Season 1 of "Ride" comes to an end, Travis is hopeful the series will be renewed for Season 2. "I would love to return for a second season because I believe that we have barely begun telling the story of this family, and I would love to take a deep dive into more stories," she explains. "Also, selfishly, I truly love being with these people and would relish the opportunity to return to our own special world and do more hikes, have enjoyable dinners and spend more time together."
The Season 1 finale of the original Hallmark series "Ride" airs Sunday, May 28, at 9 p.m. ET. The 10 episodes of the series air on Hallmark Channel and stream on Hallmark TV providers including Peacock.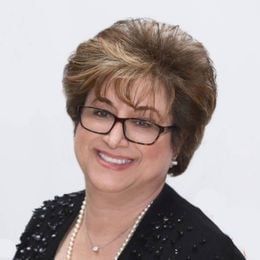 Debra Wallace
is a multi-award-winning professional journalist, author, editor, social media/web content provider, and autism advocate with 20+ years of experience. She regularly contributes to Parade.com, Orlando Family Fun, South Jersey, Monsters & Critics, Delaware Today, and several other print and digital publications. Her expertise includes celebrity profiles, entertainment, local heroes, health/wellness, special needs parenting, and autism advocacy. Wallace is a devoted single mother to her 17-year-old son, Adam.
Read More