New Cottages Designed for Older Adults With Dementia
Use of daylight, warm colors and a person-centered approach make a difference
The architect noticed the dementia patients' transformations almost immediately.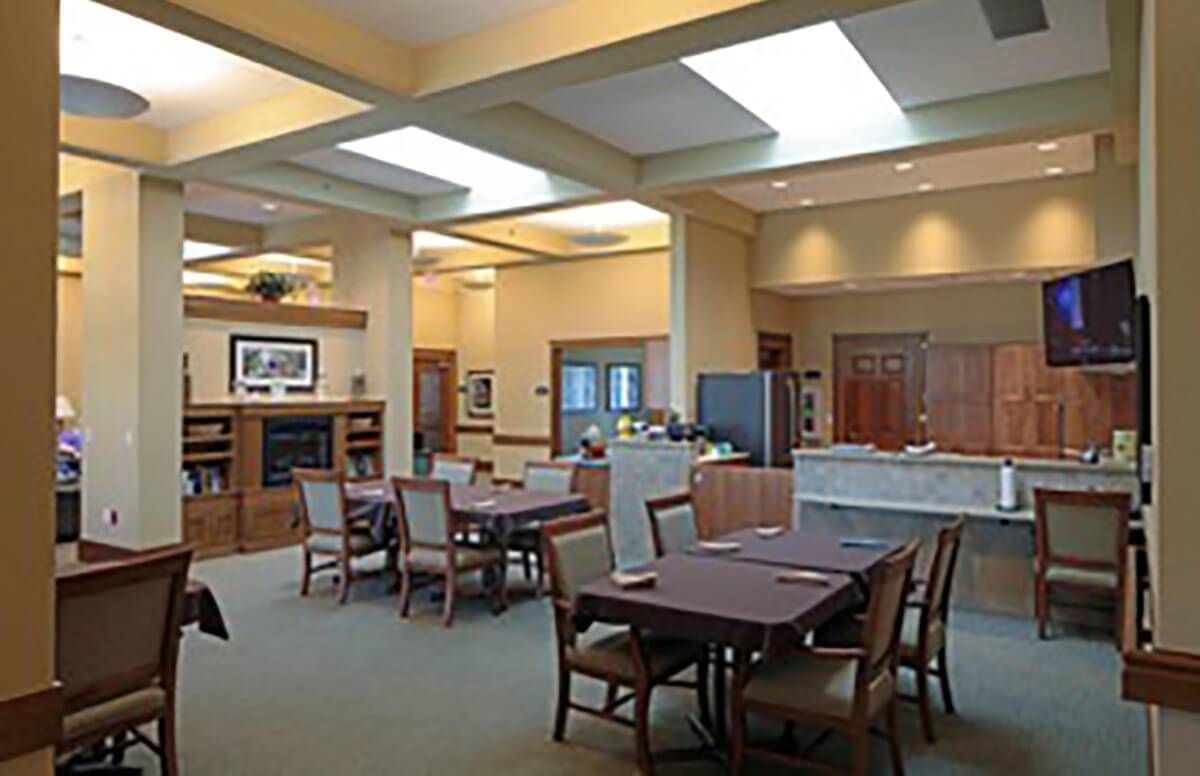 "One of the ladies was pretty non-verbal [before she moved into the new facility]," Mandy Holst said, "and early on they sat down for dinner, and she piped up and said, 'I think we need to thank God for this meal,' and she said a prayer."
The CEO noticed, too. "We had to change care plans on six residents the first two weeks because they started re-engaging and eating," Kris Hansen said. "And we had three other residents who had become wheelchair-bound, and all of a sudden they wanted to walk."
The son of one of the residents also saw it.
"When my mother first walked in, she felt she was in a [place] that felt homey to her," Mark Kittrell said. "You get this sense of warmth and care. She settled in. She's eating now. She can't speak, but you can see her smile with her eyes."
The setting for these turnarounds: two 16-resident cottages in Cedar Falls, Iowa, that were designed, built and staffed to address dementia patients' cognitive and sensory disabilities. Western Home Communities, which had been operating senior living facilities for more than a century, was, in CEO Hansen's words, "trying to create an environment where dementia patients could function at their highest capacity."
The cottages have softer interior lighting augmented by more daylight, much less glare, warmer colors, wider hallways, low- or no-contrast flooring and a residential kitchen as well as a commercial one.
The Dementia Cottages Took a Lot of Legwork
The cottages opened in June 2015 but were almost a decade in the making.
In 2006, Minneapolis sensory expert Steven Orfield immersed himself in research on cognitive and perceptive disabilities, poring over studies and talking with specialists such as audio guru Harvey Abrams at Starkey Laboratories.
Orfield quickly realized that he was dealing with a double-edged issue.
"The first problem you have with dementia is that you're old," he said. "Dementia becomes an overlay to a whole set of problems you're having when you're aging.… You're not thinking clearly and you're going through sensory deprivation."
At the time, Orfield said, "Nobody had tried to go at multidisciplinary aging. No one was using perceptually-based research. No one was dealing with the age cohort and the dementia cohort."
While all of the elderly's senses are fading, the most important ones — seeing and hearing — are declining on multiple levels, he learned.
"Your senses not only lose sensitivity but speed, range and resolution, frequency resolution," Orfield said. "Eighty percent of Americans who don't hear well aren't [feeling] connected [to others around them]. For these people, lip-reading is more important than hearing. … People start to lose language skills, and so if they're sitting on a bed nude, it's because they're hot but can't say it.
"Instead of giving them more light, we give them something darker and prettier because young architects like that. The industry thinks you design and market nursing homes not for the elderly but for their kids so they'll like them for their parents. They have these huge common spaces, but the elderly can't look up, and the rooms are cold. It's just about cartoonish how bad it is."
Laying Out the Game Plan
While all the research proved fruitful, Orfield and the other principals were focusing as well on something more empathetic: "The quality of life of the patients, giving them a more human life," as he put it.
"Our goal was to take care of folks the way a family at home would," Hansen said. "Our measurement was how do you function in your home."
Hansen came to Orfield's studio (which also houses what Orfield says is the world's quietest room) in 2012 and approved the project that very day.
After determining that the optimal number of dementia residents was 16, Orfield, Hansen and Holst, CEO at AHTS Architects, set about getting everyone concerned on board with the new form and functions.
"When Steve came up with the standards that needed to be embedded and we had the template," Hansen said, "we met seven or eight times with around 100 to 120 stakeholders, caregivers, our employees, residents, family members, board members, some community leaders. The buy-in, the tough discussions with stakeholders, was a phenomenal thing."
Part of those discussions involved a "versatile worker concept," in which staffers would be truly multi-disciplined, with nursing, dietary and housekeeping functions "kind of looped into one person," Hansen said.
No Timetables
Among those multitaskers is Erica Rath, a veteran employee who now is a household coordinator (and much more) at the cottages. She said she relishes the new approach.
"I had been 11 years in the institutional model, with long hallways, and everyone gets up at same time and eats at the same time," she said. "Here the floor is one complete surface, so residents aren't trying to walk over things. As you walk down a hall, you don't see a door at the end, so you don't try to exit.
"And people eat when they want to. If they want to stay up and watch the baseball game till 2 in the morning, they can. If they want bacon and eggs in the afternoon, they get it."
Hansen recounted a particularly telling anecdote: "At 2:30 in the morning, one of the residents was hungry. Our resident assistant asked her what she would like to eat, and she said 'Bananas Foster.' Our assistant looked up the ingredients on an iPad, and they made Bananas Foster at 2:30 in the morning and ate it."
Where the Heart Is
Gustatory endeavors actually mark a major difference between the cottages and other nursing homes. The residential kitchen has gotten much more use than the commercial one, and having it near the dining area has been an enticement. As Rath put it, "residents eat a lot more because they smell the food."
In addition, Hansen said, "The kitchen/dining space, just like [a] home, it's where everybody wants to hang out."
That's one of many aspects of the cottages that provide touchstones for its inhabitants. Rath said she has seen families take residents back to their old house, return to the Cottages "and they'll say, 'I'm home.'"
According to Hansen, even family members of patients who have passed away come back to visit because of the friendships they have made.
More to Come
All parties have seen more than enough to want to make this just the beginning. Orfield continues to work on bridging the gap between researchers and architects and has signed on with Methodist Homes in Alabama and designed a new facility, which has not yet been completed.
For his part, Hansen is almost as messianic, with a plethora of plans in the works. Or, as he declared with vigor: "I can't build these fast enough."
Bill Ward
is a freelance wine, food, travel and lifestyle writer. His "Liquid Assets" column runs in the Minneapolis Star Tribune, and he has a wine website, www.decant-this.com, with a blog and a travel-itinerary service. He won a James Beard Award in 2004 for a series on Italian regional cuisine. He lives in the Minneapolis suburb of Hopkins, Minn., with his wife, Sandy.
Read More